Being the rock-star parent that you are, you begin to wonder...what should my preschooler know? Are they supposed to be able to read some words? Do they need to go into kindergarten writing? 
Before we dive into it, you will notice that every reputable early childhood education organization develops their standards with certain guiding principles. While the principles may vary slightly in wording, there are common themes. It's important as a parent to understand the philosophy and research behind early learning standards.
Here are a few common guiding principles:
Each child is unique and can succeed.
Learning and development follow sequences, but proceed at varying rates.
Learning occurs within the context of secure relationships.
Families are children's first and most important educators.
Children learn best when they have secure, nurturing relationships with adults.
Development is integrated, and children learn many skills at the same time.
Learning must be intentional and focused on how children learn best.
Each child has diverse strengths rooted in their family's unique culture.
Play is an important method for children to learn.
Children's experiences shape their motivation and approaches to learning.
Families are children's first and most important educators.
Interested in reading a few organization's principles? 
Read NAEYC's 12 Principles of Child Development here.
Here is Vermont Agency of Education's Guiding Principles.
Head Start's Guiding Principles for School Readiness are also excellent.
Parents, did you really see that part about how every child is unique? Did you really hear that part about how learning can proceed at varying rates? 
Before you read about the essential language and literacy skills, we want to make sure you are crystal clear on that piece! Don't expect your child to have mastered every single standard by age 5.  But do use these standards to help guide you on where to work with him/her. 
Here at My Pre-K Box, it's our job to simplify that part for you. We use the research, develop fun, engaging activities, gather the materials you need, and make sure they align with early childhood guiding principles and essential standards! Best of all, it's all prepped for you and mailed to your front door each month!
Let us simplify your life, and bring back the FUN into learning! Read more here.
Each state's early childhood standards
Here we have compiled an extensive list of each of the 50 US States' early childhood standards. To view your state's guidelines for preschool skills, click on the link below. Or...scroll down for a simplified version of what language and literacy skills your child should be learning before kindergarten.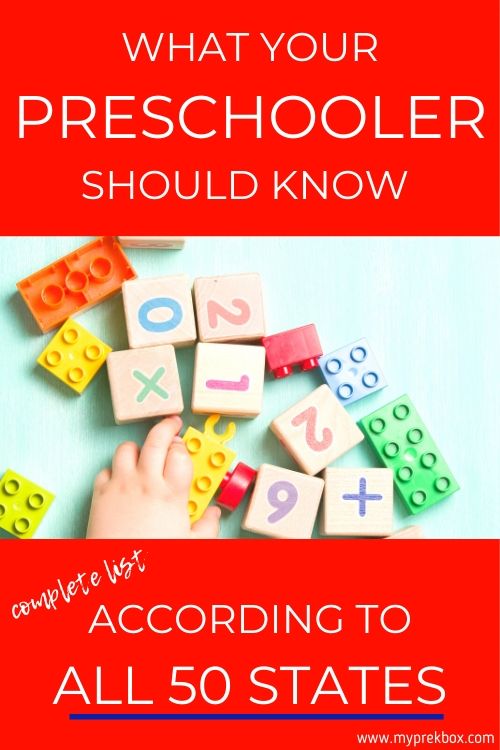 Language and Literacy Skills your child should know by age 5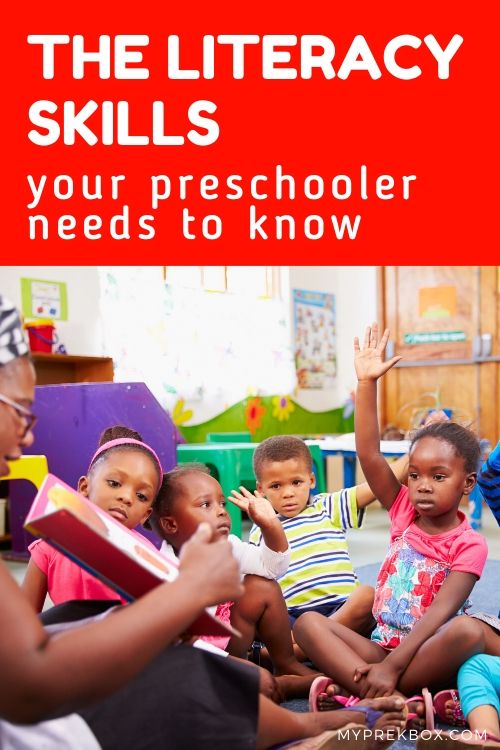 It will come as no surprise that there are certain early expressive and receptive language and literacy skills your child should be developing by age 5.
Language and Communication 
My child participates appropriately in conversations, group discussions, or presentations
My child understands complex statements, questions, and stories
My child can provide enough detail in order to get what they need from various adults
My child maintains multi-turn conversations with adults and children
My child's communication can be understood by unfamiliar adults
My child is interested in, and learns specific vocabulary
My child can categorize words or objects
Literacy
My child can provide one or more words that rhyme with a given word.
My child can identify the beginning sound in a word
My child understands that written words are made up of letters
My child knows book parts like the front, back, title, and author
My child understands that print serves purposes like notes, lists, and books
My child can identify main characters and retell stories read to him/her
My child can answer specific questions about details of a story including some inferential questions
My child shows an interest in writing
My child writes his/her first name correctly or nearly correctly
My child attempts to write some words using invented spelling
*Although we do our best, My Pre-K Box cannot guarantee the linked pages are your state's most current, accurate, or up-to-date information. Feel free to email hello@myprekbox.com if notice any errors or omissions.