Honk-honk! 🚚 🚛
Beep-beep! 🚕 🚙
Chuga-chuga-chug-chug! 🚂 🚝
What produces these sounds? You're right! Transportation vehicles! Cars, buses, trains, trucks, ships, boats - kids love them all! So, we decided to include this cute and refreshing theme in our monthly Pre-K Boxes!
Yes, you heard it right - our newest themed box is The Transportation Box!
And today, we are going to bring you and your kids on an exciting trip inside The Transportation Box! Let's go! ✈️
My Pre-K Box: The ultimate subscription box for kids aged 3 to 5!
My Pre-K Box is an educational subscription box for preschoolers filled with different learning activities for math and literacy skills! With fresh new themes each month, your child will delight in all of the fun, play-based learning activities inside! Prepped and delivered straight to your door, My Pre-K Box is so much fun - your child won't even realize how much they're learning!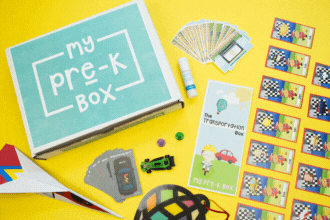 Transportation vehicles are an excellent theme for preschool activities because it is very attractive to kids! No wonder a lot of toys in the market feature transportation vehicles, right? For sure kids enjoy the speed and feeling of being mobile (or at least imagining being one), or they probably just enjoy being on the road for a little adventure! With this in mind, we came up with a lot of new transportation-themed activities for My Pre-K Box! Check out the exciting activities it has in store for your little traveler!
What's Inside The Transportation Box?
Fasten your seatbelt, remain seated, and keep your eyes and ears open as we go through each of the fun activities inside The Transportation Box!
Beep-beep! 🚕 🚙
For our first stop…
Activities for Learning Math
1 Travel by Sea Shapes
Materials: Travel by Sea Shapes game mat, shape cutouts, glue, and pencil

Game mechanics: Start by introducing straight-lined shapes(like triangles and rectangles) and curve-lined shapes (like circles and ovals) to your child. Then, sort the shapes and lay out the game mat. Explain how the world and everything surrounding us is made up of shapes! Point out some examples, then let him figure out some examples too. Then, let him complete the picture by putting the shapes in the correct spot. When the picture is completed, guide your preschooler in counting each shape and in writing the number in the box.

About the Game: Practice counting while developing shape recognition and sorting skills in this fun game! Your little one will be exploring his creativity, so be ready for tons of questions and silly ideas!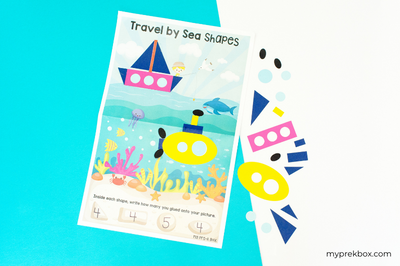 2 Airplane Race to 10
Materials: Airplane Race to 10, 2 pawn playing pieces, paperclip, and pencil

Game mechanics: The goal of the game is to be the first player to reach 10 exactly! To start, select a playing piece and place it on your start. Use the pencil to hold the paperclip in the middle of the spinner. Flick the paperclip to spin. Move your piece forward (+) or backward (-) according to your spin. The first player to exactly reach 10 exactly, wins! Remember, you must spin the exact number to get to 10 and win the game!

About the Game: The mechanics are simple but it will help your little learner practice counting while having fun! He won't even notice he has been learning a lot! It is also a good way to practice following directions, and improve logical thinking and comprehension.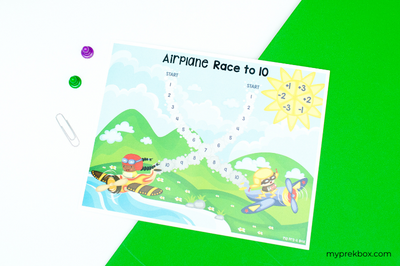 Chuga-chuga-chug-chug! 🚂 🚝

Freebie on the way!

If your little one needs to work on his fine motor skills, we have the right freebie for you!

Get this FREE Zoo Train Craft to help strengthen his hands and fingers through coloring, cutting, and threading activities - all in this one cute zoo train!
Vroom-vroom! 🚗 🏍
Next stop…
Literacy Activities
1 Which Parking Spot?
Materials: Which Parking Spot? game mat and cards

Game mechanics: In this game, you have to help the cars park in the correct spot based on the number of syllables in the word. To start the game, shuffle the cards, place them upside down, then randomly select a card. Help your child identify the word pictured on the car, and count the syllables together. You can try clapping, tapping, or counting with your fingers to show how many syllables each word has. Once he correctly identified the number of syllables, park the car (card) in a parking spot on the game mat with the corresponding numeral.

About the Game: This is a great way to develop kids' syllable awareness in a fun and engaging way! Since this is a play-based activity, they won't feel pressured or bored. And if they already mastered the pictures in the cards, you can use stickers and replace them with new objects!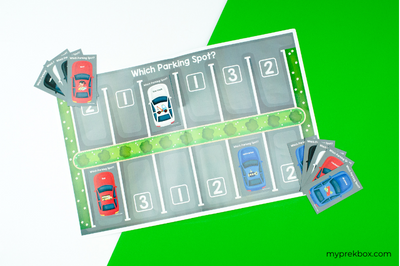 2 All Aboard Beginning Sounds
Materials: All Aboard Beginning Sounds cards

Game mechanics: Group together cards with the same beginning sound or onset phoneme to form a train! To start, shuffle the cards and place the train engine, train car, and caboose cards in separate groups. Point to an engine card, say the word, and name the beginning sound for your child. Take note that the child does not need to know or identify what letter the word starts with; focus on the sound instead. Do the same with the remaining cards, grouping together words with the same beginning sound until you complete the train!

About the Game: This game helps your child learn how to isolate initial sounds, which is an important early phonemic awareness skill.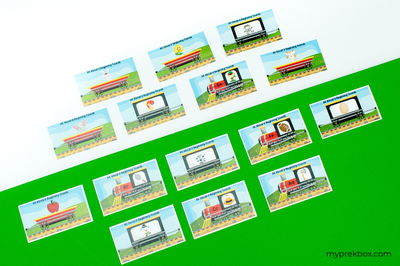 3 Race Car Blending
Materials: Race Car Blending game mat, Race Car Blending cards, toy car

Game mechanics: Select a card but do not let your child see it. Place the card face down on the Race Car Blending game mat. Slowly segment the word pictured on the card into sounds for your child. Your child repeats the segmented word's three sounds. Now, drive the toy car to one spot on the game board while repeating the sound. Do this as you drive the toy car in three spots, pointing out the sounds for each. Model blending the sounds closer together to name the word. Repeats the process, driving the car across the three spots as s/he blends the sounds together to name the word. When your child finally says the word he drives the toy car across the finish line and flips the card over to reveal the word to see if he is correct!

About the Game: The concept of this game is to teach blending sounds together into words in a playful and interactive way! This activity focuses on the sounds within words, not the names of the letters. It is important for the grownup to model first and have your child repeat. If your child is having difficulty, you can group more sounds together in order to reduce the number of sounds s/he is blending.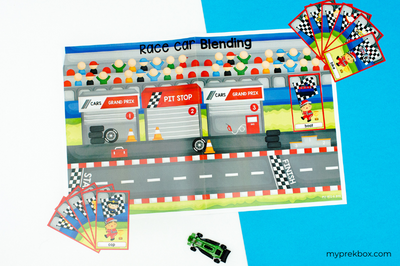 Whee-oh! Whee-oh! 🚒 🚒

Let's stop for some freebies!

Perfect for extending our kids' learning after the activities from The Transportation Box, this Fire Truck Name Craftivity will help them with some fine motor practice as they cut out and assemble this awesome fire truck! They'll also be able to practice spelling out their name and even writing it on the fire truck's ladder!

Grab a copy now - it's FREE!
Beep-beep! 🚕 🚙
Last stop…
Crafts and Sensory Play
1 Paper Airplane
A fun STEM sensory play that will also help develop their thinking, fine motor skills, and ability to follow directions. Instruct your little one to follow the fold lines to create your own paper airplane!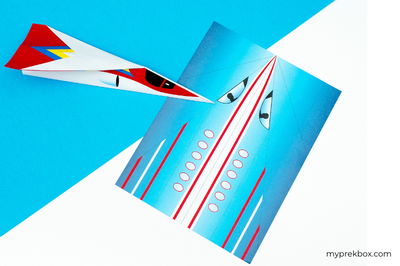 2 Hot Air Balloon Suncatcher Craft
This Hot Air Balloon Suncatcher Craft is very cute! Using adhesive plastic, a hot air balloon cutout, and colored tissue papers, kids will surely enjoy creating this colorful craft! This also allows for a lot of fine motor practice for them while having fun. Hang it on your window for an awesome stained glass effect!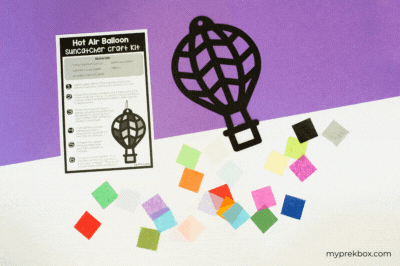 Craft Lovers Upgrade
Got a little craft lover? Subscribe to our Craft Lovers Upgrade and get these two additional arts and crafts! More crafts, more fun!
1 Beach Camper Paper Plate Craft Kit
Create a cute beach camper out of paper plate with this craft kit from our Craft Lovers Upgrade! Assembling this craft will not only help with their fine motor movements but will also develop their creativity.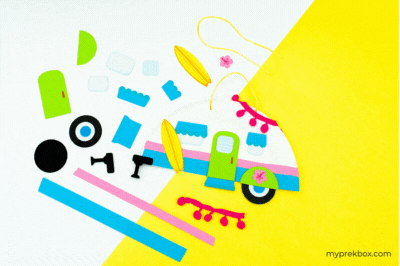 2 City and Country Transportation Giant Sticker Scene
Playing with stickers help improve the small muscles in our kids' fingers. Enjoy this City and Country Transportation Giant Sticker Scene when you subscribe to our Craft Lovers Upgrade!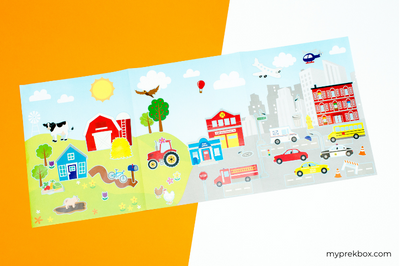 Grownup Guide
Creativity not your strong-suit? Not exactly a born teacher? We've got everything you need to feel confident. Each box includes a simple, easy to understand grownup guide outlining all of the included activities, how to play them, and how to help your child be successful based on their level! It's our personal mission to make life easier on you...and more fun!
Honk-honk! 🚚 🚛
And that's the end of our tour inside The Transportation Box! It was quite a long but exciting ride, isn't it? The play-based activities in this box look great in the pictures, how much more would they be in real life! So what are you waiting for? Subscribe to My Pre-K Box now to receive The Transportation Box!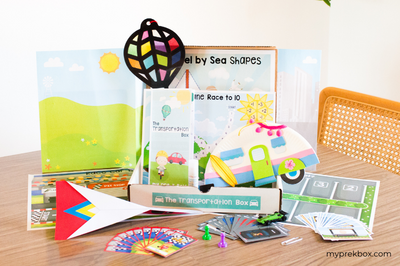 Why Choose My Pre-K Box?
The games and activities in My Pre-K Boxes are made with love and guaranteed to be of top quality. It is also kid-and-adult-friendly, very practical, and reusable! If your child has siblings, it can be shared and can be used again and again! We also offer duplicates of the crafts, since these are mostly not reusable. You can get a duplicate for his/her siblings for only $3.25 a month! Craft lovers can also subscribe to our Craft Lovers Upgrade, which comes with more fun crafts and two additional arts and crafts activities for just $4.25 per child.
With all the fun and exciting activities inside My Pre-K Box, your child won't even notice he's learning a lot! And as parents, we wouldn't have to worry about the hassle of researching, planning, and making the activities! We can simply guide and watch them learn in the convenience of our home - with the help of My Pre-K Box!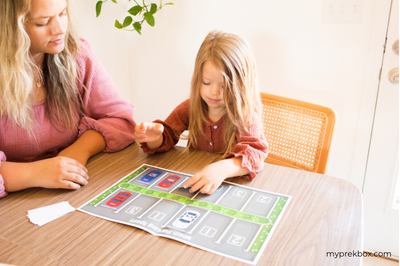 Let's Connect
Want to learn more about My Pre-K Box? Get the latest updates when you LIKE and FOLLOW our Facebook and Instagram pages. Browse through our blog posts at My Pre-K Box Blog for freebies, DIYs, arts and crafts, and a lot of fun and educational activities! See you there!
Haven't Tried My Pre-K Box?
My Pre-K Box is the best monthly subscription box for

kids ages 3-5!

Everything you need to create, play,

laugh, and learn!