How's the weather today?
This is one common question we hear every day (especially for conversation starters), but do you know that it is also a great topic for our little ones? They are very curious about everything, including the weather and how and why it changes. Help them learn the concept of weather and practice their Kindergarten skills, in the comfort of your home with the help of MyPre-K Box!
My Pre-K Box: The Best Subscription Box for Preschoolers!
My Pre-K Box is an educational subscription box for preschoolers aged 3-5! We deliver the most fun play-based preschool learning available! Each box has its own unique theme and is filled with different learning activities to target math and literacy skills. Your kids will have fun exploring the new activities every month, and you will delight in the fact you are helping them with essential Kindergarten readiness skills!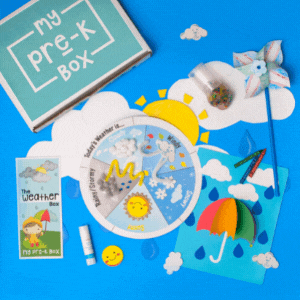 The Weather Box is one of our newest products, and it will help you teach your preschooler about the weather in a fun and enjoyable way! Your little ones will also develop important Kindergarten skills like counting, rhyming, sounds, crafting, as well as pattern and letter recognition.
Join us in this weather journey as we share what's inside The Weather Box.
Check out our FREE Preschool Science Fun Pack! These activities are great for teaching your preschooler important concepts like:

Labeling parts of a plant

Weight of different objects

Taste

Animal habitats

Seasons Save

Weather

Sorting trash, recycling, and compost

...and more!!
What's Inside The Weather Box?
Rain? Clouds? Rainbows? Sun? What could be inside The Weather Box? Let's find out!
Activities for Learning Math
1 Clear the Clouds
Materials: Clear the Clouds game mats, Clear the Clouds cards, cotton ball "clouds"

Game mechanics: Help the kids clear the clouds so they can fly their kites! Players will put 20 cotton ball "clouds" on top of the game mat they chose. Then, they will shuffle the cards and place them upside-down. On your turn, randomly select a card. Identify the number of clouds shown on the card. (The cards are tens frames!) Remove that many "clouds" from your game mat. The first player to remove all of the clouds from his/her game mat wins!

About the game: This is a great game for preschoolers who are learning to count to ten. They will have to keep counting until they remove all the clouds on their game mat. And as the game progresses, they become more excited, they won't even notice they are practicing counting already!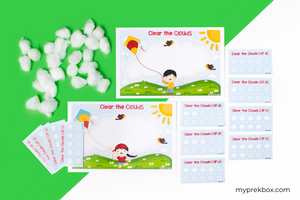 2 Sunshine Patterns
Materials: Sunshine Pattern cards, cardstock sunrays, glue

Game mechanics: This Sunshine Patterns activity is like 6 mini crafts, with the added bonus of learning patterns! Let your preschooler select a Sunshine Patterns card. Moving from left to right, point to each sunray as you name its color. Pause as you point to the blank sunray and encourage your child to help identity which colored ray should come next. Select the correct colored sunray and glue it onto its correct spot to complete the pattern.

About the game: Pattern and color recognition are important math skills gained through this game. You can choose to do just one card at a time and save the rest for another day.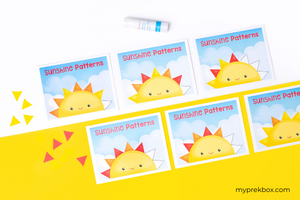 Literacy Activities
1 Dress for the Weather
Materials: Dress for the Weather game mats, Dress for the Weather cards, mini clothespins, glue dots

Game mechanics: Using the glue dots, adhere 3 clothespins to each game mat on top of the clothespin illustration. Discuss the weather shown on each game mat: rainy, sunny, and snowy. What types of clothes are most appropriate for each type of weather? Clip the Dress for the Weather cards on the game mat with the corresponding weather.

About the game: It is also important to teach kids about appropriate clothing for different weather conditions, and this game is a nice way to introduce this topic. While playing this with your child, you can also give more examples of other clothing and ask them when they should wear it.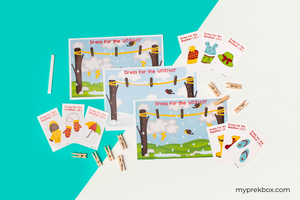 2 Storm Race
Materials: Storm Race game mat, 3 pawn playing pieces, Bingo chip "raindrop" (to be used as the storm playing piece), paperclip, pencil

Game mechanics: Help the kids get home safely before the thunderstorm hits. This is a cooperative game - all players work together and everyone wins or loses together. First, place the Bingo chip "raindrop" storm playing piece on the storm start space, while the 3 pawn playing pieces on the kids to start. On your turn, place the paperclip in the middle of the spinner. Put the pencil tip inside the paperclip. Then, flick the paperclip to spin.

If you spin the lightning bolt, move the storm piece down one space on the storm track.

If you spin a letter, select any one of the kid pieces to move to the next unoccupied space that matches the letter you spun.

If the next matching letter space is occupied by another kid piece, the kid you are moving passes over that kid to the next space with that letter.

If all the kids make it home before the storm reaches the end of the track (before the storm hits), you win! But if the storm piece reaches the last space before all the kids are home, the storm has hit and you lose!

About the game: Storm Race is an exciting game that will help your kids develop your kid's letter recognition skills. It is also a great activity to teach them to follow directions and develop socialization and cooperation!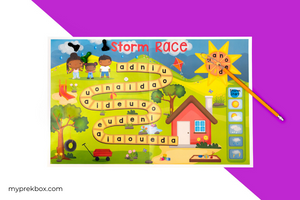 3 Cloud Sounds
Materials: Cloud Sounds game mat, Bingo chip "raindrops"

Game mechanics: Before starting, name each picture with your child, so they are familiar with it. The grownup guide has a key so you can easily identify the objects! Then, identify the picture on a child's umbrella and the sound that it starts with. Point out that it has the same sound as letters in the cloud. Ask your child to put a Bingo chip "raindrop" on each picture with the same beginning sound as the picture on the child's umbrella. Repeat to complete the rest of the game mat.

About the game: Learning sounds is the first step to reading. And this game can help your preschooler learn sounds while having fun!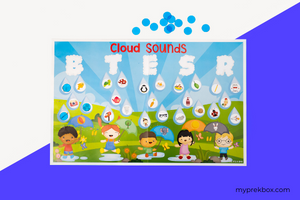 Crafts and Sensory Play
1 Expanding Rainbow Pebble Putty
Just add the rainbow beads to the putty and over time watch how the rainbow water beads expand!
2 3D Umbrella Craft Kit
Up for some fun crafts? Subscribe to our Craft Lovers Upgrade and get this 3D Umbrella Craft Kit when you receive The Weather Box! And if your child has siblings, our sibling craft kits are just $3.25/each!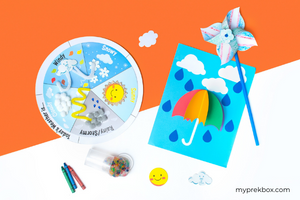 Grownup Guide
Not sure how to assist your kids in playing and learning from hands-on activities in My Pre-K Box? No worries! Our box includes a grownup guide to help you understand how the games and activities work.
Check out My Pre-K Box to delight your little learner!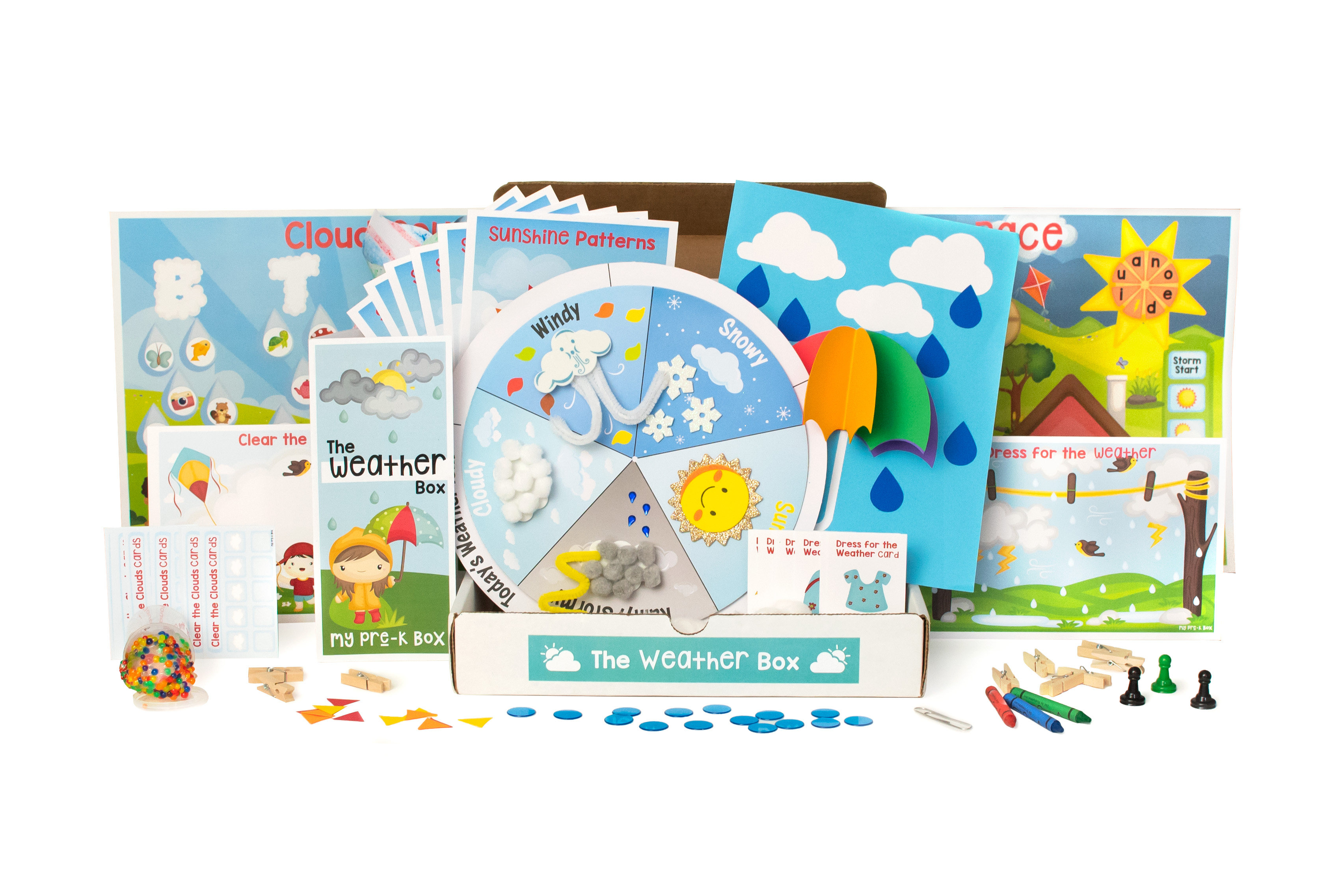 Why subscribe to My Pre-K Box?
1 The activities are play-based and learner-centered
Every single activity is well-thought, made with love, and kid-friendly - we ensure learning while having fun!
2 Easy and effortless
Researching and preparing the crafts yourself would be too tiring and time-consuming. But if you subscribe to My Pre-K Box, it will be delivered straight to your door every month, hassle-free and easy right? You can have more time for fun and quality family time!
3 Affordable prices
The monthly subscription plan costs $37.95 each month. Or you can save more by committing to a 6-month term ($32.95/month) or a 12-month term ($30.95/month). We also have regular promos and discounts! Check out our current promo here, or choose your plan now!
4 High-quality materials
All the contents of the box are carefully selected and are of top quality to ensure the safety of your kids! Most are also reusable, so your child can play with it over and over again!
5 Great customer service
100% Happiness Guaranteed! We make sure to give you unparalleled customer satisfaction. If you have a problem, we will solve it. Because as you support our family business, we also treat you like family.
So, what are you waiting for? Subscribe now and start making learning fun for your kids!

Let's Connect!
Did you like The Weather Box? Like and Follow us on Facebook and Instagram for more of these! Share with us photos and videos of your little ones while enjoying our wonderful boxes. We might feature them in our blogs too! Use the hashtag #myprekbox or message us on our social media pages. We look forward to hearing from you!
Haven't Tried My Pre-K Box yet?
My Pre-K Box is the best monthly subscription box

for kids ages 3-5!

Everything you need to explore, create,

play, laugh, and learn!