♪♪♫ Let's go for a nature walk… Listen to the birdies talk… Go strolling in the grass… While clouds go rolling past… ♪♪♫
Sounds familiar? It's a song from Cocomelon called "Nature Walk", and if your child watches Jj and his family, that song is probably up in your head for days! The lyrics simply talk about their family's outdoor adventure, and it really catches kids' attention because it's a very exciting activity for them. You guessed it right! It's C-A-M-P-I-N-G!
My Pre-K Box: The best monthly subscription box for kids ages 3-5
My Pre-K Box is an educational subscription box for preschoolers filled with different learning activities focused on developing math and literacy skills! We come up with fun, new themes each month, and your child will be definitely excited about all of the play-based learning activities inside! Prepped and delivered straight to your door, My Pre-K Box is so much fun - your child won't even realize how much they're learning!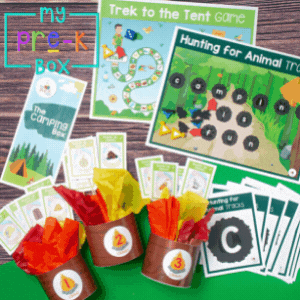 Kids love camping because it allows them to explore nature which they often see in books or heard in stories. Even as adults, we love camping because it refreshes our minds. And for kids, it also allows imaginative play and they can also learn new skills to survive in the wild! With all the fun and exciting activities that they can do while camping, no wonder it is one of the most awaited activities by kids, and anything related to camping seems to delight them as well.
So today, we are glad to introduce to you another of our Preschool Fun Packs! A collection of camping-themed worksheets focusing on math and literacy skills… The Camping Preschool Fun Pack! Learn important Kindergarten skills while exploring the wild with these camping-themed worksheets! And best of all, you can get it for FREE! Read on to learn more about the Camping Preschool Fun Pack, what it includes, and what your children will learn from it.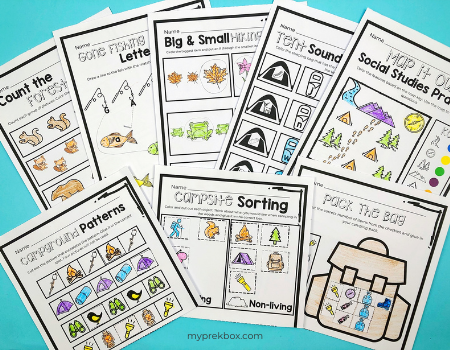 Get FREE Camping Preschool Fun Pack
How to Use the Camping Preschool Fun Pack
Like all our Preschool Fun Packs, this one is very easy to use! Just download and print the Camping Preschool Fun Pack, grab writing and coloring materials, some glue and scissors - and that's it! You are in for some camping-and-learning fun! We even made this in black-and-white so you can easily print it, and your child can enjoy coloring it too.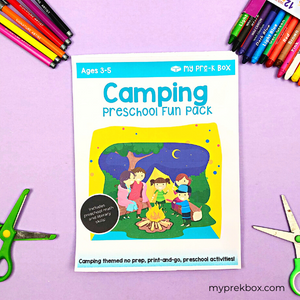 Materials:
printer

paper

pencil

crayons

scissors

glue
Check out the 8 worksheets included in the Camping Preschool Fun Pack!
1 Count the Forest Animals
What's your kid's favorite forest animal? If he loves raccoons and squirrels, he will definitely love this worksheet! They just have to count the group of animals and color the corresponding campfire with the correct number. It will be a fun way to practice counting, coloring, and naming forest animals!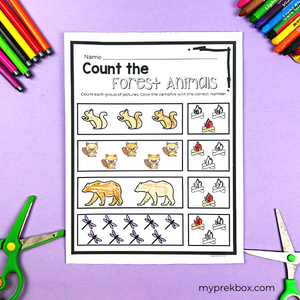 2 Gone Fishing Letter Match
Want to try fishing? Kids will have fun connecting the fishing rod and bait with uppercase letter to the matching fish with a lowercase letter! You can also challenge them to tell the sound of the letters or ask them to write it down.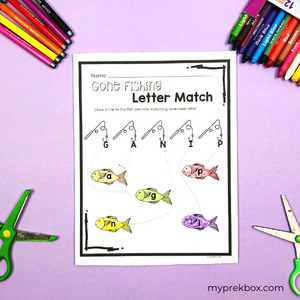 3 Big & Small Hiking Finds
Identifying big and small items is a basic math skill for preschoolers, and this worksheet allows them to practice it in a fun, camping-themed way! They just have to circle the biggest item from each group and put an X on the smallest one. They can also color the items and name them too! If they've tried camping or have seen these items before, let them describe how big or small these objects are. You can also ask them what other things they might find while hiking or camping.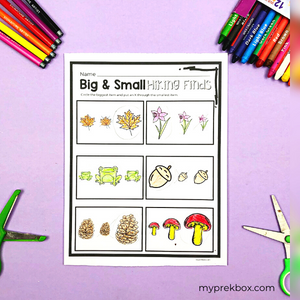 4 Pack The Bag
Help your preschooler learn to pack their camping stuff through the Pack the Bag Worksheet! They won't even notice they are practicing their scissor skills in cutting out the items or improving their fine motor skills as they glue the items into the camping pack! And best of all, you can teach them to be responsible for packing their own stuff in the future!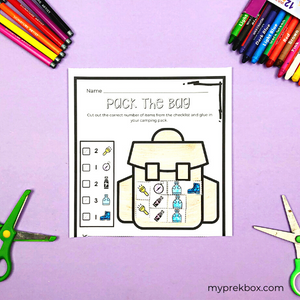 5 Campsite Sorting
Sorting activities help children tell how objects differ from one another. The Campsite Sorting Worksheet not only allows them to sort camping-themed items, but they will also learn basic science here! They will have to cut out and paste the objects and sort them into living and non-living things. You can ask them why they think these objects are living things, and why is the other group non-living things. You might get surprising answers, or you might get more unexpected questions too!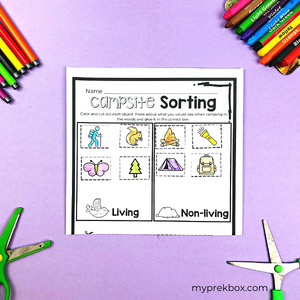 6 Campground Patterns
Learn and practice patterns with our Campground Patterns Worksheet! Kids learn to recognize patterns early and after some time, they learn to extend, repeat, and compare patterns too. This is a very helpful activity to develop their mind and think of what comes next. Kids will definitely love coloring the camping-themed objects too while cutting and pasting the objects will also help develop their fine motor movements.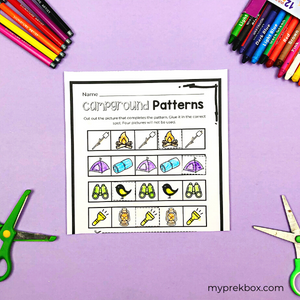 7 Tent Sound Matching
The Tent Sound Matching Worksheet is a great way to practice their knowledge in identifying the sounds of the letters. They simply have to name the object in the tent and color the sleeping bag that has its beginning sound.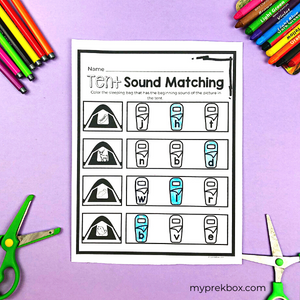 8 Map it Out: Social Studies Practice
You might be thinking that they are too young to study maps, right? But no worries, kids will surely love our kid-friendly camping map! It will also be very helpful in developing skills like following directions and recognizing objects on a map. They just have to color the features based on the map key and answer some questions using the map.
Have some camping fun at home with our Camping Preschool Fun Pack! It includes all the 8 worksheets above, but your kids get to learn more than that! All the coloring, cutting, gluing, sorting, naming, and tracing… it all lead to the development of important Kindergarten skills that would be very helpful as they grow up! So what are you waiting for, grab a FREE copy of the Camping Preschool Fun Pack now and enjoy learning with your child!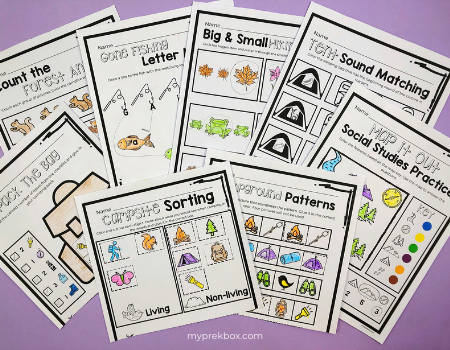 For more FREE camping themed-activities, check out our Camping Sensory Bin and Camping Art for Preschoolers blog!
| | |
| --- | --- |
| | |
If your child loves the Camping Preschool Fun Pack, he will absolutely have more fun with more camping-themed hands-on activities from The Camping Box! It is one of our monthly themed boxes in My Pre-K Box, where kids get to enjoy hands-on, play-based learning activities. The Camping Box is filled with hands-on learning tools suitable for preschoolers. It has several math activities, literacy games, thematic crafts, and sensory play. The box comes with a grownup guide too! Most of the games can be shared and reused, which is great if you have more than one child! You can also get duplicates of the craft for his/her siblings for only $3.25 a month! The Craft Lovers Upgrade is best enjoyed by kids who love arts and crafts, as it comes with more fun crafts and two additional arts and crafts activities! You can get it for just $4.25 per child. Have less time prepping activities and get more time teaching and playing with your kids and with My Pre-K Box!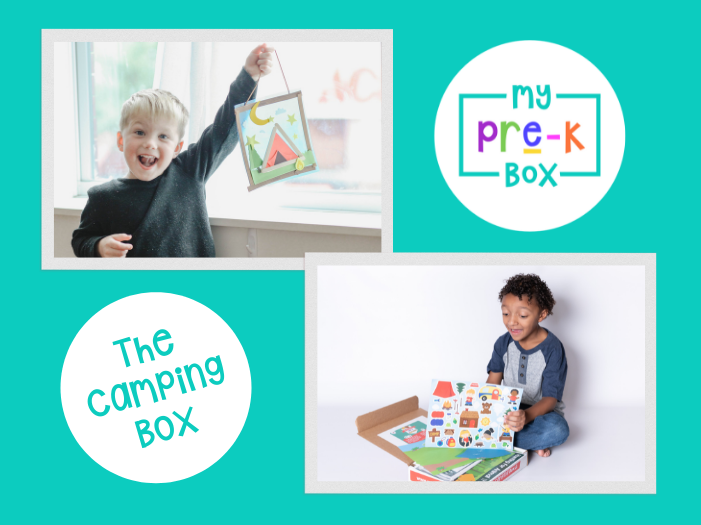 Let's Connect
Want to know more about our Preschool Fun Packs? Like and Follow us on Facebook and Instagram to get the latest updates! Share photos of your little ones enjoying our worksheets and crafts! Don't forget to use the hashtag #myprekbox!
Haven't Tried my Pre-K Box Yet?

My Pre-K Box is the ultimate subscription box for preschoolers!

Everything you need to play, create,

laugh, and learn!