Camping with kids, as well as simply exploring the outdoors, is beneficial in so many ways. These camping art projects will help you get in the spirit to pretend you're sleeping under the stars… Some of them can even be completed while you play outside! As you are having fun, I encourage you to develop your child's vocabulary by modeling using descriptive words to describe what you are creating and observing. Some examples could include, "This leaf has 1 point, this leaf is long and is a rectange shape." You could also ask, "What shapes of leaves would be best to create our animal?"
My Pre-K Box: The Best Educational Subscription Box for Preschoolers
My Pre-K Box is an educational subscription box for preschoolers aged 3-5! We deliver the most fun play-based preschool learning available! Each box has its own unique theme and is filled with different learning activities to target math and literacy skills. Your kids will have fun exploring the new activities, and you will delight in the fact you are helping them with essential Kindergarten readiness skills!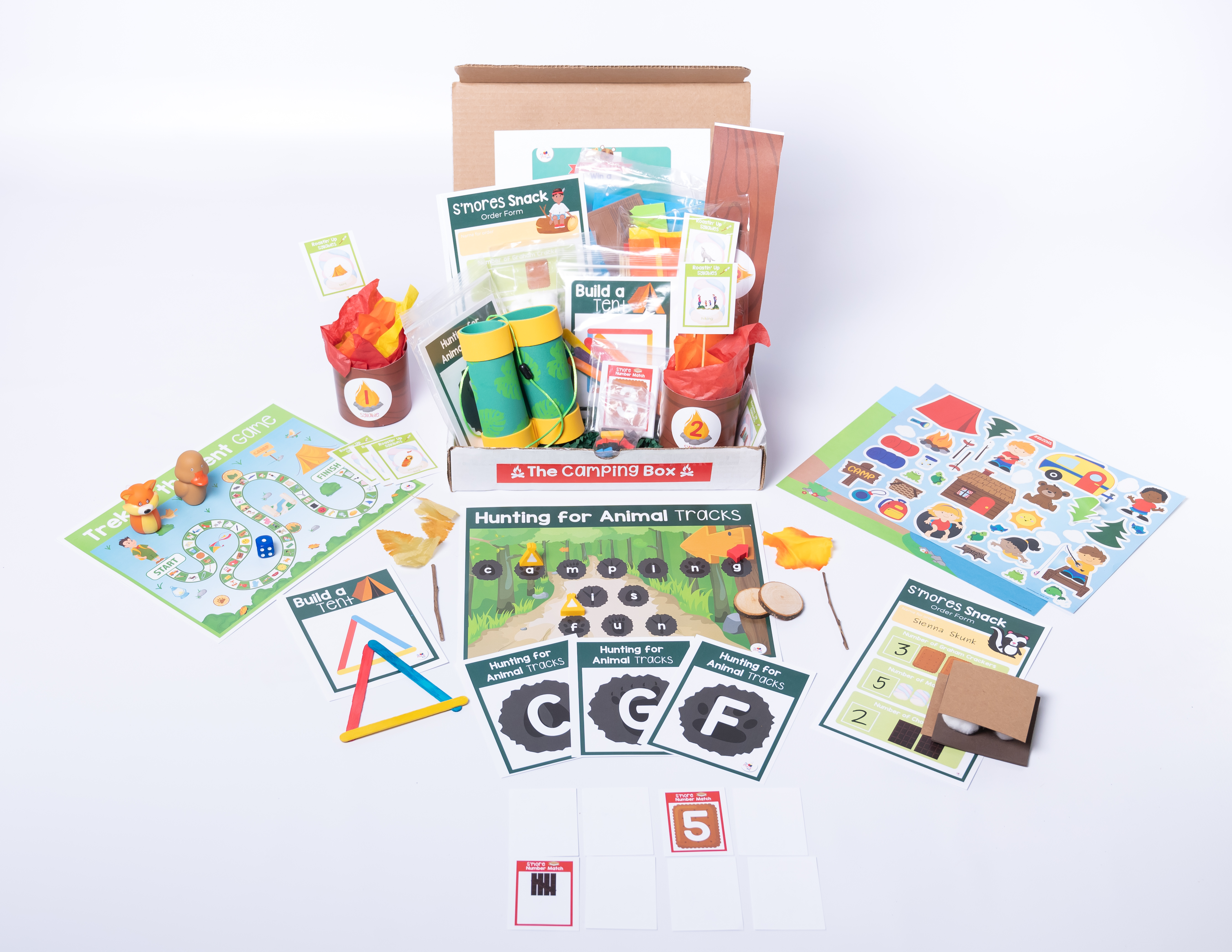 Looking for More Preschool Camping Acitivites?
Check out our FREE camping-themed preschool worksheets! These camping-themed worksheets are the perfect compliment to your camping crafts and teach your preschooler important skills like:

Letter matching

Size comparisons

Counting

Sorting

Patterns

Sound matching

Map concepts

...and more!
Download your FREE Camping Preschool Fun Pack
Woodland Animal Paper Chain
This cute critter creation has camping written all over it… As you daydream about spending your nights in a tent, what animals will you hear all around you? Bears? Owls? Foxes? Make each one of these woodland animals with the fun project below: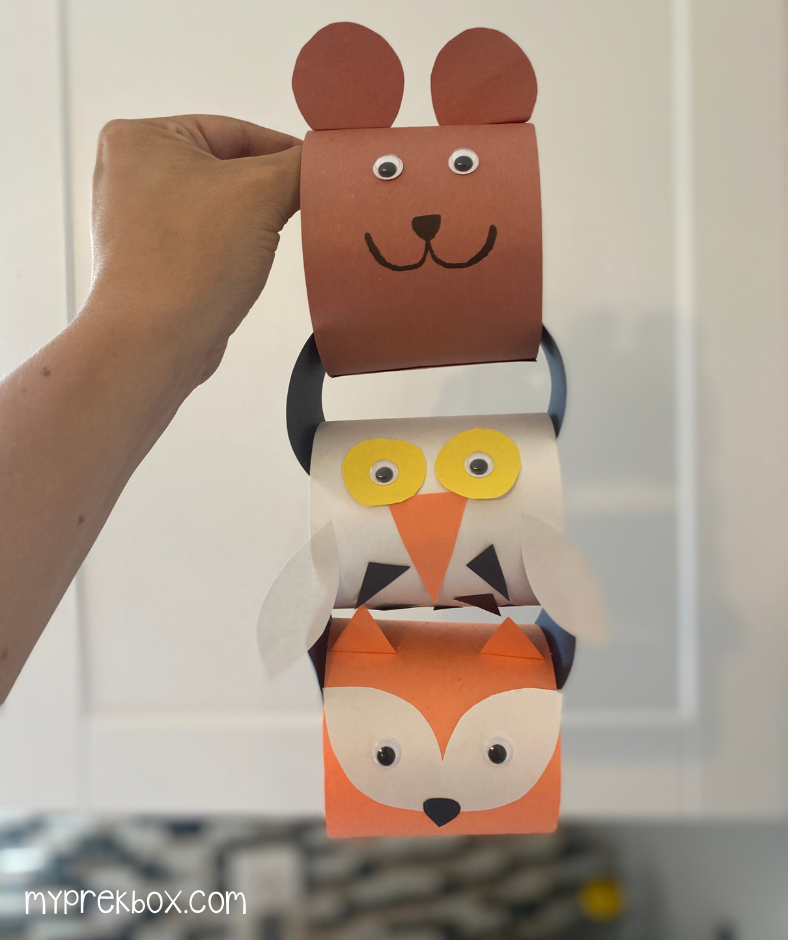 Materials:
Construction paper

Scissors

Glue (stick or liquid)

Black marker

Googly eyes (optional)
Instructions:
Step

1
Cut three large strips of construction paper in colors that match your woodland animals (we used brown, orange, and white)
Step

2
Cut two black strips to use as chain connectors
Step

3
Cut out (or have your big kid help!) the small pieces for each critter as shown above. The triangular pieces that serve as owl feathers are great for preschoolers who are just starting to use scissors.
Step

4
Glue your critter-colored hoops together and add their shapes and googly eyes. Draw a nose and mouth on your bear.
Step

5
Use the black strips to connect your three hoops together. Find a fun place to hang your creation and enjoy!
Personalized Trail Sign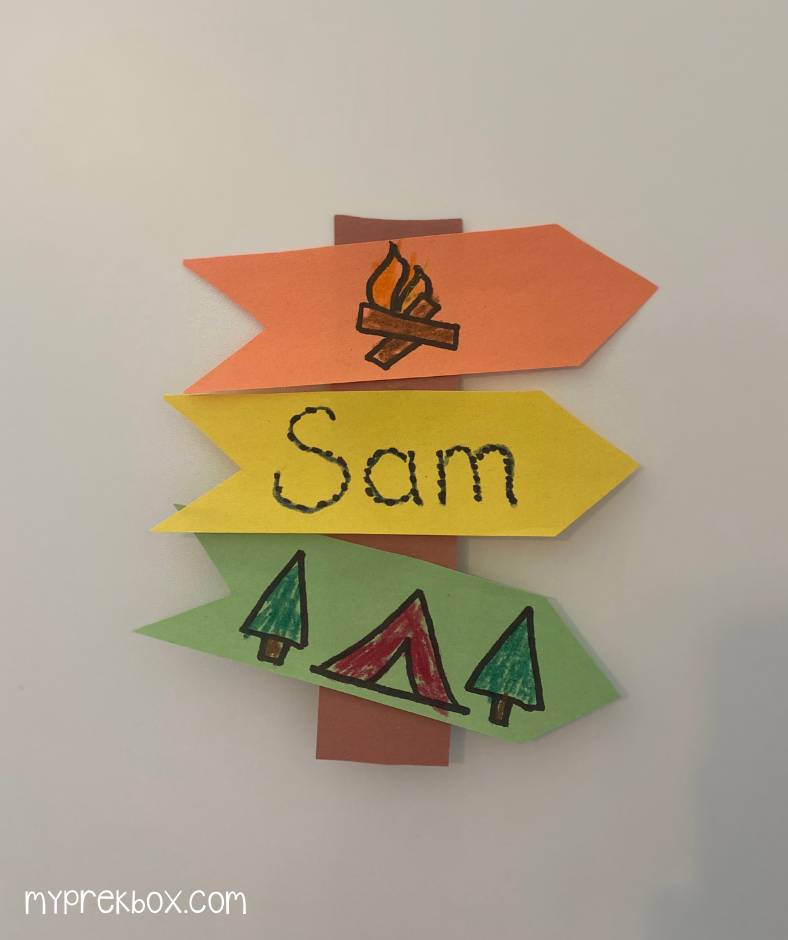 Materials:
Construction paper

Scissors

Glue (stick or liquid)

Markers
Instructions: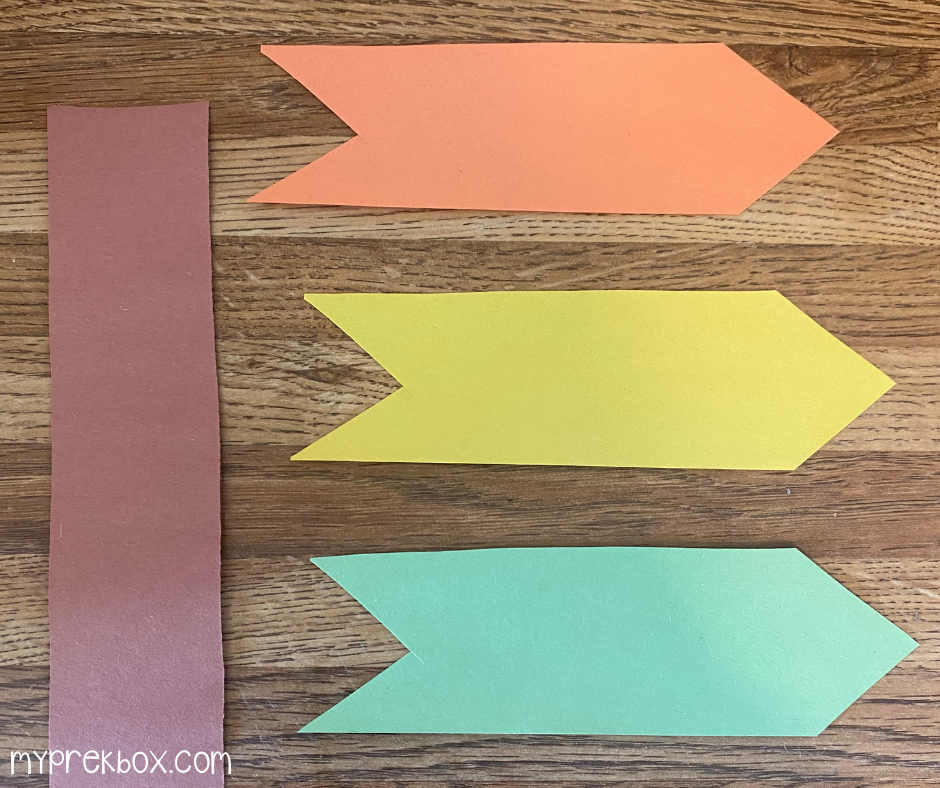 Step

1
Cut out the pieces of construction paper as shown above.
Step

2
Have your child decorate and glue it all together.
We threw in some name-tracing practice in the middle just for fun, but you and your little one can decorate these however you please.
Painted Leaf Prints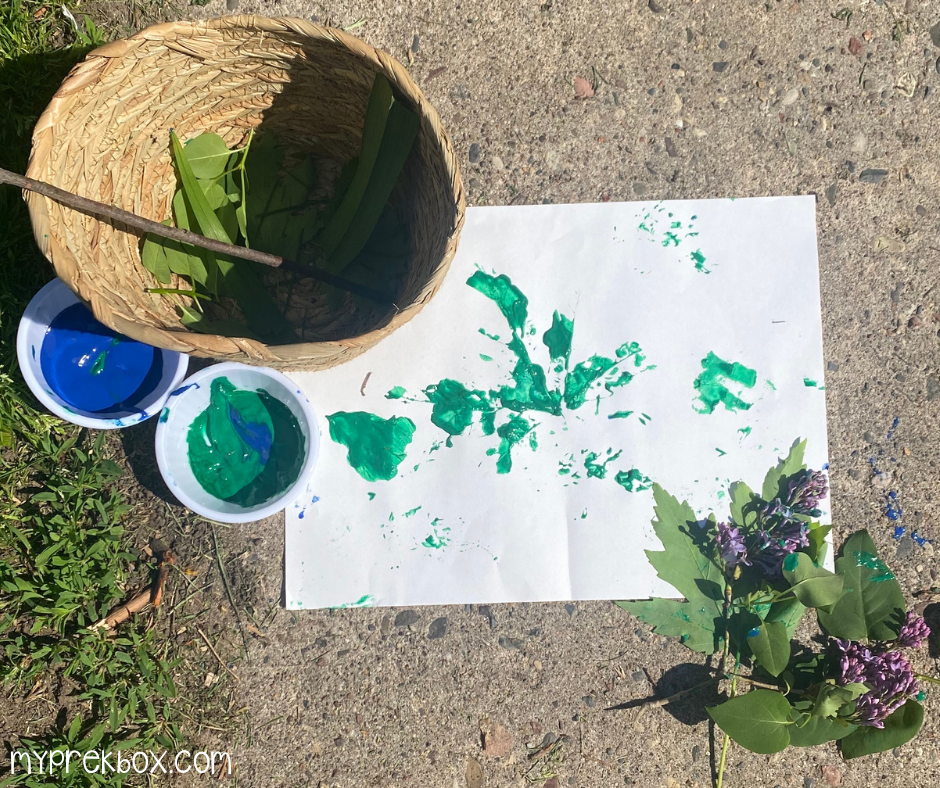 Materials:
Instructions:
Step

1

Collect leaves and set out the paint and paper.
Step

2
Let your child create the prints using by covering each leaf with paint and using it as a stamp or like a paintbrush.
Leaf prints aren't just a great camping art project, they're excellent for teaching basic science concepts, too. As your child presses leaves onto their paper, they'll see marks left behind by the veins of the leaves. With older kids, feel free to explain that these veins share nutrients with every part of the plant. With younger kiddos, talk about textures and how certain lines on the leaves feel different than others.
Leaf Creature Collage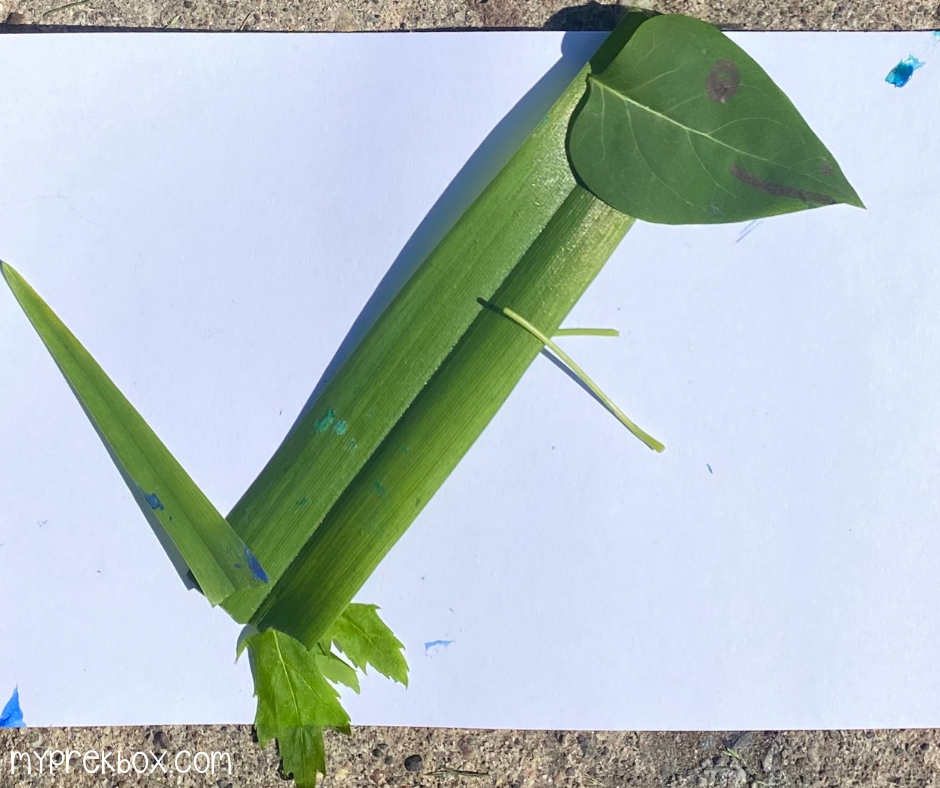 Materials:
Leaves

Paper

Glue

A marker or googly eyes for creating faces
Instructions:
Step

1

Collect leaves and let your little one arrange them on the page to look like the creature of their choosing.
Step

2
Use the glue to adhere the leaves to the paper.
We created the dinosaur shown above, but the options for what you can put together are almost endless!
Leaf Bead Jewelry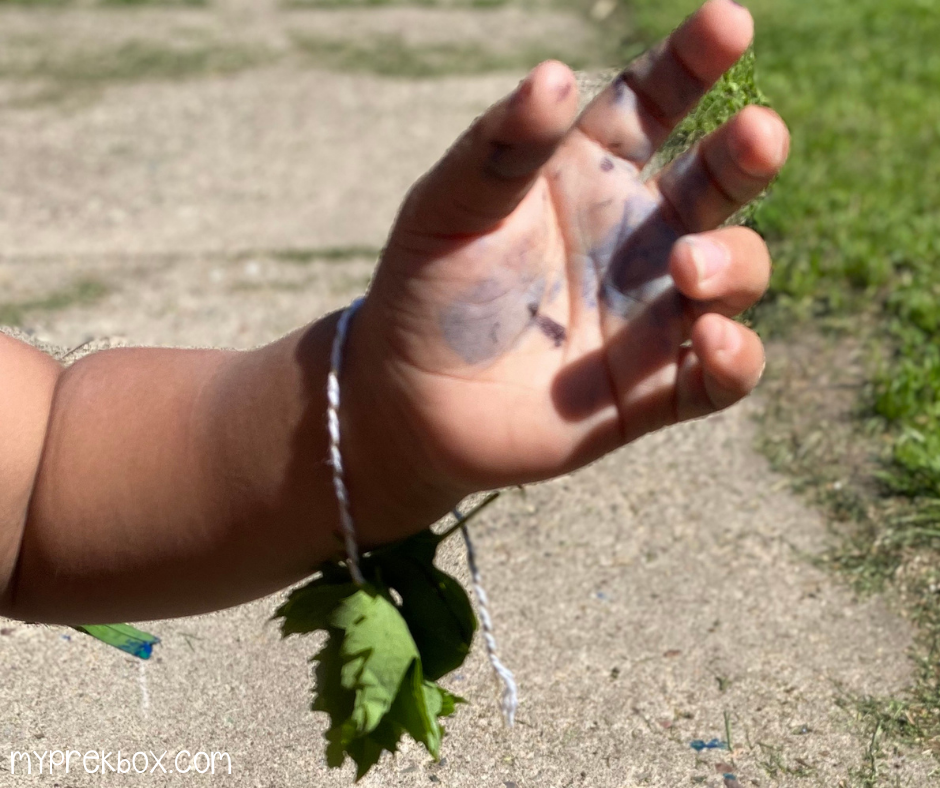 Materials:
Leaves

String

Holepunch (optional)
Instructions:
Step

1

Punch or tear a hole in each leaf.
Step

2
Let your child guide the string through each leaf.
Step

3
Tie a knot in a length that's safe and comfortable for a necklace or bracelet
For the youngest kiddos, this activity is awesome for building the fine motor skills that are necessary for so many skills later on in life. For older children, consider adding a learning twist like patterning to the mix.
Let's Connect!
We absolutely LOVE seeing your preschoolers creations! Please take photos and videos of your child's camping art projects and share your photos with us on Facebook and Instagram!
Also, if you aren't already, be sure to follow us on Facebook and Instagram for more fun activities to do at home with your little ones!
Haven't yet tried My Pre-K Box?
My Pre-K Box is the best monthly subscription box for kids ages 3-5.

Everything you need to create, play, laugh, and learn!