Have you tried setting up a camping-themed sensory bin? We are going to share with you today how to make one for your toddler or preschooler, so they can enjoy the small-world play! Get ready for some mess and tons of fun as we create a Camping Sensory Bin!
My Pre-K Box: The perfect preschool box for you!
My Pre-K Box is an educational subscription box for preschoolers aged 3-5! We deliver the most fun play-based preschool learning available! Each box has its own unique theme and is filled with different learning activities to target math and literacy skills. Your kids will have fun exploring the new activities, and you will delight in the fact you are helping them with essential Kindergarten readiness skills!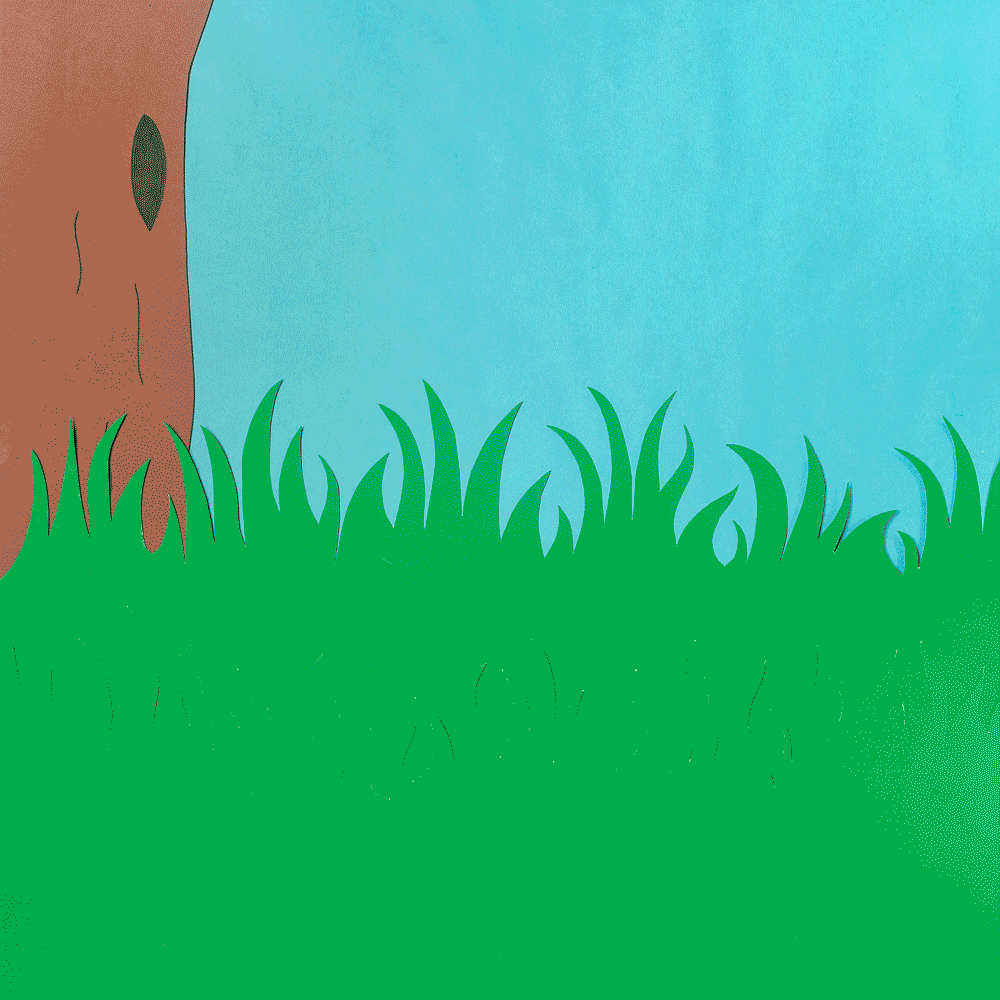 A sensory bin is a container filled with objects that appeal to the senses like sand, grains, rice, seeds, rocks, pebbles, etc. Preschoolers need sensory play as it plays a major role in brain development, so creating your own sensory bin at home is not just fun but also educational! Yes, it can be a bit messy, but if it's for the kids' learning, why not?! So today, we will be making a camping-themed sensory bin for your preschoolers! If they have gone camping already, then they can help and suggest things they saw while camping. If they haven't yet, then it is a great way to show them what a campsite looks like in a miniature view! Let's start by collecting the materials first.
Materials Needed for Camping Sensory Bin:
Large storage bin

Sensory bin base: Kinetic/play sand
River/Pond: Blue stones, small rocks, or pebbles
Plants: moss, leaves, trees
Campfire: mini popsicle sticks/twigs, red and yellow paper shreds
Camping structures: Log cabin (Lincoln logs or make your own with popsicle sticks and glue!), miniature tent (or make your own with small sticks and construction paper/fabric)
Additional features: Minature toy animals, people, boat/canoe with mini popsicle sticks for oars
Procedure in making your Camping Sensory Bin:
Step 1 Fill a large empty storage bin with kinetic/play sand. Leave some space for a river or pond.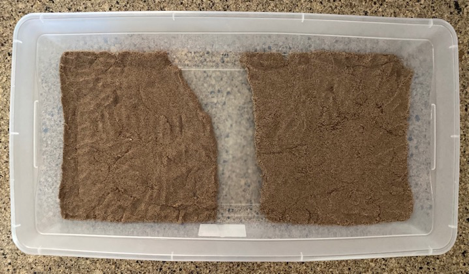 Step 2 Add blue stones to make water for your river or pond, then add small rocks along the sides of the water.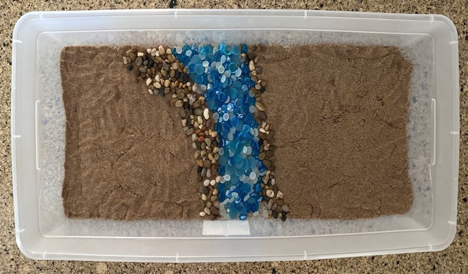 Speaking of camping...

Here's a camping-themed freebie for you!

The Camping Preschool Fun Pack includes camping-themed worksheets, perfect for children aged 3-5! They target important preschool skills like counting, capital, and lowercase letters, sorting, and more! Read more about the Camping Preschool Fun Pack here.

Included in the Preschool Camping Worksheets:

Gone Fishing Letter Match

Big & Small Hiking Finds

Count the Forest Animals

Map it Out: Social Studies Practice

Tent Sound Matching

Pack the Bag

Campground Patterns

Campsite Sorting
Step 3 Build a log cabin (Lincoln Logs are great for this!) and add a tent. Don't have any of these items? No problem! You can use a variety of materials (i.e. popsicle sticks) and have your preschooler make their very own.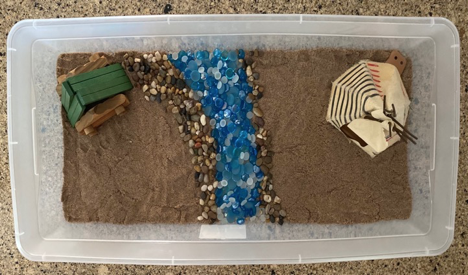 Step 4 Build a campfire by laying out popsicle sticks in a crisscross pattern and adding red/yellow paper shreds on top.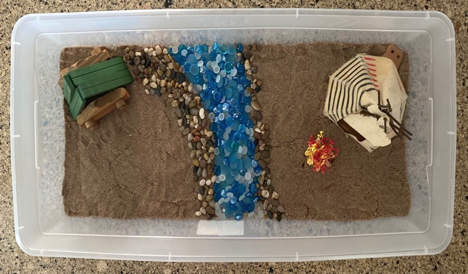 Step 5 Build out the landscape by adding trees, moss, plants, leaves, and any other forest item you can think of! Use a variety of textures and colors for an enhanced sensory experience.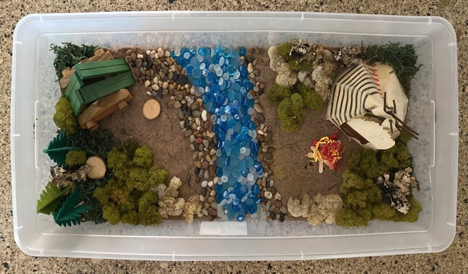 Step 6 Add animals, people, and a boat/canoe to complete your campfire setting!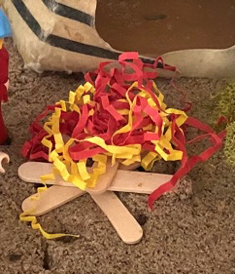 Now your Camping Sensory Bin is done! Let your little one enjoy playing with it, you wouldn't believe how much he is learning from it! From fine motor practice to dramatic play and creativity, there are a lot of opportunities for learning this simple activity offers. Try it today with your kids and see them enjoy while learning!
For more camping-themed crafts, take a look at our blog post about Getting Creative in Nature - Camping Art for Preschoolers. You might want to try some of these at home with your little camper!
Why subscribe to My Pre-K Box?
If your little one loves this Camping Sensory Bin activity, he will definitely enjoy the sensory play activities in My Pre-K Boxes! All monthly My Pre-K Boxes include sensory play to help in the brain development of young children. And if he also enjoyed the camping theme, we got the perfect box for little jolly campers - The Camping Box! It includes the following preschool activities:
Build a Tent STEM cards

Trek to the Tent Game

S'mores Snack Recipe Cards

Hunting for Animal Tracks

S'mores Number Match

Roasting Up Syllables

Binocular Craft

Forest Sensory Play
We want our customers to be happy and satisfied, so we always make sure that My Pre-K Boxes' games and activities are safe and of excellent quality. It is also very kid-friendly, incredibly practical, and reusable! It can be shared with his siblings and friends and can be used repeatedly! We also sell duplicate crafts for only $3.25 per month, so you can get a duplicate for his siblings! If your little one is a fan of our craft, you can also subscribe to our Craft Lovers Upgrade for $4.25 per child, which includes more fun crafts and two more arts and crafts activities.
With all of the interesting and enjoyable activities in My Pre-K Box, your child won't even realize he's learning so much! And as parents, we wouldn't have to bother researching, planning, and creating activities! We can simply assist and watch them while they learn in the comfort of our own home, thanks to My Pre-K Box!

View subscription plans
Let's Connect!
We want to hear from you! For more fun activities to do at home like this Camping Sensory Bin, be sure to give us a LIKE and FOLLOW us on Facebook and Instagram. Tag us on photos of your preschoolers enjoying our exciting activities by using the hashtag #myprekbox!
Haven't tried My Pre-K Box

yet?
My Pre-K Box is the best monthly subscription box for

preschoolers aged 3-5!

Everything you need to create, laugh,

learn, and play!