Aaarrghh! Let's go on an adventure me hearties!
Today, we are going to explore a very special box! It is similar to that of a treasure box… But inside are not just rare treasures - it is filled with fun educational activities for little kiddos! Let's go and see what's inside My Pre-K Box's The Pirate Box!
My Pre-K Box: The Ultimate Educational Subscription Box for Preschoolers
Ahoy, mateys! My Pre-K Box is the best educational subscription box for preschoolers aged 3-5! We create the most fun, exciting, play-based preschool learning and deliver it straight into your home! Each box has its own unique theme and is filled with different learning activities to target math and literacy skills. Your kids will have fun exploring the new activities, and you will delight in the fact you are helping them with essential Kindergarten readiness skills! Arrrgghh!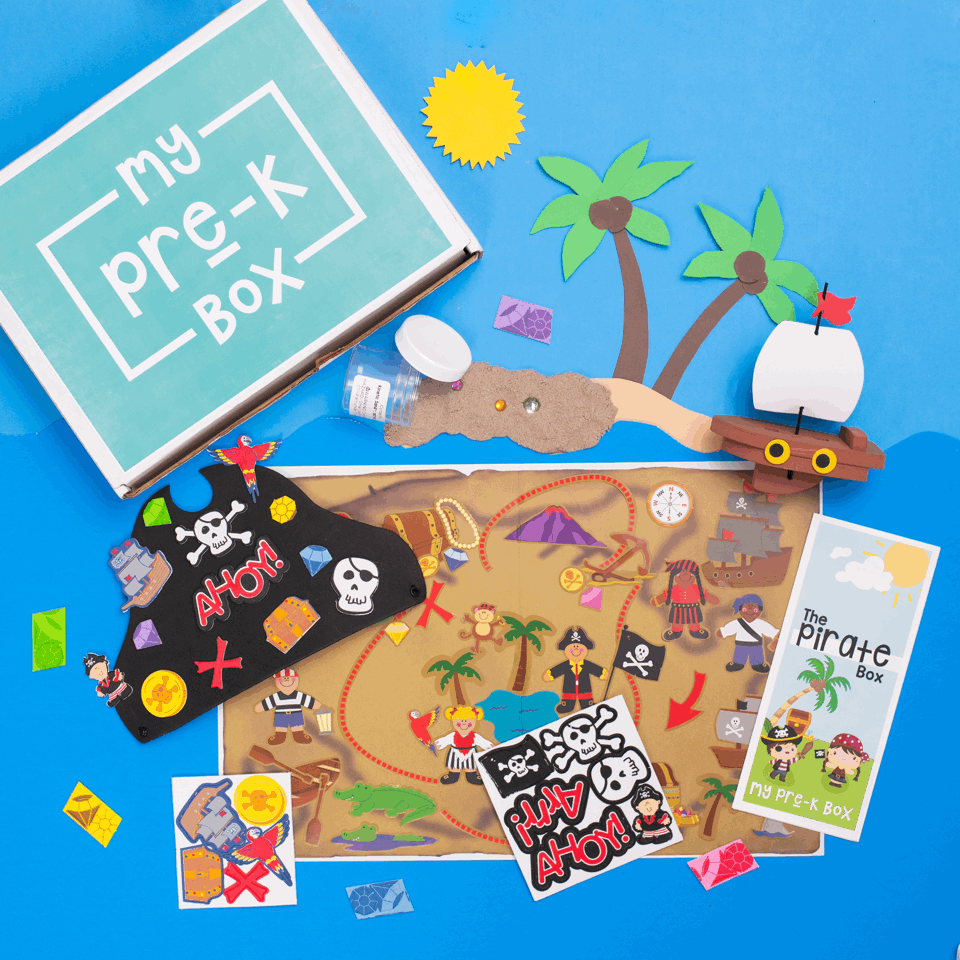 Kids love everything about pirates. Whether it is about the exciting adventures they go through or the mighty way they carry themselves…or is it the eyepatch? Or maybe the parrot? Well, whatever it is, our little ones admire those silly pirates. And as parents, we are always on the lookout for pirate-themed crafts for preschool. That is why we, at My Pre-K Box created the ultimate pirate activities for preschool and put them together inside The Pirate Box! Now, let's take a look at the contents, shall we?
Looking for a FREE Pirate-themed craft for your kids?

Kids surely love pirates. If your kid does, s/he will definitely love this craft!

Grab a copy of our Print & Go Paper Bag Pirate Puppet template and create your very own pirate puppet at home! It's FREE!
Exploring the Pirate Box: An Exciting Pirate Adventure for Preschoolers
What's inside The Pirate Box? I know you are all excited to see that! Aye!
All boxes of My Pre-K Box have fun activities for math and literacy, as well as crafts and sensory play! Let us explore The Pirate Box, as we go on this exciting pirate adventure!
Activities for Learning Math
One of the goals of My Pre-K Box is to make learning math a fun experience. So each box has two to three theme-based math activities. In The Pirate Box, it includes:
1 Treasure Compare
Materials: Treasure Compare game mat, tens frame treasure cards, gold coins

Game mechanics: After selecting a girl or boy pirate, the cards are shuffled. On their turn, each player will randomly select a card with rubies. The treasure cards are designed as tens frames! A tens frame is an important mathematical tool used to show numbers in relation to 5 (one row on a tens frame) and 10 (two rows on a tens frame). Players will compare who has more treasure (rubies) in every round, and whoever has more will win a gold coin! The player with more gold coins at the end of the game wins!

About the game: Treasure Compare game helps kids develop number sense. Eventually, tens frames help children instantly see numbers without counting (subitizing) because they can quickly see that 7 is one row of 5 and 2 more. Treasure Compare also develops their thinking as they compare and analyze which player has the most number of rubies on their card. As they engage in simple conversations while playing, it helps improve their communication skills and math vocabulary as they think and analyze the situation!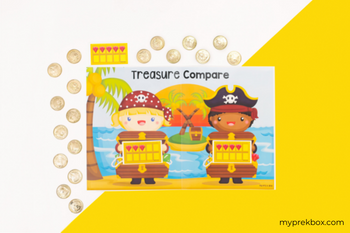 2 Swab the Deck
Materials: Swab the Deck game mat, "water" Bingo chips, die

Game mechanics: Swab the deck by placing Bingo "water" chips in each mud shape on your side of the deck. To know which shape to choose, roll the die and look at the compass on the side of the ship. The numbers have corresponding mud shapes, which you will "clean" with the water chips. The first player to finish swabbing his/her side of the deck and cover all of the mud shapes with water chips wins!

About the game: Swab the Deck game develop early mathematical skills of your preschoolers such as counting and shape recognition. Their thinking skills are also developed as they learn to follow "codes" to know which shaped mud to swab. You can extend this game at home by swabbing their room (instead of the deck) to help you clean up.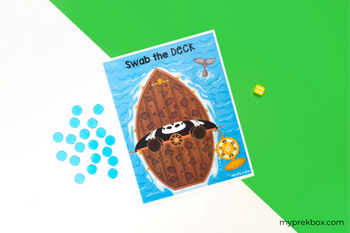 3 Fire in the Hole
Materials: Fire in the Hole cards, "water" Bingo chips

Game mechanics: In this activity, your preschooler will use the "water" Bingo chips, instead of a ruler to measure how far the cannonball has been shot as shown in the cards. They will have to count how many water chips there are to determine the distance shot.

About the game: The Fire in the Hole game helps kids practice counting and estimate measurement using non-standard units. They can apply their learning in this game in regular day-to-day happenings, like measuring their feet for instance with the use of the span of her fingers. Or measuring the distance from one room to another using his/her arms.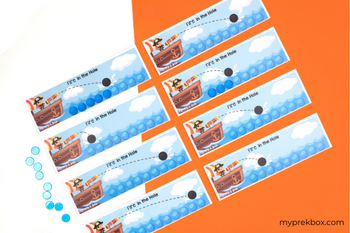 Literacy Activities
My Pre-K Box also targets to develop language, reading, and letter recognition of preschoolers in the activities they prepare. In The Pirate Box, we have two literacy activities your kids can enjoy:
1 Walk the Plank
Materials: Walk the Plank game mat, Walk the Plank cards, gold coins

Game mechanics: In the Walk the Plank game, your child pretends to be a pirate who has been captured and has to walk the plank! In order to escape, your child must "pay" you the correct number of gold coins (one gold coin for each sound the captor/grownup names) and blend the sounds together into the word shown on the card!

About the game: This game is a great way to introduce kids to the concept of blending sounds together into words in a playful and interactive way! As you regularly play this with your child, they become more familiar with the sounds of the alphabet, which will help them read soon!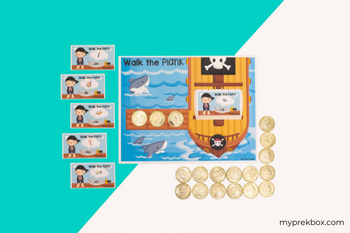 2 Treasure Island
Materials: Treasure Island game mat, die, 2 playing pieces, gold coins

Game mechanics: The aim of the game is to collect as many gold coins as possible! Like other board games, you roll the die and move your playing piece according to the number of spaces rolled. As you go along Treasure Island, there are letters that you will pass through the path. Name the letter with your child or let them name it if they already know the letters and sounds. If you land on a gold coin, collect a gold coin from Treasure Island and put it on your pirate ship! If you land on a skull and crossbones, steal one gold coin from your opponent! Continue to play until all of the gold coins have been captured from Treasure Island. The player with the most gold coins wins!

About the game: For starters, this is a good way to introduce letters of the alphabet while teaching how to play a board game. You can also include practicing the sounds of the letters as they pass through the letters while playing. There are many ways to explore and extend this game - like giving words that start with the letters on the path (which can also be pirate-related for added difficulty), and so much more!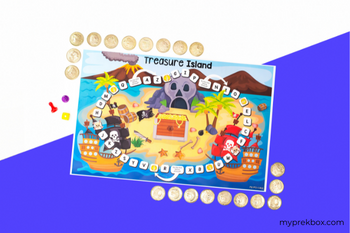 Crafts and Sensory Play
Arts and crafts are a fun way to engage your kids in learning creatively! Encourage them as they explore their imagination and creativity as they go through fun-filled crafts and sensory play in The Pirate Box!
1 Buried Treasure Kinetic Sand

Let your little pirate find buried treasures in the sand! The brown kinetic sand is included in the box, as well as the colored stones that will serve as treasures! You can set it up for your kid and ask him to find the buried treasures! Kids enjoy sensory activities and it helps a lot in their brain and motor development.

2 Pirate Hat Craft Kit

A cute black pirate hat is also included in the Pirate Box! Aye, aye! Kids are all thrilled as they put stickers into the pirate hat. Let them decorate it the way they want to! It encourages their creativity and imagination. You can also talk to them while they do this activity.
Craft Lovers Upgrade
Does your child love arts and crafts activities? Are you looking for fun and creative ways to help improve their fine motor skills through crafting? We've got you covered! Kids loooove our Craft Lovers Upgrade! Each month we pack your box with two additional arts and crafts activities! And the best part...it's only $4.25 per child! The Pirate Box's Craft Lovers Upgrade included: a 3D Floating Pirate Ship Craft Kit and a Giant Treasure Map Sticker Scene!
1 3D Floating Pirate Ship Craft Kit
In The Pirate Box, the first craft included in the Craft Lovers Upgrade was a 3D Pirate Ship...that actually floats! It's the perfect craft to add to bathtime!
2 Giant Treasure Map Sticker Scene
In The Pirate Box, the second art activity included in the Craft Lovers Upgrade was this Giant Treasure Map Sticker Scene! One of the best parts of being a pirate is finding the buried treasure! Kids loved this huge treasure map they can make themselves!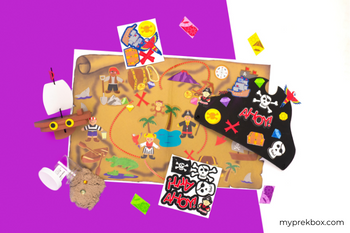 Grownup Guide
Creativity not your strong-suit? Not exactly a born teacher? We've got everything you need to feel confident. Each box includes a simple, easy to understand grownup guide outlining all of the included activities, how to play them, and how to help your child be successful based on their level! It's our personal mission to make life easier on you...and more fun!
Check out My Pre-K Box to delight your little learner!
Why subscribe to My Pre-K Box?
1 Activities are play-based and learner-centered
Every single activity is well-thought and child-friendly, and ensures learning while having fun!
2 Easy and effortless
If you would be the one to research and prepare the crafts yourself, it would be too tiring and time-consuming. But if you subscribe to My Pre-K Box, it will be delivered to your door every month, hassle-free and easy right? You can have more time for fun and quality family time!
3 Affordable prices
The monthly subscription plan costs $37.95 each month. Or you can save more by committing to a 6-month term ($32.95/month) or a 12-month term ($30.95/month). We also have regular promos and discounts! Check out our current promo here, or choose your plan now!
4 High-quality materials
All the contents of the box are carefully selected and are of top quality to ensure the safety of your kids! Most are also reusable, so your child can play it over and over again!
5 Great customer service
100% Happiness Guaranteed! We make sure to give you unparalleled customer satisfaction. If you have a problem, we will solve it. Because as you support our family business, we also treat you like family.
So, what are you waiting for? Subscribe now and start making learning fun for your kids!
Let's Connect!
Did you like the Pirate Box? Like and Follow us on Facebook and Instagram for more of these! Share with us photos and videos of your little ones while enjoying our wonderful boxes. We might feature them in our blogs too! Use the hashtag #myprekbox or message us on our social media pages. We look forward to hearing from you!
Haven't Tried My Pre-K Box yet?
My Pre-K Box is the best monthly subscription box for

kids ages 3-5!

Everything you need to create, play,

laugh, and learn!