Does your kid love to play and pretend as an astronaut? Is he curious about space and the planets? If he does, he will be thrilled to see our space-themed worksheets from our Preschool Fun Pack series! Be ready for an educational space adventure with your little ones through our Space Preschool Fun Pack!
My Pre-K Box: The Ultimate Subscription Box for kids ages 3 to 5!
My Pre-K Box is an educational subscription box for preschoolers aged 3-5! We deliver the most fun play-based preschool learning available! Each box has its own unique theme and is filled with different learning activities to target math and literacy skills. Your kids will have fun exploring the new activities, and you will delight in the fact you are helping them with essential Kindergarten readiness skills!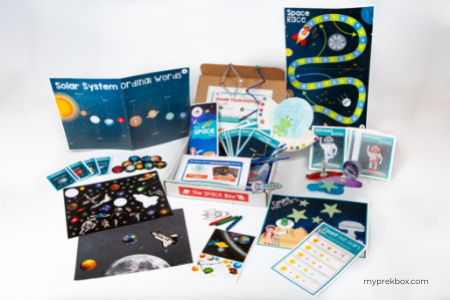 The space theme never fails to amaze kids (and kids at heart!). Not only because of the bright colored stars and planets, but because it deals with the vast universe, the solar system, and many other things that are unknown to us!
And today, My Pre-K Box brings to you a collection of space-themed worksheets that will not only help your kids explore basic science and math concepts, but also allows the development of many Kindergarten skills like counting, coloring, sorting, tracing, rhyming, graphing, and a whole lot more! Your little astronaut will surely have a lot of fun without noticing that he's learning a lot too! And best of all, you can get all the 10 worksheets for FREE!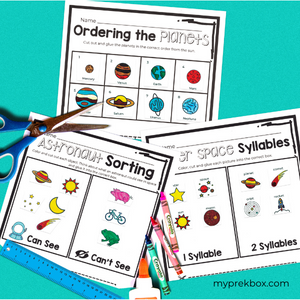 What's included in the Space Preschool Fun Pack?

The Space Preschool Fun Pack includes 10 fun-filled worksheets to help kids develop important skills to prepare them for Kindergarten!

Ordering the Planets

Solar System Graphing

Rhyming Rocket Ships

Pre-Writing Blast Off

Solar Beginning Sounds

Astronaut Sorting

Out of This World Count and Color

Alien Letter Matching

Outer Space Syllables

Planet Color by Size
Materials:
printer

paper

pencil

crayons or markers

scissors

glue
Check out all the 10 worksheets included in the FREE Space Preschool Fun Pack!
1

Ordering the Planets
Teach your child which planets come first through this worksheet! Cut out and glue the planets in the correct order from the sun. They can also have fun coloring it too! Think your child is too young to do this? Don't worry, each planet that you will cut out has a number guide in the upper right corner! This way, your child will know which is the correct box for each planet. You can then read the names of the planets to help your kids recognize and remember them. Be prepared for questions from your curious little ones!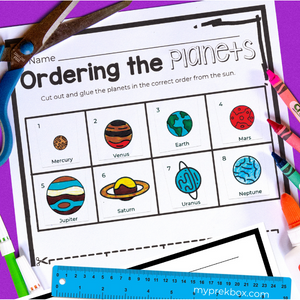 2

Solar System Graphing
The Solar System Graphing worksheet helps kids practice coloring and counting while learning graphing! Ask them to color and count objects of the same kind. Then, guide them in coloring the correct number of boxes to complete the graph. For example, the worksheet shows four rockets. Direct them to the bottom of the page and ask them to identify the rocket. Tell them that they should color four boxes above that rocket. After completing the graph, you can ask them questions like, "Which object has the largest number?" "Which one has the least number?". These can be answered by just looking at the graph.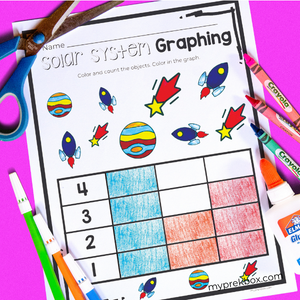 If they can answer these correctly, this shows they can understand and interpret the graph already! This is a very important skill they can use all throughout their school years.
3

Rhyming Rocket Ships
This fun, rhyming worksheet with cute rocket ships will surely catch the attention of your little ones! Instruct them to connect the rocket ship with a picture that rhymes with the picture on the astronaut. You can ask them to name the pictures themselves, or read it out to them. For example, the first given is STAR. Read it, emphasizing the ending sound which is /ar/. Then point out the CAR on the opposite side. Say its name again, emphasizing the ending sound. Ask your child if the ending sound is the same. Tell him to repeat the words STAR and CAR and point out how they rhyme or have the same ending sounds. Then instruct him to draw a line to connect the two. After more practice, he should be able to do the rest!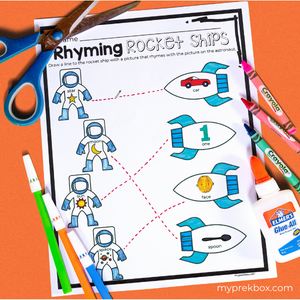 Afterward, let your child have fun coloring the worksheet! You can also challenge him to think of other words that rhyme with the pictures on the astronauts. Don't forget to give them rewards for a job well done!
4

Pre-Writing Blast Off
Your little space explorer will be glad to help the rocket ship land on the planet, this time by tracing a line to connect them! This activity may seem very simple but it is a great way to help preschoolers learn lines, improve their pencil grip, and develop fine motor skills. With more tracing practice, you will see that there will be fewer lines that go beyond the tracing lines. They can also color the rocket ship and planets for more fun! If they have broken crayons, better use these to help in improving their pencil grip too. Read more about this topic here.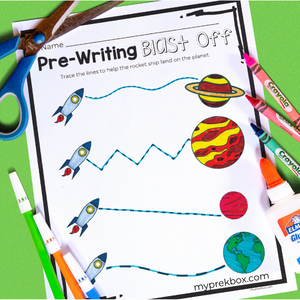 5

Solar Beginning Sounds
Check your preschoolers' knowledge of the sounds of the letters through the Solar Beginning Sounds worksheet! Each planet on the left side has a letter, and they have to tell which object has the beginning sound that is the same as that letter. For instance, the first planet has the letter M, which has the "mmm" /m/ sound. Ask them to name the objects after it (satellite, moon, planet/Saturn), then ask them which one has the "mmm" sound at the beginning. They can choose to circle or color it.
If they find this activity quite easy, you may try blending in two letters and combining their sounds. This will soon help them read and recognize words faster.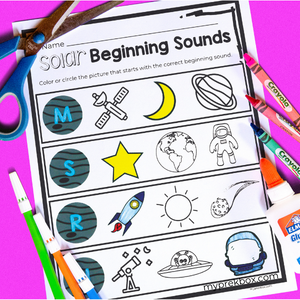 6

Astronaut Sorting
What do you think an astronaut sees in space? If you ask this to your preschooler, you might hear some hilarious answers! Through the Astronaut Sorting worksheet, you can guide them with the things that an astronaut could see in space. They simply have to cut out each picture, then sort and glue them into the two boxes. The first box is for objects that can be seen in space, while the second box is for objects that cannot be found there. You can further extend this activity by asking where the objects in the second box can be seen, or ask them what other things an astronaut can probably see up there.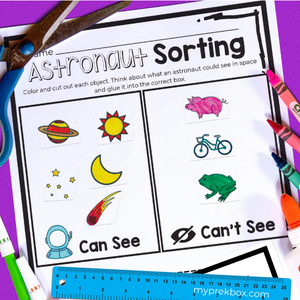 7

Out of This World Count and Color
Help kids learn basic math skills like counting and number recognition with the Out of This World Count and Color worksheet! It is named that way because of the fun, space-themed objects that your preschoolers will count. After counting, they have to choose the star with the correct number and color it! They can also color the rockets, planets, and astronauts for more space fun!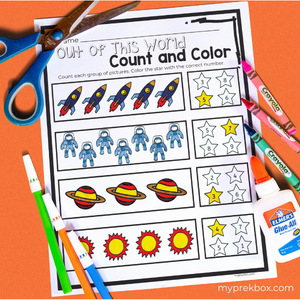 8

Alien Letter Matching
Kids will surely have fun matching uppercase and lowercase letters in this activity because this time they will help our alien friends ride their spaceship! They have to choose which alien with a lowercase letter will ride the matching spaceship with the uppercase letter. Ask them to color or circle their answer.
As some kids have difficulty recognizing uppercase and lowercase letters, this will be a great way to practice this skill, while learning other Kindergarten skills like coloring and letter recognition.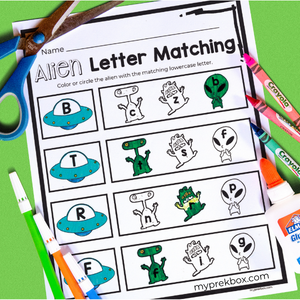 9

Outer Space Syllables
Practice counting syllables with the Outer Space Syllables worksheet! It features space-themed objects like the moon, rocket, orbit, planet, and a lot more! Instruct them to color and cut out the pictures, then sort and paste them into the correct boxes. The first box is for one-syllable words, while the second one is for two-syllable words.
It may look like a very simple activity but it helps develop literacy skills like counting syllables, sorting, and picture recognition, as well as developing fine motor skills through coloring, cutting, and pasting.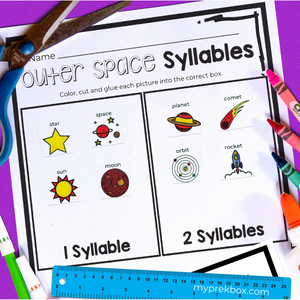 10

Planet Color by Size
Can your child recognize size differences? This activity will help improve their knowledge in terms of size recognition as they classify planets of various sizes by coloring. This will also improve color recognition and their ability to follow instructions correctly.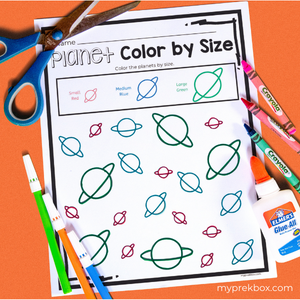 You see, learning doesn't have to be boring and tedious! With our fun and entertaining themed worksheets like the Space Preschool Fun Pack, you will not only catch their attention but they will truly enjoy answering all the activities and learn from it. Make learning easier for you and your kids - get a copy of our Preschool Fun Packs, it's FREE!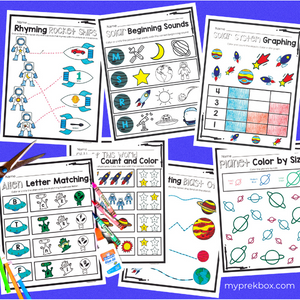 And if your little space explorer was thrilled with our Space Preschool Fun Pack, how much happier would he be to receive The Space Box!
The Space Box is one of the many themed boxes that we make and deliver each month to little kids and busy parents. You can get it by subscribing to My Pre-K Box - the best subscription box for preschoolers! Each box is filled with hands-on learning tools, several math activities and literacy games, sensory play, fun thematic crafts, and a grownup guide.
It is kid-and-adult-friendly, practical, and reusable! If your child has siblings, it can be shared and can be used several times! As for the crafts, which are mostly not reusable, you can get duplicates of the craft for his/her siblings for only $3.25 a month! Craft lovers can also subscribe to our Craft Lovers Upgrade, which comes with more fun crafts and two additional arts and crafts activities for just $4.25 per child! With all the fun and exciting space-themed activities inside The Space Box, your child won't even notice he's learning a lot! And as parents, we wouldn't have to worry about researching, planning, and making the activities! We can just conveniently guide and watch them learn - with the help of My Pre-K Box!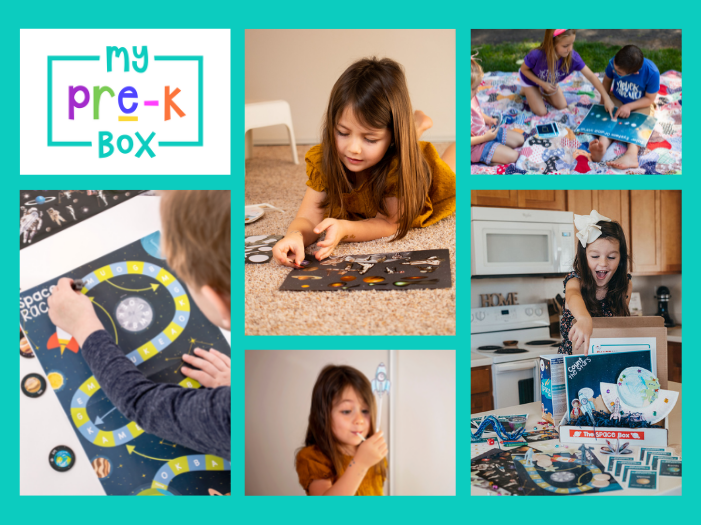 Let's Connect
For more themed worksheets and hands-on activities for preschoolers, LIKE and FOLLOW our Facebook and Instagram pages! Send in your comments, requests, and suggestions through our social media pages, or contact us at hello@myprekbox.com. We would LOVE to hear from you!
You can also share photos of your little ones enjoying our Space Preschool Fun Pack, and don't forget to use the hashtag #myprekbox!
Haven't Tried My Pre-K Box Yet?
My Pre-K Box is the best subscription box for kids 3-5 years of age!

Everything you need to play, create, learn, laugh, and enjoy!