Kids grow up so fast. In a blink of an eye, your crawling baby would soon be holding a crayon, then a pencil, and would soon be trying out scribbling stuff everywhere! (even on walls). Or if you already have a toddler, he might be trying to write letters or draw by now. But one thing that almost immediately worries parents at this stage is the way their child holds a pencil. You might be asking questions like, "Is my child holding the pencil correctly?" "How can I correct my child's pencil grip?" "Will my child's pencil grasp affect his handwriting in the future?" "Do we need to ask for professional help to correct her pencil grasp?" If you are troubled with the same questions, this article might be of help! We will discuss the following topics related to correct pencil grip in your preschoolers, and what we can do as parents.
How should my child be holding a pencil?
The answer to this question varies depending on the age of the child. Why? Because like walking, a pencil grip is also developmental. A baby will not immediately walk or run like a toddler, right? They will have to go through sitting up first, crawling, then they will begin to stand (while holding onto something) until they learn how to take a few steps and can soon walk. Similarly, the way a child holds a pencil also changes as they grow. These are what we call stages of pencil grasp development:
1 Fisted Grasp
At the age of 1 to 1 ½ years, babies grab crayons with their closed fist, with the thumb usually on top, which is why it was called a "fisted" grasp. The movement starts from the shoulder while the whole arm moves with it as the child scribbles on the paper or surface.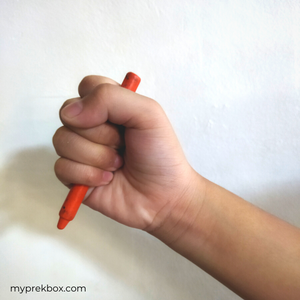 2 Palmar Grasp
From 2 to 3 years old, toddlers develop more control over their arm muscles. They start to hold crayons or pencil and lay it across their palm with a still closed fist. It results in their arm being slightly bent on the side (sometimes awkwardly raised a bit) and their thumb pointing downward. Though they have more control over their arm muscles at this age, it is normal that they still use their whole arm to move the pencil over the surface.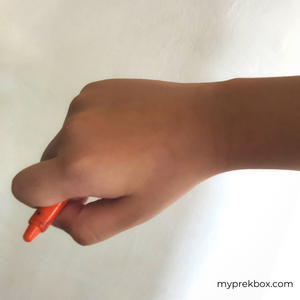 3 Five Finger Pencil Grasp
Children 3 to 4 years of age begin to hold pencils with their five fingers, which is why this stage is known as the Five Finger Pencil Grasp. Take note that some children may not experience this stage and would go straight to the next one, and that is okay too! It is probably due to their hand muscles more developed than other kids their age. And even though it may look quite awkward, do not force your child to change his grasp immediately. There are some ways to help them improve, which will be discussed below.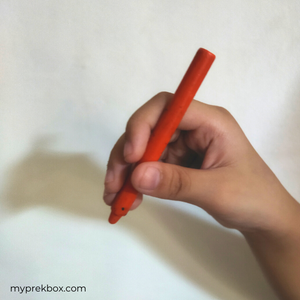 4 Static Tripod or Quadrupod Grasp
From a five-finger grasp, children shift to a four-finger grasp, also called Static Tripod or Quadrupod Grasp. This normally occurs to children 3 to 4 years of age too. Children with this pencil grasp hold the pencil with their thumb, index, middle, and ring fingers. It is also termed a "static" grasp because the fingers are still not moving independently and movement comes from the wrist.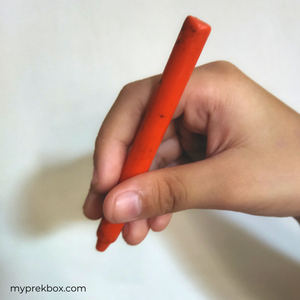 5 Dynamic Tripod Pencil Grasp
Between ages 4 to 6 years old, children develop the Dynamic Tripod Pencil Grasp, which is considered the "mature" grasp used in school. It is called a dynamic tripod because it uses the three fingers (thumb, index, and middle fingers) in holding the pencil and those fingers move independently (dynamic), resulting in less strain on their wrist and better pencil grip.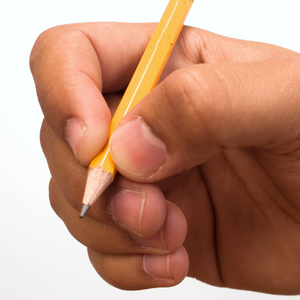 At what age do kids hold pencils correctly?
As mentioned above, kids adapt the Dynamic Tripod Pencil Grasp at the age of 4 to 6 years old. So if your child is younger, he might still be in the earlier stages of pencil grasp development, so there is no need to stress over correcting him now! His hand muscles are still developing so shifting and switching from one stage of pencil grasp, though may seem awkward or weird, is quite normal. Remember that pencil grip is developmental - your child will improve with time, so be patient. Instead, give him activities to help develop his hand and arm muscles to further improve his fine motor skills.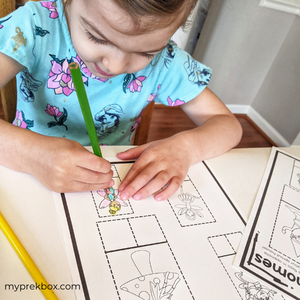 How do I correct my child's pencil grasp?
In typical toddler and preschooler fashion, many don't want to be instructed on pencil grasp! So the best thing to do to help young children is to expose them to activities that will help improve their pencil grip, as well as their arm and hand strength in a fun, developmentally appropriate way! Here are some ways to help your preschooler with their pencil grip:
10 Things to Improve Pencil Grip for Preschoolers
1 Using broken crayons and golf pencils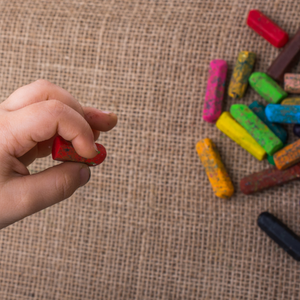 Why? Because broken crayons and golf pencils are shorter, kids will hold them in a pinch-like grasp almost similar to a four-finger grasp or tripod grasp. So without forcing them to hold the pencil or crayon correctly, they unconsciously adjust their grasp due to the length of the crayon/pencil. We have free coloring worksheets that you might want to try! Check out our FREE Coloring Calendar, Earth Day Color by Number, and Chinese New Year Color by Number worksheets!
2 Playing with legos, fidget toys, and other small toys
Legos are well-known for enhancing kids' creativity through play, but do you know they can also help them improve their pencil grip? Yes, it does! Since legos are made of small pieces, their movements are more focused on their fingers. They also need to push the pieces together or pull them apart as they play with them. This results in well-developed fine motor skills and improved hand strength, which are much needed for a good pencil grasp.
Fidget toys and other small toys also help a lot in developing fine motor skills. The Zoo Box has the Enclosure Shapes activity that uses wiki stix to create different shapes. It also has Syllable Snack and Hungry Hippo games that use small bingo chips placed on game cards or boards. These, and a lot more activities in our wonderful boxes, all help in fine motor skills development!
Click here to read more about The Zoo Box!
3 Snipping and cutting paper
Scissor skills are one of the things you can also develop along with pencil grip. Because as they learn to hold and use scissors properly, the precision side of the hand (thumb, index, and middle fingers) are also strengthened and gains more control since this is also the side of the hand used in holding the scissor. The power side of the hand (ring and pinky fingers) then adjusts and becomes stable as it curls up into the palm. This position is quite close to the Dynamic Tripod Grasp, which results in good pencil grasp and neat handwriting.
We have a FREE printable craft focused on developing scissor skills. Check out the Lion's Mane Craft!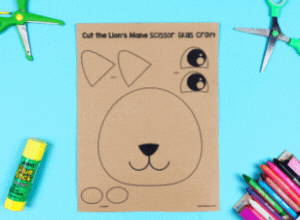 4 Doing arts and crafts
Arts and crafts activities not only develop their creativity. It also involves a lot of opportunities for fine motor development! Picking up a paper and other stuff they would put on crafts, cutting, gluing it, and putting it together develops their hand muscles too, resulting in more precise movements.
And when it comes to crafts, our boxes are one of the best! Each box contains thematic crafts and sensory activities that are great for their little hands! If they have a sibling, you can get duplicate crafts for just $3.25 a month. What a great value, right? Here are some of the fun crafts included in our boxes: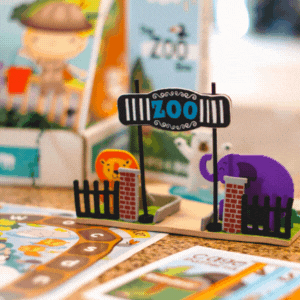 5 Tracing, drawing, and painting activities
Aside from fine motor development, one of the best ways to improve kids' pencil grasp, of course, is to practice writing! They can do it in fun ways like in our classic Alphabet Workbook, where they can learn the alphabet while tracing and practicing writing. For younger kids, The Pet Box has a Bird Seed Writing Game where they can practice tracing with their fingers or writing with a feather - on bird seeds!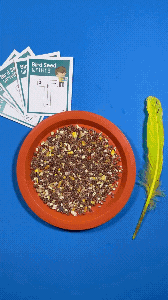 Another highly recommended activity is the Bats in a Cave Scrape Painting activity from The Hibernation Box. Kids love painting and this activity helps them develop pencil grip and fine motor skills at the same time… while having fun!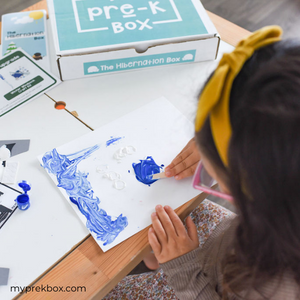 6 Squeezing motions using tongs, tweezers, and clothespins
As kids play with tongs and tweezers to pick up small objects, they unknowingly practice the pincer grasp. This kind of grasp uses the thumb and index finger in holding and squeezing tongs and tweezers, which is good for improving hand muscle strength for a good pencil grasp. We have a FREE worksheet just like this that uses tongs to pick up pom pom balls - the Spring & Easter Pom Pom Mats! The Hibernation Box also has a Chipmunk Chomp game that uses tweezers to feed the cute chipmunk with acorns, while The Pet Box has the Feed the Bunny game that uses a clothespin to feed the bunny!
Feed the Bunny game from

The Pet Box

FREE Worksheets

Chipmunk Chomp game from
7 Lacing and threading activities
Another fun and enjoyable way to develop finger movements and hand muscles is through lacing and threading activities. As your child threads a string into small holes, they learn to control their hand movements (which of course, requires practice). For an easy and FREE printable to help preschoolers practice threading - check out the Zoo Train Craft! We also have threading activities in some of our crafts, like our Zoo Animal Beaded Necklace Craft from The Zoo Box and our Design a Dog Collar Craft from The Pet Box!
Zoo Animal Beaded Necklace Craft

from The Zoo Box

Threading Practice Free Worksheet

Design a Dog Collar Craft from The Pet Box
8 Playing with clay or play dough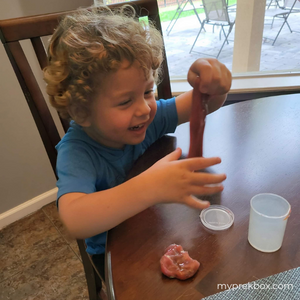 Clay and play dough are not only best for sensory play - it helps a lot with fine motor development too! Kids will not only "grasp" when playing clay - they will knead, roll, stretch, mold, flatten, and press it with their hands and fingers! It may be messy but it pays a lot as kids enjoy it so much! We know because many kids are so happy with the air-dry clay included in our Gingerbread Cookie Cutting activity from The Gingerbread Box. The same goes for the Lion in Putty from The Zoo Box!
| | |
| --- | --- |
| | |
| Gingerbread Cookie Cutting activity from The Gingerbread Box | Lion in Putty from The Zoo Box |
9 Playing with stickers
Who doesn't love playing with stickers? Everybody does, including kids! Especially when the images are their favorite cartoon characters. Take this opportunity to help them practice their pincer grasp as they peel off stickers and place them on the surface! And speaking of stickers, do you know that our Craft Lovers Upgrade often includes a full-page sticker scene? Yes, it does! If you have subscribed to My Pre-K Box, you can have this upgrade for just $4.25. Here are some of our full-page sticker scenes included in the Craft Lovers Upgrade: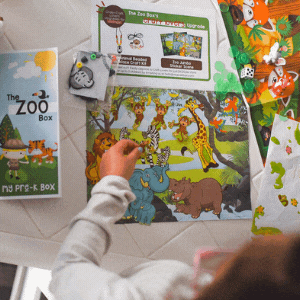 10 Paper folding activities
Paper folding or origami is quite popular even for adults. But do you know that it is a good way to improve hand muscles and fine motor skills? Of course, it is! It requires precise movements but there are easy and kid-friendly paper folding crafts for beginners like our Mother's Day Bouquet Craft and Penguin Origami Tutorial.
| | |
| --- | --- |
| | |
| Free Printable Template | Free Printable Template |
Should I be worried about how my child is holding his pencil?
After knowing the stages of pencil grasp development, you should be able to tell if your child has a poor pencil grip or is just too young and still at an earlier stage. If you have ongoing concerns about their fine motor development, it might be best to request an evaluation from an occupational therapist.
In older children, some possible signs that you may wish to seek evaluation are:
Writing still results in fatigue

They often feel discomfort when writing

Poor handwriting

Poor pencil grip
Remember that children's development varies from one kid to another, so do not feel pressured if your child is a little bit left behind! Take your time and enjoy play-based activities to help them improve fine motor skills instead.
Let's Connect
Got questions and suggestions? Message us at hello@myprekbox.com or contact us on our social media pages. Like and Follow us on Facebook and Instagram for more Kindergarten Readiness discussions! See you there!
Want to try My Pre-K Box?
My Pre-K Box is the ultimate subscription box for preschoolers!

Everything you need to play, create,

laugh, and learn!