Make Easter celebration with kids meaningful, fun, and educational with our Print & Go Spring and Easter Pom Pom Mats! This FREE PDF printable has a lot in store for you and your little ones!
My Pre-K Box: The best monthly subscription box for kids ages 3-5
My Pre-K Box is an educational monthly subscription box for kids 3 to 5 years old. A new and exciting theme awaits you each month, all packed in a fun-filled box and is delivered straight into your home! It comes with everything you need for learning math and developing literacy along with thematic crafts and sensory play! Your kids will absolutely love all of the creative, fun-packed activities inside! Make learning at home easy, hassle-free and more fun with My Pre-K Box!
Kids love arts and crafts, especially using pom poms! The soft and fluffy pom pom balls are very attractive for kids, and are good for sensory play too! In this activity, they will create images using colorful pom poms, but to make it easier for kids (and for parents too!), we created this FREE Spring and Easter Pom Pom Mats template. Just download, print, and follow the themed pattern in attaching the pom poms!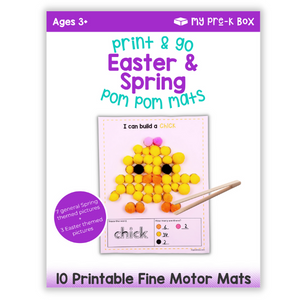 Materials in Creating

Spring and Easter Pom Pom Mats
small tongs

colorful pom poms

pencil and/or crayons

glue, optional
How to use the Spring and Easter Pom Pom Mats template
Simply download and print the Spring and Easter Pom Pom Mats template to access the 10 themed worksheets. Then, follow the color and pattern of the design by placing a pom pom ball on top of each circle using a small tong. Continue this process until the design is complete!
Ask your child what image was formed. You can tell a short story or give a simple explanation of why the image is related to spring and Easter. Then, proceed to tracing and spelling the name of the object. Lastly, challenge kids to count the pom pom balls by color! This is a good way to practice their counting and color recognition skills!
Get Spring and Easter Pom Pom Mats Template
Check out the

Spring and Easter Pom Pom Mats

template!
1 Cross
(Optional) For Christians, the cross is a very important symbol of Easter. Christians believe it symbolizes Jesus' coming back to life.
2 Flower
Spring starts when flowers start to bloom, so it is just right to have a flower made of colorful pom poms worksheet too! Flowers also symbolize new life, and Easter lilies in particular are an important Easter symbol.
3 Ladybug
Where there are flowers, there are ladybugs too! These cute, spotted insects are also abundant in spring.
4 Bee
Bees play an important role in the pollination and growth of flowers. Thanks to bees, we get to enjoy spring with blooming flowers, and of course, yummy honey!
5 Butterfly
Colorful butterflies are abundant in spring too! These pretty butterflies flying around flowerbeds are a great sight to see in spring. They are also known to be an Easter symbol as it symbolizes new life and a new beginning as a butterfly emerges from its cocoon.
6 Basket
Easter wouldn't be complete without Easter baskets! It is like a symbolic nest that holds Easter eggs, which is a symbol of fertility and new life!
7 Lamb
Can you use your fine motor skills to give this sweet baby lamb it's wool!? Spring is full of new life and babies, and your toddler will love this adorable baby sheep!
8 Chick
Chicks are one of the main symbols of spring and Easter because they symbolize new life. Their cute chirps and yellow feathers are loved by kids too!
9 Easter egg
Easter celebrations become more fun with these colorful Easter eggs! While working on this worksheet, you can explain to your child that eggs are also a symbol of new life and rebirth. You can also tell tales as to the history behind Easter eggs are colorful. Christians believe Simon of Cyrene found the eggs became colorful after he carried Jesus' cross.
10 Bunny
Cute baby bunnies are abundant in spring, making it a common symbol of spring and fertility. Later on, the story evolved into Easter bunnies carrying baskets with Easter eggs in it. Extend this activity by dressing up as an Easter bunny or by just simply sharing Easter egg treats with friends!
What skills will my child learn with the

Spring and Easter Pom Pom Mats activity?
Develop fine motor skills - picking up a pom pom using a tong and placing it correctly in the template will help develop their fine motor skills
Develop patience and self-confidence - as they work on this activity, the pom poms may fall off and they have to repeatedly pick it up again with the tong. But after completing the picture, they will also develop self-confidence since they completed it themselves!
Practice counting - at the bottom part of the worksheet, they can write the number of pom poms used for each color.
Practice proper handgrip through tracing - they can also trace the name of the image formed at the bottom of each worksheet
Enhance color recognition skills - while they count each colored pom pom, they become more mindful of the colors too!
Learn religious and cultural beliefs - if you explain each spring and/or Easter symbol, they learn more about religious and cultural beliefs… in a fun way!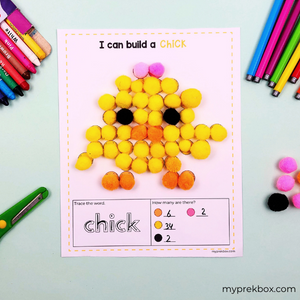 Let's Connect!
For more enjoyable fine motor skills activities, like and follow us on Facebook and Instagram! Don't forget to snap a photo of your child's best My Pre-K Box moment, and tag us or use the hashtag #myprekbox! You can also get more creative crafting ideas at My Pre-K box blog.
Want to try My Pre-K Box?
My Pre-K Box is the best educational monthly subscription box for kids 3 to 5 years old!

Make learning at home engaging, easy, and more fun!