Kung Hei Fat Choi!
Chinese New Year is one of the most celebrated holidays around the world. If you are looking for fun and educational activities for the Chinese New Year, you are on the right track! Our Print and Go Chinese New Year Color By Number Worksheets are a great way to teach kids about the occasion while having fun, at the same time!
My Pre-K Box: The best monthly subscription box for kids ages 3-5
My Pre-K Box is an educational subscription box for preschoolers filled with different learning activities focused on developing math and literacy skills! We come up with fun, new themes each month, and your child will be definitely excited in all of the play-based learning activities inside! Prepped and delivered straight to your door, My Pre-K Box is so much fun, your child won't even realize how much they're learning!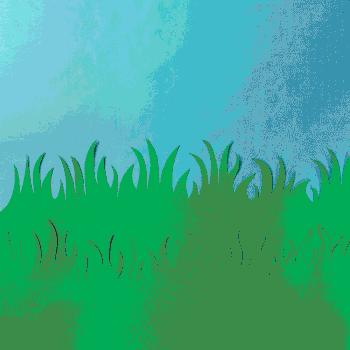 '
Kids love coloring and numbers - and we put them together in one fun activity, all for Chinese New Year! With our Print and Go Chinese New Year Color By Number Worksheets, prepping the kids for this holiday can be hassle-free! Just download and print, and you're all set!
What's included in our Print and Go

Chinese New Year Color By Number?

It includes 12 Color by Number Worksheets of each of the Chinese Zodiac:

Rat

Ox

Tiger

Rabbit

Dragon

Snake

Horse

Goat

Monkey

Rooster

Dog

Pig
Materials
The Chinese Zodiac consists of 12 animals. An animal represents every year and only repeats after the 12-year cycle. The Chinese people believe that the characteristics or personalities of the people born in a particular year are the same as the animal in the Chinese zodiac. Like if you are born in the year of the Tiger, you are most likely adventurous and proud, while people born in the year of the goat are timid and gentle. Learn more as we go through each of the 12 worksheets!
Check out all the worksheets included in the Print and Go Chinese New Year Color By Number!
1

Rat
The rat is said to be smart, ambitious, hardworking, and amiable.
2

Ox
Like an Ox, people born in the year of the Ox are believed to be strong, reliable, and determined.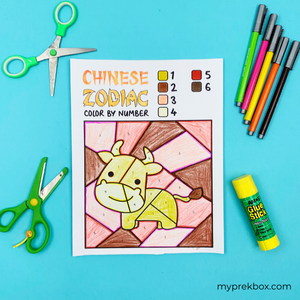 3

Tiger
Chinese people believe that Tiger is one of the luckiest signs. They are adventurous, courageous, and born leaders.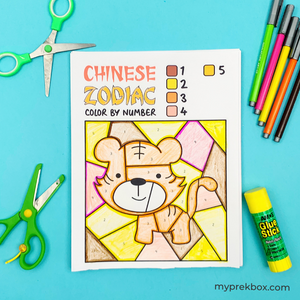 4

Rabbit
People love rabbits, not only because they are cute - they are kind, obedient, and smart!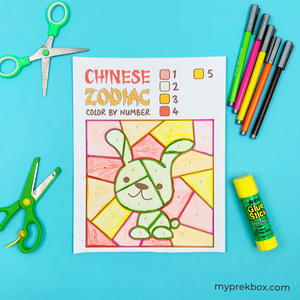 5

Dragon
Dragons are very important to Chinese culture. It is believed that people born in the Year of the Dragon have a good gift of fortune and good luck!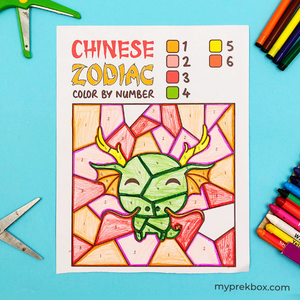 6

Snake
Like a snake, people born in the Year of the Snake are said to be quiet and reserved, but wise and curious!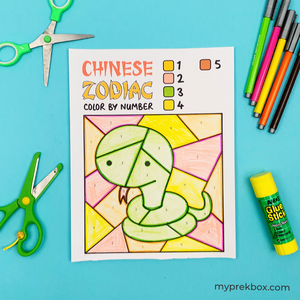 7

Horse
People born in the Year of the Horse are very energetic, confident, and talented - like a horse!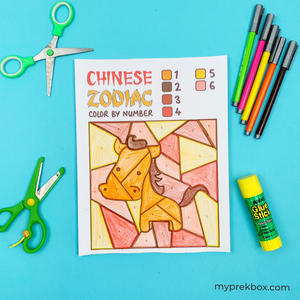 8

Goat
According to Chinese people, those born in the Year of the Goat are kindhearted, gentle, and shy.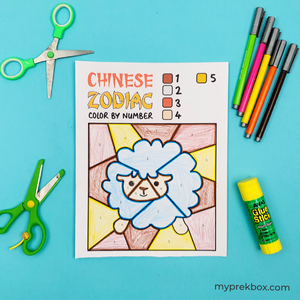 9

Monkey
People born in the Year of the Monkey are said to be intelligent, curious, and playful - like a monkey!

10

Rooster
A rooster may be noisy at times, but they are brave, reliable, and loyal!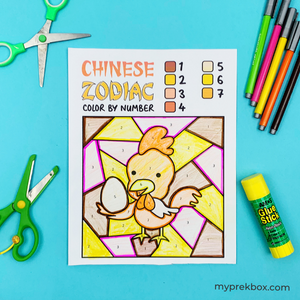 11

Dog
Known as man's best friend, dogs are naturally loyal, reliable, and faithful!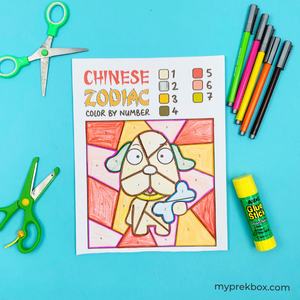 12

Pig
People born in the Year of the Pig are believed to be loving, generous, and diligent.
Does your Chinese zodiac match your personality? These may not be accurate at all times, but it is good to know more about our Chinese friends' beliefs! Talk about this at home and see if your family members really do have the personality of their Chinese zodiac animal signs!
Is Chinese New Year the same as the Lunar New Year?
Chinese New Year and Lunar New Year actually refer to the same holiday, which is a major traditional holiday celebrated in many countries in Asia. This holiday marks the beginning of a new lunar year based on the traditional Chinese calendar.
While it is commonly referred to as Chinese New Year, it is actually celebrated by many different ethnic groups and cultures around the world, including in China, Taiwan, Hong Kong, Macau, Singapore, Malaysia, Vietnam, and other countries with significant Chinese populations. Lunar New Year is also celebrated by other East and Southeast Asian communities, such as the Korean New Year (called Seollal) and the Vietnamese New Year (also known as Tet). Therefore, it is not just limited to Chinese people! So, feel free to enjoy our Print and Go Chinese New Year Color By Number Worksheets, whatever your nationality may be.

It is also interesting to learn that during this holiday, families gather together to celebrate with food, decorations, and festivities. Some common traditions include cleaning the house to sweep away bad luck, offering sacrifices to ancestors, giving red envelopes filled with money as gifts, and watching lion and dragon dances.
While it is often referred to as Chinese New Year, Lunar New Year is a holiday celebrated by many different cultures and ethnic groups around the world, and you can teach your child about this festive cultural holiday through our free printable worksheet!
Get Chinese New Year Color By Number NOW!
What your child will learn?
Color by Number activities helps children develop their color and number recognition skills. Their minds also develop as they begin to relate the numbers to the assigned colors, making connections and recognizing patterns. Coloring also helps kids relax, while enhancing their fine motor skills, wrist control, and finger grip. As you celebrate Chinese New Year with these colorful worksheets, you can also teach them about other countries cultures!
Let's Connect!
We'd LOVE to see your preschoolers learning through play, so share their photos and videos engaging in our fun-filled activities in your social media accounts! And don't forget to tag My Pre-K Box or use the hashtag #myprekbox! We might feature the best photos of your kids too! Follow us on Facebook and Instagram.
Haven't tried My Pre-K Box yet?
My Pre-K Box is the best monthly subscription box for kids ages 3-5!

Everything you need to create, play, laugh, and learn!