Are you looking for a fun winter theme for preschool learning? You will just love these hibernation-themed preschool activities! What's even better? With a subscription to My Pre-K Box, everything is planned, prepped, and mailed straight to your front door!
Let's take a look at all of the amazing preschool activities included in My Pre-K Box's The Hibernation Box!

With a subscription to My Pre-K Box, each month your preschooler receives the best preschool learning around! Everything is planned, prepped, and mailed straight to your front door! Subscriptions start at just $30.95/month!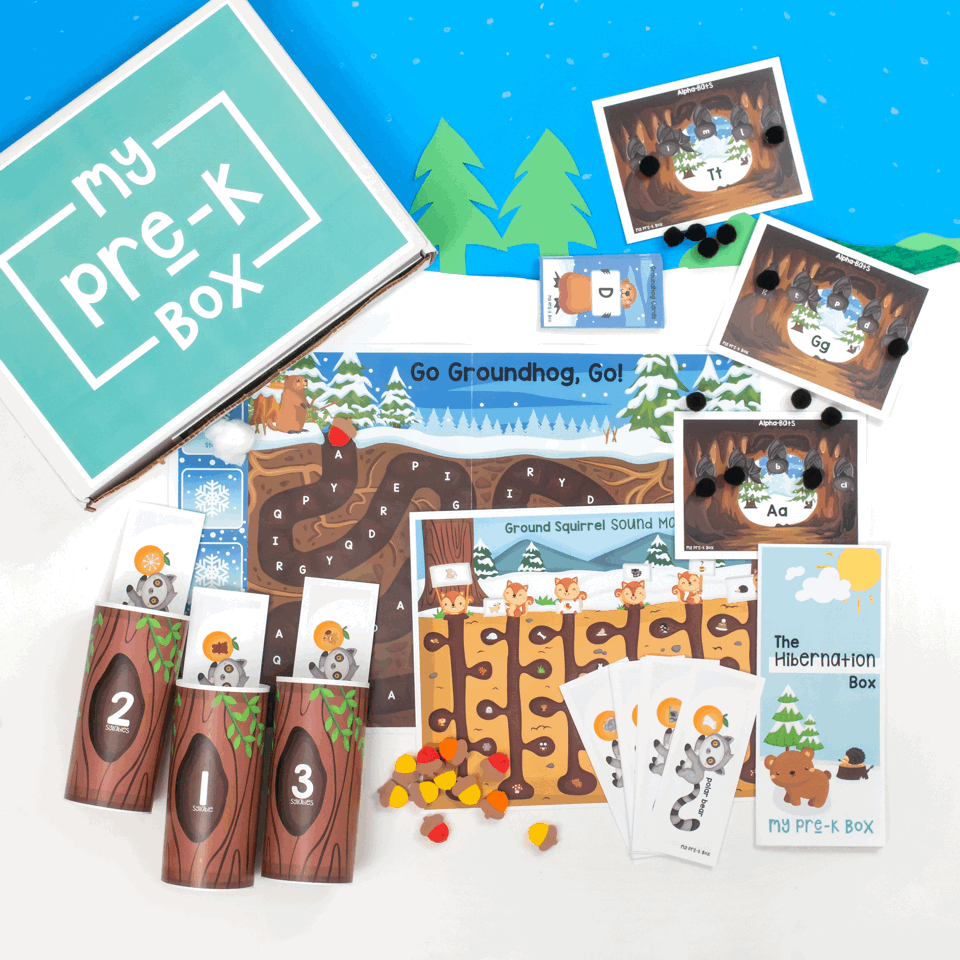 Overview
The Hibernation Box explores the different animals who live in the forest and often hibernate during the winter months. Each of the activities included in the My Pre-K Boxes are created to be played like games or are crafts. Preschoolers learn best through play and our activities reflect that! Activities included in this box are:
Hibernating Bear Compare: counting and comparing numbers

Ground Squirrel Sounds Match: identifying beginning sounds

Chipmunk Chomp: identifying patterns and fine motor skills

Alpha-Bats: letter recognition

Fat Tailed Dwarf Lemur's Tree Sort: word segmentation

Magic Snow: sensory play and exploration

Go, Groundhog, Go! Game: letter identification
Whati's great is that all game pieces and materials are included in the boxes!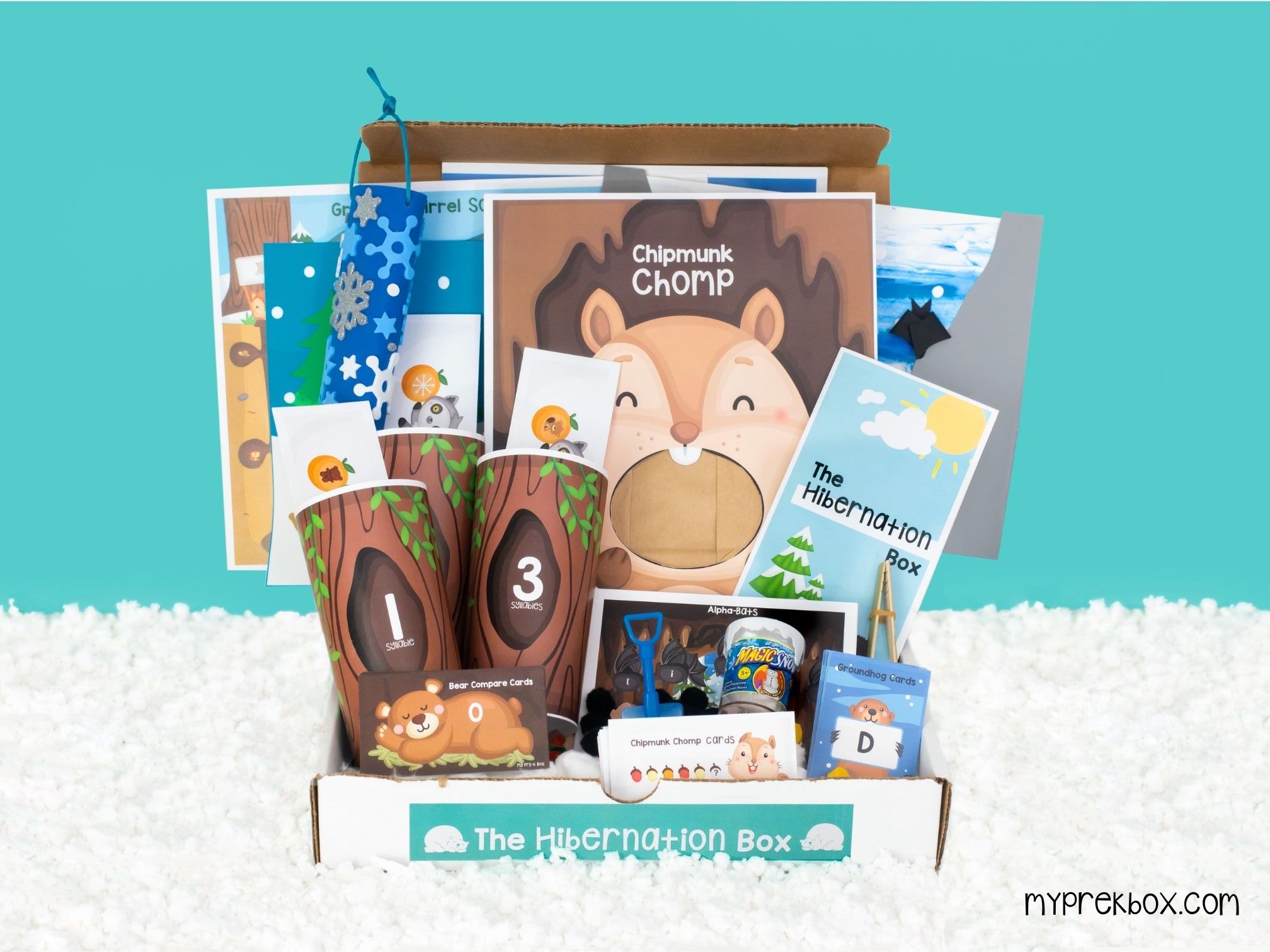 Hibernating Bear Compare
The beautiful game mat shows two empty bear caves. Your child picks two cards from the stack. Each card shows a hibernating bear! Place one bear in each cave. Your child will identify the number on the bear, and put that many snowballs ontop of its cave. Your child will use the hands-on counters to determine which number is the larger!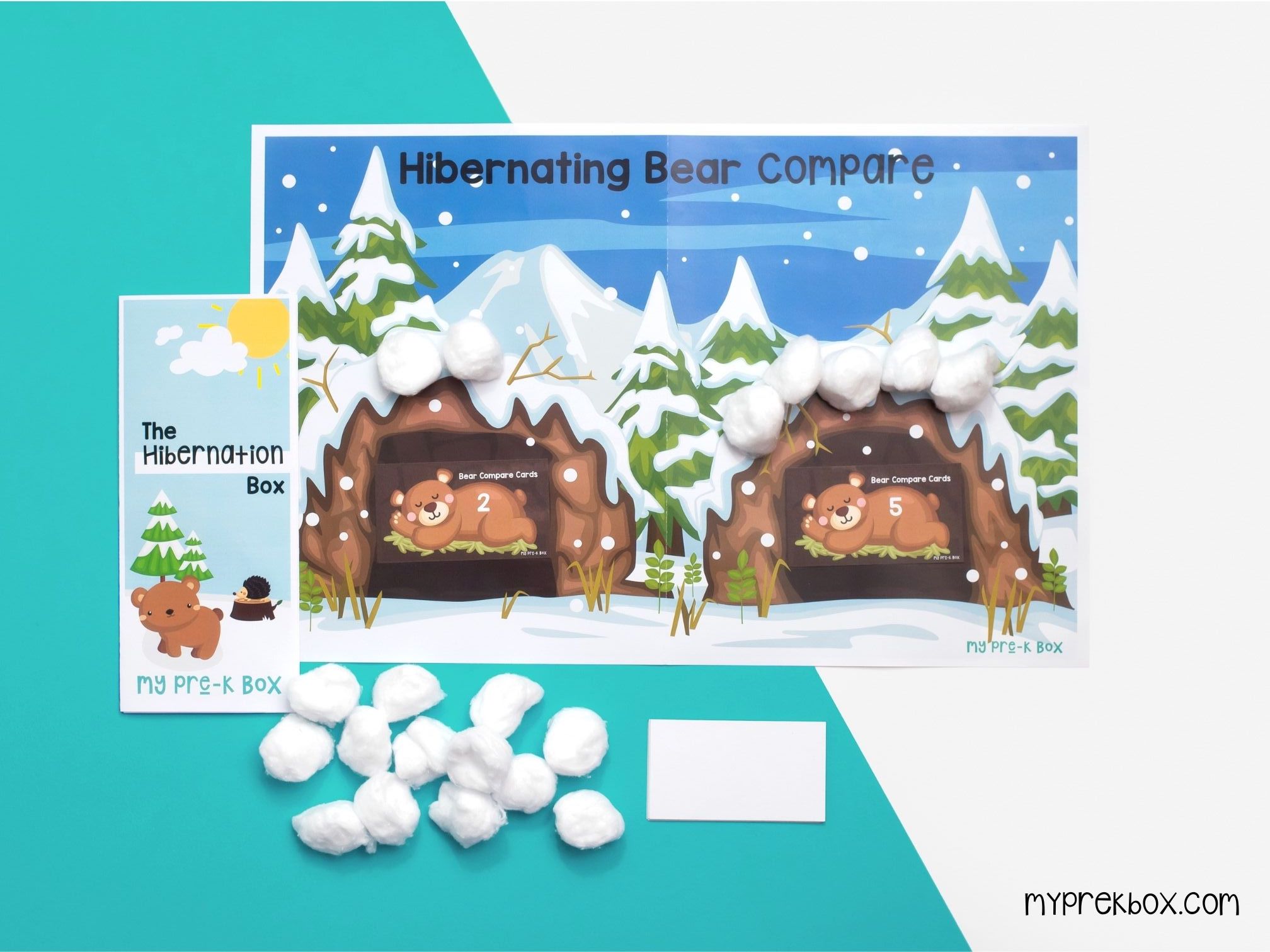 Ground Squirrel Sounds Match
The ground squirrels are getting ready to hibernate in their burrows for winther, but they need to gather up acorns first! Each ground squirrel is holding a sign with a picture on it. Inside each ground squirrel's burrow are additional pictures. Your child will put an acorn on each picture in the burrow that has the same beginning sound as the picture the groundhog is holding!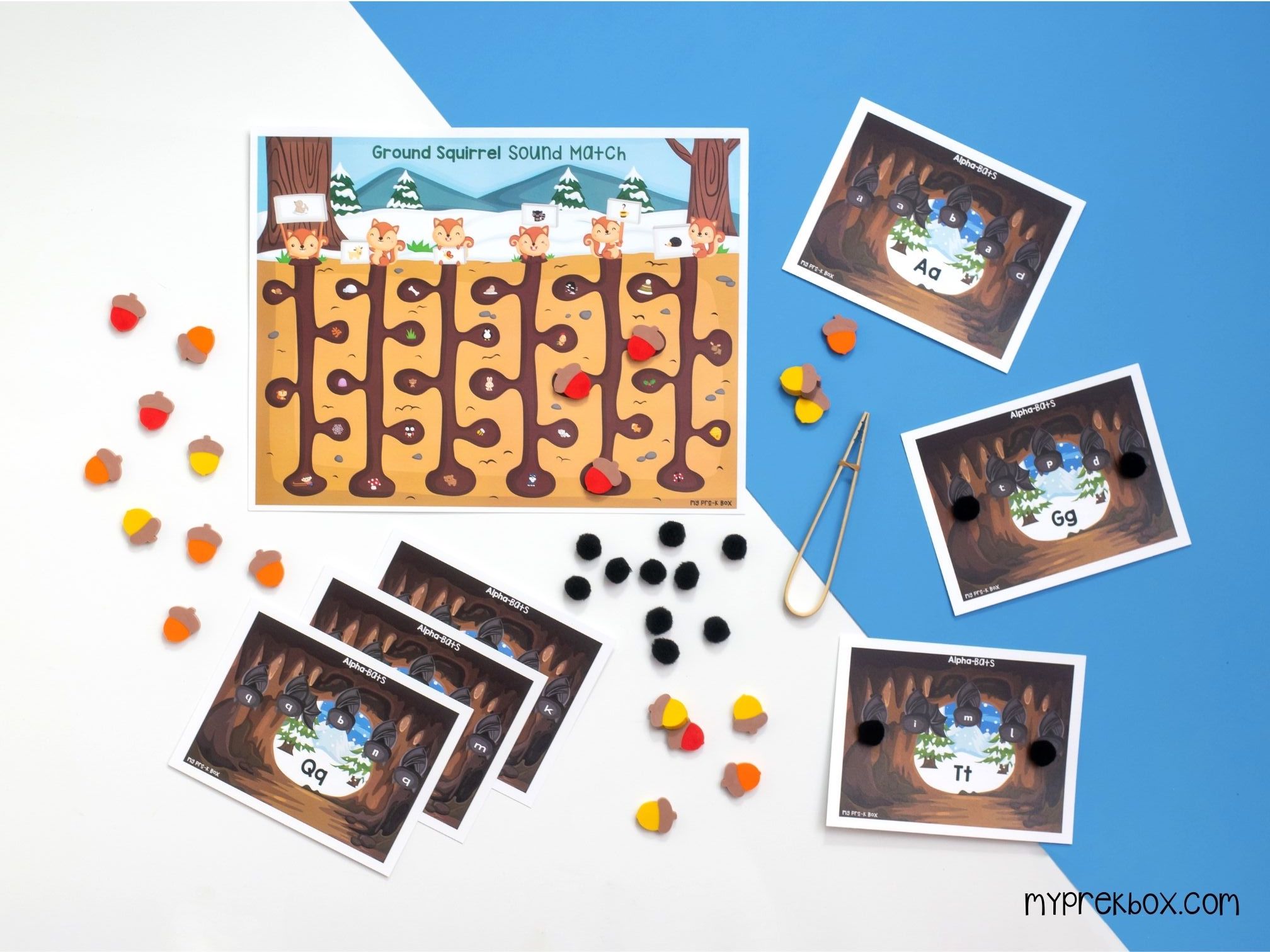 Chipmunk Chomp
Kids love this one! The hungry chipmunk needs to eat acorns to get ready for winter! With this activity, your child will flip over a card, showing a pattern. Which colored acorn is missing from the pattern? Use your tweezers to find the corresponding acorn with the same color to complete the pattern and feed it to the chipmunk! Keep feeding this hungry critter until all of the acorns have been placed into the bag!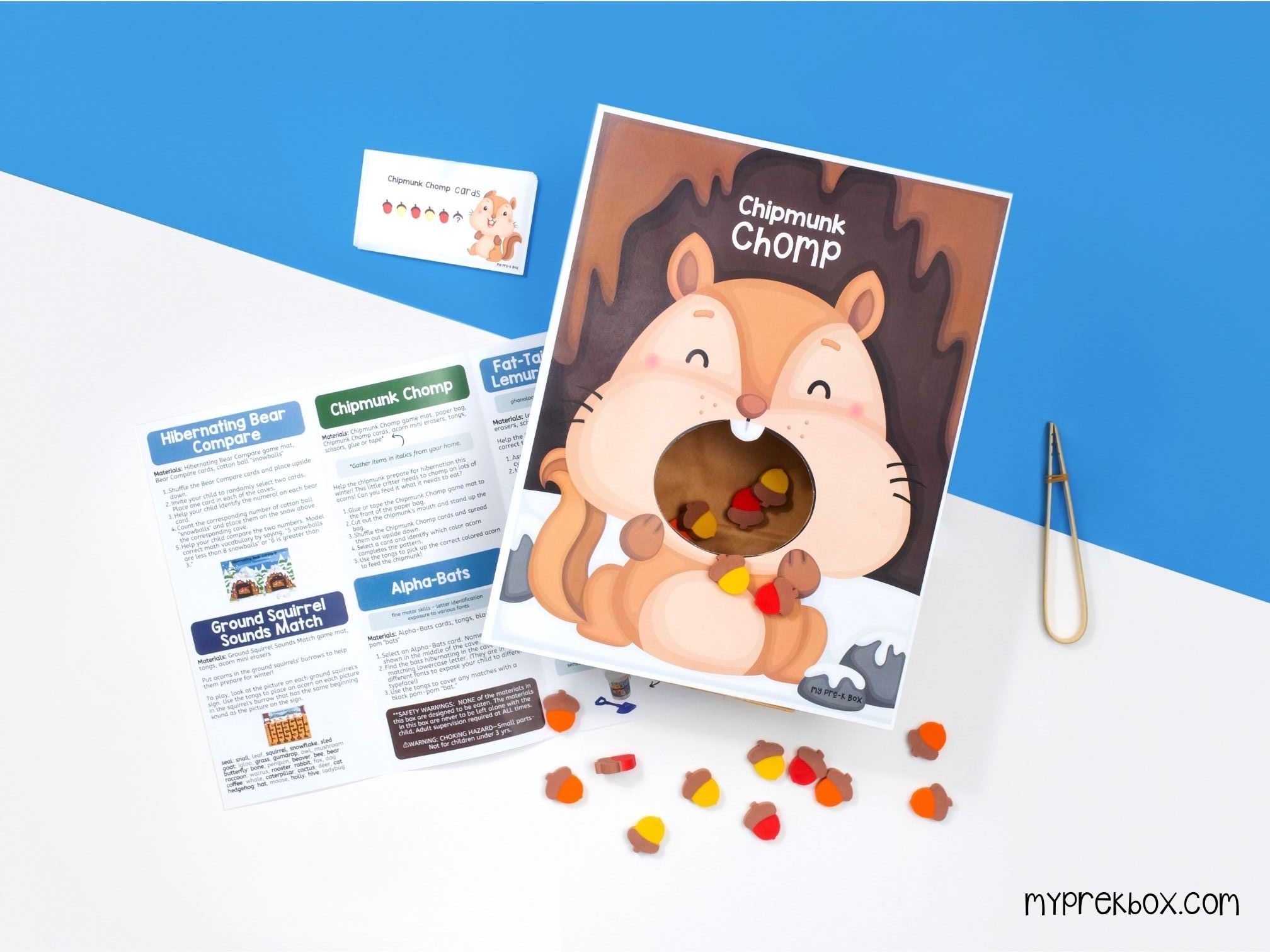 Alpha-Bats
Check out these bats hanging in a cave as they hibernate this winter! Each card shows a letter in the center of the cave and various letters on the bats. Different fonts and typefaces are used on the bats to expose children to the different ways letters can be written! This activity helps your child learn that both of these letters g and g, though they look quite different, are both G! Use the tongs to place a black "bat" on top of the bats with the matching letters!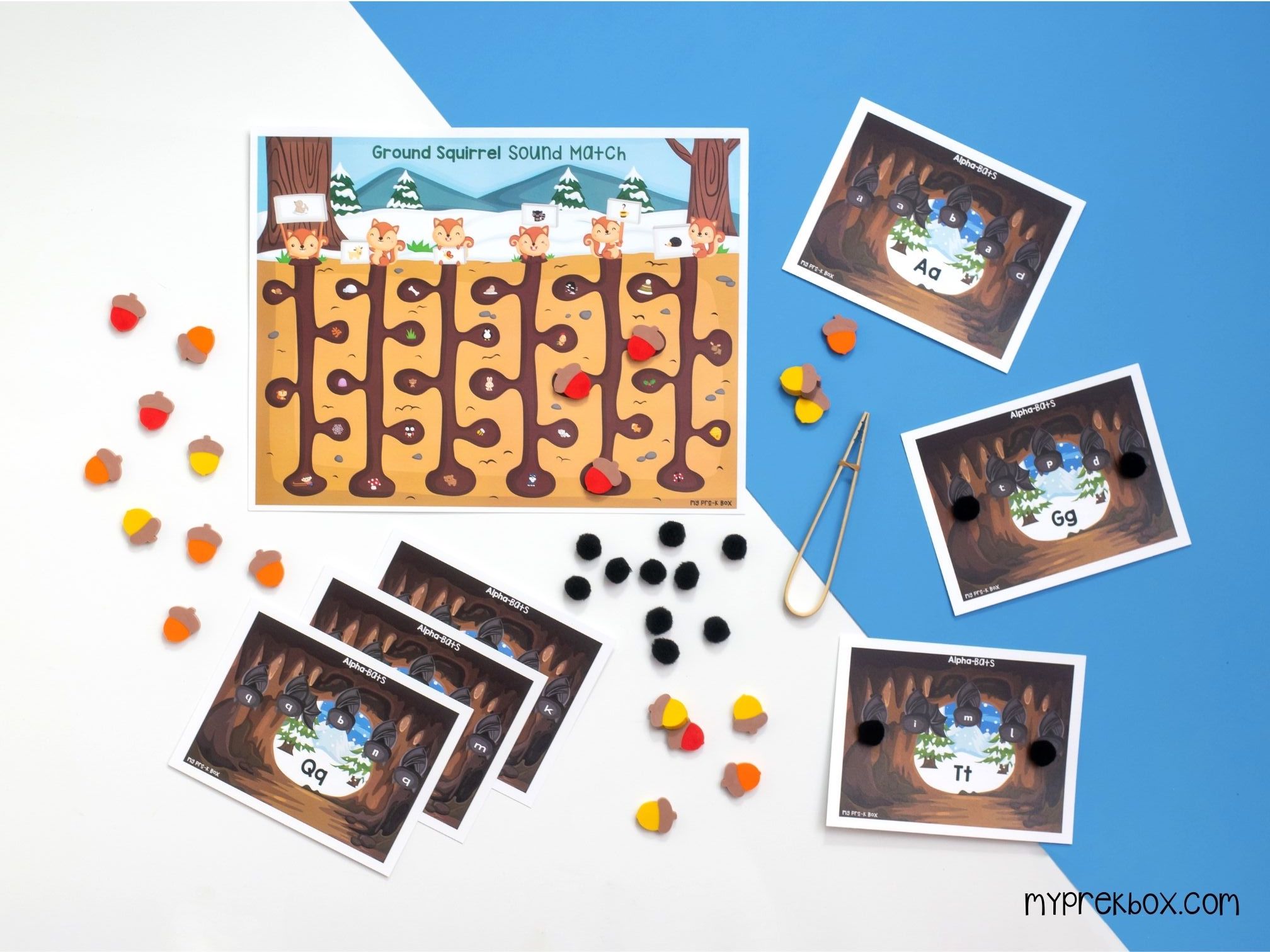 Fat Tailed Dwarf Lemur's Tree Sort
Did you know Fat Tailed Dwarf Lemur's hibernate in hallow trees!? In this game, your child will assemble 3 hallow trees for their lemurs! Each tree is labeled as 1, 2, or 3 syllables. Select a lemur card. The lemur is eating up fruit in preparation for winter! Look at the word pictured on the lemur's fruit. Segment the word into syllables, then drop that lemur into it's corresponding hallow tree!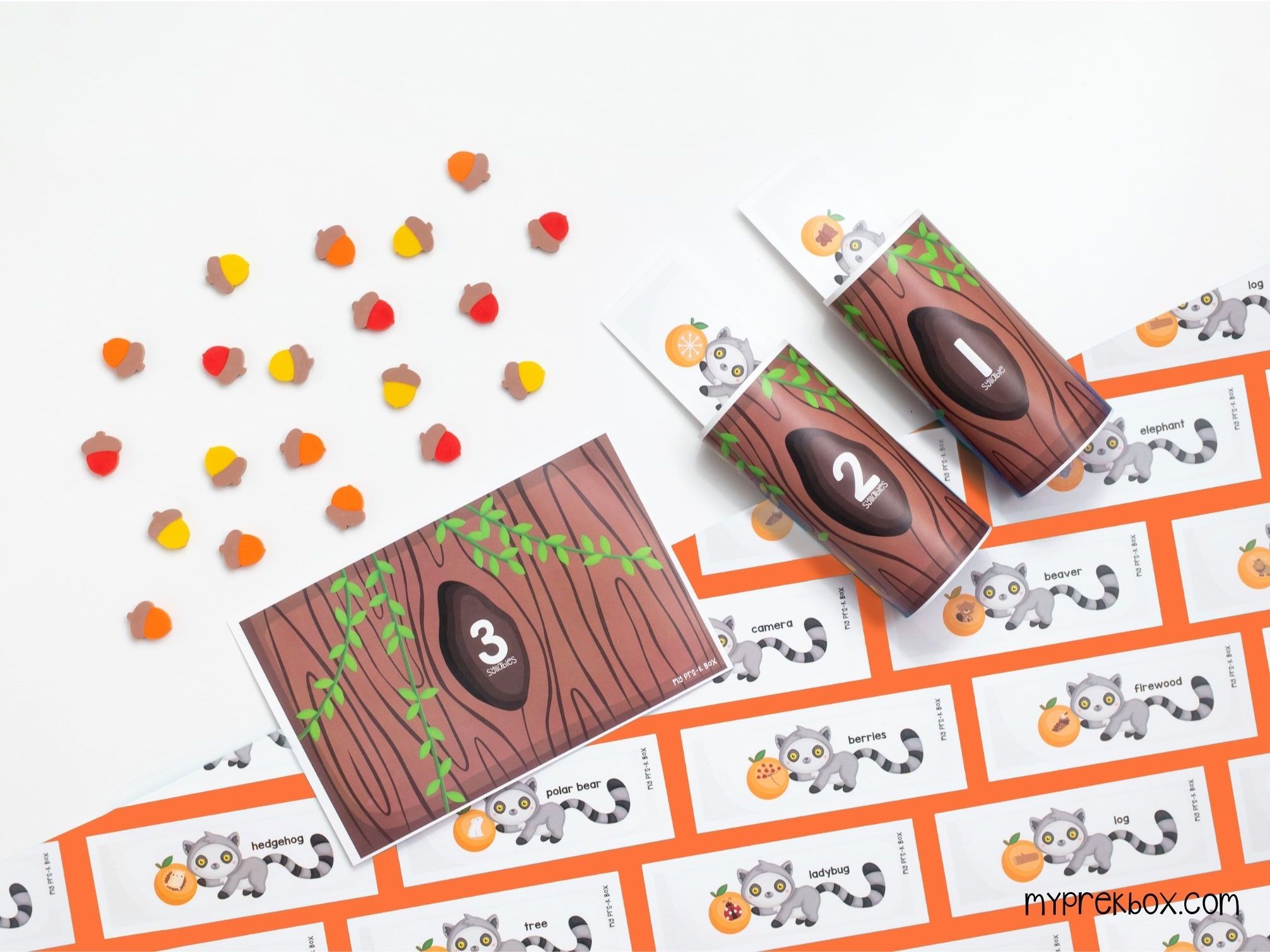 Magic Snow
Have you tried Magic Snow?! It's soooo fun! You just mix the included instant snow with a bit of water and it instantly expands! It's got the best texture and feel! Your child will love digging with the included mini shovel and exploring with this fun thematic sensory play!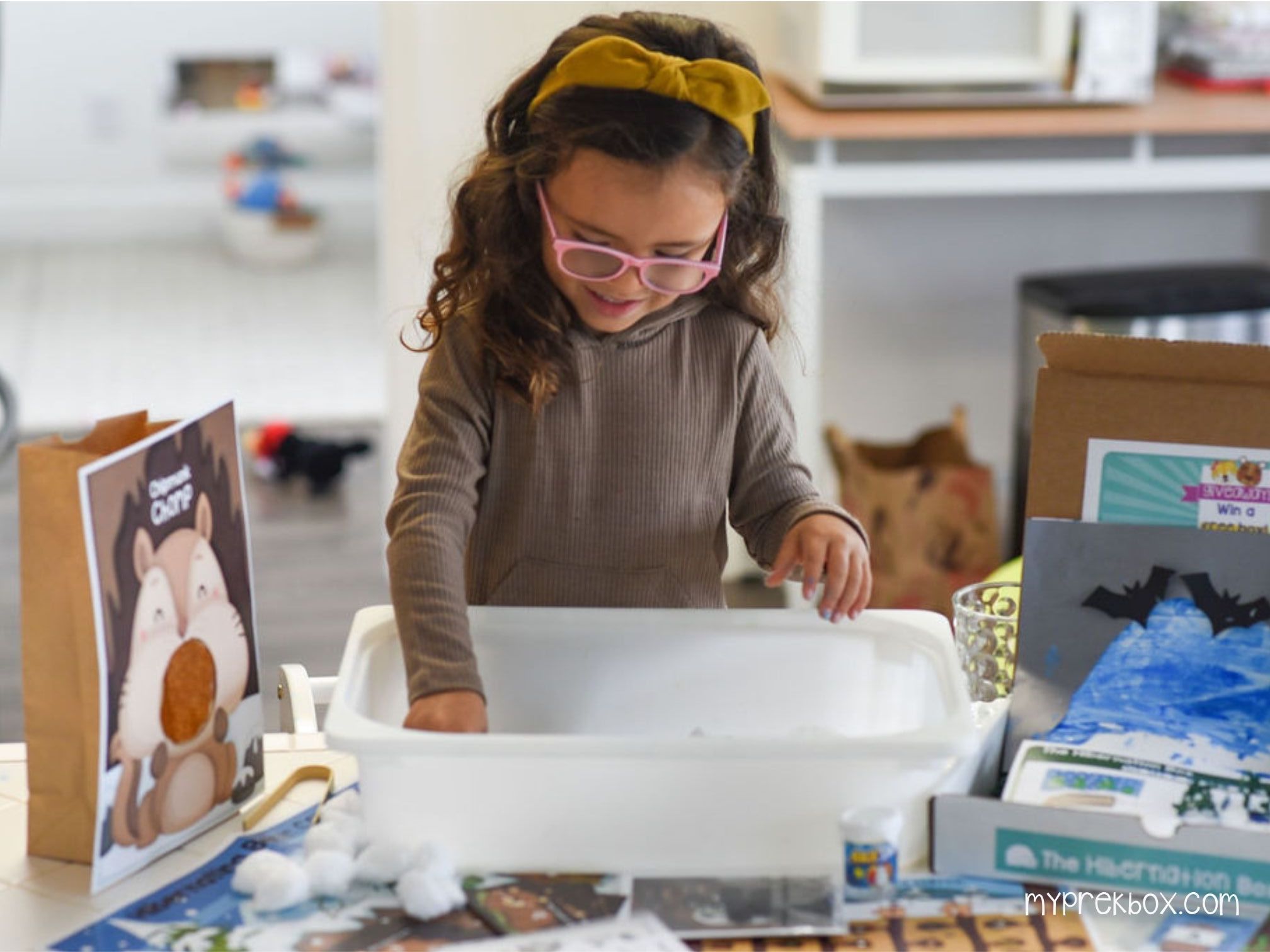 Go, Groundhog, Go! Game
Help groundhog hibernate in its burrow before winter arrives! There are three different levels to this game, as outlined in the included grownup guide, depending on your preschooler's readiness level. In this cooperative game, players work together to get the groundhog to his hibernation space before winter starts! There is a deck of cards to pull from. With each card, your child has to identify the letter on the card and then move groundhog to the matching letter on the game board. But draw a snowflake card and, oh no, it's one step closer to winter! Will you move along the board, identifying letters, and race to the finish before winter arrives?!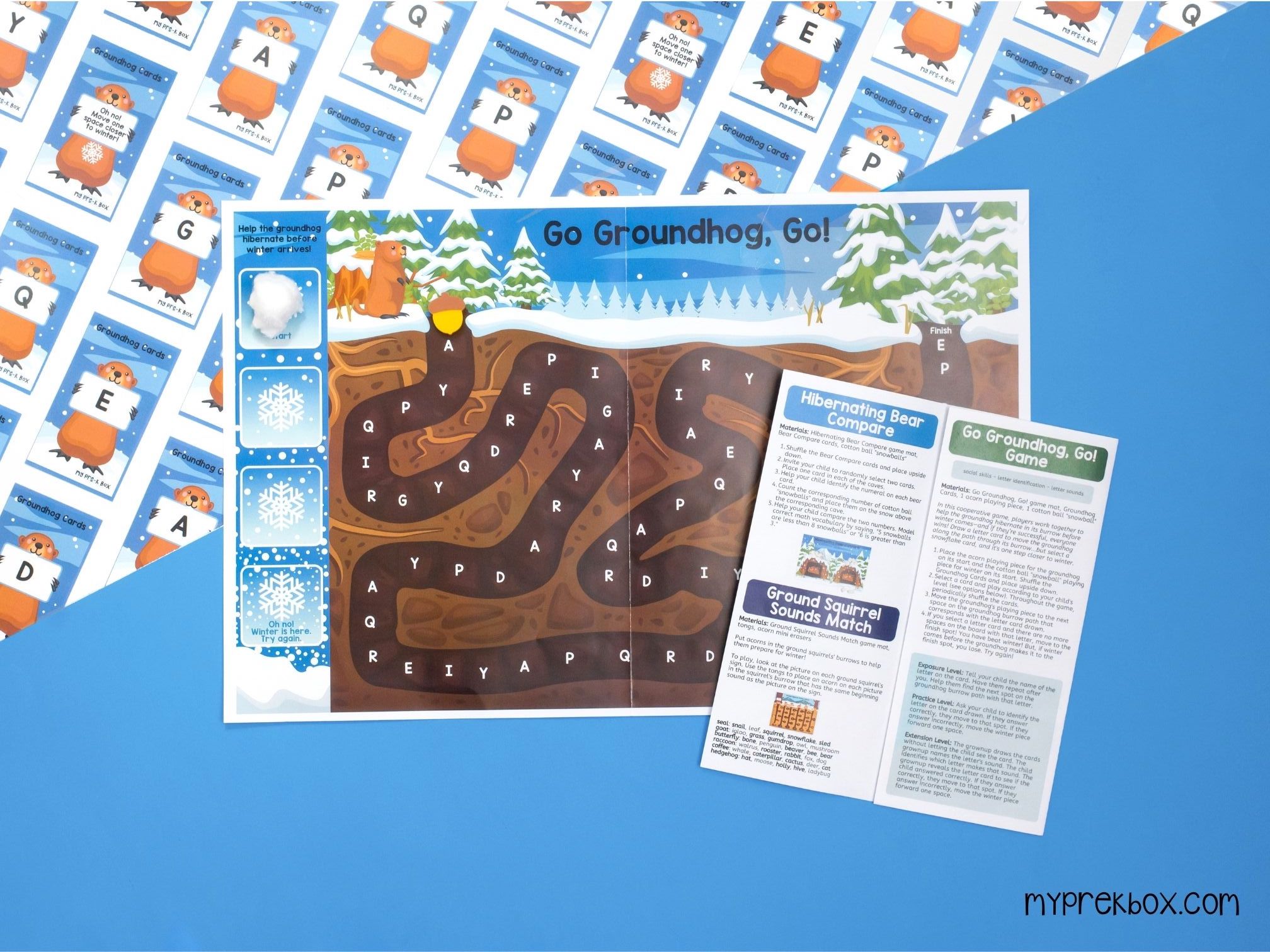 Hibernation-Themed Crafts
Each month, My Pre-K Box comes with materials to make a fun thematic craft! This Hibernation Box's included craft is a Bats in a Cave Scrape Painting Kit! Your child uses a scraping technique to scrape the included blue and white paint across the canvas to create a snowy background scene. They glue the included cave and form hibernating bats by wrapping the included bats' wings around themselves! Bats wrap themselves up in their wings when hibernating to help keep them warm! If your child has siblings, don't worry! We offer duplicates of the included craft for just $3.25/extra child!
My Pre-K Box also offers a Craft Lovers Upgrade! You will find the optional upgrade as you checkout! The Craft Lovers Upgrade is only $4.25/month per child and always includes two additional arts and crafts!
The Hibernation Box's Craft Lovers Upgrade includes the Pop-Up Hedgehog Craft Kit and the Winter Windsock Craft Kit! Your child will love popping the hedgehog in and out of its log after they complete the Pop-Up Hedgehog Craft Kit and the Winter Windsock craft Kit makes a beautiful winter decoration!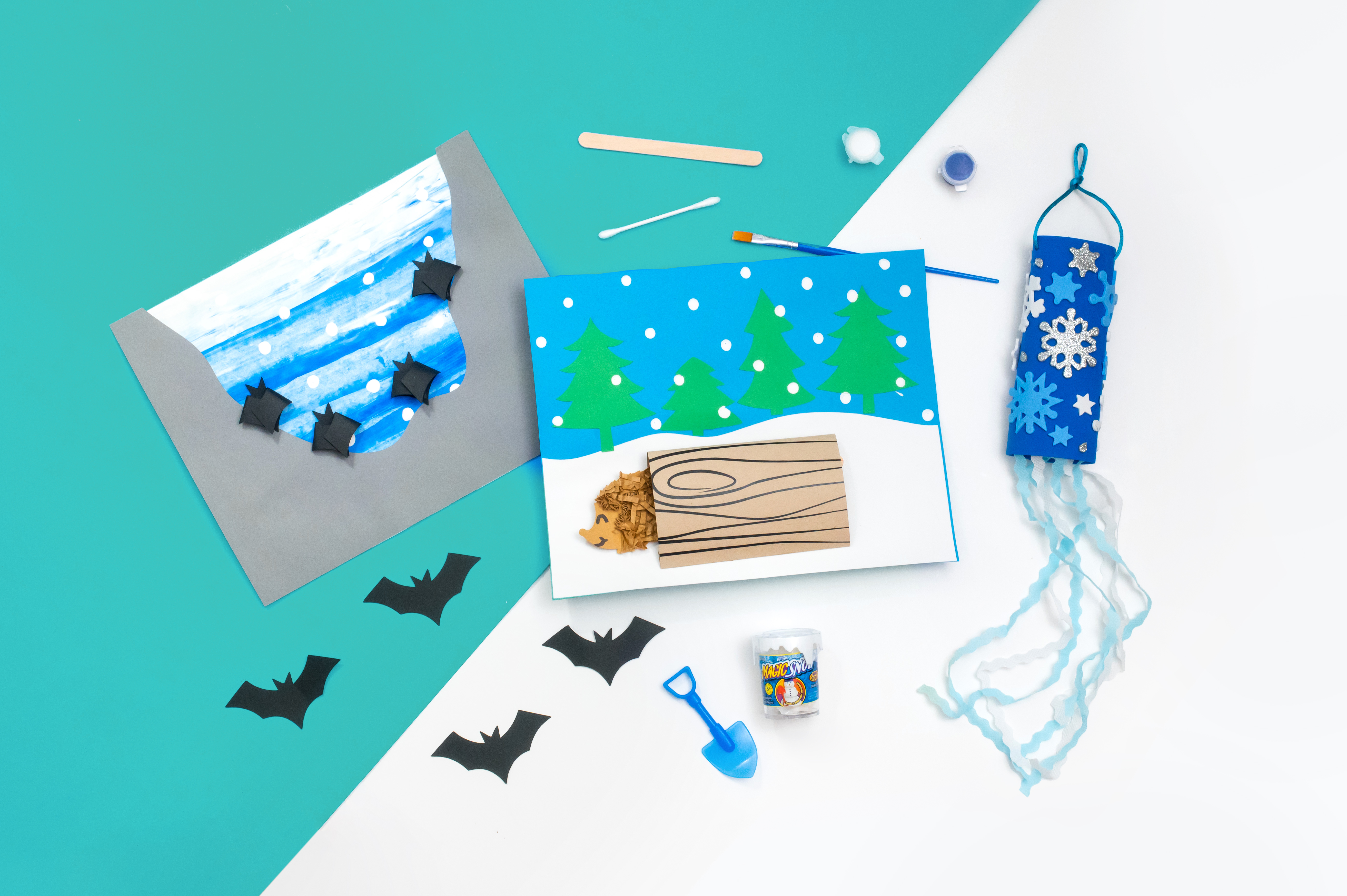 The Hibernation Box, like every My Pre-K Box, is mailed straight to your door, just brimming with fun! With a subscription to My Pre-K Box, you'll always receive multiple engaging math games, several hands-on literacy activities, fun sensory play, a thematic craft, an easy grownup guide, and more!