If your kids love going to the zoo, they will definitely love The Zoo Box! It is filled with zoo-themed activities, but they will learn not only about zoo animals, but also math, reading, and fun crafts! Sounds fun? Join us on our trip inside The Zoo Box!
My Pre-K Box: The best monthly subscription box for kids ages 3-5
My Pre-K Box is an educational monthly subscription box for preschoolers. It is a box filled with engaging, play-based activities focusing on math and literacy skills! With exciting, new themes each month, your kid will always look forward to receiving this wonderful box every time! Prepped and delivered straight to your door, My Pre-K Box is so much fun, your child won't even realize how much they're learning!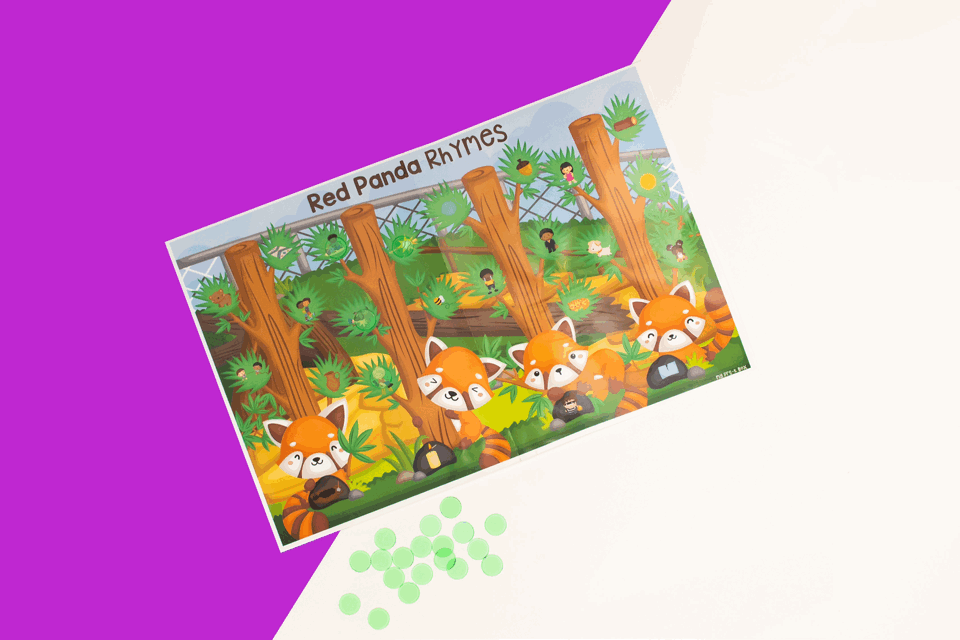 While preparing for our trip to The Zoo Box, you might want to grab one of these FREE animal crafts!

Create your very own 3D Lion with our Print & Go 3D Lion template! Get yours now for free!

We also have other animal crafts that your kids will surely love!

Try our FREE PRINTABLES of Letter the Leopard, Penguin Origami Craft, and Hedgehog Craft!
What's Inside The Zoo Box?
Well, aside from animals there are a lot of LEARNINGS your child can find inside The Zoo Box! Because it is our goal at My Pre-K Box to make learning more fun, we made sure that the activities in it are exciting, engaging, and educational! And what's best is that as parents we can enjoy our time guiding our kids because everything is prepped and included in the box! No hassle, just pure fun, and learning!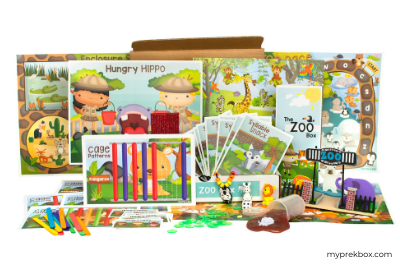 Activities for Learning Math
Learning math in the zoo? At My Pre-K Box, we made this possible… and fun! The Zoo Box has 3 math games perfect for your preschoolers!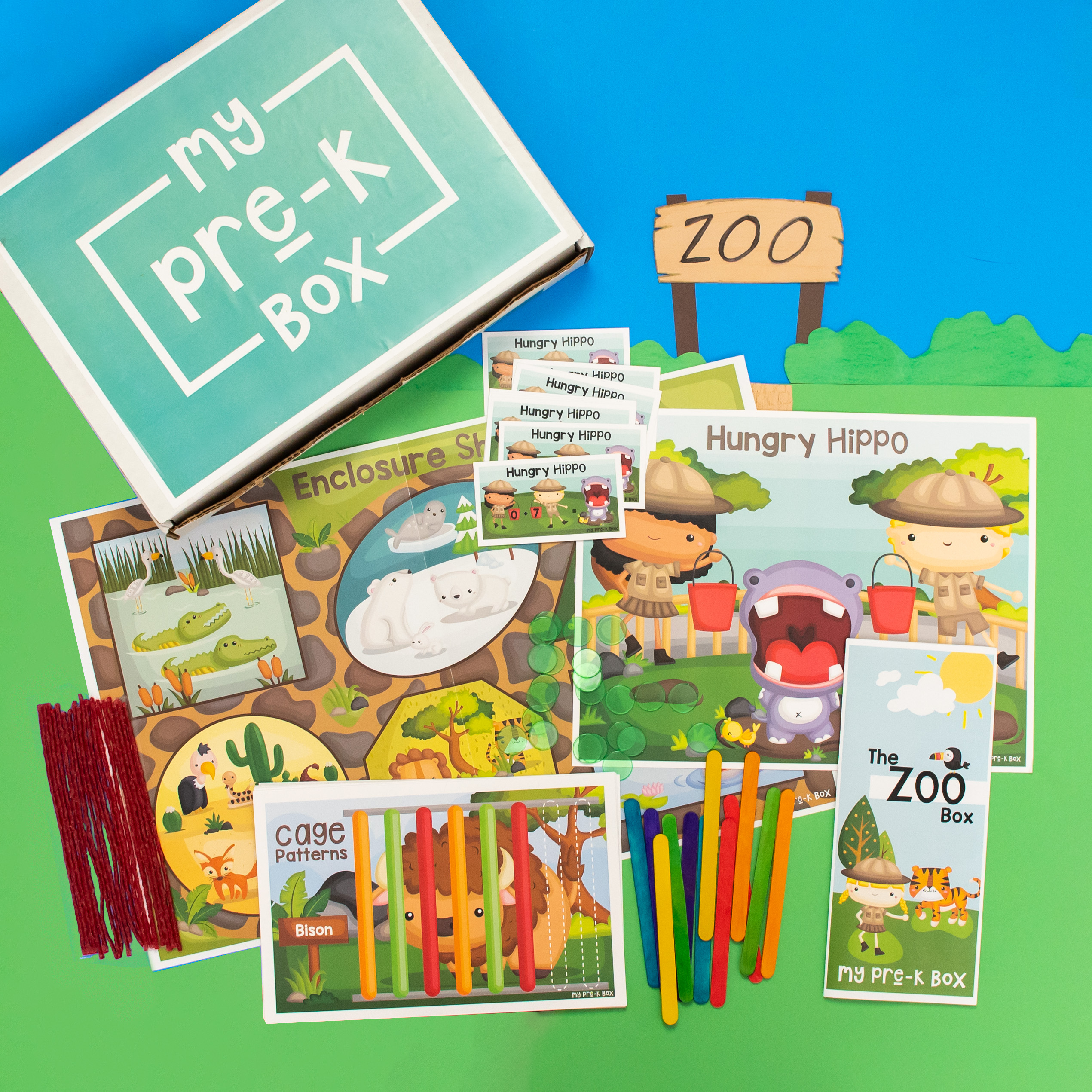 1 Hungry Hippo
Materials: Hungry Hippo game mat, Hungry Hippo cards, Bingo chip "plants"

Game mechanics: The zookeepers are feeding the hippo her lunch! How many plants will she eat? Shuffle the Hungry Hippo cards and randomly select one. The boy and girl zookeepers each hold a pail that represents how many plants they feed the hippo. Help your child read and solve the equation by placing "plants" (in the form of green Bingo chips) inside the Hungry Hippo's mouth!

About the game: Hungry Hippo game is a great way to introduce the concept of addition and word problems to preschoolers. And because it is play-based, kids will not feel bored or pressured. Instead, they enjoy the activity so much!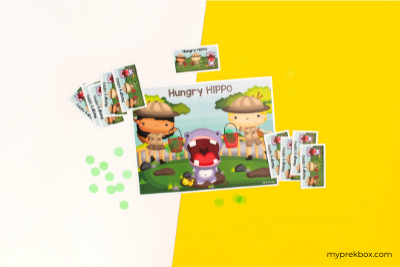 2 Cage Patterns
Materials: Cage Patterns cards, craft sticks

Game mechanics: Finish building the cages for the zoo animals by following the pattern to complete the cage correctly! Let your kid pick a Cage Patterns card and point out the pattern of the cage. Finish building the cage by placing the correct craft stick to complete the cage pattern!

About the game: Cage Patterns game helps develop logical thinking and teaches kids what comes next with the given sequence. As they learn to make predictions, it leads to important mathematical skills and logic.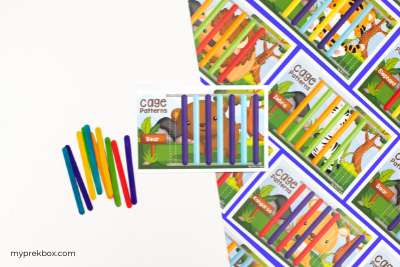 3 Enclosure Shapes
Materials: Enclosure Shapes game mat, Wikki Stix

Game mechanics: Your child will enjoy building the enclosures for the animals at the zoo! Ask them to name each enclosure's shape. Then instruct them to use the Wikki Stix to build a fence border around each enclosure shape. They can bend or cut the Wikki Stiks to complete the enclosure for the zoo animals!

About the game: Enclosure Shapes game helps develop an awareness of the different shapes, as kids try to name the enclosure shapes in the game map (and the animals in it too!). It can also help enhance your child's fine motor skills as they bend and cut the Wikki Stix to create the shapes.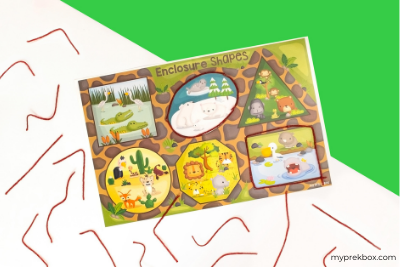 Literacy Activities
Learning letters, phonics, and reading have never been this fun! At My Pre-K Box, we also aim to develop these skills through our exciting literacy activities. The Zoo Box features 3 fun-filled literacy games for your little one!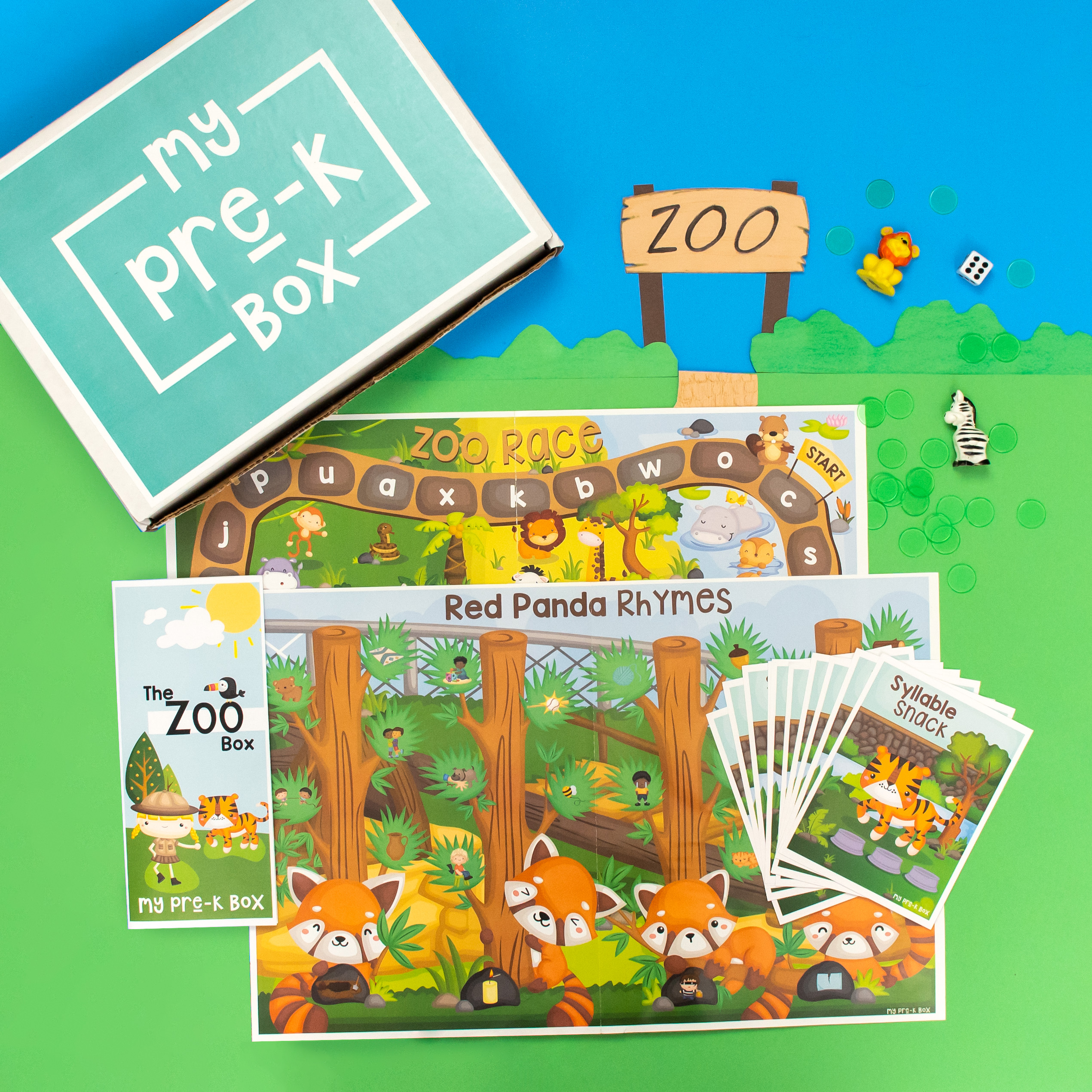 1 Zoo Race
Materials: Zoo Race game mat, two animal playing pieces, Bingo chips, die

Game mechanics: Race your way through the zoo, while learning the letters of the alphabet and their sounds! Place all the bingo chips in the middle of the board and take turns in rolling the die. On your turn, identify the number rolled, then move clockwise around the board based on the number rolled. Your child must identify the letter and/or sound they landed on! Each correct answer earns them a bingo chip! Continue to race around the zoo until all of the Bingo chips have been collected. The player with the most Bingo chips wins!

About the game: The Zoo Race game helps preschoolers practice counting, naming the letters of the alphabet, and/or telling the sound of the letters! If you play this with them regularly, they'll be able to memorize it in no time!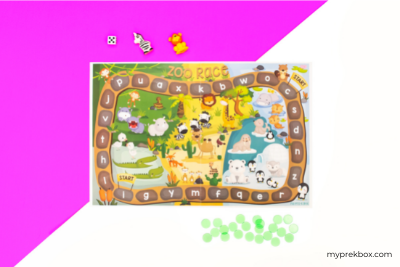 2 Red Panda Rhymes
Materials: Red Panda Rhymes game mat, Bingo chip "leaves"

Game mechanics: Feed the red panda leaves that rhyme with the word pictured on its rock! Name the object on the rocks first, while carefully emphasizing the ending sounds. Then, name the objects on the leaves. You can also ask your kids to name it too! Help your child determine if it rhymes. Emphasize the ending sound as needed. Then, place a Bingo chip "leaf" on each rhyming word.

About the game: Red Panda Rhymes game is a good way to introduce sounds of the letters and rhymes to your child! Games like this will help learn reading easier. If your kid is quite advanced, you can also ask for other words that rhyme with the objects. You might be surprised by how wide their vocabulary is!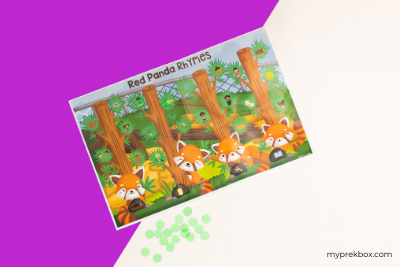 3 Syllable Snack
Materials: Syllable Snack cards, Bingo chip "plants"

Game mechanics: It's time to feed the zoo animals their afternoon snack! Choose a card, then name the animal on it. Help your child segment the word into syllables. You can clap as you say each syllable to make it more fun! Now, let your child repeat it while laying down one plant in a food dish at the bottom of the card they say each syllable. Slide your finger across as you blend the word together.

About the game: The Syllable Snack game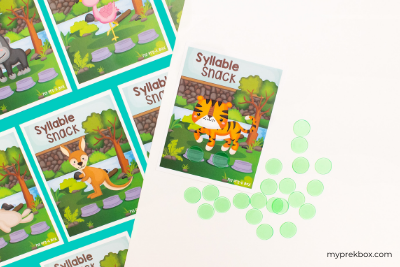 Crafts and Sensory
Kids loooove our crafts and sensory activities! Although sensory play and arts and crafts can be a bit messy at times, it encourages abstract thinking and builds observational skills, improves fine and gross motor skills, and lets kids explore their creativity and imagination! The Zoo Box features Lion in Putty and 3D Zoo Craft Kit.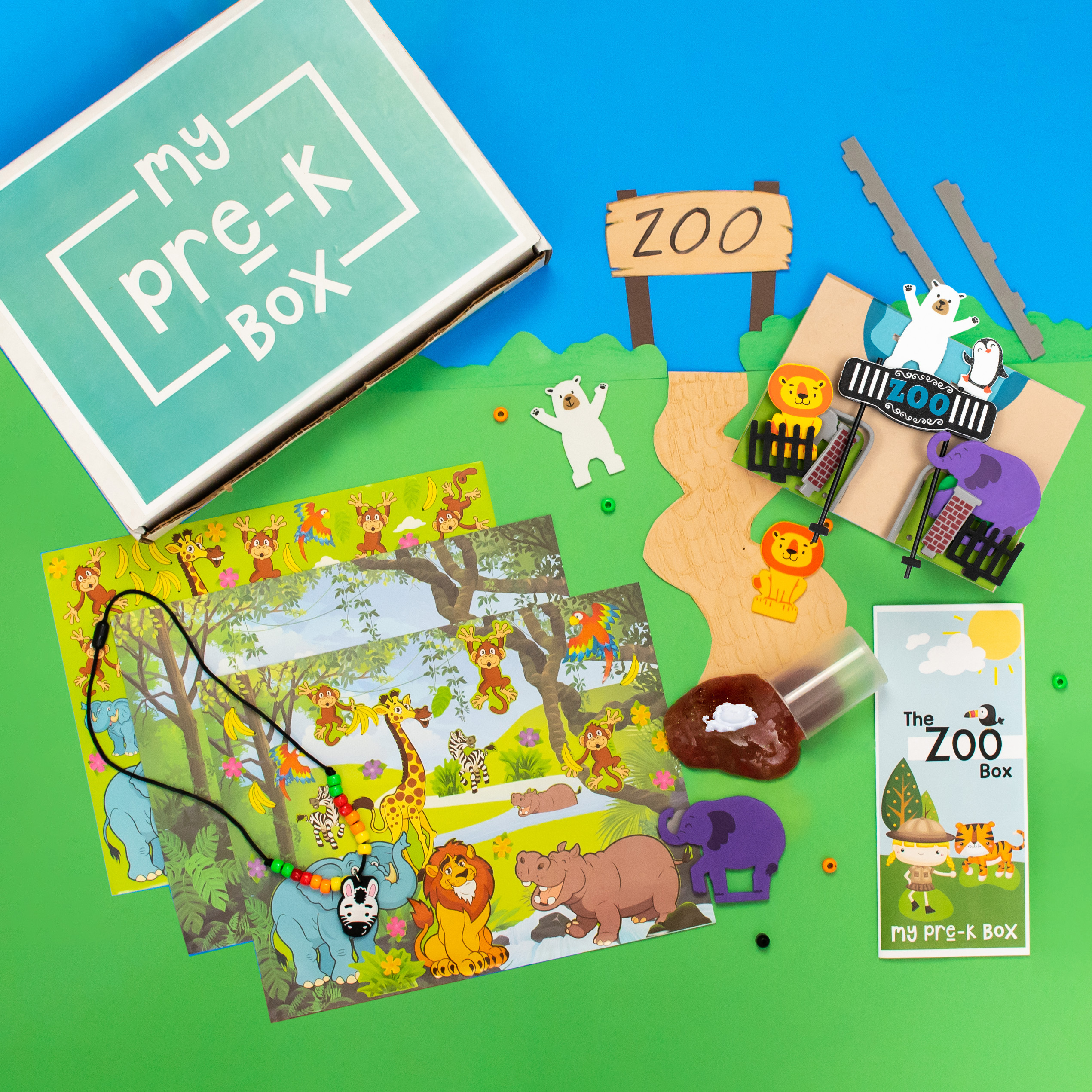 1 Lion in Putty
Engage in a fun, sensory play with your child with Lion in Putty! Sensory play is great for brain development and allows preschoolers to make sense of their surroundings through observation and experimentation.
2 3D Zoo Craft Kit
Build a cute 3D Zoo with your kids! Let them explore their creativity and imagination as they design and decorate their very own zoo craft!
Craft Lovers Upgrade
Not only kids, but even parents love our Craft Lovers Upgrade! Because for only $4.25 per child, they get to have two additional arts and crafts activities! It is the best choice indeed for craft lovers who want fun and creative ways to help improve their kids' fine motor skills through crafting. The Zoo Box's Craft Lovers Upgrade includes: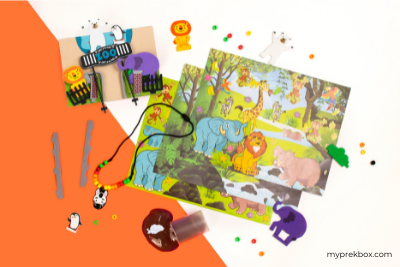 1 Zoo Animal Beaded Necklace Craft Kit
Kids will be very excited to create a cute, zoo-themed necklace on their own! Practice threading and improve fine motor skills through this fun craft!
2 Zoo Jumbo Sticker Scene
Let their imagination take them to the zoo, as they decorate this Zoo Jumbo Sticker Scene! Engage in exciting stories about the zoo animals while working on this craft!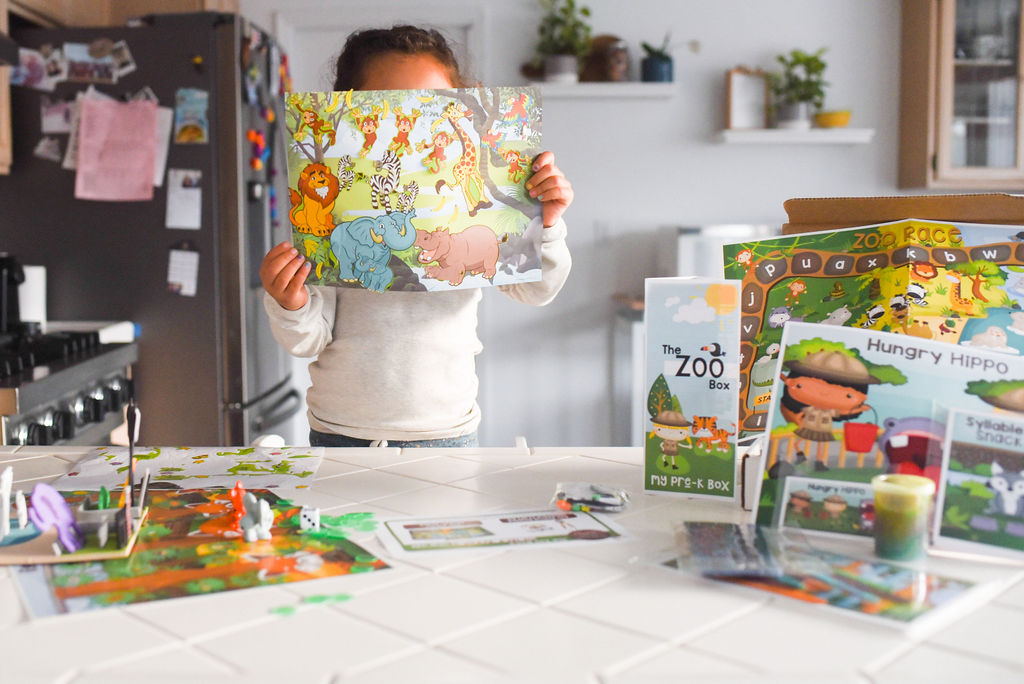 Grownup Guide
The games and activities featured in The Zoo Box might be simple, but a guide will be very helpful to execute the activities properly. So, we make sure that each box comes with a Grownup Guide that gives a detailed explanation of how each game works. This makes learning not only fun but easy and convenient!
Surprise your little one with My Pre-K Box each month!
You'll love how much they LOVE it! Make learning at home more fun with us!
| | | |
| --- | --- | --- |
| | | |
Why subscribe to My Pre-K Box?
1 The activities are play-based and learner-centered
Every single activity is well-thought and child-friendly, and ensures learning while having fun!
2 Easy and effortless
If you would be the one to research and prepare the crafts yourself, it would be too tiring and time-consuming. But if you subscribe to My Pre-K Box, it will be delivered to your door every month, hassle-free and easy right? You can have more time for fun and quality family time!
3 Affordable prices
The monthly subscription plan costs $37.95 each month. Or you can save more by committing to a 6-month term ($32.95/month) or a 12-month term ($30.95/month). We also have regular promos and discounts! Check out our current promo here, or choose your plan now!
4 High-quality materials
All the contents of the box are carefully selected and are of top quality to ensure the safety of your kids! Most are also reusable, so your child can play it over and over again!
5 Great customer service
100% Happiness Guaranteed! We make sure to give you unparalleled customer satisfaction. If you have a problem, we will solve it. Because as you support our family business, we also treat you like family.
Let's Connect!
Got photos and videos of your child engaging in our fun-filled activities? Share them with us on social media using the hashtag #myprekbox or tag us on Facebook and Instagram! Follow us for more fun activities to do at home with your little ones!
Haven't tried My Pre-K Box yet?
My Pre-K Box is the best monthly subscription box for kids ages 3-5!

Everything you need to create, play,

laugh, and learn!