If you are introducing fall animals to your child, you might want to try this Hedgehog Craft for preschoolers! These cute hedgehogs might look scary, but with this activity, kids will surely love them! They can practice their scissor skills and improve fine motor skills while learning more about hedgehogs! Read on to know more about this craft and how to get a FREE PDF printable template!
My Pre-K Box: The best monthly subscription box for kids ages 3-5
My Pre-K Box is an educational monthly subscription box for preschoolers. A new and exciting theme awaits you each month, all packed in a fun-filled box and is delivered straight into your home! It comes with everything you need for learning math and developing literacy along with thematic crafts and sensory play! Your kids will absolutely love all of the creative, fun-packed activities inside! Make learning at home easy, hassle-free and more fun with My Pre-K Box!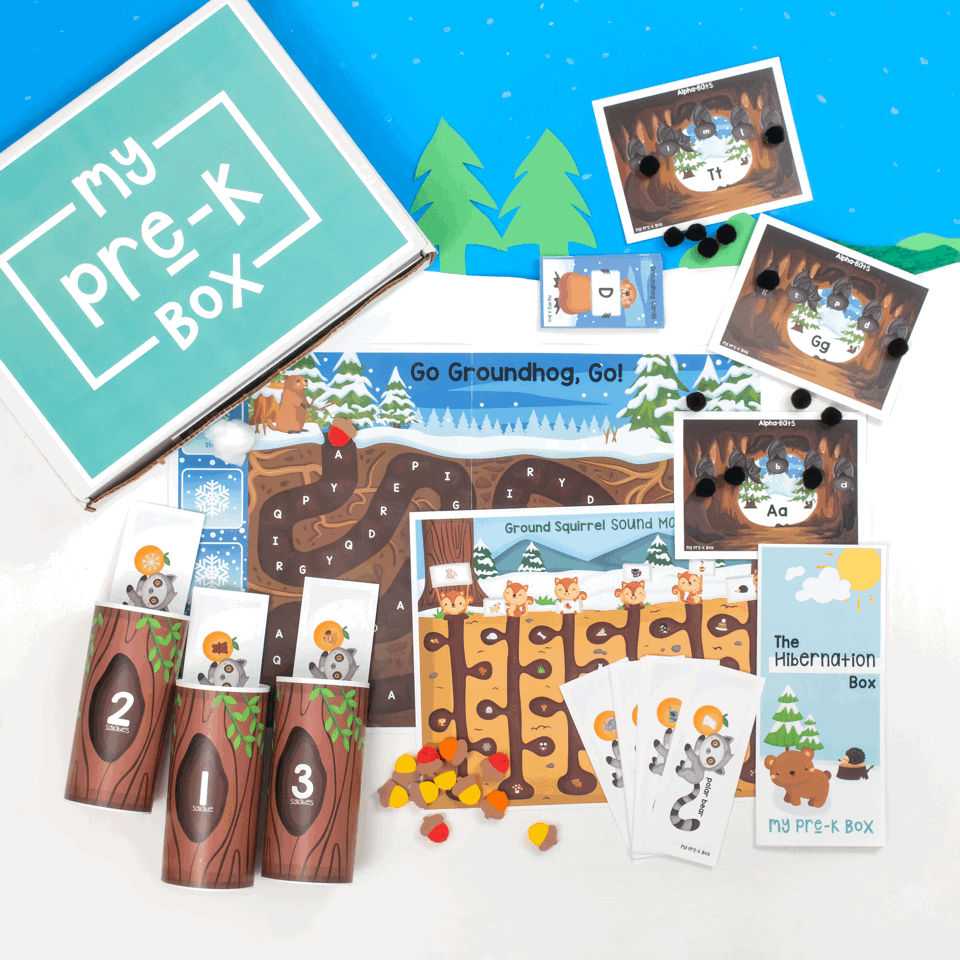 Hedgehogs may not be fluffy and huggable, but they are equally cute as other animals! They are known to be active during the fall season as they fatten up in preparation for winter and hibernation. They also begin to build their nest in autumn using dry autumn leaves. And as the fall season quickly approaches, it is the best time to teach your little ones about these lovely creatures through this fun craft! While doing so, you can also tell them some amazing facts about hedgehogs, like "Do you know hedgehogs sleep in the day while curled up in a ball of their sharp, prickly spikes?" This makes the activity more engaging and interesting for them!
Get the Hedgehog Craft now for free!

The downloadable FREE PDF template includes:

black and white version

colored version

cover page as pattern or sample

labeled body parts of the hedgehog and instructions

And if your kid loves animals, you can also try our FREE

Lion's Mane Craft, Letter the Leopard, and Penguin Origami Craft!
Materials in Creating Hedgehog Craft
paper

printer

crayons

scissors

glue
How to Create your Hedgehog Craft
Step 1 Download and print a copy of our Print & Go Hedgehog Craft. The template has a black and white and a colored version in it. The black and white template is good if your child loves coloring, but you may also opt for the colored version, which is more convenient.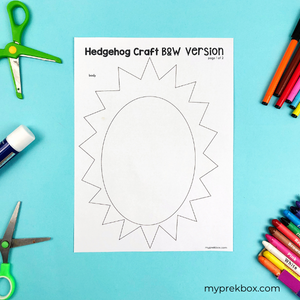 Step 2 Trace the outline of the hedgehog's spikes if desired. This is a nice tracing activity for preschoolers to practice proper pencil grip while learning about the different kinds of lines.
Step 3 Color the body and spikes of the hedgehog. It is the largest part, which is oval-shaped and has zigzag lines around it. You may instruct your child to color the oval shape with a lighter brown color while the spikes can be darker. If you chose the colored version, you can skip this part and proceed to the next step.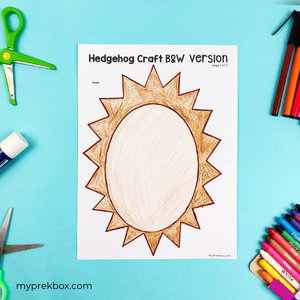 Step 4 Cut out the body of the hedgehog. It's time to practice your child's scissor skills! Cutting the zigzag lines may not be easy, as it requires good hand and eye coordination too. Be sure to assist your kid on this part; if he is used to snipping paper, it might be difficult for him to use his guiding hand while the other one cuts the outline but with continuous practice, his scissor skills will surely improve soon!
Step 5 Color the parts of the hedgehog including the hedgehog's eyes, nose, arms, feet, and cute heart-shaped head!
Step 5 Now, cut out the colored body parts!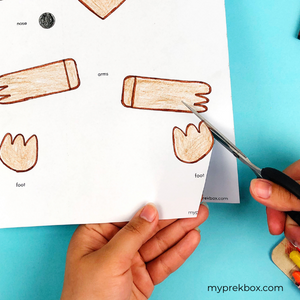 Step 6 Assemble your very own hedgehog craft! Glue the body parts to the right position as shown on the cover page of the template. Place the heart-shaped head on top, in between the oval inner body and spikes. Then, put the eyes and nose. Next, put the left and right arms and feet at the bottom. And that's it! You can now enjoy playing with a cute hedgehog!
What will your child learn with our Hedgehog Craft?
Simple arts and crafts activities like this Hedgehog Craft are really loved by kids. And as parents, we should support them, not only because it is an enjoyable hobby, but they learn a lot from it too! This activity in particular is a good practice for their scissor skills, improves their hand and eye coordination, and develops their fine motor skills. As they may be used to snipping paper or cutting straight lines, the zigzag spikes of the hedgehog will be a great challenge! They will need to use their helping hand more often to shift the position of the paper, and this develops good hand and eye coordination. Tracing the outlines and coloring the hedgehog is also a good way to improve their fine motor skills and pencil grip. Many preschoolers will not yet be able to cut out the hedgehog, but no worries! Simply cut out for them and allow them to paste together!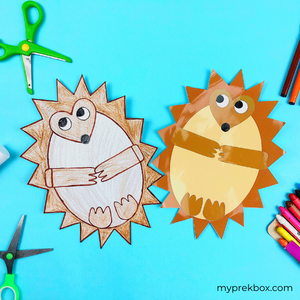 Let's Connect
Want more of these cute animal crafts like the Hedgehog Craft? Follow us on Facebook and Instagram for more creative crafting ideas! Don't forget to share a photo or video of your child's best My Pre-K Box moment, and tag us or use the hashtag #myprekbox!
Want to try My Pre-K Box?
My Pre-K Box is the best educational monthly subscription box

for kids 3 to 5 years old!

Make learning at home easy, effortless,

and more fun!