Mother's Day is just around the corner and today we're sharing a FREE and easy Mother's Day Craft for Preschoolers!
This adorable Mother's Day Bouquet is the perfect free and easy Mother's Day craft for your preschooler aged 3-5! This free printable Mother's Day Bouquet is the perfect gift for Mother's Day...whether it be to your preschooler's mother or grandmother, the sweet sentiments will be treasured for years!
Mother's Day arts and craft projects are favorites because little kids love to make gifts for loved ones. It makes your little preschooler feel proud to have personally made something and to gift it to their mother, grandmother, guardian, or other significant people! Mother's day (and Father's day) are perfect opportunities to help teach your child how to show love, appreciation, and thoughtfulness!
The best part about this Mother's Day Bouquet Craft is it's easy, free, and handmade by your child! We love the sweet sentence starters that will help build your preschooler's awareness about what makes their mother (or grandmother) so special! (Did you see that?… We are sneaking in some emotional intelligence with this paper flower bouquet craft!)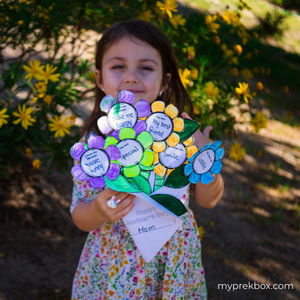 How to make your FREE and EASY Mother's Day Bouquet Craft
Materials:

printer

paper or cardstock

crayons, markers, or paint

scissors

glue
Steps to Make Your Easy Mother's Day Bouquet Craft for Preschoolers
Step 1 Download My Pre-K Box's free Mother's Day Bouquet Printable here and print it out.
Step 2 Invite your child to decorate the flowers! Get creative! They can use markers, crayons, paint, stickers, glitter, and more!
Step 3 Read the sentence starters in the center of each flower to your preschooler and ask them to finish the sentence. Record their responses inside the flower. If your child is interested, allow them to write or draw their response inside the flower.
"I like when you…" ("...play toys with me!")
"I think you are…" ("...smart.")
"I love you because…" ("...you take me to the park!")
Step 4 Help your child cut out the flowers, leaves, and stems.
Step 5 Follow the included directions in the My Pre-K Box's free Mother's Day Bouquet Printable to fold the bouquet.
Step 6 Glue the stems, leaves, and flowers inside the bouquet.
Step 7 Snap a photo of your preschooler with his/her (free and easy) Mother's Day Flower Bouquet Craft!
So there you have it! If you're looking for a free and super easy Mother's Day Craft for your preschooler, we've got you covered! We think this gift is so stinkin' cute!
Share your creation with us!
We want to hear from you! How did your preschooler enjoy this Easy Mother's Day Craft? Did they give their flower bouquet to their mother, grandmother, or someone else? Share your photos on Facebook and Instagram and tag us @myprekbox!
Haven't tried My Pre-K Box yet?
Want new themes, fun learning games, and activities, with all the materials you'll need, delivered straight to your door? Sign up today and get your first box free with a multi-month plan! Just pay shipping and handling!