Tiny bugs and colorful butterflies are common themes for preschool activities because many kids are attracted to these small creatures. Preschoolers are very curious about them, so we made a bug-themed box that kids will surely love - The Bugs & Butterflies Box!
My Pre-K Box: The ultimate subscription box for kids ages 3 to 5!
My Pre-K Box is an educational subscription box for preschoolers! We deliver the most fun play-based preschool learning available. Each box has its own unique theme and is filled with different learning activities to target math and literacy skills. Your kids will have fun exploring the new activities, and you will delight in the fact you are helping them with essential Kindergarten readiness skills!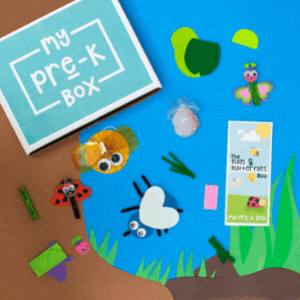 The Bugs & Butterflies Box is one of our latest additions to our wonderful boxes! It is filled with hands-on, bug-themed activities that your preschooler will surely enjoy. They will feel like they are just playing, but in fact, they are learning and developing important Kindergarten skills! Come, let's see what's inside!
Bzzz! Bzzz! Bzzz!

Look here, it's a bee! And a beehive!

Extend your learnings from The Bugs & Butterflies Box with this simple drawing of a beehive with this

FREE step-by-step tutorial!

Get FREE Beehive Directed Drawing
What's Inside The Bugs & Butterflies Box?
Get ready to see pretty butterflies and cute little bugs! Plus fun, bug-themed learning kits! Check out what's inside The Bugs & Butterflies Box.
Activities for Learning Math
1 Picnic Parade
Materials: Picnic Parade game mat, plastic ants, paperclip,

pencil

Game mechanics: The ants are sneaking food from the picnic to take back to their colony! You have to bring all 10 ants from the picnic back to the anthills. To start, each player selects a side of the game mat and places 10 ants on his/her picnic blanket. Your anthills are below your picnic blanket. On your turn, place the paperclip in the middle of the spinner. Put the pencil tip inside the paperclip. Flick the paperclip to spin. Play according to your spin! The first player to bring all 10 ants back from the picnic to the anthills wins!

About the game: Kids will have fun counting little ants in this game! They will be able to practice counting, without even noticing it. They'll also be adding and subtracting throughout the game as they add and remove ants to and from the anthill.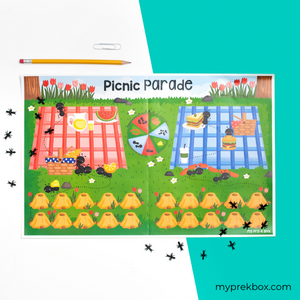 2 Ant Colony Count and Cover
Materials: Ant Colony Count and Cover game mat, Ant Colony cards, plastic ants

Game mechanics: Shuffle the cards and place them upside-down. Then, randomly select a card. Count the number of ants on the card. The ants are arranged in two rows of five. Cover the corresponding numeral on the game mat with a plastic ant. Continue until all numerals on the game mat are covered!

About the game: As your child progresses in her number sense, she will eventually be able to instantly identify the number of ants on the cards without counting!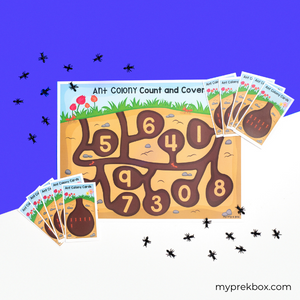 Literacy Activities
1 Pollenating Bees Beginning Sounds
Materials: Pollenating Bees Beginning Sounds cards, adhesive bees

Game mechanics: Help the bees land on the correct flowers that have the same beginning sound as what's pictured on the butterfly! Before beginning, name each of the pictures inside the butterfly and flowers. Then, have your child identify the beginning sound of the picture in the butterfly. Look at each picture on the flowers and determine which has the same initial sound. Stick a bumblebee on this flower!

About the game: This activity helps children identify sounds within words (phonological awareness, an important predictor of future reading success). The focus is on sounds within words, not on the names of letters.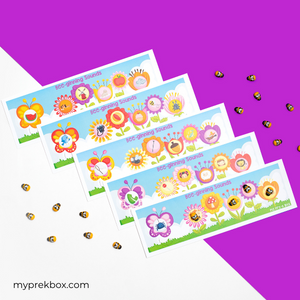 2 Butterfly Rhymes
Materials: Butterfly Rhymes cards

Game mechanics: Separate the cards displaying the left side of the butterfly from the cards displaying the right side of the butterfly. Then, randomly select a card displaying the left side of the butterfly. Help your child identify the word pictured on the butterfly's wing. Emphasize the ending rime in the word. Help your child to find the corresponding rhyming card, then put them together and complete the puzzle!

About the game: Teach your child rhymes with this fun game! Aside from rhyming words, they'll be more familiar with ending sounds, spelling, and new words to add to their vocabulary.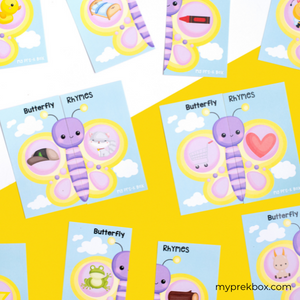 3 Caterpillar Syllable Stick
Materials: Caterpillar Syllable Stick game mat, round green stickers

Game mechanics: Each caterpillar is crawling towards its chrysalis hanging from the tree! To start playing, identify the word pictured on the chrysalis. Segment the word into syllables. Then, place a round green sticker on a segment of the caterpillar's body as you segment each word! Invite your child to place a sticker on the caterpillar's body as he says each syllable. Add the stickers to the caterpillar's body moving left to right, as in reading.

About the game: As kids learn to count syllables, they also learn how to break words into bits, which in turn help them pronounce and read it correctly. This game might seem very simple, but will be very helpful in their reading journey soon!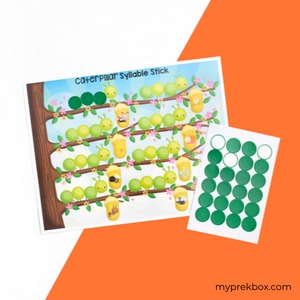 Crafts and Sensory Play
1 Love Bug Craft Kit
If your little one loves arts and crafts, you should subscribe to our Craft Lovers Upgrade and get this Love Bug Craft Kit when you receive The Bugs & Butterflies Box! And if your child has siblings, our sibling craft kits are just $3.25/each!
2 Insect Confetti in Putty
Colorful bugs and butterflies in a clear, transparent putty await your kiddo for a fun, sensory play experience!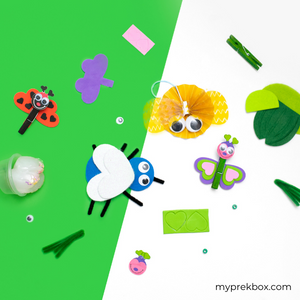 Grownup Guide
My Pre-K Box also considers parents and caretakers as we make our boxes. And to help you assist your preschooler, we made an easy-to-follow Grownup Guide! Aside from instructions, it also has helpful suggestions and examples too.
Subscribe to My Pre-K Box and see your little learner enjoy while learning - just like them!

Why subscribe to My Pre-K Box?
1 The activities are play-based and learner-centered
Our well-planned and child-friendly activities are sure to make learning while having fun!
2 Easy and effortless
Researching and preparing the crafts yourself would be too tiring and time-consuming. With the help of My Pre-K Box, it will be delivered straight to your door every month, hassle-free and very convenient, right? You can have more time to enjoy and have some quality, family time!
3 Affordable prices
The monthly subscription plan costs $37.95 each month. And you can save more by committing to a 6-month term ($32.95/month) or a 12-month term ($30.95/month). We also have regular promos and discounts! Check out our current promo here, and choose your plan now!
4 High-quality materials
All the contents of the box are carefully selected and are of top quality to ensure the safety of your kids! Most are also reusable, so your child can play it over and over again!
5 Great customer service
100% Happiness Guaranteed! We make sure to give you excellent customer service - so if you have a problem, we will solve it. Because as you support our family business, we also treat you like family.
So, what are you waiting for? Subscribe now and start making learning fun for your kids!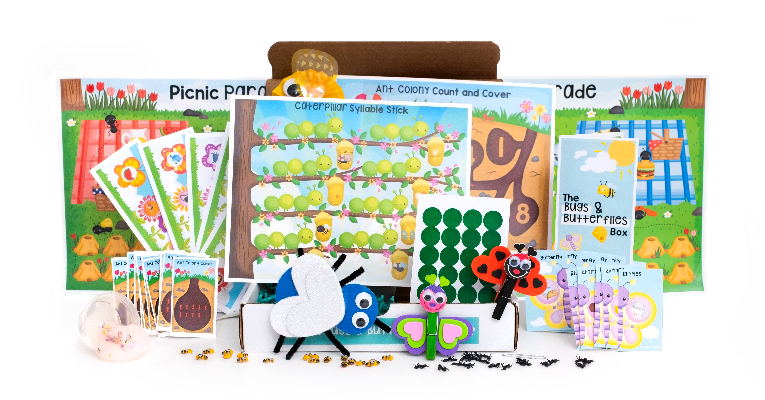 Let's Connect!
Did you like The Bugs & Butterflies Box? Like and Follow us on Facebook and Instagram for more of these! Share with us photos and videos of your little ones while enjoying our wonderful boxes. We might feature them in our blogs too! Use the hashtag #myprekbox or message us on our social media pages. We love to hear from you!
Haven't Tried My Pre-K Box yet?
My Pre-K Box is the best monthly subscription box for kids ages 3-5!

Everything you need to explore, create,

play, laugh, and learn!