Halloween is just around the corner, so we compiled this exciting list of the best Halloween activities, songs, fingerplays, and books for preschoolers! These also perfectly complement our themed box for the month of October - The Spooky Box! So whether you are waiting for your order, or just looking for Halloween activities to try out at home, you're sure to find plenty of spooky and delightful ways to celebrate this fun holiday with your little ones. Get ready for a month filled with crafts, stories, and songs that will make this Halloween one to remember!
My Pre-K Box: The number

1

subscription box for preschoolers!
My Pre-K Box is an educational subscription box for preschoolers aged 3-5! We deliver the most fun play-based preschool learning available! Each box has its own unique theme and is filled with different learning activities to target math and literacy skills. Your kids will have fun exploring the new activities, and you will delight in the fact you are helping them with essential Kindergarten readiness skills!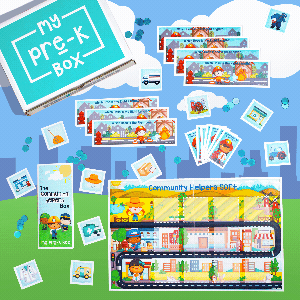 Get ready to make a memorable Halloween with your little ones! In this article, we've gathered the best Halloween songs, fingerplays, books, and activities designed to make Halloween less spooky and more fun for preschoolers! As the air becomes crisp and pumpkins pop up on your doorsteps, the excitement of this beloved holiday is contagious, especially for kids. Join us in making Halloween a fun and enjoyable learning journey filled with creativity, storytelling, and spooky fun for your little ghouls and goblins!
Before we get started…

Here are our FREE Halloween-themed worksheets, just for you!

Celebrate Halloween while still learning and having fun with these cute Halloween-themed worksheets! The Halloween Preschool Fun Pack includes 8 math and literacy worksheets designed to help preschoolers develop fundamental skills. And with the cute Halloween theme, your little one will surely love to learn and play! Read more about the Halloween Preschool Fun Pack here, and get a free copy today!
Top

10

Halloween Books for Preschoolers
1

Big Pumpkin

by Erica Silverman and S.D. Schindler
This story is about a witch who grew a big pumpkin and wants to make a yummy pumpkin pie with it for Halloween. But it's gotten too big that she can't seem to pick it up! With the help of some unexpected friends, she learns the power of teamwork.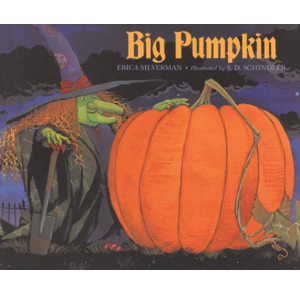 2 Little Blue Truck's Halloween

by Alice Schertle and Jill McElmurry
Part of the best-selling "Little Blue Truck" series, this book Little Blue Truck's Halloween is an interactive lift-the-flap book. It's a great choice for young readers, who love Little Blue Truck and his friends, and would like to spend Halloween with them! Join in the adventure as he goes around the town to pick up his friends in their adorable Halloween costumes.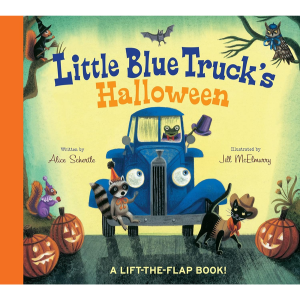 3

Room on the Broom

by Julia Donaldson and Axel Scheffler
This charming story follows a friendly witch who invites various animals to join her on her broomstick. Together, they encounter lots of fun adventures - and even a hungry dragon! It's a delightful tale of friendship and teamwork.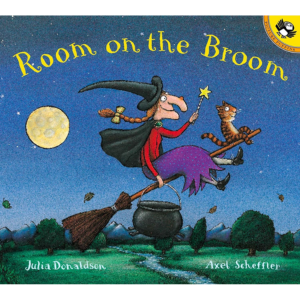 4

The Spooky Wheels on the Bus

by J. Elizabeth Mills and Ben Mantle
A Halloween twist on the classic children's song "The Wheels on the Bus." This book features ghosts, mummies, and other spooky characters riding the bus! From One Spooky Bus up to Ten Goofy Ghosts, your kids will surely have fun counting and singing through this spooky, cool rhyme.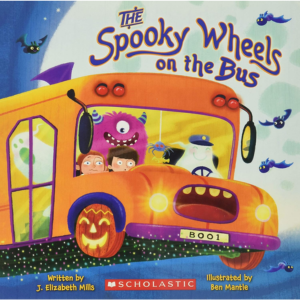 5

The Berenstain Bears Trick or Treat

by Stan and Jan Berenstain
This classic story follows the brother and sister Bears as they go trick-or-treating with all of their friends. But when things don't go as planned, they get to learn about sharing and kindness on Halloween. The book features colorful illustrations and a heartwarming tale that's perfect for young readers.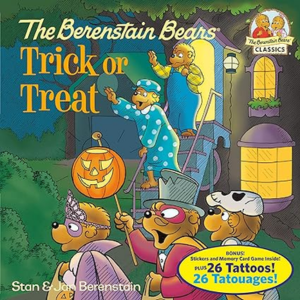 6

Llama Llama Trick or Treat

by Anna Dewdney
Follow Llama Llama and his friends as they get ready for Halloween and go trick-or-treating. It's a sweet and relatable story for young children. The colorful, little pages are perfect for their little hands, while its simple story and fun rhymes are great for their developing minds. From the best-selling "Llama Llama" series, this Halloween-themed story book will surely delight your little ones this spooky season!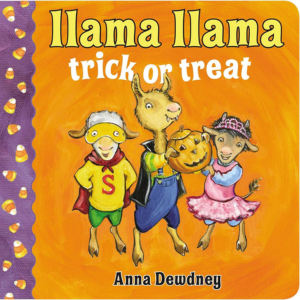 7

Pete the Cat: Five Little Pumpkins

by James Dean
Pete the Cat puts a groovy spin on the classic rhyme "Five Little Pumpkins" as he encounters various Halloween characters in this colorful and engaging book. Great for kids aged 2 to 5, its simple rhymes will help them develop a love for reading and teach them to count to five. The vibrant illustrations also encourage creativity and language development and can help you introduce the Halloween season to your child.
8

Halloween Hustle

by Charlotte Gunnufson and Kevan J. Atteberry
Follow a skeleton who's late to the Halloween party as he races through town in this lively and rhythmic story. However, he keeps on falling and his body comes apart! He's laying in pieces but keeps on trying and using different methods to keep himself together. Its catchy tune all throughout the story keeps the kids cheerful, even on a Halloween night!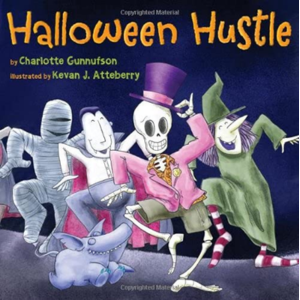 9

The Little Old Lady Who Was Not Afraid of Anything

by Linda Williams and Megan Lloyd
This book tells the story of a brave little old lady who was not afraid of anything. Until one Autumn night, she encounters spooky objects while walking through the woods! It's a fun, not-so-scary Halloween tale that is so perfect for reading aloud. The surprising ending and humorous story make little ones overcome their fears too!
10

Spooky Pookie

by Sandra Boynton
Sandra Boynton's board book featuring Pookie the Pig is a cute and not-too-scary Halloween read for the little ones. In this book, Pookie tries on different costumes for Halloween trick-or-treating until she finds the perfect one! You can also read this and do a Halloween Costume Fashion Show with your kids after, relating Pookie the Pig's story to theirs!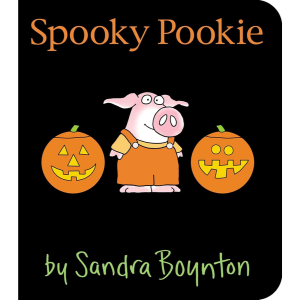 5

Halloween-themed Songs and Fingerplays for Preschoolers
1

Five Little Pumpkins

(to the tune of Five Little Monkeys)
Five little pumpkins sitting on a gate,
The first one said, "Oh my, it's getting late."
The second one said, "There are witches in the air."
The third one said, "But we don't care."
The fourth one said, "Let's run, let's run!"
The fifth one said, "Isn't Halloween fun?"
Then, whoosh went the wind, and out went the lights,
And five little pumpkins rolled out of sight.
2

Five Little Ghosts

(to the tune of Five Little Monkeys)
Five little ghosts dressed all in white,
Were scaring each other on Halloween night.
Boo said the first one, "I'll catch you if I can!"
Boo said the second one, "I'll scare you like a fan!"
Boo said the third one, "I'll chase you up the hill!"
Boo said the fourth one, "I'll get you if you're still!"
Boo said the fifth one, "Let's have some spooky fun!"
And they all shouted, "Halloween is number one!"
3

Jack-O-Lantern

(to the tune of Twinkle, Twinkle, Little Star)
Jack-o-lantern, big and round,
Sitting on the cold, hard ground.
How'd you get so big and fat?
Carve a face, just like that!
4

Witches' Brew

(to the tune of Rain, Rain, Go Away)
Stir, stir, witches' brew,
Cast a spell, and make it goo.
Eye of newt, and wing of bat,
Add them all, and that is that!
Stir, stir, with your spoon,
A magical potion for Halloween!
5

I'm a Little Spider

(to the tune of I'm a Little Teapot)
I'm a little spider, watch me crawl,
In my web so big and tall.
When the flies come buzzing near,
I'll catch them in my web, never fear!
These songs and fingerplays can add a festive and interactive element to your Halloween celebrations with preschoolers. Be sure to use props or actions to make them even more engaging and entertaining!
Halloween won't be complete without monsters, so…

We got you a monster-themed freebie too!

Monsters aren't always scary, they can be cute and adorable too! Like this Build a Monster Craft - this cute, green monster chomps and moves! You and your little one can enjoy crafting this Halloween, and it is even much more easier with our free printable template! Interested? Read more about it here, and get your free Print & Go Build a Monster Craft today!
Other Fun and Educational Halloween-themed Activities for Preschoolers
1

Pumpkin Decorating
Purchase small pumpkins or gather some craft pumpkins, and set up a decorating area at home or in your backyard. Prepare paints, markers, stickers, and other craft supplies. Let everyone's creativity run wild as they decorate their pumpkins with spooky or even funny faces! You can even have a pumpkin decorating contest with prizes for the most creative designs. If you're worried about safety, there are no-carve pumpkin decorating ideas you can try. They're really cute and fun to make!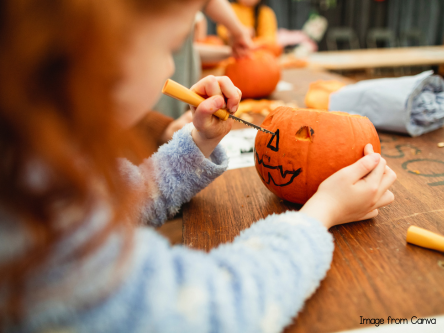 2

Halloween Baking or Cooking
Spend some quality time in the kitchen together by making Halloween-themed treats with your kids! Bake and decorate cookies shaped like ghosts, pumpkins, or bats, or create your own spooky snacks. You can also try making "mummy dogs" by wrapping hot dog sausages in crescent roll dough to look like mummies! Or try these Halloween bat and spider cookies - kids will surely have fun decorating them while practicing their fine motor skills!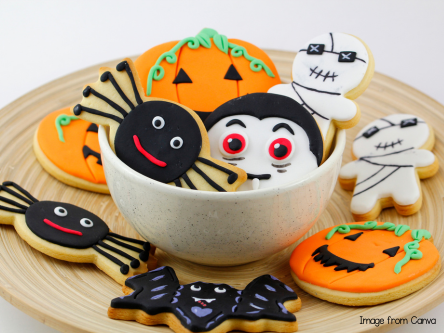 3

Spooky Scavenger Hunt
Create a Halloween-themed scavenger hunt around your home or yard. Write clues or riddles that lead to hidden treats or small prizes. If your kids are too young for riddles and reading clues, you can just have these cute spooky objects laying around and have their pictures on your list. You can also have your family dress up in costumes and have a blast solving the clues and searching for goodies.
4

Halloween Costume Fashion Show
Kids love to dress up, so before they go trick-or-treating in their adorable costumes, why not have a costume fashion show at home?! In this fun activity, each family member (yes, that includes you!) gets to showcase their Halloween costumes. Encourage creativity and imagination, and take turns describing the characters or creatures you've become. You can even record the "fashion show" for a fun keepsake!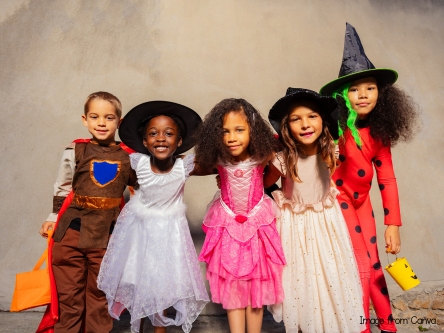 5

Haunted House or Fort Building
Transform a room or an area of your home into a haunted house or Haloween-themed fort. Use blankets, pillows, and Halloween decorations to create a spooky atmosphere. Tell ghost stories with a flashlight, have a pretend ghost hunt, or play hide-and-seek in your haunted fort!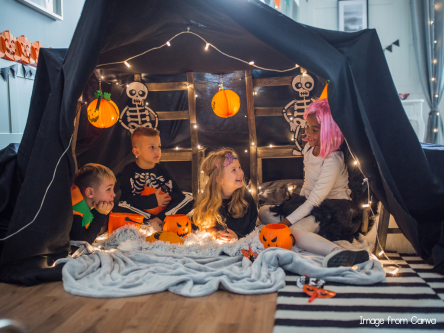 Whoa, that was so much fun! We hope this helps in preparing fun activities for your little one this Halloween season. Try some of these songs and books while waiting for The Spooky Box, or continue the fun by using these as follow-up activities too! Your kids will surely have a less spooky and more fun Halloween this year with these activities, and with the addition of The Spooky Box in your Halloween celebration, it will definitely be a blast!
Looking for more Halloween-themed fun and learning? Check these out!
If you're looking for an exciting way to help your preschooler learn, there are tons of ideas like these online, but if you do not have the time (and the energy) to prepare these, we can definitely help you out! With My Pre-K Box, there's no need to spend hours researching and planning activities - we handle it all for you and deliver it right to your door.
My Pre-K Box delivers a box each month filled with fun crafts and engaging hands-on activities, all centered around a new theme. No prep, no worries!
Our play-based learning tools are designed to target important math and literacy skills, and we even include sensory play to engage all of your child's senses. Plus, every box comes with a helpful guide for grown-ups to make the most of the learning experience.
The best part? Our games and activities are mostly reusable, making it budget-friendly and perfect for sharing among siblings. And for those who just can't get enough of our crafts, we even offer a Craft Lovers Upgrade for just $7.95 per child.
So sit back, relax, and watch your little one have fun while learning in the comfort of your own home!

View subscription plans
Let's Connect
If you love our recommendations on the best Halloween activities, songs, fingerplays, and books for preschoolers be sure to LIKE and FOLLOW our Facebook and Instagram pages to get more themed ideas, DIY activities, art projects, fun crafts, and free printables! Don't forget to tag us on photos of your kids enjoying these Halloween-themed activities! Use the hashtag #myprekbox or send those amazing photos on our social media pages!
Haven't Tried My Pre-K Box Yet?
My Pre-K Box is the best subscription box for

kids 3-5 years of age!

Everything you need to play, create, explore,

learn, laugh, and enjoy!