Looking for a cute and easy Halloween craft for children? Try this Moon and Bats Salt Painting! The contrasting dark background, bright moon, and black bats are very ideal for Halloween. Plus, it is a great fine motor practice for little kids too! Check out this blog post for a step-by-step guide on how to make one, and get more freebies along the way!
My Pre-K Box: The number

1

subscription box for preschoolers!
My Pre-K Box is an educational subscription box for preschoolers with different learning activities for math and literacy skills! Each box is based on a different theme and is focused on play-based learning. Your kids will love exploring new activities each month while practicing kindergarten readiness skills!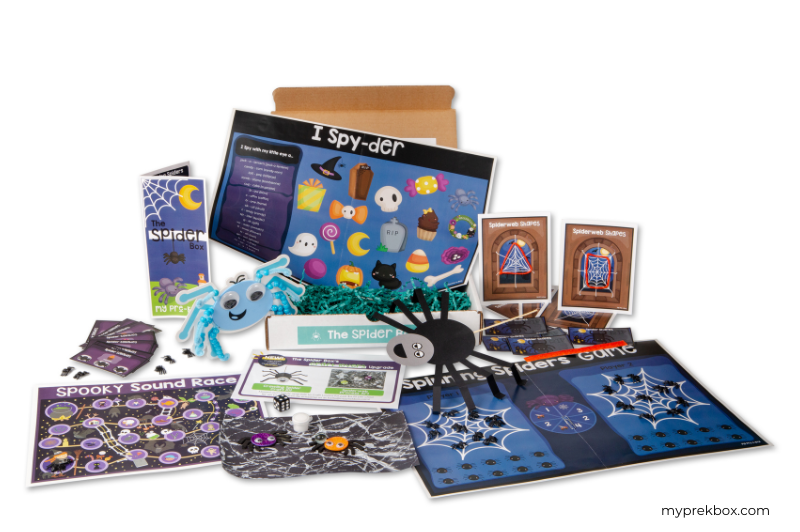 Salt painting is a unique painting method because aside from watercolor, it makes use of salt to make a textured design! Kids will love sprinkling salt and painting it later, and this Moon and Bats Salt Painting activity will help them enjoy both! (sensory and fine motor activity in one!) Get the materials ready, and let's try salt painting!
Materials for the Moon and Bats Salt Painting:
black colored paper

white cardstock

liquid glue

salt

liquid watercolor (gray)

paintbrush

scissors

double-sided foam tape
Before we start…

Here is a welcome gift!

Halloween is almost here, and aside from the Moon and Bats Salt Painting, you can also try our Print & Go Witch Haircut Craft! It includes a template that you can print to create a witch, then let your kiddo give it a nice haircut! This will help him practice his scissor skills. Read more about our Print & Go Witch Haircut Craft here, or download it now!
Procedure in creating your Moon and Bats Salt Painting:
Step 1 Cut the black colored paper into a square, about 7 to 8 inches on each side.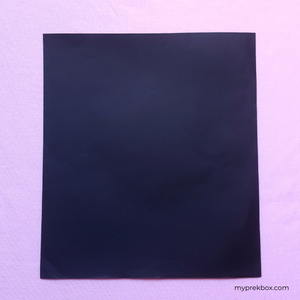 Step 2 Cut out a circle from the white cardstock, then attach it to the black square that you cut earlier.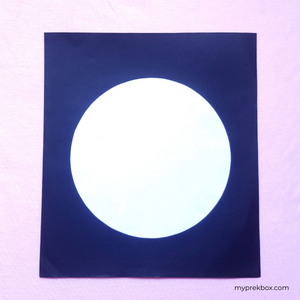 Step 3 Add some glue to the white circle, spreading it out into irregular shapes that look like a map! This will become the moon's craters.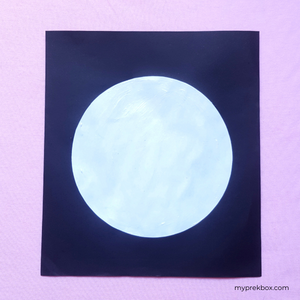 Step 4 Now add some salt on the areas with glue before it dries out!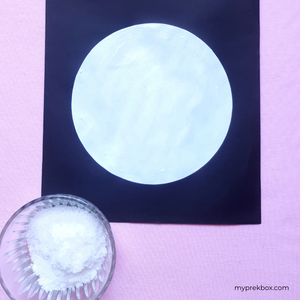 Step 5 Using a paintbrush, paint the salted areas with gray liquid watercolor. Let it dry for a while.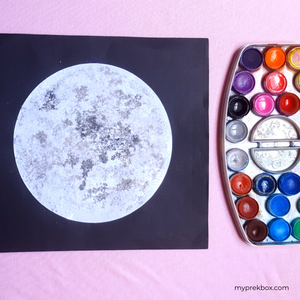 Step 6 While waiting for it to dry, let us make some bats! Get some black colored paper and draw two bats. Make one bat smaller than the other, so they can fit on the moon.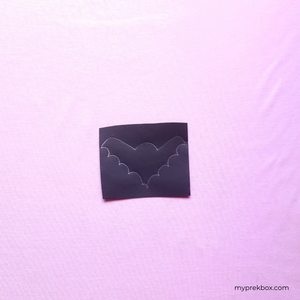 Step 7 Cut out the bats. Eek-eek!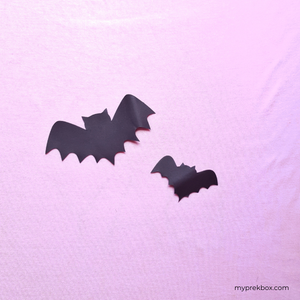 Step 8 Attach them to the moon using a double-sided foam tape or mounting foam tape to create a 3D effect!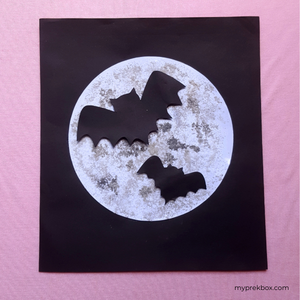 What will your child learn in making the Moon and Bats Salt Painting?
Salt painting is one of the activities that can help develop fine motor control. While kids trace the outlines of a drawing with glue and paint it using a paintbrush, they learn to control their muscles and hand movements. It helps them improve their pencil grip and dexterity while enjoying and creating beautiful artwork! This activity also develops their focus, patience, and self-confidence, and helps kids gain a sense of accomplishment.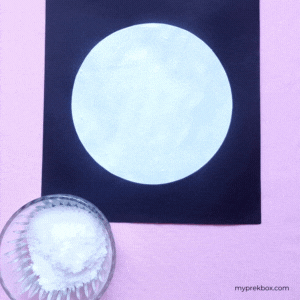 What do you think of the Moon and Bats Salt Painting? We hope you enjoyed it! It is a great follow-up activity after The Spider Box, one of our themed boxes specially made for the Halloween season! If you haven't subscribed to My Pre-K Box yet, you might want to get a monthly subscription for hassle-free, no-prep activities every month!
You'll surely love it too because each box is filled with play-based, hands-on learning tools that target math and literacy skills. It also includes sensory play, fun thematic crafts, and a grownup guide to help you in guiding your little one! Plus, it is very practical and budget-friendly because the games and activities are mostly reusable! So, if your child has siblings, it can be shared and can be used again and again! We also offer duplicates of non-reusable crafts for only $3.25 a month. And those who love our crafts can also subscribe to our Craft Lovers Upgrade for just $4.25 per child.
The fun and exciting activities inside My Pre-K Box will help your child enjoy learning, and you won't have to worry about a thing - it will be all prepped and delivered to your door! No more researching, planning, and cramming to make the activities yourselves! My Pre-K Box will handle it all for you, while you can simply guide and watch them learn in the convenience of our home!

Let's Connect
Can we see your Moon and Bats Salt Painting? I bet it looks great! Share your photos doing this friendly Halloween activity with your little one by sharing them on social media using the hashtag #myprekbox! While you're at it, give us a LIKE and FOLLOW us on Facebook and Instagram. See you there!
Haven't Tried My Pre-K Box Yet?
My Pre-K Box is the best subscription box for

kids 3-5 years of age!

Everything you need to play, create, explore,

learn, laugh, and enjoy!