With spring break getting closer, you are probably looking for fun activities to do with your kids while they are at home. If you haven't tried salt painting before, then you should definitely include it on your list! The materials for this activity are mostly available at home, and our Free PDF Print & Go Spring Salt Painting Templates will surely make it easy and simply entertaining!


My Pre-K Box: The best monthly subscription box for kids ages 3-5
My Pre-K Box is a monthly subscription box filled with play-based educational activities focusing on math and literacy skills for preschoolers! With exciting, new themes each month, your kid will always look forward to receiving this wonderful box each month! Prepped and delivered straight to your door, My Pre-K Box is so much fun, your child won't even realize how much they're learning!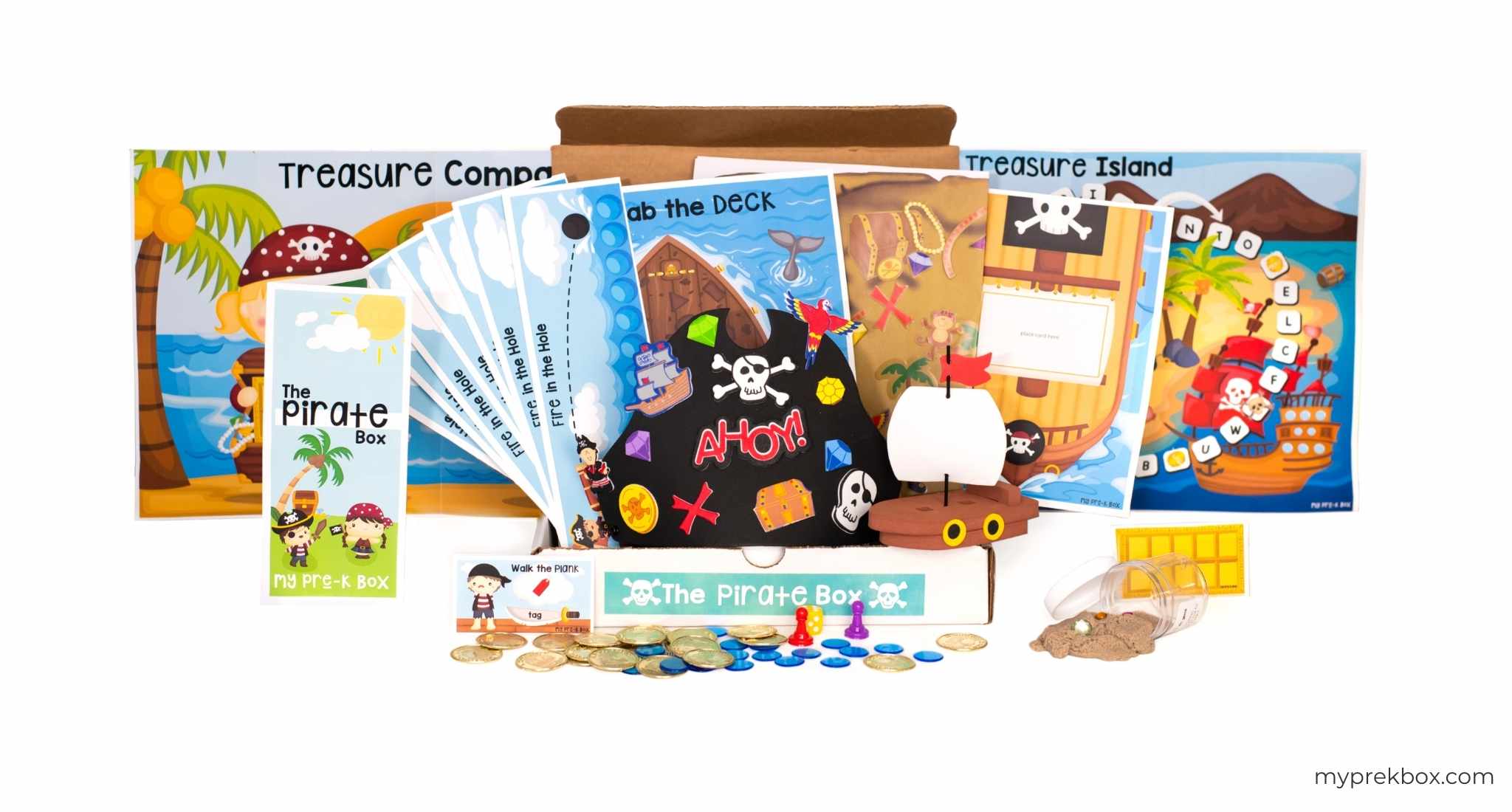 Salt painting is a popular art activity among preschoolers because it is very easy and engaging. Instead of just coloring or painting a picture, you put glue and salt on it before painting it to add texture! You can do it in any season or occasion too! Just choose the perfect drawing for the occasion, or just go with your child's favorites! And with spring season just around the corner, you might want to grab a copy of our FREE PDF Print & Go Spring Salt Painting Templates to make this spring break activity easier!
Materials for Spring Salt Paintings:
printer

cardstock

glue

salt

paintbrushes

watercolor
Steps in Creating Spring Salt Paintings
Step 1 Download and print My Pre-K Box Print & Go Spring Salt Painting Templates and have the materials ready.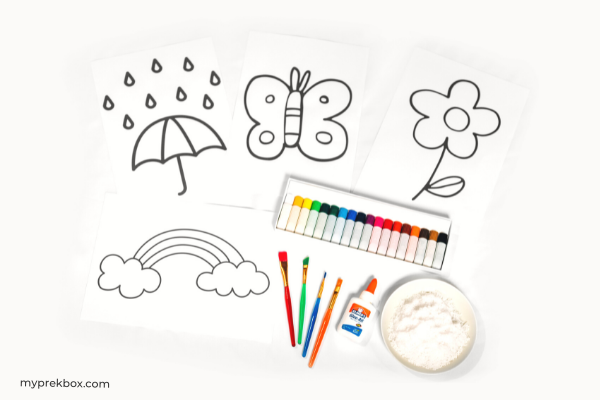 Step 2 Let your child choose which among the drawings he would like to work on first. The free printable Spring Salt Painting Templates include spring-themed drawings like flowers, rainbows, and butterflies. Trace the outlines of the drawing with glue.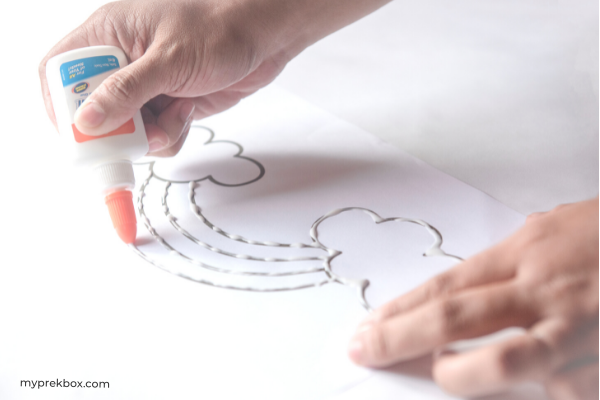 Step 3 Now, sprinkle salt into the drawing so it sticks to the glue! Fine salt tends to work best.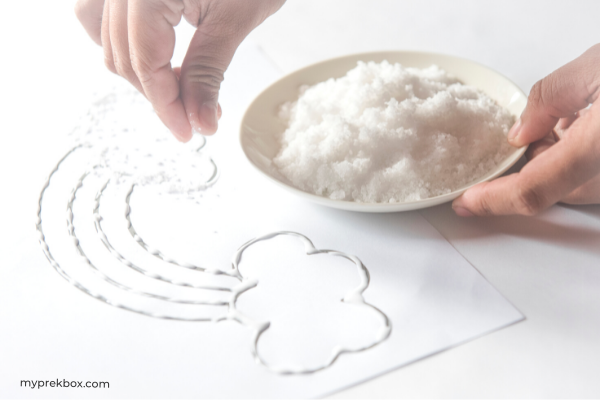 Step 4 Let it dry for a few moments. Then, pick it up to remove excess salt. You can collect this excess salt for future art projects too!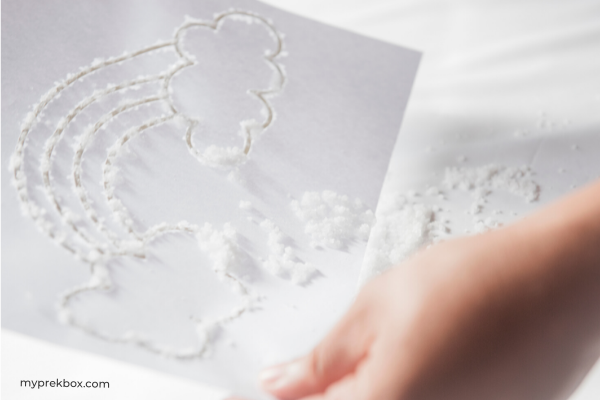 Step 5 Using the watercolor and paintbrush, add paint to the glued salt. Use a small amount of water just to slightly wet the watercolor; too much water may ruin the drawing.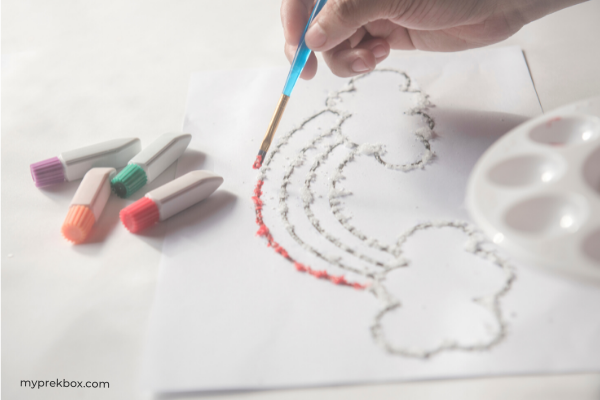 Step 6 Now the Spring Salt Painting is done! Do the same for the other drawings too and share them with your friends!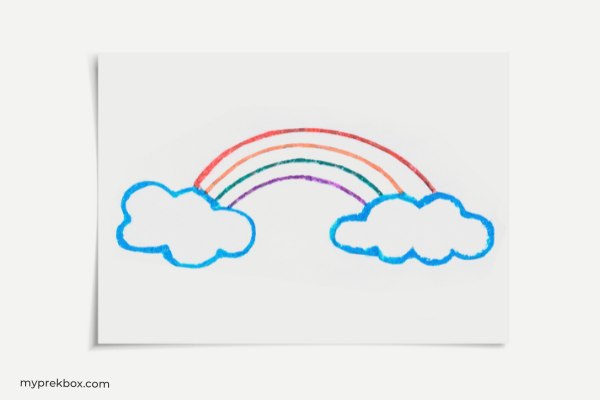 What will your child learn with Spring Salt Painting?
Activities like salt painting help develop fine motor control. While tracing the outlines of a drawing with glue and coloring it with a paintbrush, kids learn to control their movements little by little. It helps them improve their dexterity while having fun! In the emotional aspect, this activity also develops their patience and self-confidence.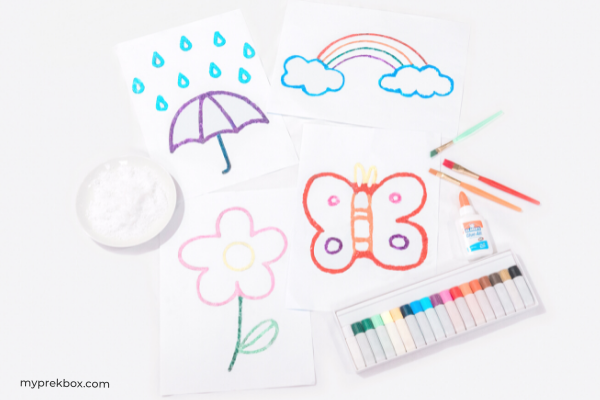 Get your FREE Print & Go Spring Salt Painting Templates
Let's Connect!
Follow us on Facebook and Instagram for more easy and fun activities like the Spring Salt Painting! Share your enjoyable moments through your favorite social media platform and use the hashtag #myprekbox! And don't forget to check out other articles on the My Pre-K Box blog for more fun and creative art projects!
Haven't tried My Pre-K Box yet?
My Pre-K Box is the best monthly subscription box

for kids ages 3-5!

Everything you need to create, play, laugh, and learn!