Tee-hee-hee! 🧙‍♀️
Help the witch get a nice haircut in an exciting activity today using our printable, the Witch's Haircut Craft! Just download, print, and assemble the witch. Then let your little one practice snipping the witch's hair! Want to learn more about how to do it and how to get our printable? Continue reading this blog post and we'll even show you how to do it, plus get more freebies along the way! Let's go!
My Pre-K Box: The number

1

subscription box for preschoolers!
My Pre-K Box is an educational subscription box for preschoolers filled with different learning activities for math and literacy skills! With fresh new themes each month, your child will delight in all of the fun, play-based learning activities inside! Prepped and delivered straight to your door, My Pre-K Box is so much fun, your child won't even realize how much they're learning!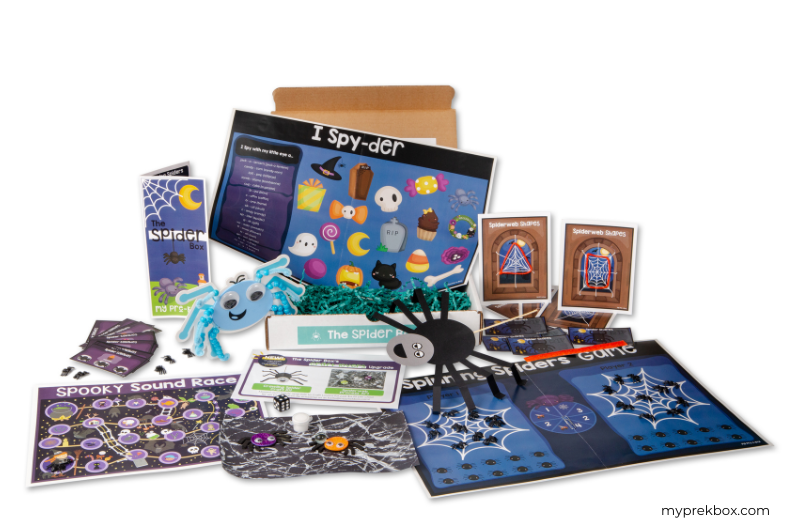 Snipping is a single, quick, cutting motion that kids should practice before they learn how to actually cut straight lines. And to improve their scissor skills, we have to expose them to different activities that involve snipping, fringing, and cutting straight and zigzag lines. That is why we created the Witch's Haircut Craft for preschoolers - it is a fun thematic craft for Halloween and is a great way to practice snipping!
Materials for the Witch's Haircut Craft:
paper or cardstock

printer

scissors

glue
Before we get started…

Here's a welcome gift!

Just in time for Halloween, we are going to share with you a collection of Halloween-themed worksheets that are perfect for introducing math and literacy to little kids - the Halloween Preschool Fun Pack! Kids will surely enjoy Halloween while learning important Kindergarten skills using our easy-to-follow worksheets.
Let's do the Witch's Haircut Craft in 5 easy steps!
Step 1 Download and print our Print & Go Witch's Haircut Craft on white paper or cardstock. You can choose from the black and white or the colored template.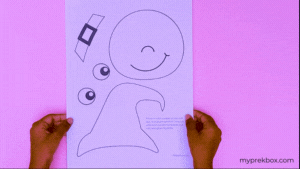 Step 2 Cut out the parts of the witch's face, hat, and hair. If you chose the black and white version, you can color it before cutting out the parts.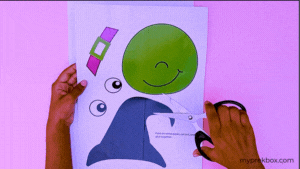 Step 3 Start by completing the witch's happy face. Glue the eyes, then add the hat on top of its head. Attach the hat band on the witch's hat too.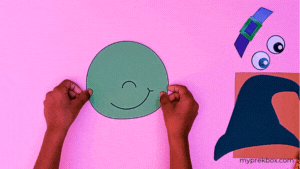 Step 4 Arrange the witch's hair, then add glue on top of it. Attach the witch's head to it, placing it just along the hat. Add a few more "strands of hair" on the sides. Now the witch is complete and is ready for a nice haircut!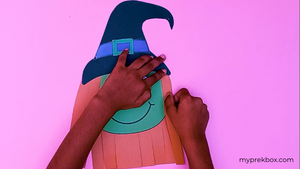 Step 5 Cut the witch's "hair"! Snip the strips of paper in varying lengths and styles - let your preschooler practice scissor skills and decide what she wants to do with the witch's hair!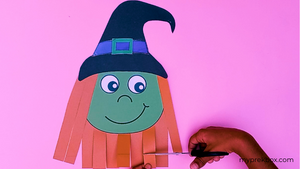 Download Witch's Haircut Craft
Want another freebie?

Wish granted! Here is another freebie!

If your little one enjoyed snipping the witch's hair but wanted to practice more, get him this Lion's Mane Craft! In this cute animal-themed craft, he will enjoy snipping and trimming the lion's mane. Like the Witch's Haircut Craft, this will help him improve his scissor skills! Learn more about the Lion's Mane Craft here, and get your free download today!
What will your child learn in making the Witch's Haircut Craft?
The Print & Go Witch's Haircut Craft is created to help preschoolers have fun while practicing snipping. They are new to holding scissors, so it is expected that they cannot cut long, straight lines yet. Instead, they can practice snipping to be familiar with the scissors and how it feels when it cuts the paper. With the Witch's Haircut Craft, they can practice their scissor skills and create a happy witch! It will also help a lot if you give them more hands-on activities to improve their fine motor skills and practice their hand muscles.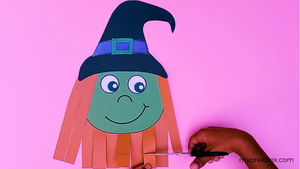 For more Halloween-themed activities you can try at home with your kids, check out these blog posts!
| | | |
| --- | --- | --- |
| | | |
If you and your preschooler enjoyed this Witch's Haircut Craft and wanted more hands-on activities to practice fine motor skills, join us and subscribe to My Pre-K Box to get exciting surprises EVERY MONTH! Our boxes are filled with fun crafts and lots of exciting hands-on activities! Each month features a new theme, which lots of kids look forward to. Our hands-on learning tools are play-based, targeting math and literacy skills. It also includes sensory play, fun thematic crafts, and a grownup guide.
The games and activities in My Pre-K Boxes are made with love and guaranteed to be of top quality. It is also kid-and-adult-friendly, very practical, and reusable! If your child has siblings, it can be shared and can be used again and again! We also offer duplicates of the crafts, since these are mostly not reusable. You can get a duplicate for his/her siblings for only $3.25 a month! Craft lovers can also subscribe to our Craft Lovers Upgrade, which comes with more fun crafts and two additional arts and crafts activities for just $4.25 per child.
With all the fun and exciting activities inside My Pre-K Box, your child won't even notice he's learning a lot! And as parents, we wouldn't have to worry about the hassle of researching, planning, and making the activities! We can simply guide and watch them learn in the convenience of our home - with the help of My Pre-K Box!

Let's Connect
Tee-hee-hee! We hope you enjoy creating this Witch's Haircut Craft and helping her get a new haircut! If you love this activity, please LIKE and FOLLOW our Facebook and Instagram pages and help us share the word! Just use the hashtag #myprekbox when uploading photos of your little ones doing our fun activities and crafts! See you there!
Haven't Tried My Pre-K Box Yet?
My Pre-K Box is the best subscription box for

kids 3-5 years of age!

Everything you need to play, create, explore,

learn, laugh, and enjoy!