Ooooo…what's that in the window?! This craft really hones in on your kiddos creativity! And the best part? You can't really do it wrong! With these spooky silhouettes, you'll create a stained glass window effect and decorate it with fun cutouts! You'll love this craft because it can be done for virtually any holiday or event!
My Pre-K Box: The Best Educational Subscription Box for Preschoolers
My Pre-K Box is an educational subscription box for preschoolers aged 3-5! We deliver the most fun play-based preschool learning available! Each box has its own unique theme and is filled with different learning activities to target math and literacy skills. Your kids will have fun exploring the new activities, and you will delight in the fact you are helping them with essential Kindergarten readiness skills! This activity pairs perfectly with our Spider Box!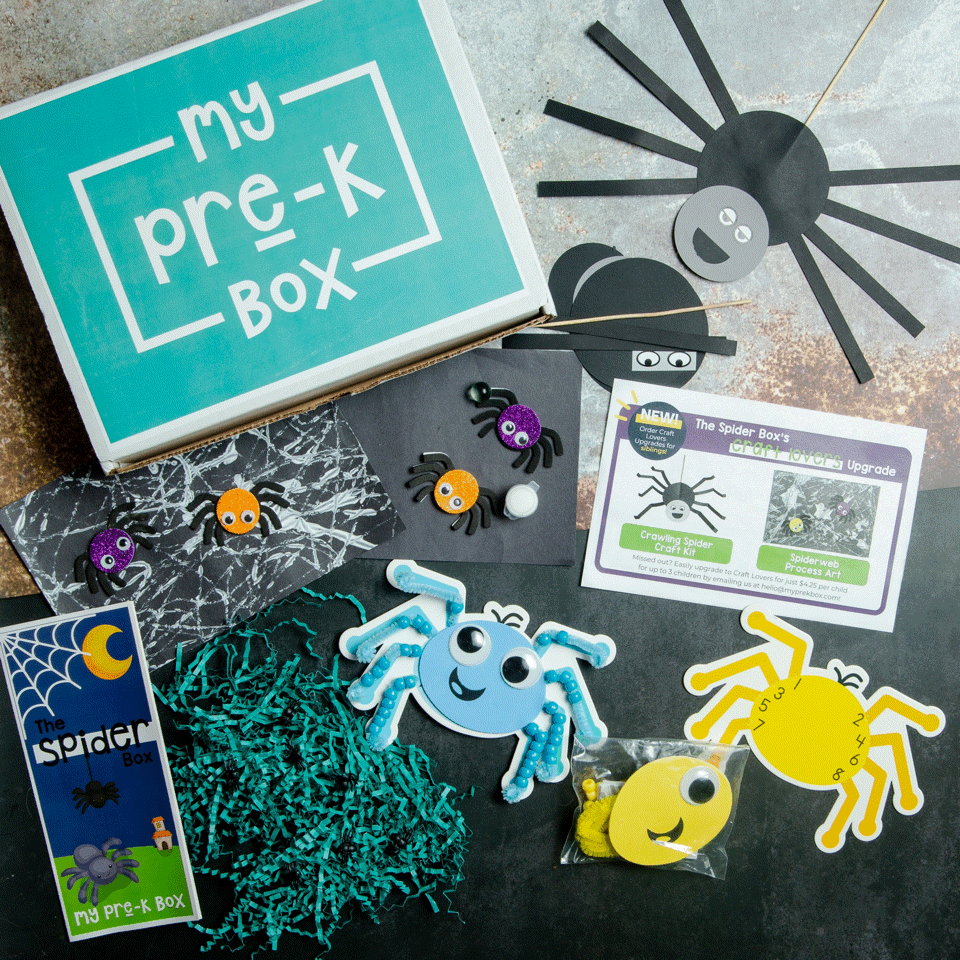 Free Halloween Themed Preschool Fun Pack!
Check out our FREE Halloween themed preschool worksheets! These Halloween themed worksheets are perfect for children aged 3-5! They target important preschool skills like counting, sorting, letter sounds, and more!


Included in the FREE Preschool Halloween Worksheets:

Spiderweb Counting


Witches' Brew Letter and Number Sort

Spooky Patterns

Which is Different?

Candy Sound Match

Monster Measure

Preposition Trick or Treat

Jack o' Lantern Graphing
Get your FREE Halloween Fun Pack
Crafting Your Spooky Silhouettes!
Materials:
Heavy duty paper (for the base of your craft)

Various different colors of bleeding tissue paper, cut into small squares

A spray bottle (we have a continuous spray one that my kids LOVE!)

A tray (a cookie sheet with edges works just fine)

Either pre-cut shapes or construction paper to cut out shapes of your own

Glue stick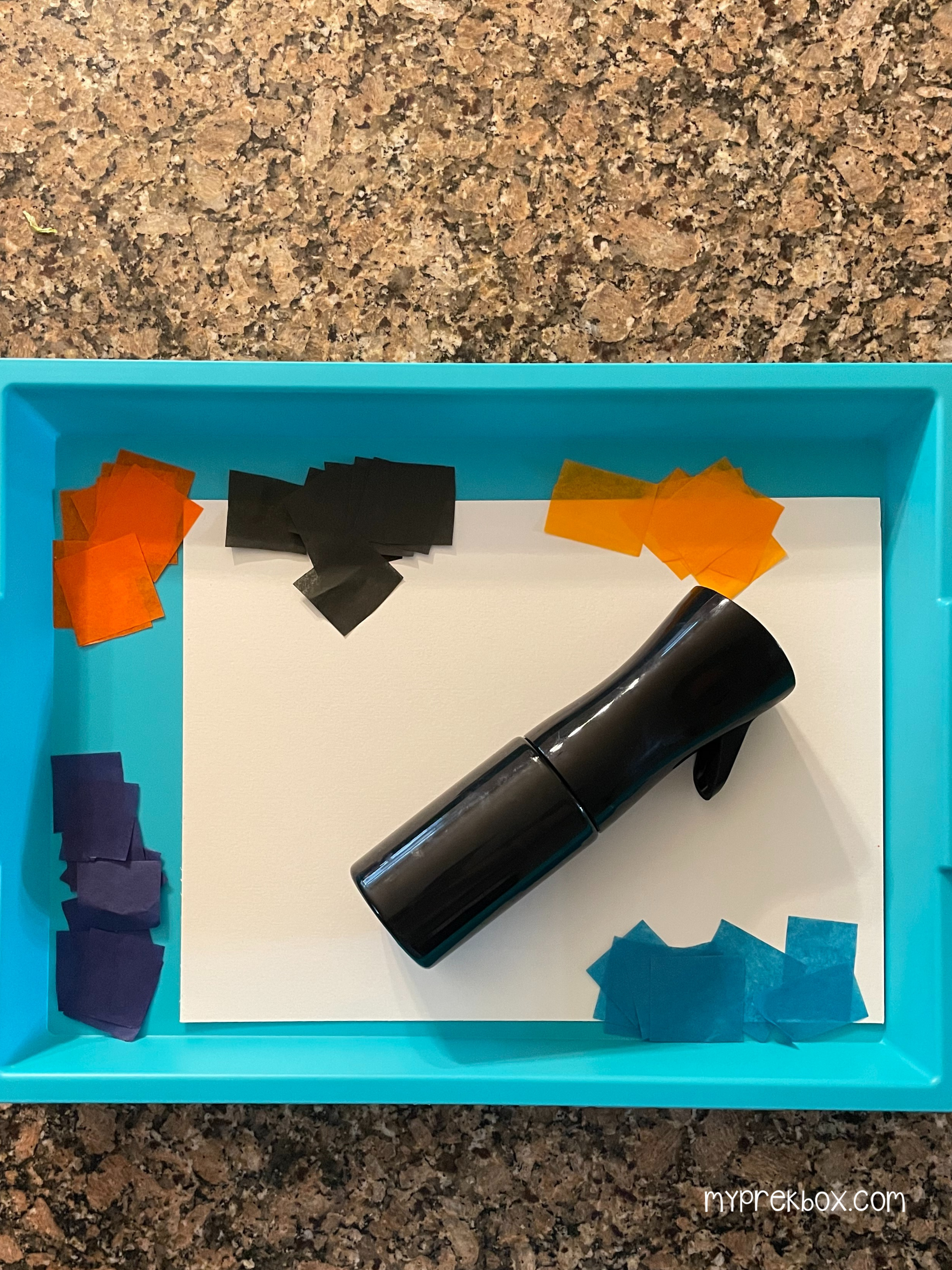 Instructions:
Step 1 Place the paper inside the tray and spray down. You will want your water bottle to be on mist mode. Make sure it's nice and damp.
Step 2 Add pieces of tissue paper all over the wet paper. You want them to stick, so if they're not, spray the paper down more. Overlapping colors will give you a really neat effect, so don't be afraid to let your kid go to town!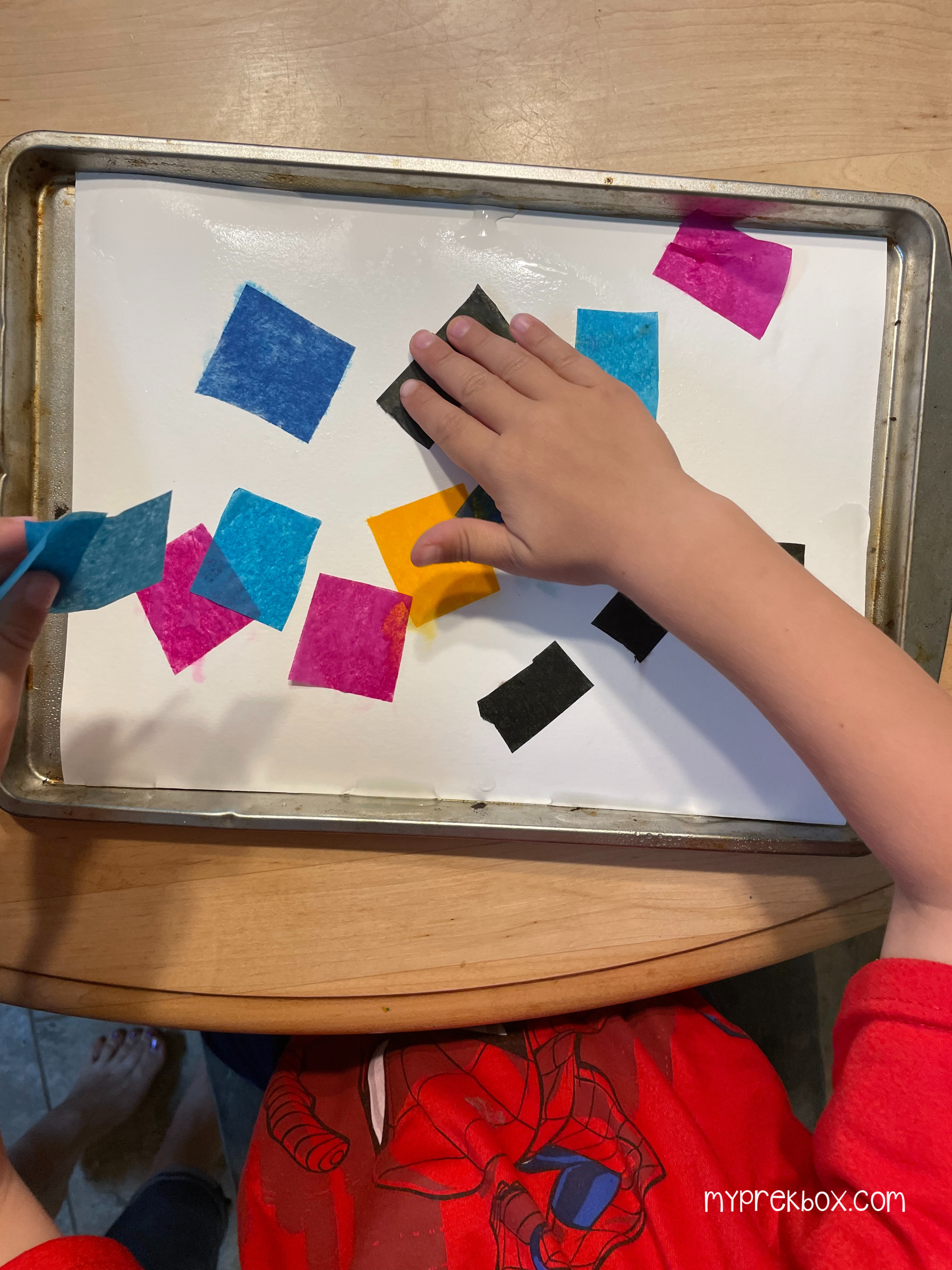 Step 3 Once you have all of your tissue paper laid down, spray down again.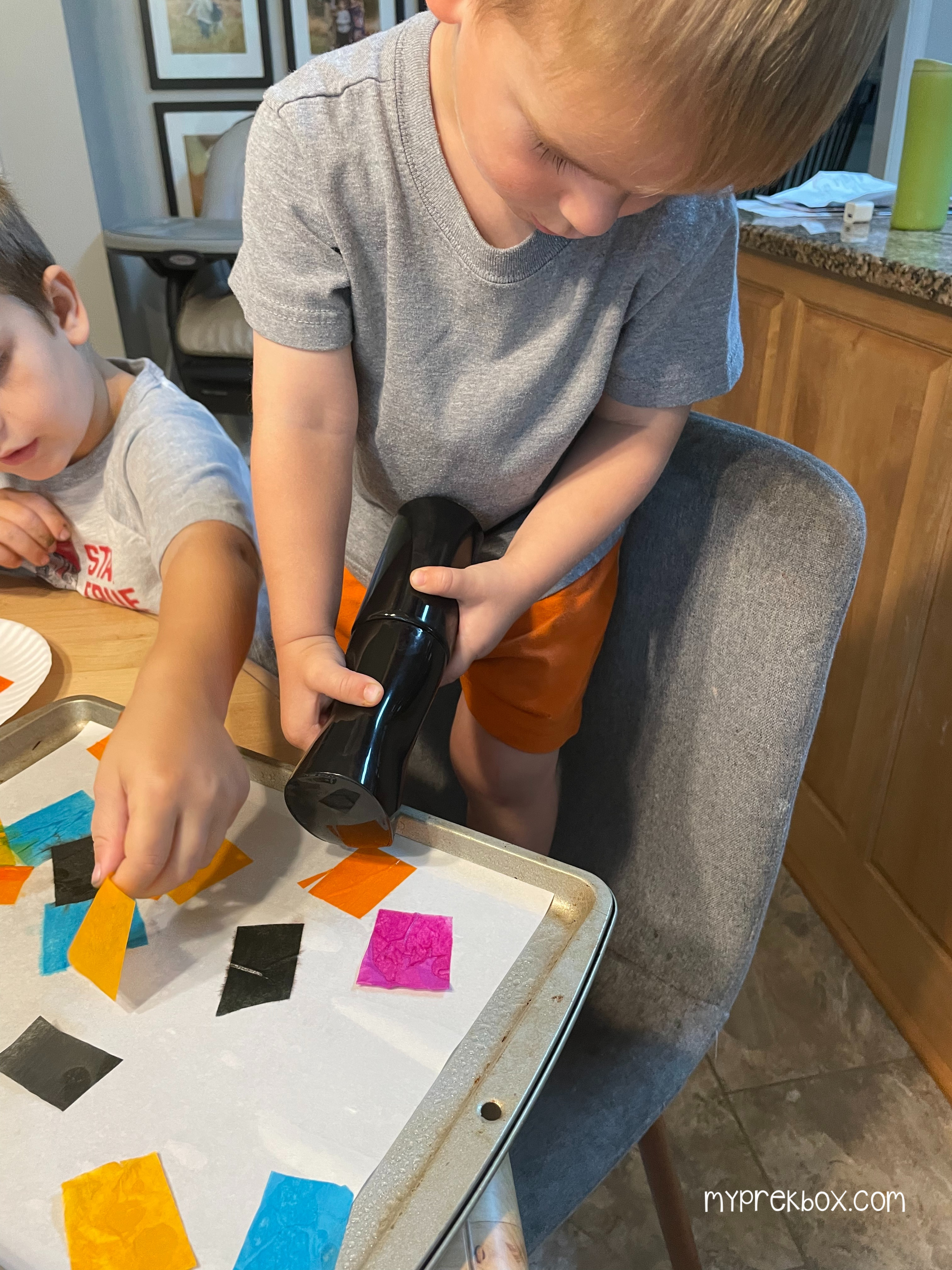 Step 4 After everything has had a chance to dry, peel off the dried tissue paper (it is oddly satisfying) and throw it away.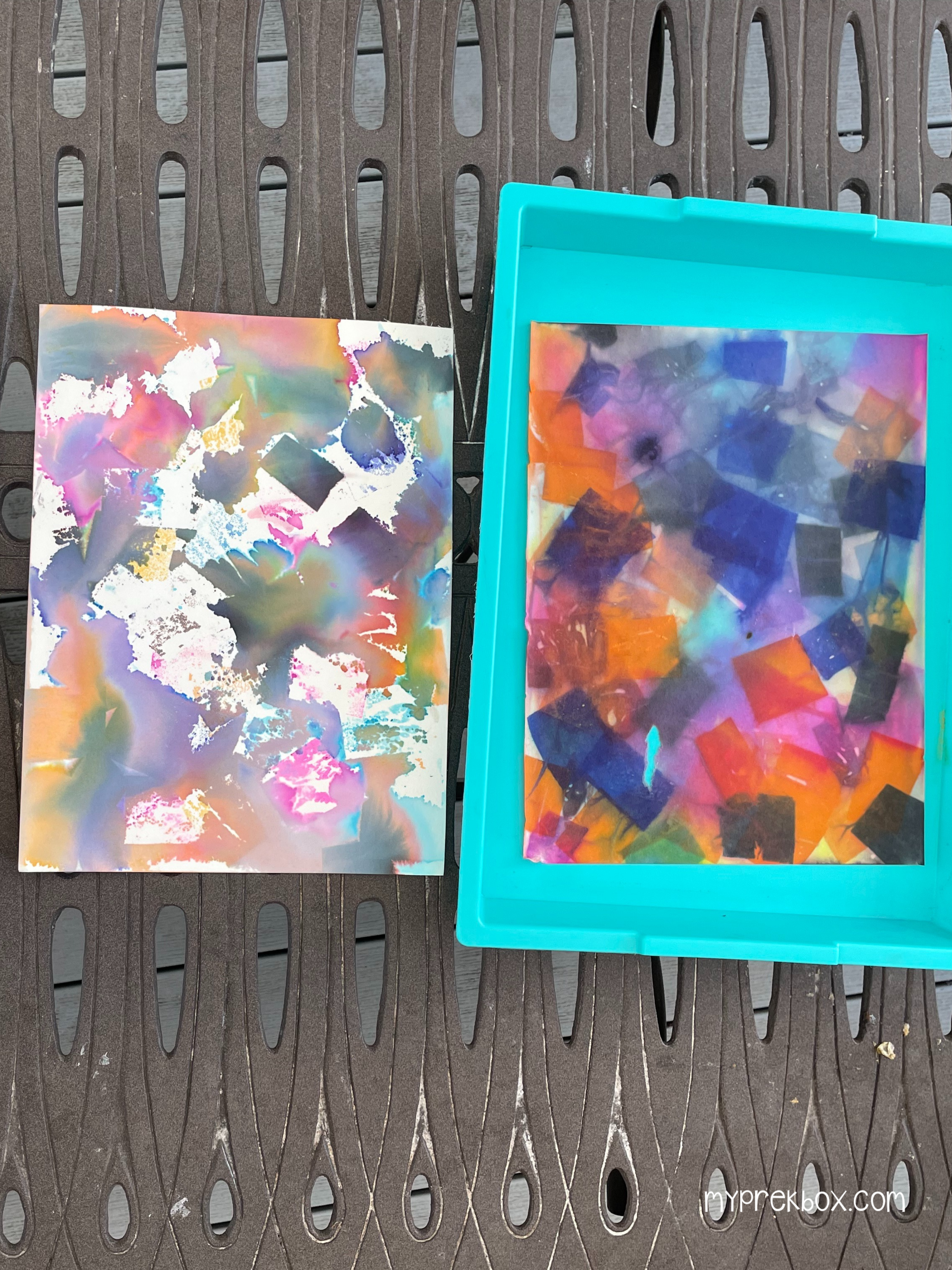 Step 5 Cut out a figure from your construction paper- the simpler the figure is, the better it looks. Cookie cutters make great stencils if you don't have pre-cut shapes.
Step 6 Glue on the cut out, and hang up your masterpiece!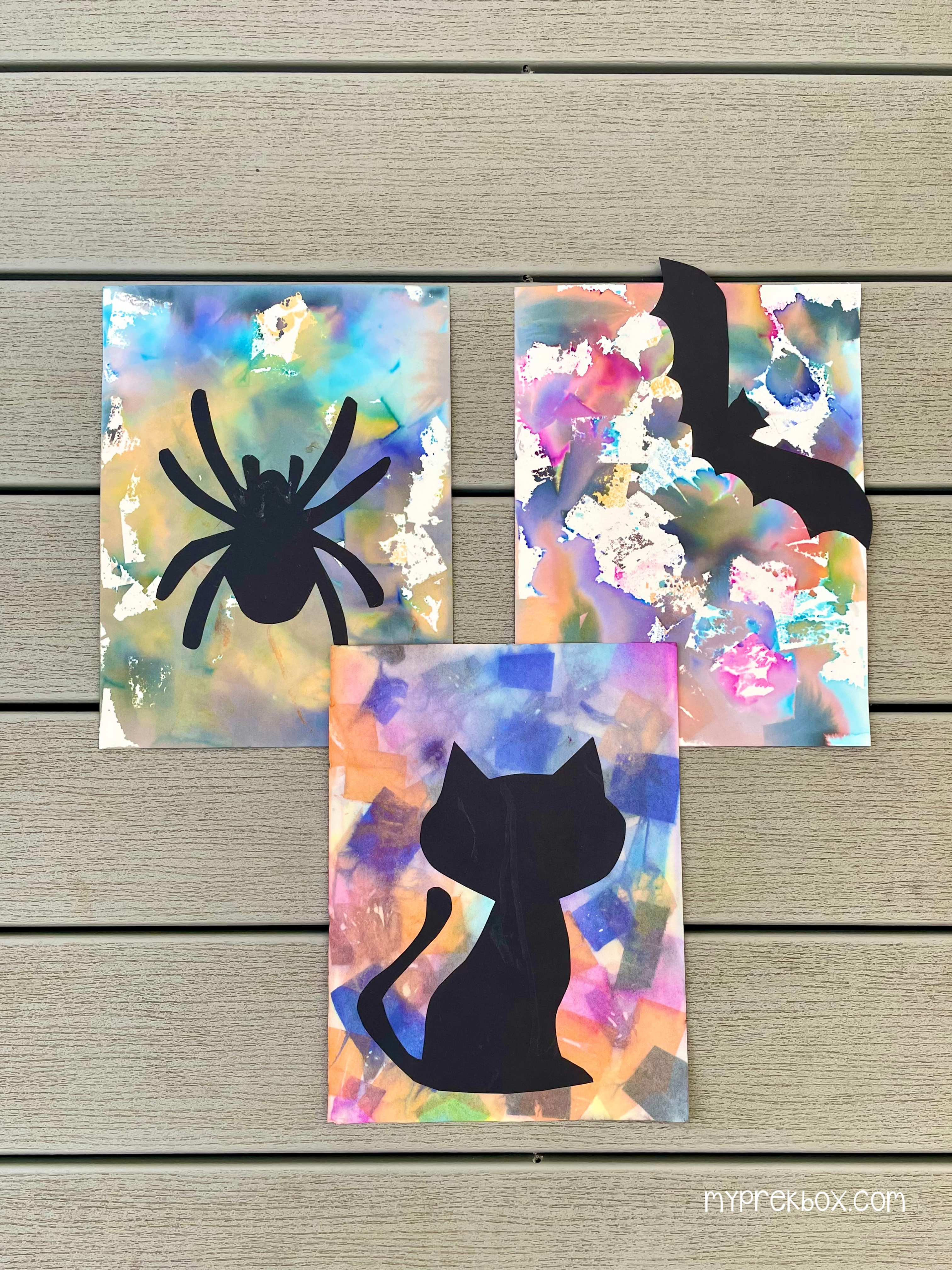 Let's Connect!
We absolutely LOVE seeing your preschoolers learning through play! Please take photos and videos of your child engaging in sensory activities and share your photos with us on Facebook and Instagram!
Also, if you aren't already, be sure to follow us on Facebook and Instagram for more fun activities to do at home with your little ones!
Haven't tried My Pre-K Box Yet?
My Pre-K Box is the best monthly subscription box for kids ages 3-5!

Everything you need to create, play, laugh, and learn!