Trick or Treat!
When kids go around the neighborhood in scary and silly costumes while carrying Jack-o lanterns, you know it's that time of the year. Yes, it's Halloween! And to help kids celebrate this fun holiday (while learning important Kindergarten skills!), we came up with the Halloween Preschool Fun Pack! Check out the Halloween-themed activities inside and see what your little ones can learn from them.
My Pre-K Box: The number 1 subscription box for preschoolers!
My Pre-K Box is an educational subscription box for kids aged 3 to 5. Each box we prepare and deliver is filled with different learning activities for math and literacy skills! Every month, we feature a new theme, and all activities on it are focused on play-based learning. Your kids will love exploring new activities each month while practicing Kindergarten readiness skills!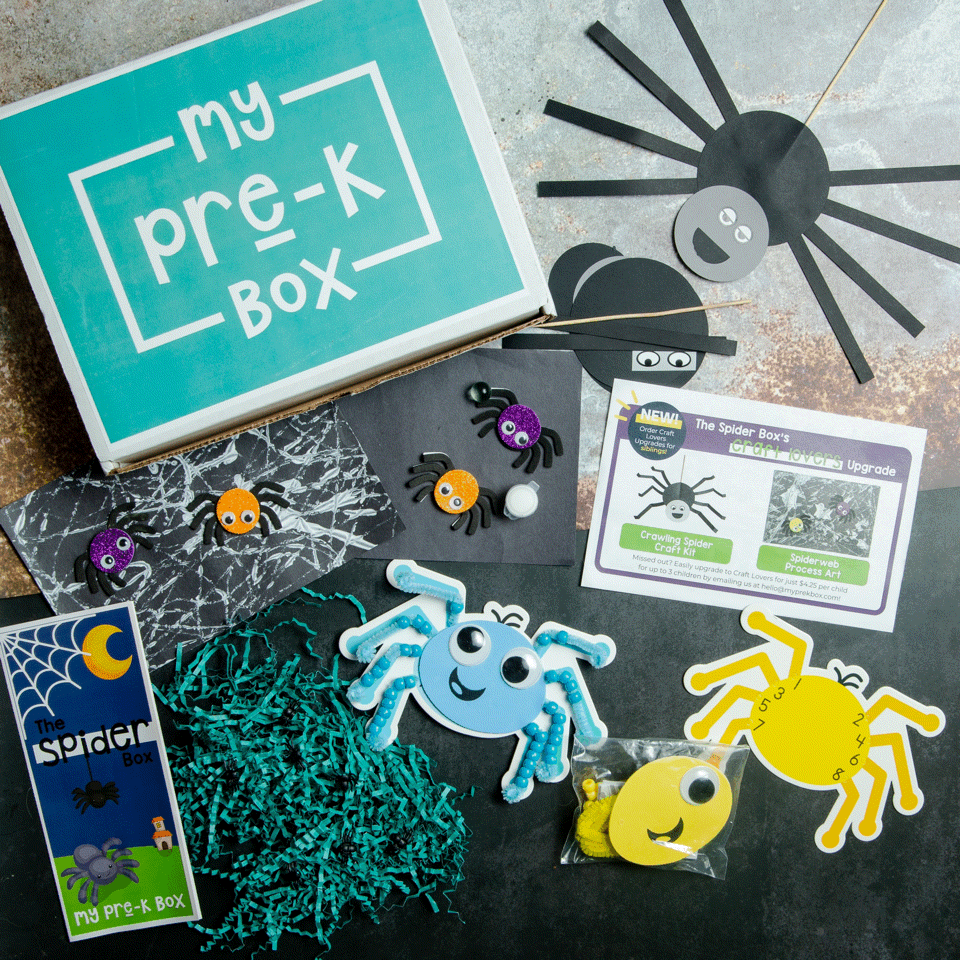 The Halloween Preschool Fun Pack is a collection of fun (and spooky!) Halloween-themed preschool worksheets that target math and literacy skills. Your little ones will practice counting, recognizing sounds, as well as letters, numbers, and patterns, while enjoying all the Halloweeny stuff in it! Tell your kids that if they show great tricks (in answering the worksheets!), they'll get sweet treats in return. Prepare some candies and chocolates for rewards - that's like having trick or treat at home while helping them learn too!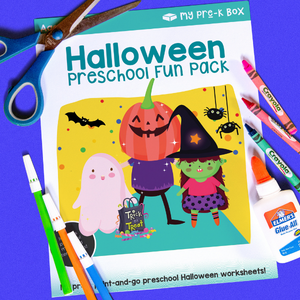 Get Halloween Preschool Fun Pack
What's included in the Halloween Preschool Fun Pack?

The Halloween Preschool Fun Pack includes 8 fun-filled worksheets to help kids develop important skills to prepare them for Kindergarten!

Spiderweb Counting

Witches' Brew Letter & Number Sort

Spooky Patterns

Which is Different?

Candy Sound Match

Monster Measure

Preposition Trick or Treat

Jack o' Lantern Graphing
Materials:

printer

paper

pencil

crayons or markers

scissors

glue
Knock knock!

Here's a freebie for you!

Create a movable monster this Halloween using our FREE monster template!

Get this Print & Go Build a Monster Craft for your little one to play with, or use it at your little Halloween house party. Just download, print, and follow the instructions to create your very own movable monster! Learn more about it here, or download it now!
Check out all the 8 worksheets included in the Halloween Preschool Fun Pack!
1 Spiderweb Counting
Count the spiders in each web, then mark the correct number! It seems like a very simple activity but this will help them practice counting in order and recognize the correct number among the choices.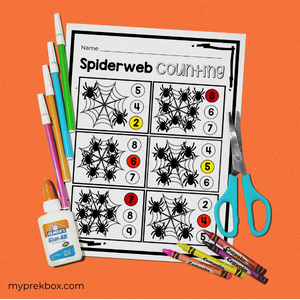 2 Witches' Brew Letter & Number Sort
Help the witch separate the numbers from letters by placing them in separate cauldrons! Just cut the numbers and letters at the bottom of the page, then glue them on the right cauldron. This kind of activity is good for younger kids who are confused with numbers and letters. It will help them improve their number and letter recognition skills!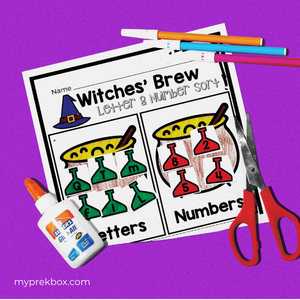 3 Spooky Patterns
Jack o' lanterns, bats, vampires, and witches lined up… Which one comes next? Help your little one develop their logical thinking and pattern recognition skills through this spooky (but cool!) worksheet. It also offers good hand muscle practice as kids cut and paste the pictures to complete the pattern.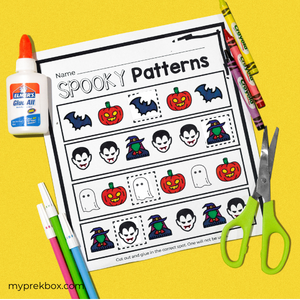 4 Which is Different?
Can you spot the difference? Each set of pictures shows a similar Halloween object, but one of them has a slight difference. Can your preschooler find which one it is? This fun worksheet can improve their observation and thinking, and you can also ask them to tell you the differences they observed. That way, their language and communication skills are also practiced!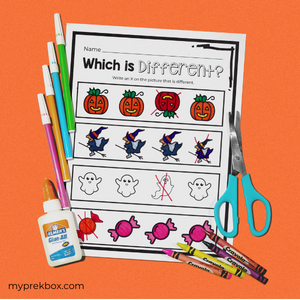 5 Candy Sound Match
In this worksheet, each trick or treat bag has an object in it. Let your preschooler identify it first, then emphasize the beginning sound. Match the candies with the same letter to the bags with the same beginning sounds!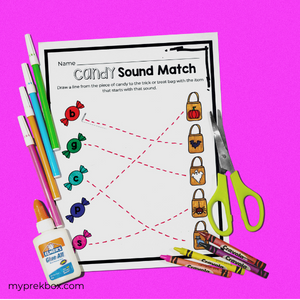 Hee-hee-hee!

Watch out for another freebie!

Create a witch and give her a nice haircut this Halloween! Our FREE printable made it easier and more fun. Simply download, print, and your preschooler will be able to work on his scissor skills! Grab a copy now while it's free!
6 Monster Measure
Spooky and silly monsters are on the loose! Ask your little one to color these monsters and identify the tallest and shortest ones in each group. This fun activity gives them a basic idea of math and measurement! You can also ask them to describe each monster for language development.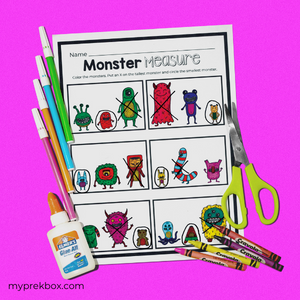 7 Preposition Trick or Treat
Does your little one know the difference between over, under, beside, and other simple prepositions? This worksheet can help them understand it better! There are candies at the bottom of the page, and all they have to do is cut them out and paste them in the correct place. Each box has instructions on where each candy should be. This is a great way to teach prepositions at an early age!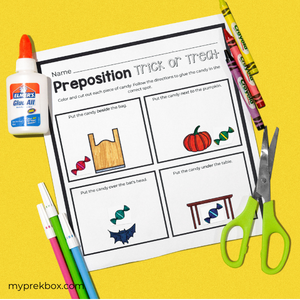 8 Jack o' Lantern Graphing
This one worksheet will teach a lot of skills to your kids! Counting, coloring, graphing, and shape recognition - all in one worksheet! They have to color and count the Jack o' lanterns with the same shape and color the number of corresponding boxes to make the graph.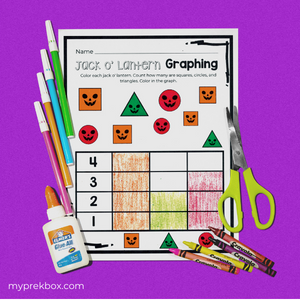 Now your little one can enjoy Halloween while still learning important skills to prepare them for Kindergarten. These worksheets will help not to make him feel bored or pressured when it comes to learning - cause he's still seeing Halloween-themed stuff on each page. So, get your copy now and use it in time for Halloween!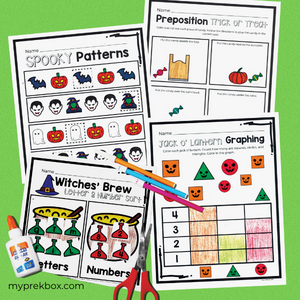 Get Halloween Preschool Fun Pack
For more fun Halloween-themed activities you can do at home, you can check out our blog post about Witch's Syllable Stew and Sticky Wall Alpha-Web. These are great literacy activities you can try on Halloween! Or, if your little one enjoys crafts, you can create this Crawling Spider Craft too. Click on the pictures below to direct you to the blog post.
What do you think of the Halloween Preschool Fun Pack? We hope you enjoyed it! It is a great follow-up activity after The Spider Box, one of our themed boxes specially made for the Halloween season! If your little one got The Spider Box already, get the Halloween Preschool Fun Pack for FREE for more spooky fun! And if you haven't subscribed to My Pre-K Box yet, you can still try our Halloween Preschool Fun Pack for free today, and if your kids enjoyed it, you might want to get a monthly subscription to get exciting surprises every month!
You'll surely love it too, because each box is filled with play-based, hands-on learning tools that target math and literacy skills. It also includes sensory play, fun thematic crafts, and a grownup guide to help you in guiding your little one! Plus, it is very practical and budget-friendly because the games and activities are mostly reusable! So, if your child has siblings, it can be shared and can be used again and again! We also offer duplicates of the non-reusable crafts for only $3.25 a month. And those who love our crafts can also subscribe to our Craft Lovers Upgrade for just $4.25 per child.
The fun and exciting activities inside My Pre-K Box will help your child enjoy learning, and you won't have to worry about a thing - it will be all prepped and delivered to your door! No more researching, planning, and cramming to make the activities yourselves! My Pre-K Box will handle it all for you, while you can simply guide and watch them learn in the convenience of our home!

Let's Connect
Got a copy of the Halloween Preschool Fun Pack for your preschooler? LIKE and FOLLOW our Facebook and Instagram pages for more free printables and worksheets! Discover more DIY activities, art projects, and fun crafts with us! We'd love to see photos of your kids as they enjoy the activities in the Halloween Preschool Fun Pack - so don't forget to tag us and use the hashtag #myprekbox! You can also send those adorable photos on our social media pages!
Want to try My Pre-K Box?
My Pre-K Box is the best subscription box for

kids 3-5 years of age!

Everything you need to play, create, explore,

learn, laugh, and enjoy!