Before long the kiddos will be dressing up in their costumes and heading out for a fun night of Trick or Treating, so it is a great time to get in some fun, Halloween themed literacy activities! This simple and easy Witch's Syllable Stew activity will have your preschooler channeling their inner witch or wizard while practicing segmenting syllables!

My Pre-K Box: The Best Educational Subscription Box for Preschoolers
My Pre-K Box is an educational subscription box for preschoolers aged 3-5! We deliver the most fun play-based preschool learning available! Each box has its own unique theme and is filled with different learning activities to target math and literacy skills. Your kids will have fun exploring the new activities, and you will delight in the fact you are helping them with essential Kindergarten readiness skills! This activity pairs perfectly with our Spider Box!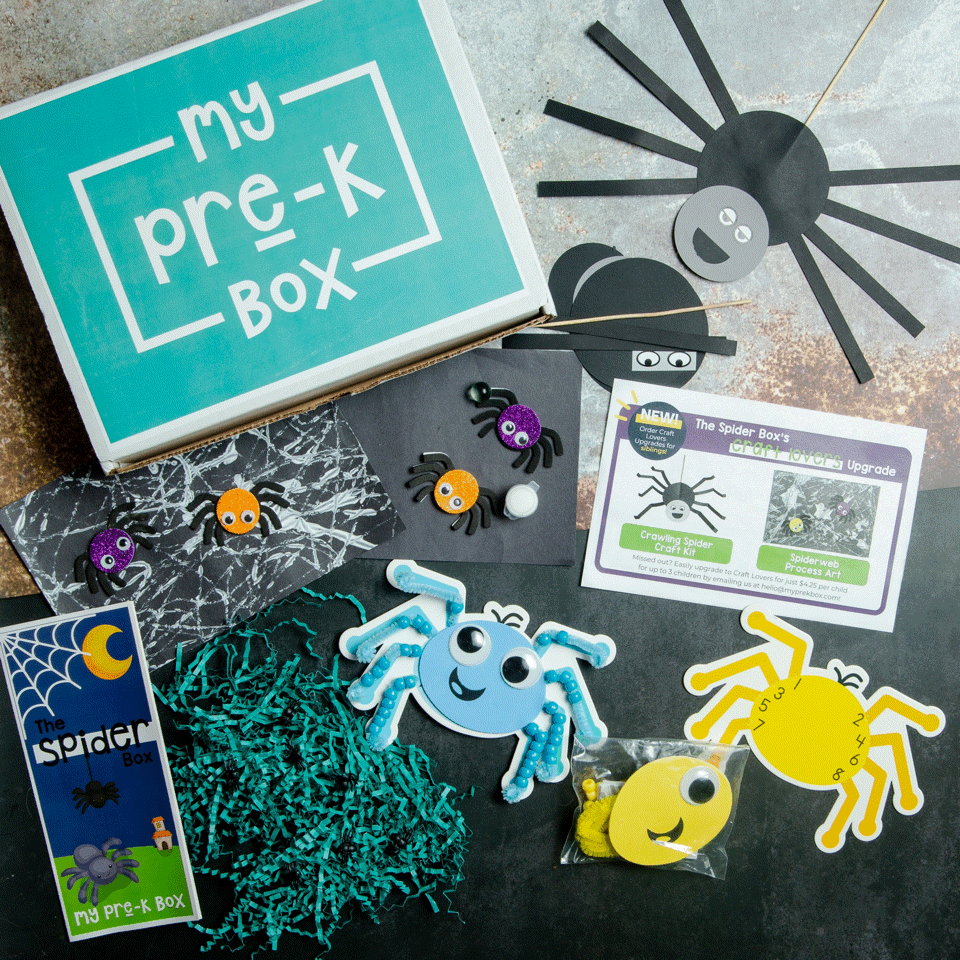 You May Also Like Our Halloween Themed Preschool Fun Pack!
Check out our FREE Halloween themed preschool worksheets! These Halloween themed worksheets are perfect for children aged 3-5! They target important preschool skills like counting, sorting, letter sounds, and more!


Included in the FREE Preschool Halloween Worksheets:

Spiderweb Counting


Witches' Brew Letter and Number Sort

Spooky Patterns

Which is Different?

Candy Sound Match

Monster Measure

Preposition Trick or Treat

Jack o' Lantern Graphing
Get your Halloween Themed Preschool Fun Pack
Here's How to Brew the Syllable Stew

You will only need a few household items to bring this preschool Halloween literacy activity to life!
Materials:
● Pot

● Small toys with names that have 1-3 syllables

● 3 cups (ours are from a dollar store)

● Skelton hands (ours are from a dollar store), tongs, OR a large soup spoon

Instructions:
Step 1 Grab some random loose toys from around the house. Make sure the toy names start with 1, 2, or 3 syllables. Stick in your cauldron (pot).
Step 2 Set out 3 cups for sorting. Label the cups 1-3.
Step 3 Grab some fun skeleton hands, a pair of tongs or a large soup spoon.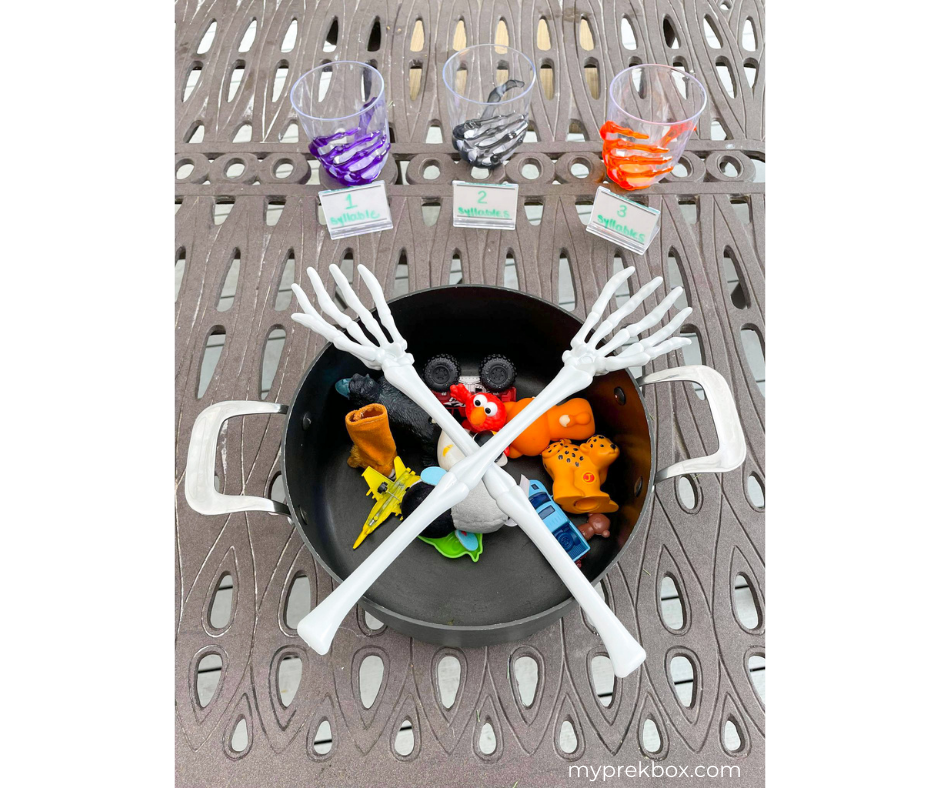 Step 4 Have your preschooler mix around the toys in the pot while you sing this fun jingle:

Bippity, Boppity, Boo.
We're making a witch's brew.
Bippity, Boppity, Boo.
How many syllables are….you!?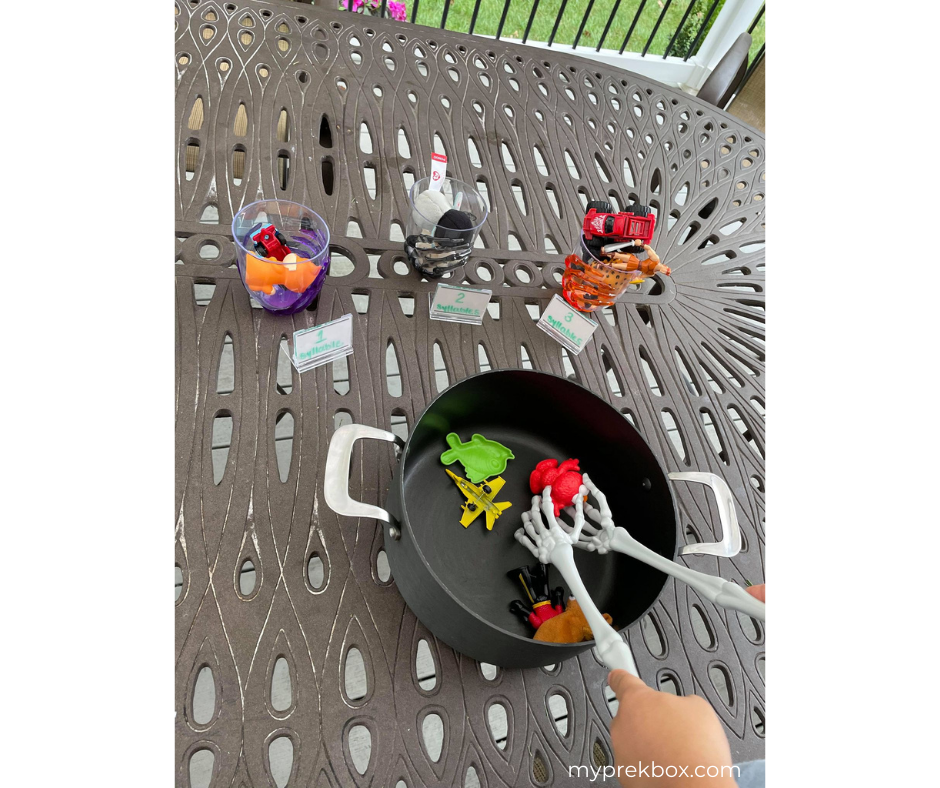 Step 5 Have your preschooler pull out the toy and then count out the syllables by saying the word slowly each syllable at a time. Use the skeleton tongs to clap the syllables!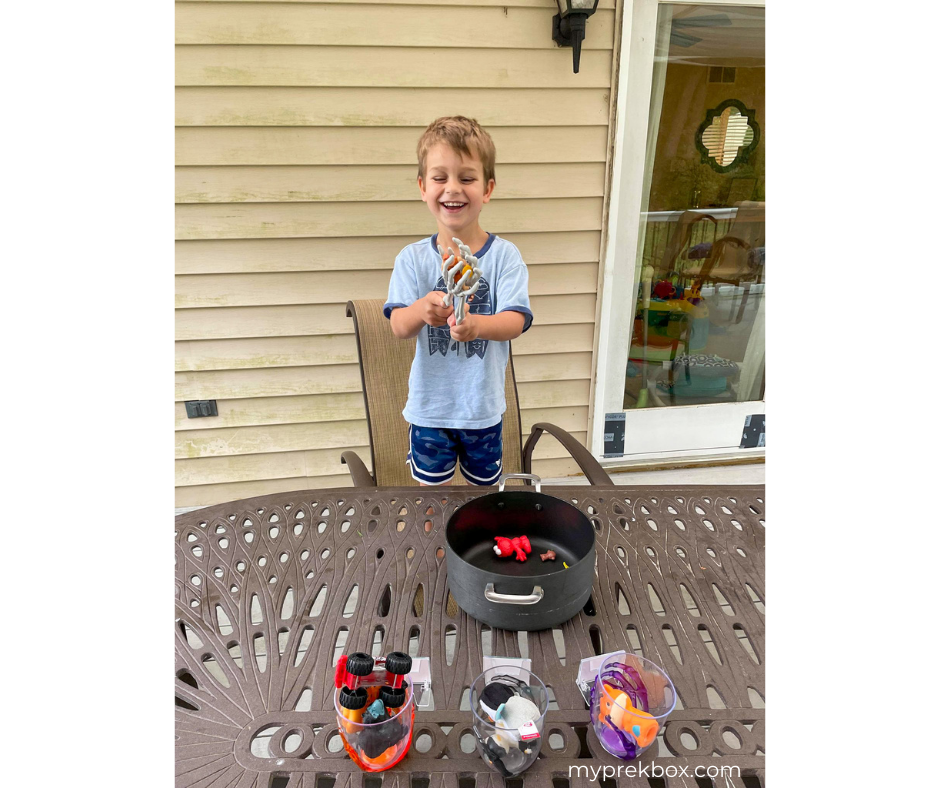 Step 6 Then they will sort the toy into the correct cup based on the number of syllables.
(For example, this preschooler pulled out a stuffed penguin toy. He named the object: penguin. He then clapped out the syllabpes pen-guin. Penguin has two syllables, so he sorted it into the 2 syllables cup.)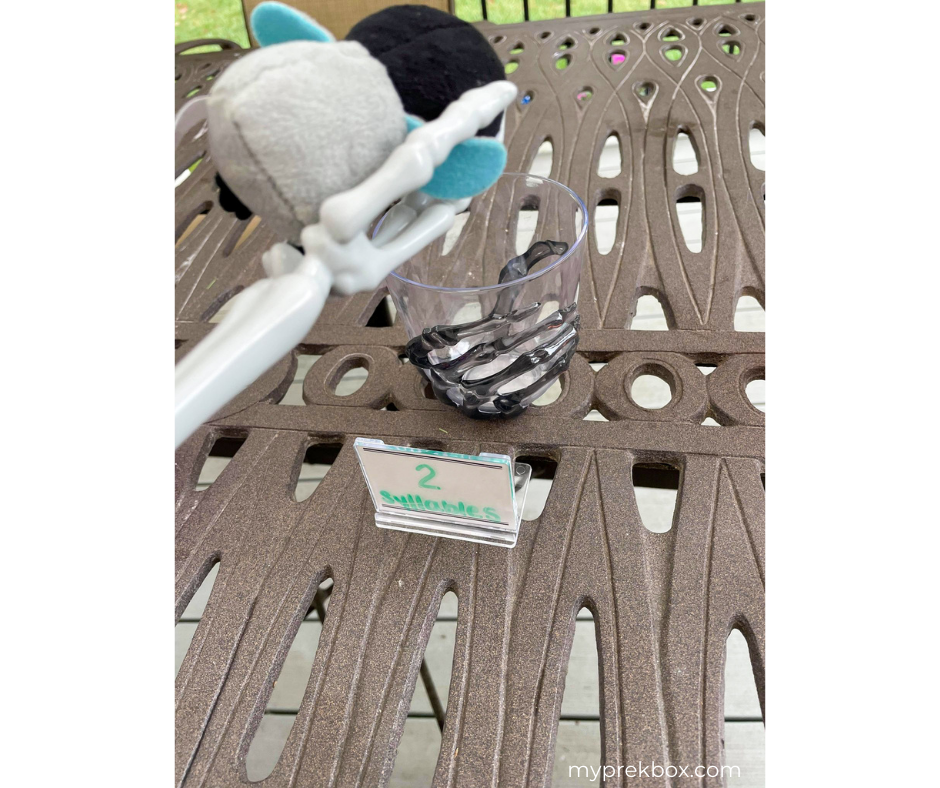 Once your preschooler knows how to play, this preschool Halloween literacy activity works great for free play time! You can set up the materials and let your little witch or wizard get to brewing their syllable stew. Make it even more exciting by adding in some dress up clothes and more props to get in some dramatic play. More practice segmenting by syllable while also working on those independent and dramatic play skills is a win-win!

Take this Halloween activity to the next level!
If your little witch or wizard is ready for challenge, there are a lot of ways you can switch up this Witch's Syllable Stew activity! When your preschooler is independent with identifying up to 3 syllables in a word, try giving them toys with names that have more than 3 syllables. They will practice segmenting larger words and will get more practice sorting as you will have more cups for them to sort into. This Halloween literacy activity isn't just reserved for syllable practice. You could also have your preschooler sort by beginning sound or ending sound. Finally, promote your preschooler to master potion brewer by challenging them to segment the toy names based on sound. For example: Fish would be "f" "i" "sh" so they would sort that toy into the cup labeled 3 sounds.

No matter how you play, this literacy activity for Halloween is sure to be a hit!
Let's Connect!
We absolutely LOVE seeing your preschoolers learning through play! Please take photos and videos of your child engaging in sensory activities and share your photos with us on Facebook and Instagram!
Also, if you aren't already, be sure to follow us on Facebook and Instagram for more fun activities to do at home with your little ones!
Haven't tried my Pre-k Box Yet?
My Pre-K Box is the best monthly subscription box for kids ages 3-5!

Everything you need to create, play, laugh, and learn!