Chomp! Chomp! Have a monster-ific day with your kid with this fun free movable Monster Craft! This cute chomping monster craft is so easy and exciting, and best of all you can use it all year round! Find out more about our free printable Build a Monster Craft and how you can have yours for free!
My Pre-K Box: The best monthly subscription box for kids ages 3-5
My Pre-K Box is an educational subscription box filled with play-based learning activities focusing on math and literacy skills for preschoolers! With exciting, new themes each month, your kid will always look forward to receiving this wonderful box! Prepped and delivered straight to your door, My Pre-K Box is so much fun, your child won't even realize how much they're learning!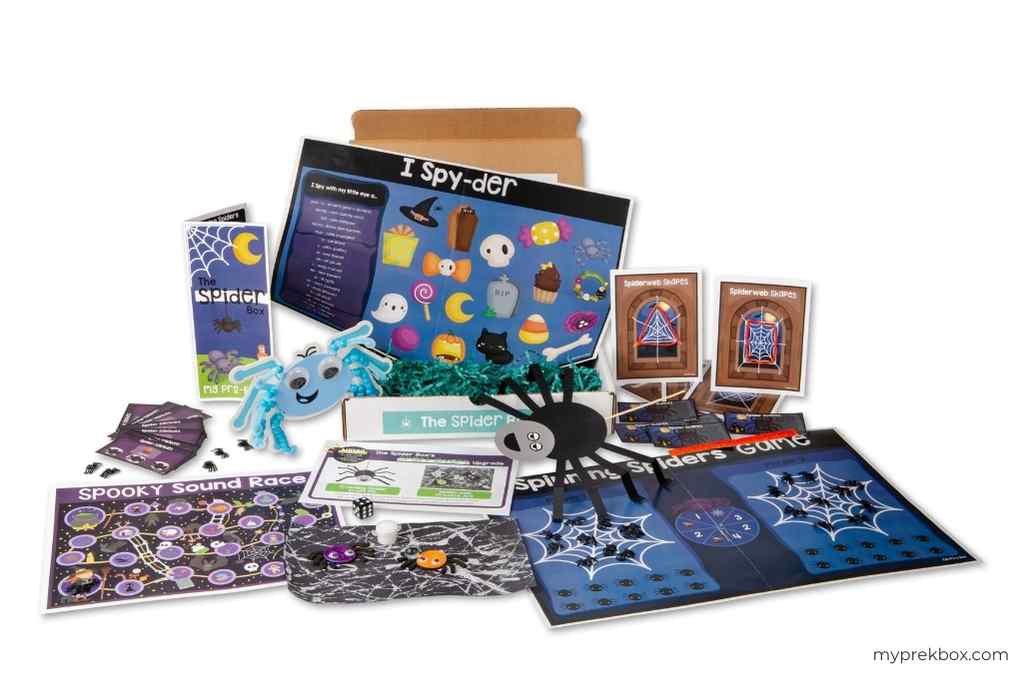 Build A Monster Craft
Kids nowadays are not afraid of monsters because movies and cartoons now feature them as silly and harmless creatures. That's why they'll definitely love this free Build A Monster craft! Best for imaginative play, this monster movable craft also helps develop your kids' imagination and speech and improve social and emotional connections. You can make more than one monster and play with your child too!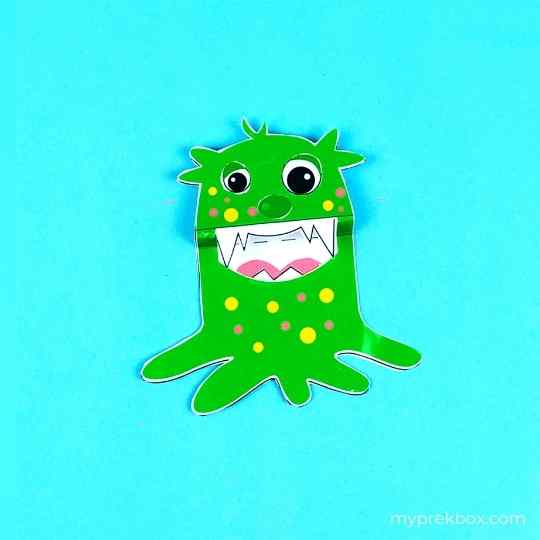 Get FREE Build a Monster Craft
Materials for Build a Monster Craft
paper or cardstock

printer

scissors

glue

crayons or markers
Steps to Create Your Monster Craft
Step 1 Download and print the My Pre-K Box Print & Go Build a Monster Craft. You may want to use cardstock or photo paper so the monster is more sturdy. Choose which pages to print, as this free PDF printable monster craft includes a black and white page and a colored one.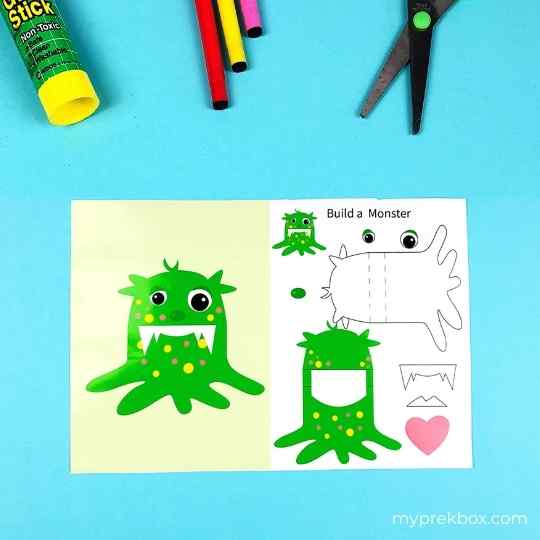 Step 2 Cut the monster's body along the outline. Cut out the other parts of the monster too, like its teeth, heart-shaped tongue, eyes, and colorful patches. Just a safety reminder: please assist your kids in using scissors and other sharp objects.
Step 3 Now, carefully cut the inside of the mouth. If you are using the black and white version, you can choose what color your monster will be! Be sure to color the monster before pasting it together.
Step 4 Glue the teeth to the backside, making sure it is pretty much aligned to show those little monster teeth! The bigger and longer one is the upper teeth, and the smaller one is the lower teeth.
Step 5 Add a small amount of glue to the lower front part of the heart. Then, carefully paste it inside the mouth, behind the teeth. The upper part of the heart should show up in the mouth's opening. It serves as the cute monster's tongue!
Step 6 Now, glue the backside of the monster to the white monster outline. Make sure to only put glue around the outline of the monster's body.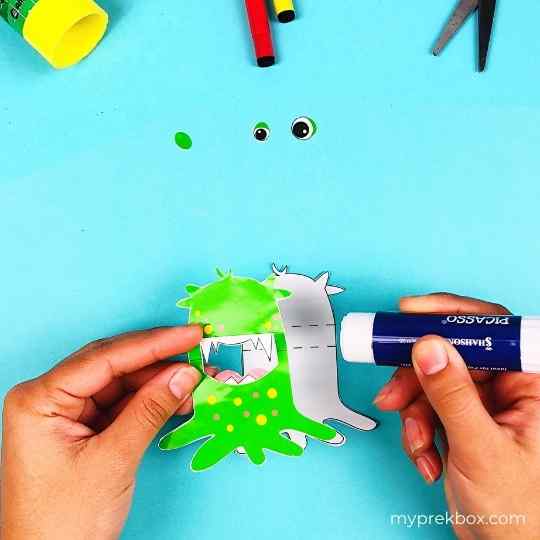 Step 7 Glue all the eyes and the rest of the pieces to decorate your monster. There's no exact format of a monster, so just let your child have fun and explore his creativity!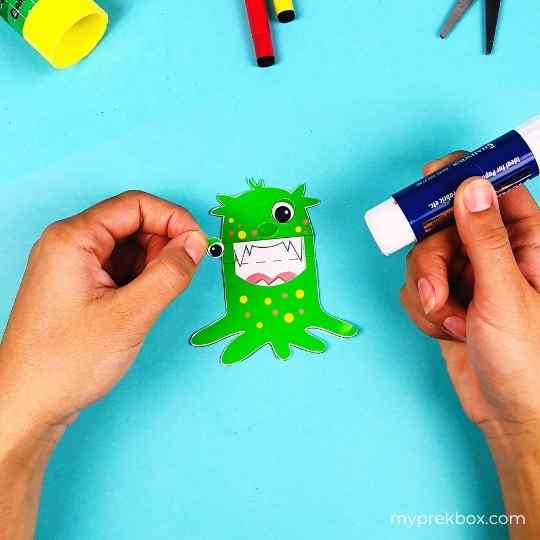 Step 8 Lastly, fold it along the dashed lines. Push and pull its upper and lower body to make it move.
Now, it's ready to chomp and munch!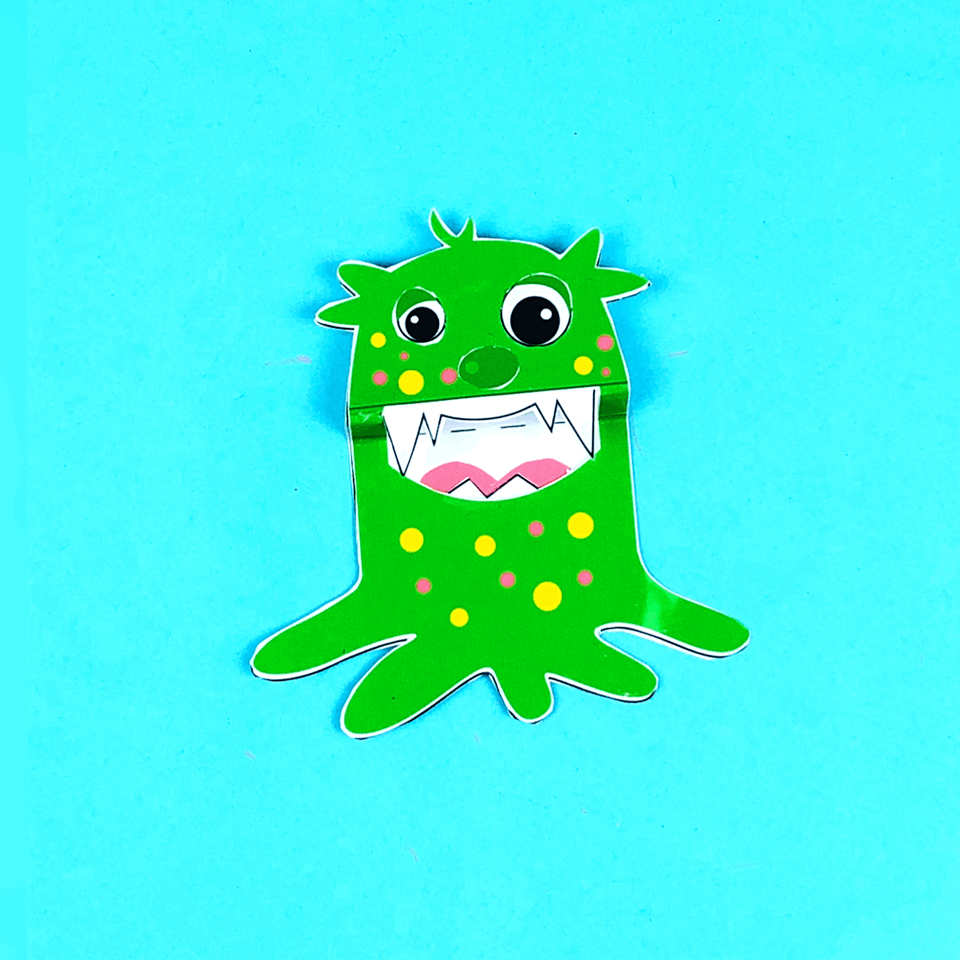 Download the FREE Build A Monster Craft
How to use the Movable Monster Craft
Simply push and pull the monster to make it chomp! Kids often use it in pretend play and make the monster talk. You can also add this to a card for any occasion! Just paste it in a card, decorate it, and write a fun monster-themed saying on it like "Mommy, you're MONSTER-IFIC!" for a Mother's day card. Or "Valentine, I CHEWS you!", which is perfect for Valentine's day! Come up with your own monster-themed message for the card to use this craft at any time of the year!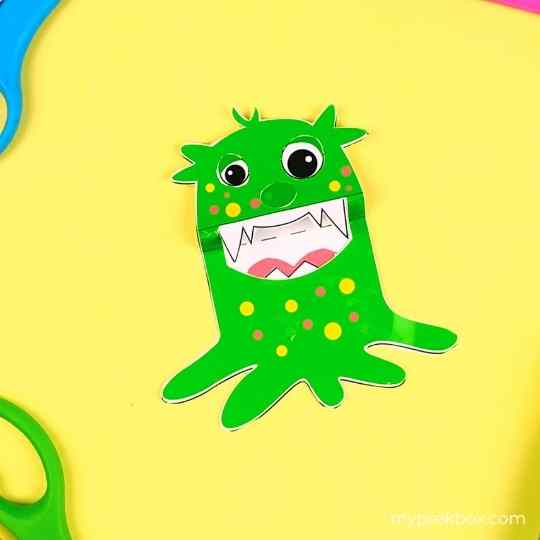 Download the FREE Build A Monster Craft
Let's Connect!
Want more free and exciting crafts like these for your kids? Follow us on Facebook and Instagram to get the latest updates! Or check out other articles on the My Pre-K box blog for more fun and creative activities!
Haven't tried My Pre-K Box yet?
My Pre-K Box is the best monthly subscription box

for kids ages 3-5!

Everything you need to create, play, laugh, and learn!