Awoo… awoooooo… 👻
Halloween is just around the corner, and if you want some activities to keep your preschoolers busy while you prepare their Halloween costumes or while you decorate the house, we're going to share an easy DIY ghost craft for you! This is so easy to do, and the materials are just laying around the house. And it's really not a scary ghost, but a very cute one!
My Pre-K Box: The number

1

subscription box for preschoolers!
My Pre-K Box is an educational subscription box for preschoolers filled with different learning activities for math and literacy skills! With fresh new themes each month, your child will delight in all of the fun, play-based learning activities inside! So be sure you're subscribed to My Pre-K Box to receive the best learning activities to do at home with your preschooler! Delivered each month to your front door, My Pre-K Box makes parents' lives super easy, and gets kids excited about learning!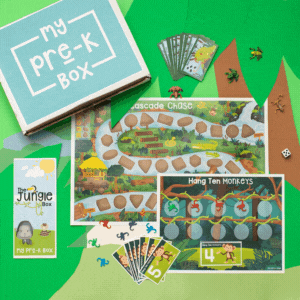 Ghosts may or may not be real, but whichever we choose to believe I think it is still best not to scare kids with the idea of spooky ghosts. Some kids get traumatized by it, but to prevent this from happening, you can create this really cute Ghost Craft for Halloween! This is a very kid-friendly craft, and in fact, it helps a lot in improving their skills! So, get the materials ready, and let's start crafting!
Materials for creating your Ghost Craft:
colored paper

bond paper or cardstock

watercolor

paintbrush

acrylic paint

drinking straw

glue

sponge

stick

a pair of scissors
Boo! Before we start… 👻

Here's a welcome gift from us!

Get this FREE Halloween Preschool Fun Pack to complement this Ghost Craft! It is a collection of Halloween-themed worksheets that will help your preschooler gain math and literacy skills while celebrating the Halloween season at the same time! Read more about the Halloween Preschool Fun Pack here, and get your copy now!
Steps in making the Ghost Craft:
Step 1 Get bond paper or cardstock, sponge, and acrylic paint. Cut the sponge in half, lengthwise. Then put several colors of acrylic paint on it. I alternated blue, white, green, and blue paint, and you can also choose your own colors!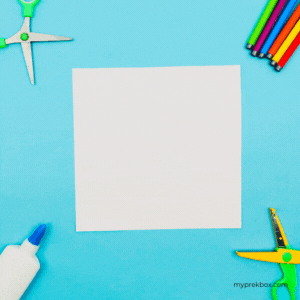 Step 2 Poke a stick on one end, pointing upward. Put the sponge down on the paper, with the paint sticking on the white paper. The stick should be in the middle to keep it in place. Once it is secured, slide the sponge carefully in a circular motion. Do this repeatedly until the colors mixed well.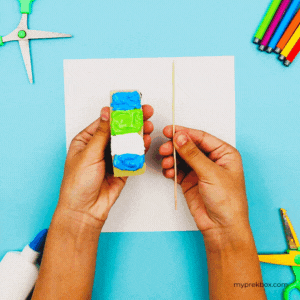 Step 3 Using a pair of scissors, cut out a ghost-like shape from the formed colorful circle. Then set this aside for the meantime while we work on the background.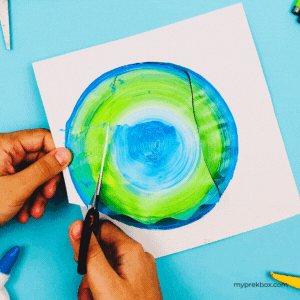 Want more Halloween crafts? 👻

Then get this Halloween freebie now!

Our Print & Go Witch Haircut Craft is perfect for this season and for little kids! Help the witch have a nice haircut in time for Halloween and your preschooler gets to practice their scissor skills! Grab a copy of the Witch Haircut Craft now!
Step 4 Now get a piece of colored paper for the background. Put dots of watercolor paint using a paintbrush. Add several colors (you may choose dark colors or those related to Halloween), then use a drinking straw to blow down the paint! The excess paint mixture should create a long line of colors. Do this carefully on each dot of paint.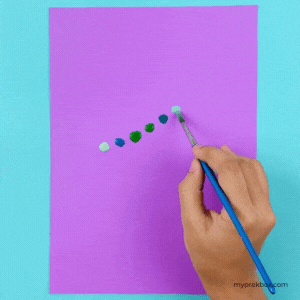 Step 5 Cut out a rectangular piece of colored paper and fold it alternately on the other side like an accordion. Attach it just above the colored lines. This will be the base of the ghost, so it will look like it's floating! Next, attach the ghost we cut out earlier.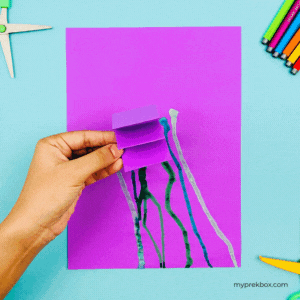 Step 6 Get a black colored paper and cut out three bean-shaped outlines (make one of the three smaller than the other two). The two bigger ones are for the eyes and the small one is for the mouth. Glue them in place to complete your own Ghost Craft!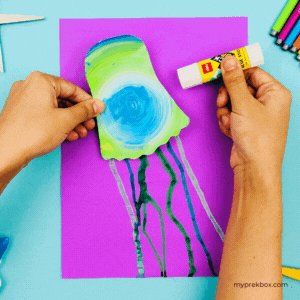 Your ghost craft looks really great! It looks great for this Halloween season, and perfect for kids too! You'll have a new addition to your regular Halloween decors, and your little one has a new Halloween toy to play with. Be sure to try this Ghost Craft for a spooky Halloween bonding with your preschooler!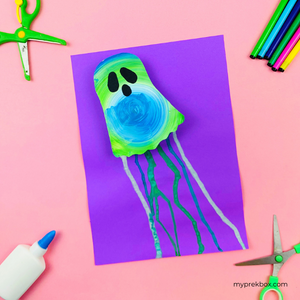 What will your child learn from the Ghost Craft?
Aside from helping little kids not to be scared of ghosts, this Ghost Craft can also help them with color recognition, fine motor skills, language skills, and following instructions! While working on the Ghost Craft, be sure to talk to your child. This helps their language and social development. Talk about the colors of the paint and colored papers you will be using. Ask him to name them so he can practice color recognition! He can also help out in cutting and gluing together the ghost. He will gain fine motor practice as he does all these, while also developing independence and creativity at the same time.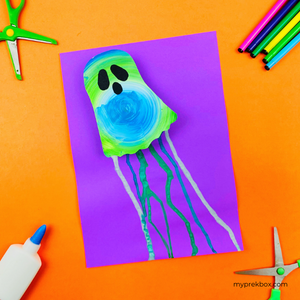 If you want more Halloween-themed crafts, check some of our suggested blog posts:
The Ghost Craft is a great help in practicing a lot of important Kindergarten skills, but this craft alone will not make kids kindergarten-ready. Regular practice is needed, but kids sometimes get tired or bored with activities or worksheets. Or sometimes, it is us adults who don't have enough time to search and prepare activities for them. But we offer a great solution to both of these problems! Yes, through our educational subscription box - My Pre-K Box!
Each month My Pre-K Box creates an exciting, educational box for preschoolers with themed math and literacy activities! Preschoolers love play-based learning and parents will love the easy, open-and-play format!
My Pre-K Box takes all the searching, prepping, and stress out of planning preschool activities for your 3-5-year-olds. Each month, we focus on a different set of Kindergarten readiness skills and provide all the materials and instructions you need right in the box. You'll never have to worry about what activity to do next or spend hours looking for ideas online again. So what are you waiting for? Subscribe now!

Let's Connect
If you enjoy this spooky Ghost Craft with your preschooler, be sure to LIKE and FOLLOW our Facebook and Instagram pages to get more exciting and educational activities you can do at home! Learn DIY activities, do fun crafts, create art projects, and get free printables too! Share with us those adorable photos of your kids doing this Ghost Craft by using the hashtag #myprekbox or send the pictures on our social media pages! See you there!
Want to try My Pre-K Box
My Pre-K Box is the best subscription box for

kids 3-5 years of age!

Everything you need to play, create, explore,

learn, laugh, and enjoy!