Rooooaaaar!
Are you ready for a new, exciting, and ext-ROAR-dinary box theme from My Pre-K Box? Today, we'll give you a sneak peek of The Jungle Box and the games and activities it has inside. Come on, join us in a wild adventure at The Jungle Box!
My Pre-K Box: The best subscription box for kids ages 3 to 5!
My Pre-K Box is an educational subscription box for preschoolers filled with different learning activities for math and literacy skills! Each box is based on a different theme and is focused on play-based learning. Your kids will love exploring new activities each month while practicing kindergarten readiness skills!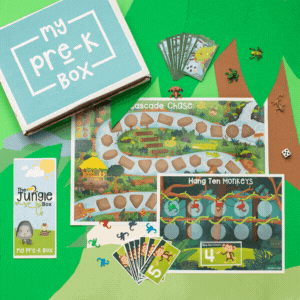 The jungle theme is common for preschooler's parties, kids' rooms, and school activities. Well, why not?! Your home is just as wild as the jungle when you got toddlers! 😂 But kidding aside, the jungle theme became more popular because of the all-time favorites, The Jungle Book, The Lion King, Tarzan, and Madagascar! Kids love these movies, thus this became a famous theme for kids! Little kids love to explore too, and believe it or not, there are lots of exploring (and learning) you can do in the jungle (or in a jungle-themed box!). Come on and see what's inside The Jungle Box!
What's Inside The Jungle Box?
The Jungle Box includes 3 math games, 2 literacy activities, 1 jungle-themed craft, and 1 sensory play game object. Let's learn more about these exciting games and activities as we explore The Jungle Box!
Activities for Learning Math
1 Hang Ten Monkeys
Materials: Hang Ten Monkeys game mat, Hang Ten Monkeys cards, plastic hanging monkeys

Game mechanics: There are two fun ways to play the game. The first way is by asking your child to pick a random card, identify the number on it, and have him hang the number of monkeys based on the card he got. Another way would be to hang some monkeys by yourself and let the child count them and look for the card with the matching number!

About the game: Whichever way your preschooler chooses to play it, this game is certainly a great way to practice counting! Play it regularly with your child and he will surely be able to master counting in no time.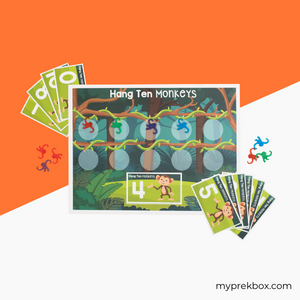 2 Cascade Chase
Materials: Cascade Chase game mat, die, two frog playing pieces

Game mechanics: With your frog playing piece on the starting line, roll the die and identify the number you rolled. Look at the key on the left side of the game mat to name the shape that corresponds with the number you rolled. Then, move your frog playing piece to the next river stone with the same shape. The first player to reach the cascade by landing on the final triangle river stone wins the game!

About the game: The Cascade Chase game is a great help in shape recognition and counting. It also develops logical thinking, observation skills, and following instructions!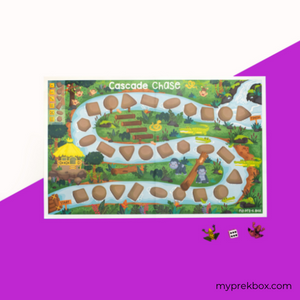 3 Race Up the Tree, Frogs!
Materials:

Race Up the Tree, Frogs!

game mat,

Race Up the Tree, Frogs!

cards, four frog playing pieces

Game mechanics: The tree frogs are hopping up to the top of the jungle trees! Which frog will reach the top of its tree first? To start the game, shuffle the cards and place them upside down. Place one frog on each of the four start stones. Select a card and identify the number on it. It could be a card that shows the frog eating flies or a card that shows the frog holding up fingers. So you either ask your preschooler to count the number of flies or the number of fingers shown. On the game mat, find the tree with the matching number. Move the frog up the tree one space.

The first frog to reach the top of the tree is the winner!

About the game: If your preschooler needs some counting practice, this game can help you while making sure he's having fun! He won't be even aware that he's practicing a lot, he will just be focused on playing and on the cute little frogs racing!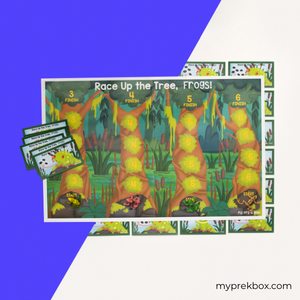 Rooooaaaar! Make way for the king of the jungle! And he's got something for you…

A welcome gift!

Our Print & Go 3d Lion Craft can help a lot in improving your preschooler's fine motor skills and creativity. All the coloring, cutting, and assembling will help develop their hand muscles, and this template will make it easier and more convenient. And the result is a really cute 3d lion! Read more about the 3d Lion Craft in this blog post, or download it now!
Literacy Activities
1 Jungle Seek and Find
Materials: Jungle Seek and Find game mat, Jungle Seek and Find cards

Game mechanics: The explorer is looking for letters hidden in the jungle. Help him find them! Shuffle the Seek and Find cards and place them upside down. Turn a card over and name the letter on the card. Find that letter hidden on the Jungle Seek and Find game mat, and collect the card once the letter has been found. If playing against another player, the first player to find that letter hidden on the Jungle Seek and Find game mat collects the card. Continue playing until all letters have been found. The player with the most cards at the end of the game wins!

About the game: The Jungle Seek and Find can be played independently or with another player. It is a very exciting game for kids, whether they are competing against someone or not. Moreover, it can help a lot in letter recognition and observation skills.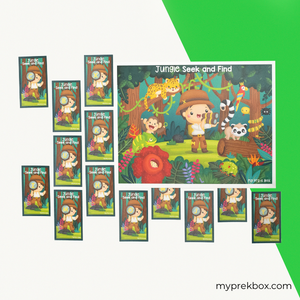 2 Tropical Toucan Beginning Sounds
Materials: Tropical Toucan Sounds cards, Bingo chips

Game mechanics: Help the toucan find its food by finding the fruit with the matching beginning sound! To start, arrange the Tropical Toucan Beginning Sounds cards and Bingo chips on a table. Identify the word pictured on the toucan.

Ask your preschooler to name the sound at the beginning of the word. Next, identify the word pictured on each fruit, emphasizing the beginning sound of each word. Place a Bingo chip on each fruit that has the same beginning sound as the word pictured on the toucan!

About the game: Learning beginning sounds is an important pre-reading skill that preschoolers should gain. And instead of repeatedly showing flashcards and asking for the sound of the letter, you can make it more fun and enjoyable through this game! Kids would love to play as if they are feeding a toucan while practicing beginning sounds.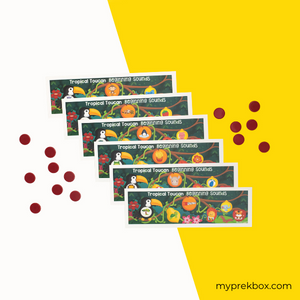 Sensory play and crafts
1 Pooping sloth slime
This sloth slime is perfect mix of adorable and disgusting! Squeeze your adorable sloth's belly (Aw!) and release to watch it suck up the slime and push it back out again! (Ew!)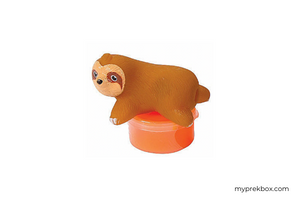 2 Snake Hanging Swirl Craft Kit
Snakes can be really scary, but we made it just as cute and friendly in this Snake Hanging Swirl Craft! The kit includes everything you will need to create the Snake Hanging Swirl Craft, and you will not only have fun crafting with your little one, you can also practice their kindergarten skills like cutting, color and shape recognition, and fine motor skills as they assemble the hanging snake.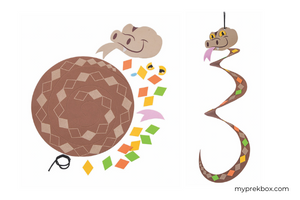 Craft Lovers Upgrade
Got a little craft lover? Subscribe to our Craft Lovers Upgrade and get these two additional arts and crafts! More crafts, more fun! You can also get duplicates of the craft for your child's siblings so they enjoy crafting together!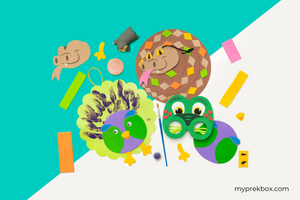 1 Alligator Glasses Craft Kit
Say "See ya later, Alligator!" with these really cute Alligator Glasses Craft!
2 Foam Handprint Peacock Craft Kit
Create a peacock craft with your handprint as its tail with the Foam Handprint Peacock Craft Kit!
Grownup Guide
Not sure how the games work and how to introduce them to your kids? No worries, we've got everything you need to feel confident. Each box includes a simple, easy-to-understand grownup guide that explains all the activities, how to play them, and how to help your child be successful based on their level! It's our personal goal to make life easier on you...and more fun for your kids!
Wow, that's a lot of fun and learning! The Jungle Box is really packed with everything you need to help your preschooler enjoy learning. From math skills, to literacy and reading, and even sensory play and creative crafts, The Jungle Box has it all! And like all My Pre-K Boxes, these are all made with love and expertise - all for your little ones learning journey! So, subscribe now and get the best out of My Pre-K Box!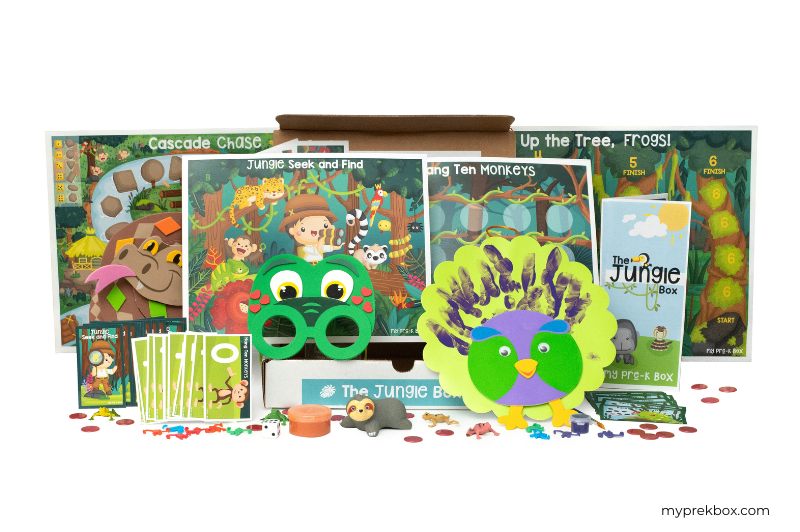 Why Choose My Pre-K Box?
1 Activities are play-based and learner-centered
Every single activity is well-thought and child-friendly, and ensures learning while having fun!
2 Easy and effortless
If you would be the one to research and prepare the crafts yourself, it would be too tiring and time-consuming. But if you subscribe to My Pre-K Box, it will be delivered to your door every month, hassle-free and easy right? You can have more time for fun and quality family time!
3 Affordable prices
The monthly subscription plan costs $37.95 each month. Or you can save more by committing to a 6-month term ($32.95/month) or a 12-month term ($30.95/month). We also have regular promos and discounts! Check out our current promos here, or choose your plan now!
4 High-quality materials
All the contents of the box are carefully selected and are of top quality to ensure the safety of your kids! Most are also reusable, so your child can play it over and over again!
5 Great customer service
100% Happiness Guaranteed! We make sure to give you unparalleled customer satisfaction. If you have a problem, we will solve it. Because as you support our family business, we also treat you like family.
So, what are you waiting for? Subscribe now and start making learning fun for your kids!

Let's Connect
Want to learn more about My Pre-K Box? Get the latest updates when you LIKE and FOLLOW our Facebook and Instagram pages. Browse through our blog posts at My Pre-K Box Blog for freebies, DIYs, arts and crafts, and a lot of fun and educational activities! See you there!
Haven't Tried My Pre-K Box Yet?
My Pre-K Box is the best monthly subscription box

for kids ages 3-5!

Everything you need to create, play,

laugh, and learn!