Looking for an easy and cute Halloween craft? Aside from Jack o' lanterns and spiderwebs, bats crafts are also great Halloween decors too! Check out this DIY Halloween bat craft and see what skills your preschooler can gain from it! And you'll have a new Halloween decor that's so fun and easy to make!
My Pre-K Box: The number

1

subscription box for preschoolers!
My Pre-K Box is an educational subscription box for preschoolers aged 3-5! We deliver the most fun play-based preschool learning available! Each box has its own unique theme and is filled with different learning activities to target math and literacy skills. Your kids will have fun exploring the new activities, and you will delight in the fact you are helping them with essential Kindergarten readiness skills!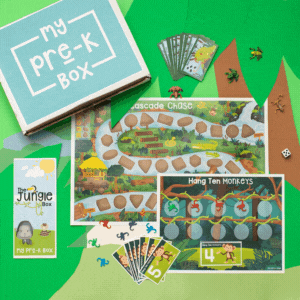 You might be surprised with the main material we are going to use for this easy DIY Halloween bat craft! Guess what? Coffee filters! Yes, this very common household object can be turned into a really cute Halloween craft. So gather the materials and join us in creating an awesome Coffee Filter Bat Craft!
Materials for the Coffee Filter Bat Craft:
coffee filter

rubber bands

colored markers

paintbrush

water

scissors

wooden clothes clipper

black colored paper

wiggle eyes

glue
Procedure in creating the Coffee Filter Bat Craft:
Step 1 Get the coffee filter and fold it in half. Then fold one side into a small triangle. Continuously fold it on the other side alternately, creating flaps on one side until it is completely folded into a triangle.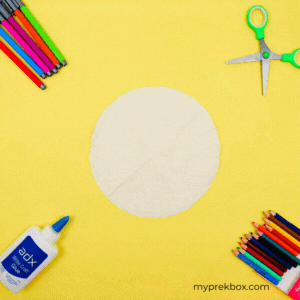 Step 2 Tie a rubber band a few centimeters away from the tip of the triangle. Then tie another one above it. It kinda looks like a rocket, isn't it? Now your triangle is divided into three parts.
Step 3 Color the tip of the coffee filter with a dark blue colored marker. Next, color the middle part violet. The bottom and widest parts will be colored with a black marker. What do you think it will look like?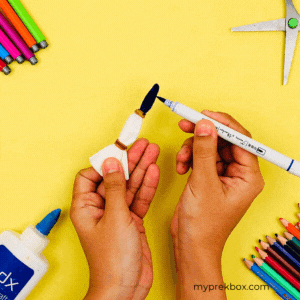 Step 4 Using the paintbrush, wet the coffee filter with water. Gently dab the wet paintbrush onto the colored coffee filter until the colors spread.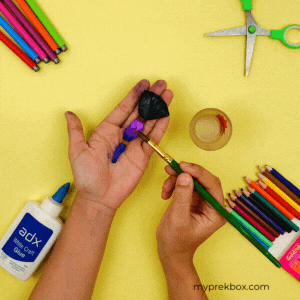 Step 5 Remove the rubber band and slowly open the coffee filter. The color looks great, isn't it?! Definitely perfect for Halloween!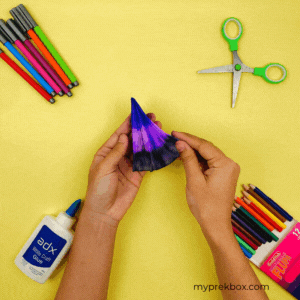 Step 6 Fold it back into a triangle and cut the bottom part of the triangle into a curve.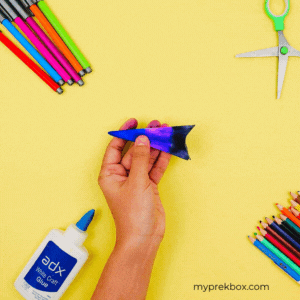 Step 7 Open it up and you'll see that the edges of the colored coffee filter are now all cut in a curve! Fold it in half and hold the bottom part that opens. Cut out a small triangle from that point up to the middle of the half circle. Now it looks like a bat's wings already! Just a little more and we're almost done!
Step 8 Get a wooden clothes clipper. A black clothes clipper would suit our Coffee Filter Bat Craft best, so if you don't have one you can color a plain clothes clipper using a black marker or paint! Insert it in between the cut you just made in the middle of the half circle.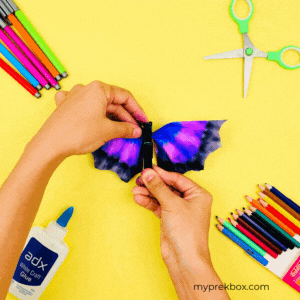 Step 9 Using black colored paper, let's cut out a small circle and some triangles. Glue the circle on the upper part of the clothes clipper to create the bat's head! The two triangles will be the bat's ears. Then, add some wiggle eyes and draw a mouth (and fangs) using a white marker. Now your Coffee Filter Bat Craft is complete! Eeeek-eeeek!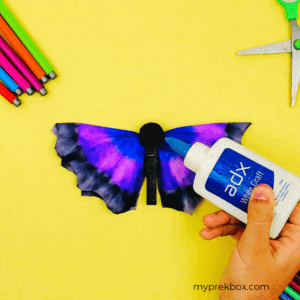 What will your preschooler learn from the Coffee Filter Bat Craft?
This easy and simple Halloween bat craft will help kids with color and shape recognition. As you do this together, you can point out the shapes formed by the coffee filter as you fold and cut it! It also develops your preschoolers' little hand muscles as they help assemble the Coffee Filter Bat Craft. With more practice, it will help them gain fine motor skills! Lastly, this fun activity helps in enhancing their creativity. Plus, it gives you a chance to bond and enjoys learning together.
For more fun Halloween activities you can do at home, check out these blog posts:
If your little one enjoyed making this Coffee Filter Bat Craft, he surely has a knack for fun and exciting crafts! Why not delight him EVERY MONTH with new surprises from My Pre-K Box?! Our boxes are loaded with fun crafts and lots of exciting hands-on activities! Each month, we feature a new theme, which lots of kids look forward to. You can get one by subscribing to My Pre-K Box - the best subscription box for preschoolers! Our hands-on learning tools are play-based, targeting math and literacy skills. It also includes sensory play, fun thematic crafts, and a grownup guide.
The games and activities in My Pre-K Boxes are made with love and guaranteed to be of top quality. It is also kid-and-adult-friendly, very practical, and reusable! If your child has siblings, it can be shared and can be used again and again! We also offer duplicates of the crafts, since these are mostly not reusable. You can get a duplicate for his/her siblings for only $3.25 a month! Craft lovers can also subscribe to our Craft Lovers Upgrade, which comes with more fun crafts and two additional arts and crafts activities for just $4.25 per child.
With all the fun and exciting activities inside My Pre-K Box, your child won't even notice he's learning a lot! And as parents, we wouldn't have to worry about the hassle of researching, planning, and making the activities! We can simply guide and watch them learn in the convenience of our home - with the help of My Pre-K Box!

Let's Connect
If you love this Coffee Filter Bat Craft, LIKE and FOLLOW our Facebook and Instagram pages to get more DIY activities, art projects, fun crafts, and free printables! Tag us on photos of your kids doing this Coffee Filter Bat Craft. Be sure to use the hashtag #myprekbox or send those amazing photos on our social media pages!
Haven't Tried My Pre-K Box Yet?
My Pre-K Box is the best subscription box for

kids 3-5 years of age!

Everything you need to play, create, explore,

learn, laugh, and enjoy!