Spring is finally here, and that means it is time for one of my very favorite springtime themes in our preschool box...The Garden Box! Our Garden Box offers the perfect chance to spring into learning with some fun and educational play-based learning activities. This preschool box is jam-packed with easy and fun activities for your little gardener with all of the materials included!
My Pre-K Box: The Perfect Preschool Box for You!
My Pre-K Box is an educational subscription box for preschoolers filled with different learning activities for math and literacy skills! Each box is based on a different theme and is focused on play-based learning. Your kids will love exploring new activities each month while practicing kindergarten readiness skills! With this preschool box, you will have the opportunity for fun and educational garden crafts and activities to be delivered right to your door! Our no-prep activities, hands-on learning tools, and easy-to-use grown-up guides will bring the excitement of gardening and garden activities indoors.
What's inside The Garden Box?
The Garden Box is filled with activities that will help your preschooler develop important Kindergarten skills. It has activities for science, math, literacy, dramatic play, and creative crafts! It is unbelievably enjoyable and educational at the same time, your kids won't even notice that they are learning a lot. Let's see in detail what games and activities it has inside! I'm sure your little gardener is already excited!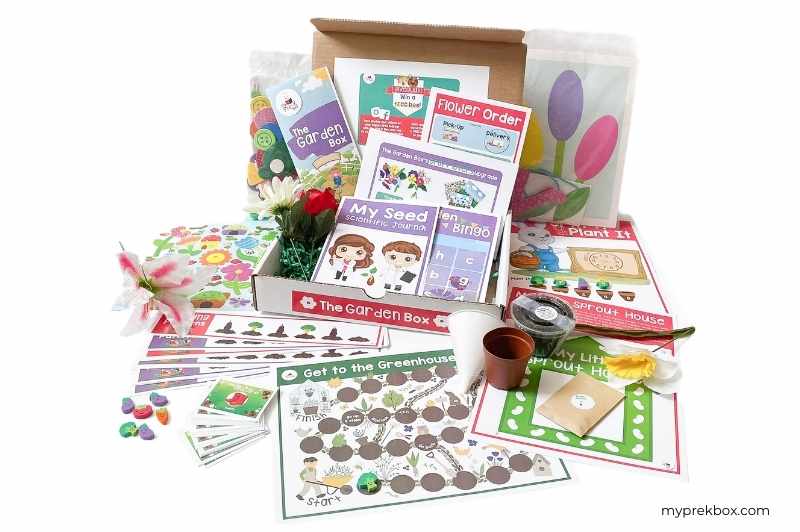 Science Activity
1

Grow a Green Bean
Materials: My Seed Scientific Journal, Sprout Sequencing strip, My Little Sprout House, bean seeds, plastic bag, water, paper towel, scissors, stapler, tape, pencil

Mechanics: In this simple and educational activity, you will soak the included green bean seeds in water. Next, you will invite your preschooler to write their name on the included scientific journal. Your little budding gardener/scientist will use this journal to track the progress of their germinating green bean!

As you are completing this activity take the time to allow your preschooler the opportunity to predict what they will see and observe/dissect their seed. They can also identify the different parts of the plant that they observe.
Finally, your preschooler will have the opportunity to watch their seed germinate. Simply take a paper towel and moisten it, and fold it to put in the bottom of the plastic bag. Cut out the center of the included adorable sprout house and staple it to the bag. Tape the sprout house to a window where the green bean will have access to plenty of sunlight.
Now observe! Your preschooler will now be able to cross off days in their scientific journal as each day passes. As your preschooler observes new stages of growth, they will also have the chance to cut out the sequencing pictures and glue them onto the Observing My Beans Growth page in their scientific journal. Your preschooler can also plant a seed in the included mini pot and soil to observe!
About the activity:

In this one single activity, your preschooler will be using a range of different skills. Including fine motor skills with handling the seed, writing their name, and assembling the parts, language skills when following directions, and math skills when sequencing, and counting the days!
Lovin' the garden theme? We got the right freebie for you!

Here's a welcome gift!

The Garden Preschool Fun Pack is a perfect activity after playing and learning from The Garden Box! It is a collection of garden-themed worksheets that helps preschoolers practice math and literacy skills to prepare them for Kindergarten. Learn more about the Garden Preschool Fun Pack here, or download it now before you go!
Activities for Learning Math
1 Planting Patterns
Materials: Planting Patterns cards, vegetable mini erasers

Game mechanics:

You will use the included Planting Patterns cards and the vegetable mini erasers. Your little preschooler will have a blast identifying the vegetables and deciding which comes next on the pattern. Using the tiny vegetable erasers also allows your little ones to practice their fine motor skills!

If your preschooler is just starting out you can use the pink Planting Patterns for simple AB patterning, and for those that are craving a challenge you can use the purple Planting Patterns. These cards hold more challenging patterns such as ABC, ABB, and AAB patterns.

About the game: This cute and simple garden-themed activity will allow your preschooler to practice their math and language skills all while having fun! At the same time, it also helps them grasp the concept of

patterning, which is an important skill for Kindergarten readiness and helps your preschooler to develop the skills needed to complete more complex math equations as they get older.
2 Spin It & Plant It
Materials: Spin It & Plant It game mat, vegetable mini erasers, paperclip, pencil

Game mechanics:

Your preschooler will spin the spinner, and identify the number that it lands on. Next, they will have the chance to count the vegetable mini erasers and "plant" them in the pots on the game mat.

About the game:

The Spin It & Plant It game mat actually makes up a ten frame which is an important part of your preschooler's educational journey.

Tens frames help your preschooler to develop number sense as they begin to see numbers in relation to groups of 5 and 10. Your preschooler will also use tens frames as they enter Kindergarten. Imagine how much easier Kindergarten year will be when your preschooler is able to identify tools used in the classroom as tools they have already been using at home!
Literacy Activities
1 Garden Bingo
Materials:

Garden BINGO game board, Garden Box Game Cards, vegetable mini erasers

Game mechanics:

Who doesn't love bingo? In this cute game, you and your preschooler will use the included Garden BINGO game card and vegetable mini erasers to cover the spaces.

You will take the Garden Box cards, shuffle them, and lay them face down on the table. As you draw a card, ask your preschooler to identify the picture, and then work together to identify the beginning sound of the picture on the card.

For example, you say "Flower /f/-/f/-/f/ flower! Flower starts with F!"

Next, you will see if your preschooler can identify the letter that makes that sound. If they do not know, feel free to identify it for them. If you or your preschooler have the letter on your Garden BINGO game board, cover it with a vegetable mini eraser. The first one to cover their card- WINS!

About the game:

This fun garden-themed activity helps your preschooler to identify letters, and letter sounds dives into phonemic awareness, and even helps your little one practice additional skills such as taking turns, and fine motor!
2 Get to the Greenhouse Game
Materials:

Get to the Greenhouse game board, Garden Box Game Cards, 2 vegetable mini erasers for player pieces

Game mechanics:

The object of the game is to be the first to help the boy bring the plants to the greenhouse!

To complete a turn you will select a Garden Box Game Card, read the word on the card, and segment the word into syllables. For e

xample cat-er-pil-lar.

You will then clap your hands as you say each syllable, as in

cat-(clap)-er(clap)-pil(clap)-lar(clap).

Next, you or your preschooler will move your game piece to one spot for each syllable identified!

Whoever makes it to the end of the game board first, wins!

About the game:

This game is a perfect way to practice math and language skills all in one simple and fun educational game!
Let's stop for a while for...

Another freebie!

Yes, another set of free activities for your little one! Perfect for this spring season, the Print & Go Spring and Easter Pom Pom Mats will keep your kids busy and enjoying colorful pom poms, while strengthening their little hand muscles to prepare them for writing! Read more about the Spring and Easter Pom Pom Mats in this blog post, and be sure to grab a copy while it's free!
Dramatic Play
1 Flower Shop
Materials:

flowers, bouquet holder (cone), construction paper, stickers, Flower Order forms, gift tag cards,

tape, scissors, pencil/markers

Game mechanics:

In this dramatic play scenario, your preschooler gets to pretend to be either the customer or the florist either placing orders or reading the order forms and fulfilling the orders placed.

It can be fun to take turns in both roles and will allow your preschooler to practice several different skills including fine motor, pre-reading, and language development.

About the game:

This amazing dramatic play game helps your preschooler practice skills they will need/use in the real world. Engaging in dramatic play enhances preschoolers' development. It enables your little ones to remain curious and to make sense of the world around them. It also gives your preschooler the tools they need to practice emotional skills such as self-regulation and gives your preschooler an emotional outlet to act out scenarios they may have seen or heard in their lives. Dramatic play is also an important part of learning conflict resolution, and expressive language.
Creative Craft
1 Paper Loop Flower Sign Craft
Preschoolers love crafts, and this craft doesn't disappoint. Your preschooler will have plenty of fun, and an ample amount of fine motor practice in this one simple craft. Need more than one craft? Get duplicate crafts in your box for just $3.25 each!
Before we reach the end...

Here is one last gift from us!

Have you tried salt painting with your preschooler? Use our Print & Go Spring Salt Painting templates for spring-themed drawings that you can use as patterns for the salt painting! It can make the activity more fun and convenient, while your little one develops fine motor skills and explore their creativity! Check out our blog post about Spring Salt Painting here, and get a free copy now!
Craft Lovers Upgrade
If your preschooler loves arts and crafts, you'll want to subscribe to our Craft Lovers Upgrade which includes two additional crafts for just $4.25! The Garden Box's Craft Lovers Upgrade includes the Flower Bouquet Craft Kit and Jumbo Garden Sticker Scene!
1 Flower Bouquet Craft Kit
In this bonus craft found in our Craft Lovers Upgrade, your preschooler can have even more fine motor practice (and fun)!
To complete this craft you will simply assemble the flowers by threading the pipe cleaners through the middle of the flower and securing it with a fun sticker on the front! This craft also includes a fun ribbon to tie your whole bouquet together. How cute!
2 Jumbo Garden Sticker Scene
If there is anything preschoolers love more than crafts… it's stickers, and this Jumbo Garden Sticker Scene offers just that!
With our Craft Lovers Upgrade, you will also receive a huge sticker sheet, and a jumbo scene to stick the stickers on! Your preschooler will have fun peeling and sticking the stickers and using their imagination to create the scene. This fun upgrade to our preschool box offers plenty of fine motor practice as well as an opportunity to practice language skills and build their imagination!
If you like this peek into The Garden Box, be sure to sign up to receive our monthly thematic boxes and upgrade to the Craft Lovers Box before checkout! Oh, and we have lots of other adorable boxes you might want to see! Click below to learn more about...
Why subscribe to My Pre-K Box?
Interested in grabbing your own preschool box subscription? Consider My Pre-K Box! The perfect, no-prep, preschool learning box for you! Each month My Pre-K Box creates an exciting, educational box for preschoolers with themed math and literacy activities. Preschoolers will love play-based learning and parents will love the easy, open-and-play format!
My Pre-K Box takes all the searching, prepping, and stress out of planning preschool activities for your 3-5-year-olds. Each month, we focus on a different set of Kindergarten readiness skills and provide all the materials and instructions you need right in the box. You'll never have to worry about what activity to do next or spend hours looking for ideas online again.

Let's Connect!
We love seeing your little ones enjoy our awesome boxes! Have you completed any of the above activities with your preschoolers? Or subscribe to our preschool box? LIKE and FOLLOW us on Facebook and Instagram and use the hashtag #myprekbox to share with us your fun moments with My Pre-K Box! See you there!
Haven't Tried My Pre-K Box Yet?
My Pre-K Box is the best subscription box for

kids 3-5 years of age!

Everything you need to play, create, explore,

learn, laugh, and enjoy!