Spring is here and I have to say it's one of my favorite seasons! Apart from my massive allergies, I love everything about spring! Winter has ended, flowers are blooming, trees are bright green!
I always find that springtime brings new life back into me too! During this time of year, I find myself feeling rejuvenated and eager to do fun things with my kids!
If you're anything like me, you're finding yourself looking for all the cute Spring activities. And while it can be fun to hunt down the activities it can also be time-consuming!
That's why I've created our Preschool Fun Packs! Our Preschool Fun Packs are free resources to get you having fun while teaching your children!
Beyond our Preschool Fun Packs, my real mission is to provide you with fun and engaging hands-on, play-based preschool activities. As an early childhood educator and mom, I develop the best preschool learning activities, gather all of the materials needed, prep everything, and deliver them monthly right to your door!
This way you can focus on having fun and making memories without having to scour the internet for ideas or spend time prepping!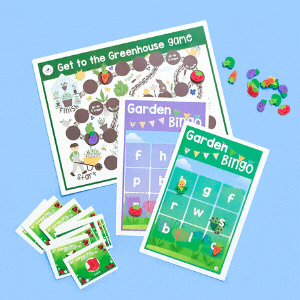 My Pre-K Box: The best monthly subscription box for kids ages 3-5
Whether you are currently a subscriber to My Pre-K Box's ultimate subscription box for preschoolers or not, if you are here for cute learning activities for your 3 to 5-year-old, you are in the right place! My Pre-K Box is an educational subscription box for preschoolers filled with different learning activities for math and literacy skills! Each box is based on a different theme and is focused on play-based learning. Your kids will love exploring new activities each month while practicing kindergarten readiness skills!
Today I'm excited to give you this easy and educational Preschool Garden Fun Pack! Just download these springtime worksheets and print them at home!
This Garden Preschool Fun Pack comes with 10 educational garden-themed activities for your preschooler to enjoy. I designed our worksheets in black and white to make them super easy for your to print at home!
Each of the worksheets in the Garden-themed Preschool Fun Pack covers skills that your preschooler should know in order to be prepared for Kindergarten!
With our free springtime preschool worksheets, your child will be learning skills like counting, coloring, sorting, matching, patterning, following directions, identifying letter sounds, labeling, and even identifying emotions.
Materials:

printer

paper

crayons or markers

scissors

glue
Check out the fun activities in our Garden and Spring-Themed Preschool Worksheet Fun Pack!
1 Fruit and Veggie Count and Color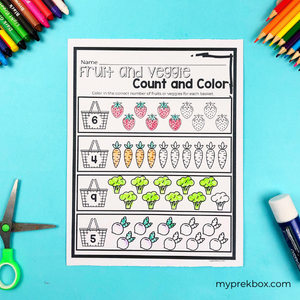 This activity is designed to allow your preschooler the opportunity to use their math skills in a way that is fun and engaging. Your little one will hardly notice all the counting, one-to-one correspondence, and number recognition that is happening as they happily count and color the correct number of fruits and veggies to put into their basket.
2 Plant Survival Sort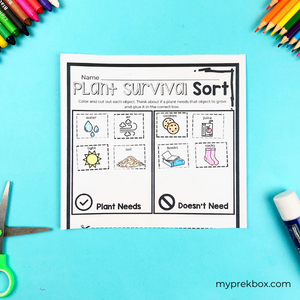 Plants need a lot of things to survive and your little preschool gardener can help figure out exactly what that is in this cute activity. The best thing is that your preschooler will be using various skills without even noticing.
Coloring and cutting out the objects offer fine motor practice, and sorting the objects into the correct categories gives your preschooler practice in math skills like sorting, problem-solving, and patterns. It also offers some science concepts sprinkled in, as your little one takes the time to decide what a plant really needs to survive.
3 Color by Number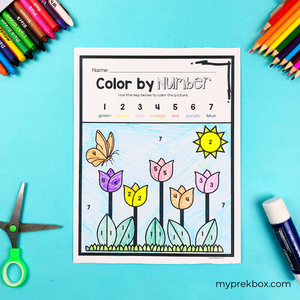 Preschoolers love to color by numbers! This activity definitely doesn't disappoint. Your preschooler will be able to identify the correct color to use, and the correct number that matches. This provides practice in math skills as well as fine motor development. It is also a great activity when practicing following directions. Your preschooler will be so proud to show you their finished artwork, and you will be happy to know how much they learned while creating it!
4 Gardener Tool Hunt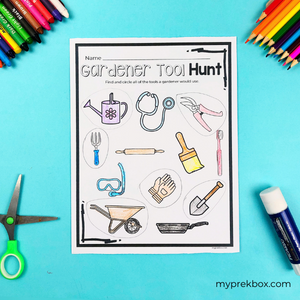 Can your little gardener find gardening tools among the other tools in this worksheet? Challenge them to identify and name gardening tools they know! Extend this activity by visiting the garden and showing some of the gardening tools you have at home. You can also teach them how to use it so they can help out with some easy gardening tasks.
5 Flower Feelings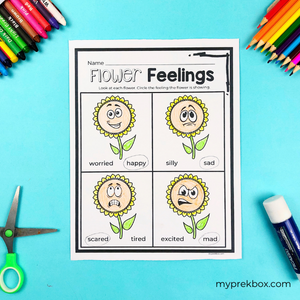 Social-emotional skills are often something that gets overlooked in activities. That is why I am so happy to include them in our Garden Preschool Fun Pack! Your preschooler will have the opportunity to identify the feelings that each flower is feeling in this adorable activity.
This provides much-needed practice in social-emotional skills. The ability to identify emotions is a crucial step in your little one's social-emotional development, and this activity encourages just that.
6 Garden Center Coin Match
Counting money is one of the preschool numeracy skills that we can develop with the help of the Garden Center Coin Match worksheet! Guide your kids as they match the gardening items to the correct coins by checking their price on the tag. This is a very important skill they can use in real life as they grow up!
7 Garden Patterns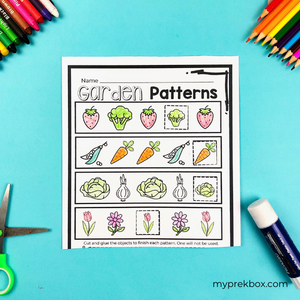 Patterning is an important math concept to learn as it paves the way for more complex math equations as your preschooler grows. That is why it is so important to practice this skill as they are young.
Your preschooler will have a blast figuring out these patterns and identifying the missing piece. You will rest assured that this activity is providing practice in a very important math skill.
8

Blooming Letters and Numbers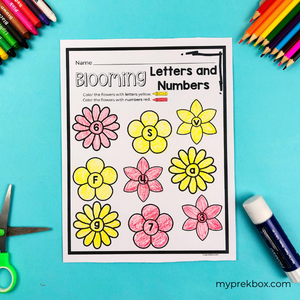 Challenge your preschooler to tell which among the flowers have numbers and which ones have letters by coloring! Aside from number and letter recognition, their fine motor skills and pencil grip will also be enhanced as they color the beautiful flowers.
9

Buzzing Beginning Sounds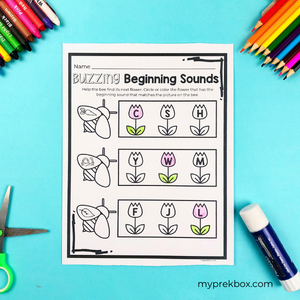 Beginning sounds is an important step in your preschooler's pre-reading development. Your little one will have the opportunity to identify not only the picture on each of the bees but also the beginning sound each picture makes. Next, they will have the opportunity to match that beginning sound with the correct letter. This provides practice in letter identification as well.
Each of these activities is designed in a way to provide your preschooler with fun play-based learning that you will both enjoy.
10

Labeling Plant Parts
Learn simple science through the Labelling Plant Parts Worksheet! Guide your preschooler as they go through naming each part of the plant. Let your child cut the labels to practice their scissor skills, read it out to them, and ask them which part of the plant could it be. Lastly, help them glue the label in place! Coloring this worksheet can be fun too!
Grab a copy of Garden and Spring-themed Preschool Worksheets!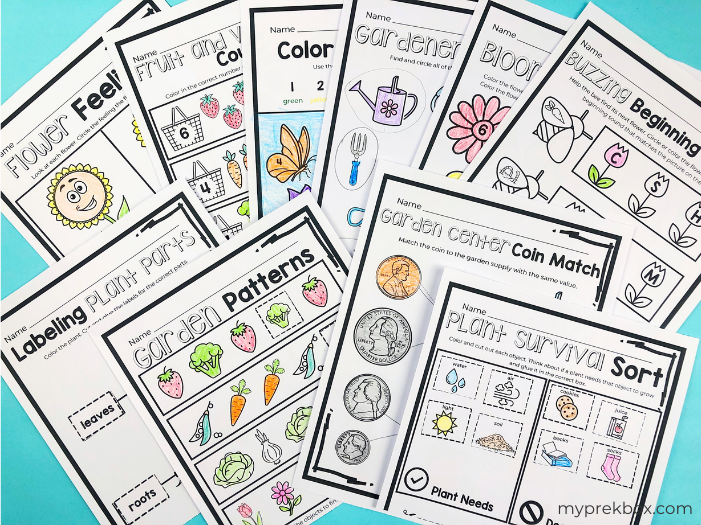 These TEN worksheets are all included in our FREE Garden Preschool Fun Pack! Be sure to share with a friend and download yours today!
The Spring and Easter Pom Pom Mats is another FREE spring-themed worksheet for your little one! Check it out for more fun, springtime learning with your kids!
And if your kid loved our Garden Preschool Fun Pack, he will surely be delighted to receive The Garden Box! It is one of our monthly themed boxes in My Pre-K Box, where kids get to enjoy hands-on, play-based learning activities. The Garden Box contains 2 math activities, 2 literacy games, hands-on learning tools, sensory play and thematic crafts, and a grownup guide! The games can be shared and reused among siblings, which saves you a lot of money! You can also get duplicates of the craft if your child has siblings for just $3.25 a month. Or subscribe to our Craft Lovers Upgrade, which has even more fun thematic crafts with two additional arts and crafts activities for just $4.25 per child! Enjoy more time with your kids and less time preparing for learning activities with My Pre-K Box!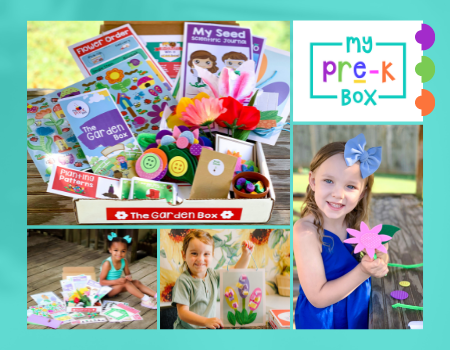 Let's Connect!
We want to hear from you! How did your preschooler enjoy this Garden Preschool Fun Pack? What was their favorite part? Share your photos on Facebook and Instagram and use the hashtag #myprekbox!
My Pre-K Box is the best monthly subscription box for

preschoolers aged 3-5!

Everything you need to create, laugh,

learn, and play!