Let's be honest, how many Pinterest fails have you accomplished as a parent? Those cute games and crafts look like an amazing idea during your late-night scroll. Of course, you're thinking your preschooler will have a blast, learn and you'll be the hero. Unfortunately, finding the activities, gathering the supplies, and making it fun and engaging doesn't come as easily as adding it to your latest Pinterest board.
My Pre-K Box: The best monthly subscription box for kids ages 3-5
Each month My Pre-K Box creates an exciting, educational box for preschoolers with themed math and literacy activities! Preschoolers will love the play-based learning and parents will love the easy, open-and-play format!
My Pre-K Box takes all the searching, prepping, and stress out of planning preschool activities for your 3-5-year-olds. Each month, we focus on a different set of Kindergarten readiness skills and provide all the materials and instructions you need right in the box. You'll never have to worry about what activity to do next or spend hours looking for ideas online again.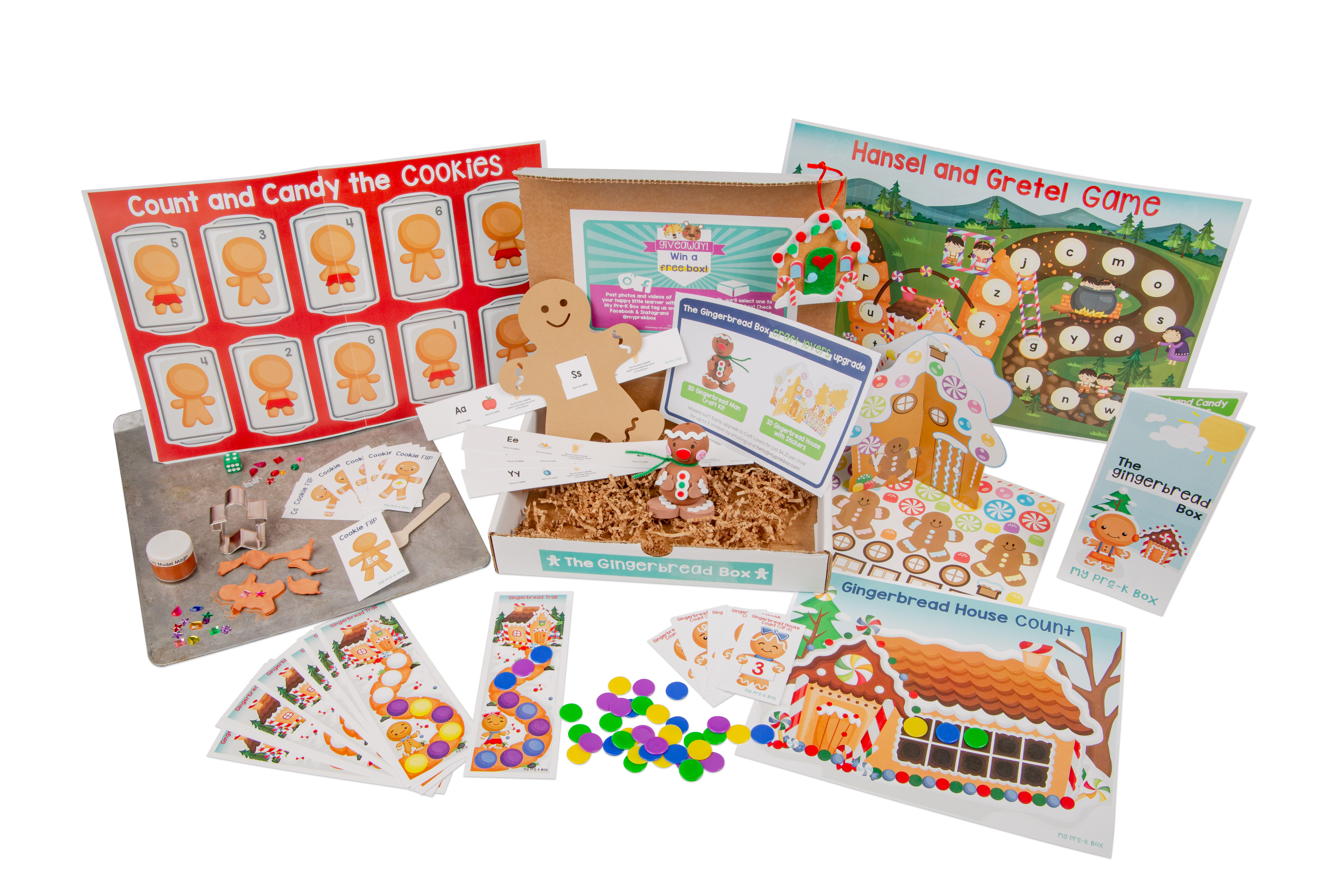 If you've experienced all these and want hassle-free, no prep Pinterest-perfect activities, you might want to check out My Pre-K Box! Our monthly themed boxes are all guaranteed Instagrammable and Pinterest-perfect! And the prettiest theme we made to match this season - The Gingerbread Box! Come and see the fun activities we have in store in this wonderful box!
Get a FREE Snow Preschool Fun Pack!

Before we get into details of Pinterest-perfect activities from The Gingerbread Box, you might want some FREE winter-themed worksheets for your little one! The Snow Preschool Fun Pack is a cool collection of winter-themed worksheets for preschoolers, and you can get it for FREE!




Learn more about the Snow Preschool Fun Pack here, or download a copy now!
What's Inside The Gingerbread Box?
The Gingerbread Box includes 8 beautifully-designed games and activities that your preschooler will love! Everything in the box is gingerbread-themed with fun, bright colors.
The activities in the box are designed to be fun and help your child learn through play and adorable hands-on activities. You'll find games, puzzles, cooperative play opportunities, and more! Plus, we always include a sensory activity and craft to keep things interesting and work on fine motor skills. Let's take a quick peek at the Pinterest-perfect activities featured in The Gingerbread Box to learn more!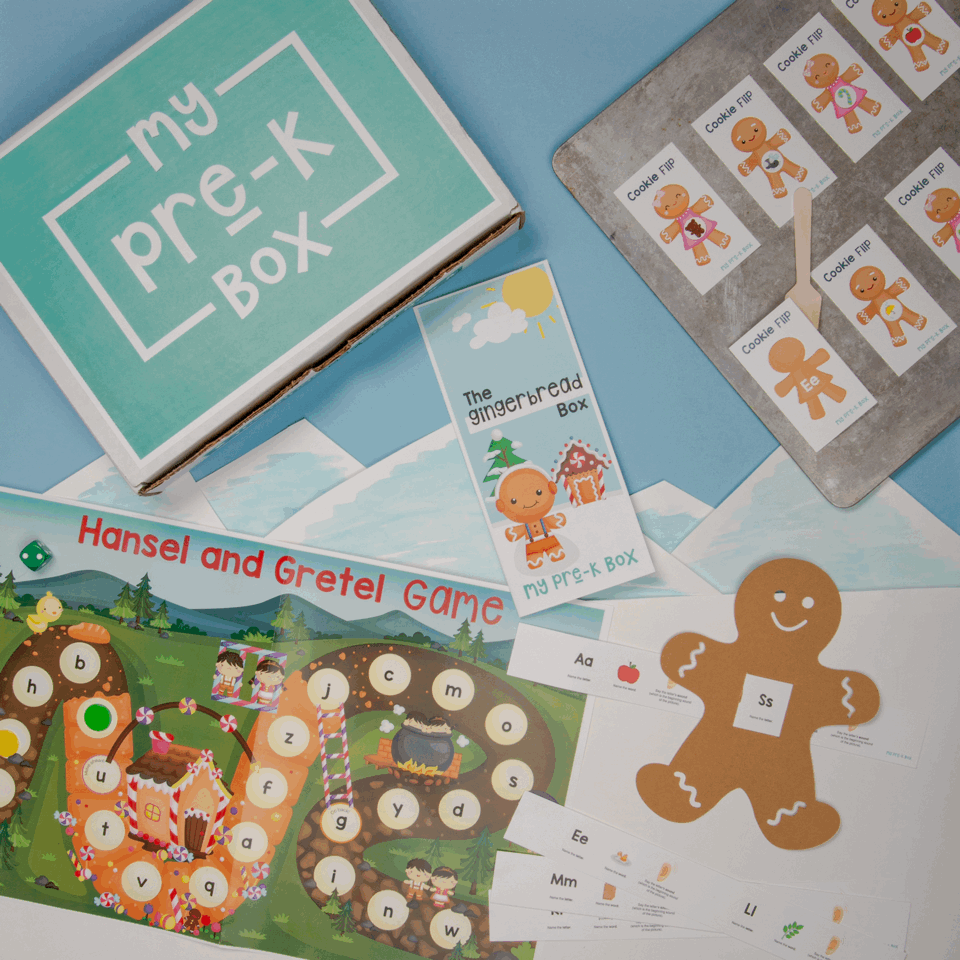 Activities for Learning Math
1 Count and Candy the Cookies
Want to decorate cookies in a less messy way WHILE practicing counting? Then, the Count and Candy the Cookies is what you need! You just roll the die, identify the number on it and find a gingerbread cookie on the game mat with the matching numeral. Then you can decorate the cookie by counting the corresponding number of "candies" to put on the gingerbread cookie! This is also a very cute way to practice identifying numerals and quantities while developing fine motor skills! And of course, decorating the cookies is a lot of fun!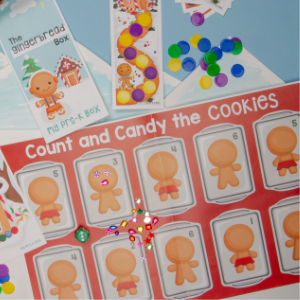 2

Gingerbread House Count
This tens frame activity uses bingo chips as "candies" to allow your preschooler to decorate a gingerbread house. The included count cards display a numeral for your child to identify. Once they've identified the number, they count and place the candies into the tens frame, working from top to bottom, left to right.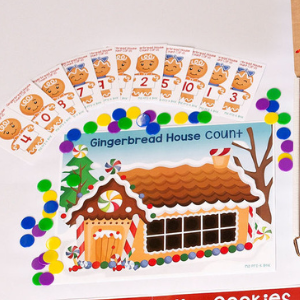 3

The Gingerbread Trail
Help the gingerbread boy or girl complete the path to their gingerbread house with these gingerbread pattern cards. Using the "candies" from earlier, your preschooler will read aloud the pattern on the card by naming the colors of each circle on the path. Once they reach a white space on the path, they will decide which color comes next in the pattern. After they've placed the bingo chip, they will continue the pattern until they reach the gingerbread house. This activity provides plenty of opportunity for differentiation between easier AB patterns and more difficult AAB, ABB, and ABC patterns.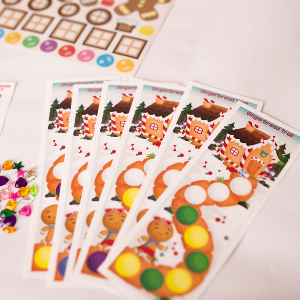 Literacy Activities
1 Hansel and Gretel Game
In this game, your kids will have to help Hansel and Gretel escape the witch by naming the letters correctly on their way! To start, place the playing piece on the start space, roll the die and move the playing piece that many spaces on the game board. Then, they have to name the letter they landed in! If they are also familiar with the sounds of the letter, you can also ask this on a more difficult level. The first player to reach the finish line wins!
The game board is beautifully designed and printed in high-quality paper, your kids can surely reuse this a lot of times until they master the letters and sounds of the alphabet!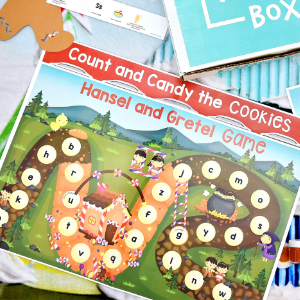 2

Slide-a-Sound
This adorable activity looks like it came straight from a Pinterest save! The gingerbread man cut-out and sliding strips create the perfect activity to help your preschooler practice letter identification and beginning sounds.
Simply slide one of the letter strips into the cut-out on the gingerbread man. You'll be able to identify a letter with your child, name a word that begins with that letter, and practice saying the word's beginning sound. This activity includes several letter strips, so they can be used again and again for plenty of practice.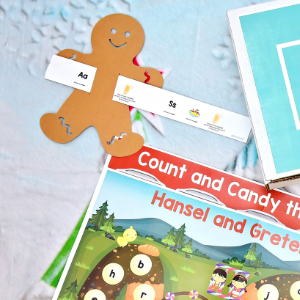 3 Cookie Flip
Help your little one learn the sounds of the letters in a fun and very cute way! The Cookie Flip game features gingerbread cookies with a picture of an object on it. You have to help your child identify the object and say its name. Isolate the beginning sound of the picture. Say, "Bear starts with the /b/ sound". Emphasize the /b/ sound. Then, use the mini spatula to flip the cookie over and reveal the letter. Point out the uppercase and lowercase letters, while still emphasizing the /b/ sound! You see, flipping the cookie looks just fun but your little one will learn a lot while doing so!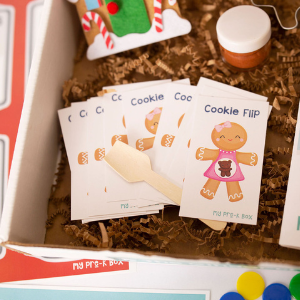 Grab a copy of the Print & Go Christmas Craft Pack for FREE!

Since you made it up to this point, we'll give you another freebie!

Get a copy of the Print & Go Christmas Craft Pack - a cute Christmas-themed printable perfect for the holidays! Keep kids busy on winter days with these nice printable crafts - all for FREE!

Read more about the Print & Go Christmas Craft Pack here, or click the button below to download it!




'
Crafts and Sensory Play
1 Gingerbread cookie cutting
Enjoy independent playtime cutting out pretend gingerbread cookies! These pretend gingerbread cookies are not edible and are made from air-dry clay, but are definitely the cutest! Perfect for your Pinterest board and Instagram post, this fun sensory play activity will also develop your little one's fine motor skills and creativity.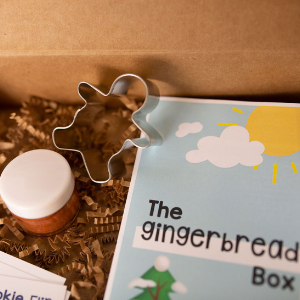 2 Felt Gingerbread House Ornament
If you love our crafts, then go get a subscription for our Craft Lovers Upgrade too! This Felt Gingerbread House Ornament from The Gingerbread Box is exclusive to those who are subscribed to our Craft Lovers Upgrade, which you can get for just $4.25 per child. The Felt Gingerbread House Ornament is very cute and perfect for this season, plus it is Pinterest-perfect too! And your kid will have a good time making this while working on his fine motor skills and exploring his creativity!
Grownup Guide
Not sure where or how to start with all these fun activities inside The Gingerbread Box? No worries, we also have a Grownup Guide to help you navigate through the activities with ease! The design is user-friendly and easy to understand and includes the materials needed, instructions, and even examples.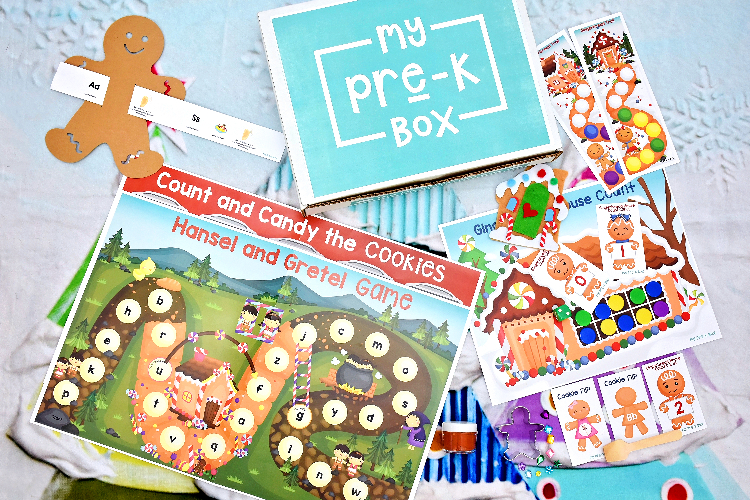 These are the cute and exciting activities in The Gingerbread Box. Each month there is a different, cohesive theme that you and your child will love. The immersive themes and fun activities will have your child learning and playing for hours! See how they look like straight out of Pinterest!
Monthly My Pre-K Boxes
These are just some of the activities included in The Gingerbread Box. Each month, the theme of the box changes so it's always exciting to get your box in the mail and open it up! Your child will love all of the themed activities and crafts each month. Plus, they are all Pinterest-perfect and Instagrammable! Check out some of My Pre-K Boxes featured in our blog posts by clicking the photos below. So, what are you waiting for? Subscribe now!
Let's Connect!
Want more Pinterest-perfect activities and crafts for your preschooler? Be sure to follow us on Facebook and Instagram for more fun activities to do at home with your little ones plus more details on My Pre-K Box subscription boxes!
Haven't tried My Pre-K Box yet?
My Pre-K Box is the best monthly subscription box for kids ages 3-5.

Pinterest-perfect activities, games, and

crafts for your preschooler!