Leaves may still be falling, but winter is right around the corner!

And if you are like me, you know your kiddos will be spending more time indoors once that cold air hits and the snow flies. That's why I've created these free preschool winter worksheet printables to help keep your preschooler engaged and learning throughout those winter months!
Beyond our Preschool Fun Packs, my real mission is to provide you with fun and engaging hands-on, play-based preschool activities. As an early childhood educator and mom, I develop the best preschool learning activities, gather all of the materials needed, prep everything, and deliver them monthly right to your door!
This way you can focus on having fun and making memories without having to scour the internet for ideas or spend time prepping!
My Pre-K Box: The Best Educational Subscription Box for Preschoolers
My Pre-K Box is an educational subscription box for preschoolers aged 3-5! We deliver the most fun play-based preschool learning available! Each box has its own unique theme and is filled with different learning activities to target math and literacy skills. Your kids will have fun exploring the new activities, and you will delight in the fact you are helping them with essential Kindergarten readiness skills!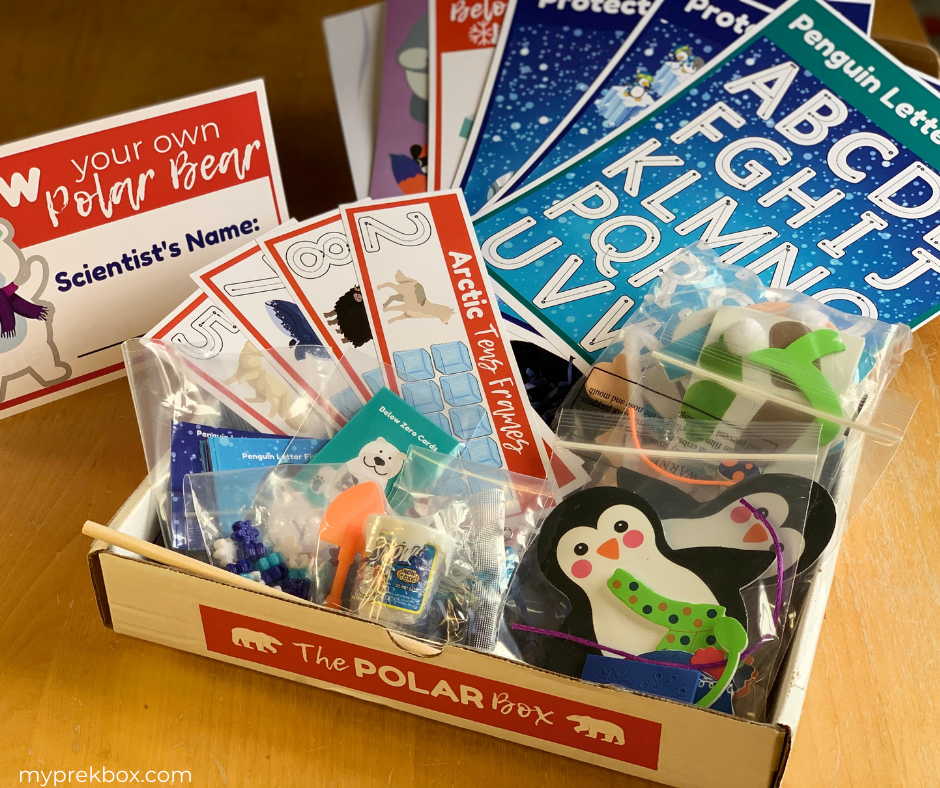 Whether you are currently a subscriber to My Pre-K Box's ultimate subscription box for preschoolers or if you are here for cute learning activities for your 3 to 5-year-old, you are in the right place!
Today I'm excited to give you this easy and educational Preschool Snow Fun Pack! Just download these free preschool winter worksheets and print at home!
Each of the worksheets in the Snow-themed Preschool Fun Pack covers skills that your preschooler should know in order to be prepared for Kindergarten such as counting, capital and lowercase letters, sorting, and more!

Included in the FREE Preschool Snow Worksheets:

Snowglobe Counting

Grouping Objects

Count and Compare

Snowy Letter Match

I Snow Beginning Sounds

Matching Snowmen

Snowgear Sorting

Winter Patterns
How to use these FREE Preschool Winter Worksheets
Print out these EIGHT snow-themed preschool winter worksheets, gather the materials listed below and watch as your preschooler works on integral skills that they will need for Kindergarten! My suggestion is to sit with your child and offer support as they complete the activities. Talking about the processes they are going through, expanding on ideas from the worksheets, and modeling skills is an amazing way to help your preschooler learn!

Materials
printer

paper

crayons or markers

scissors

glue
Get your FREE Snow Fun Pack Here
Check out a

few

of the fun activities in our Snow Themed Preschool Worksheets Fun Pack:
1

Count and Compare
This fun preschool math worksheet will have your preschooler practicing one-to-one correspondence by getting them to count winter-themed objects like happy snowmen and cozy mittens. Your preschooler will love getting to color all of the items in the group that has more, and you will love that they get to practice a foundational math skill!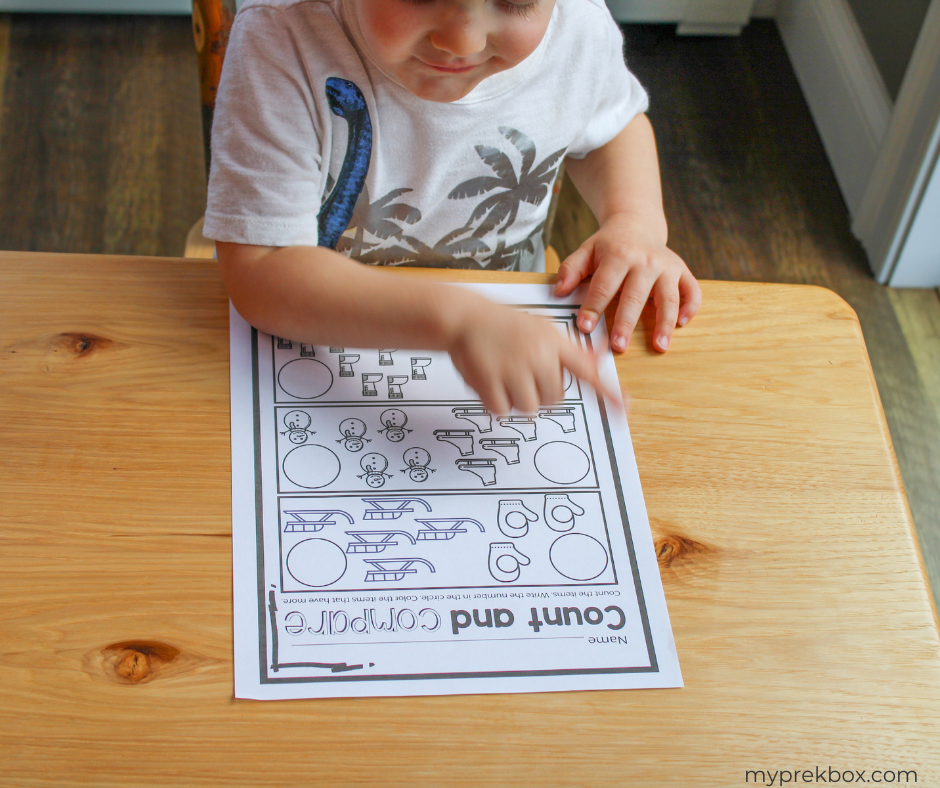 2

Snowy Letter Match
Have your preschooler practice fine motor AND early literacy skills with this Snowy Letter Match. Your kiddo will cut out the lowercase letters and then glue them under the correct uppercase letter to match up the boots and hats. Get more fine motor practice by having your preschooler color in each boot and hat (you can even have them use matching color for each set!).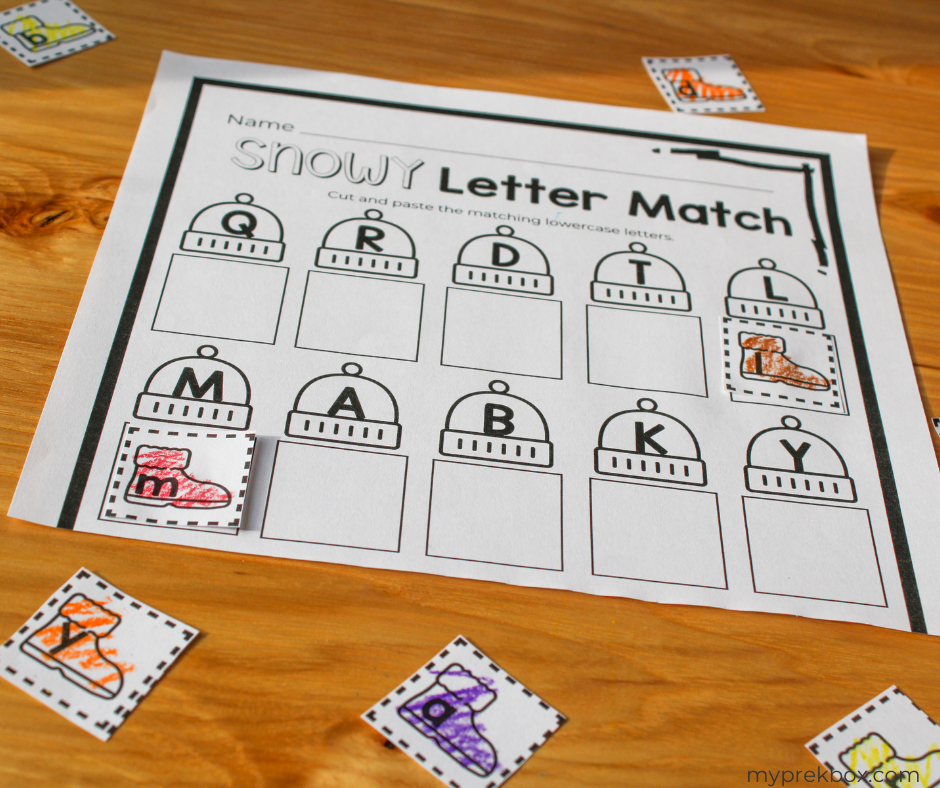 3

Matching Snowmen
This preschool winter worksheet works on your preschoolers observation, matching, and fine motor skills. When completing the worksheet, talk with your preschooler about the different features you notice on each snowman. Challenge them to draw a line to the matching snowman without crossing any other snowmen!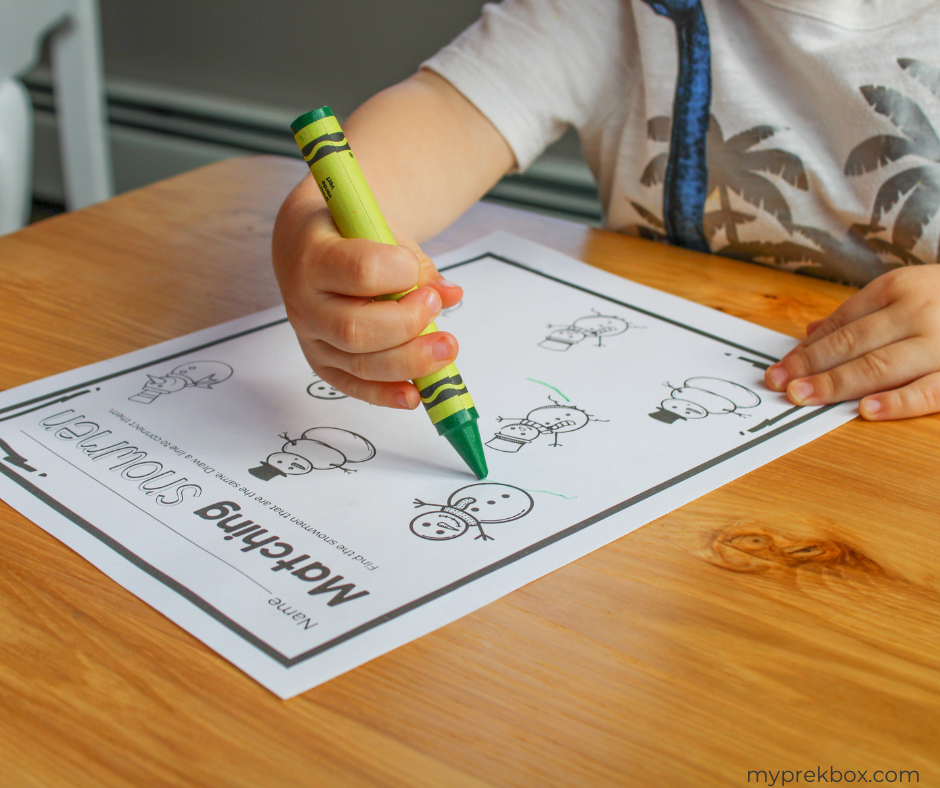 4

Snowgear Sorting
Sorting is an important pre-literacy as well as foundational math skill. Your preschooler will have a blast deciding which piece of clothing you wear during the winter versus the summer. Talk with your child about the reasons why we wear certain clothes during each season. Extend the concept of this worksheet, by having your preschooler help sort their clothes by season!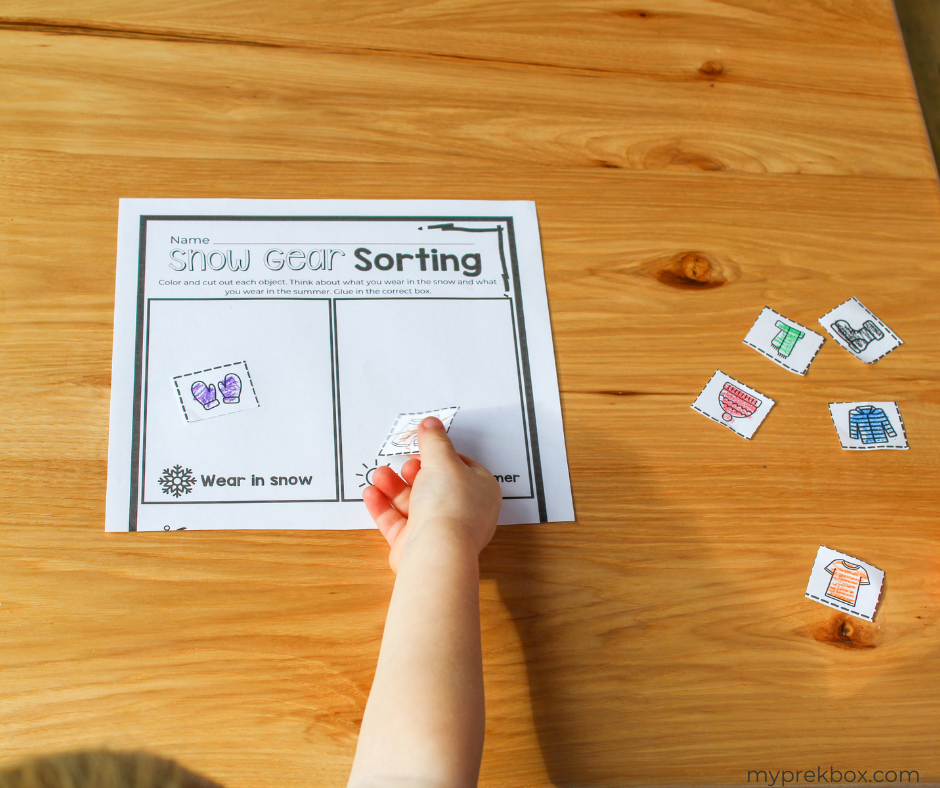 Download your FREE Preschool Winter Worksheets
These are just some of the EIGHT preschool worksheets included in our FREE Snow Preschool Fun Pack! Be sure to share with a friend and download yours today!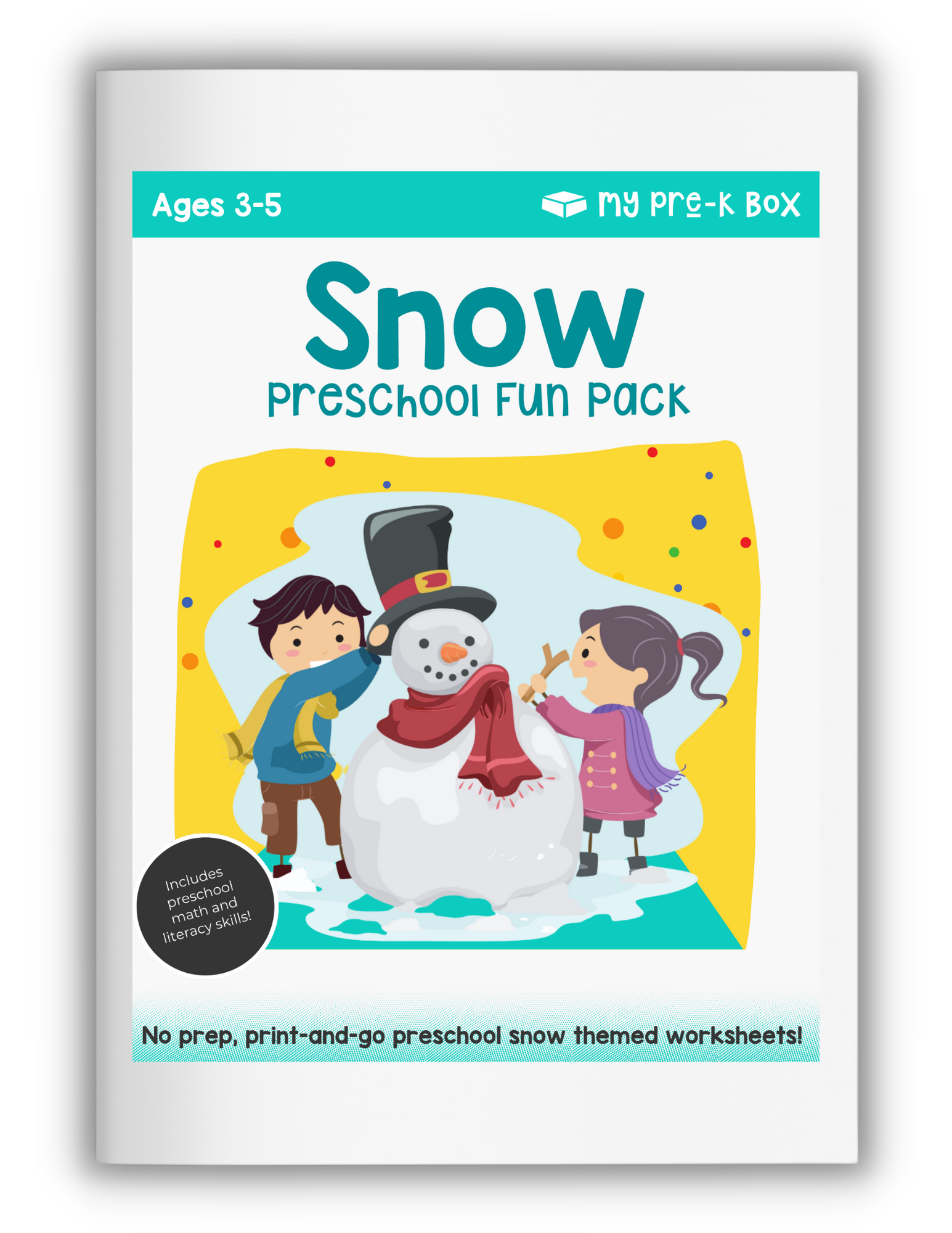 Let's Connect!
We absolutely LOVE seeing your preschoolers learning through play! Please take photos and videos of your child engaging in activities and share your photos with us on Facebook and Instagram!
Also, if you aren't already, be sure to follow us on Facebook and Instagram for more fun activities to do at home with your little ones!
Haven't tried My Pre-K Box yet?
My Pre-K Box is the best monthly subscription box for kids ages 3-5!

Everything you need to create, play, laugh, and learn!