Combining a love for winter sports and decorating gingerbread houses, this fun STEAM activity will have your preschooler wondering how exactly their new gingerbread friend is moving about their ice skating rink! Your child will love creating this fun gingerbread skating rink.
My Pre-K Box: The best monthly subscription box for kids ages 3-5
My Pre-K Box is an educational subscription box for preschoolers filled with different learning activities for math and literacy skills! With fresh new themes each month, your child will delight in all of the fun, play-based learning activities inside! Prepped and delivered straight to your door, My Pre-K Box is so much fun, your child won't even realize how much they're learning!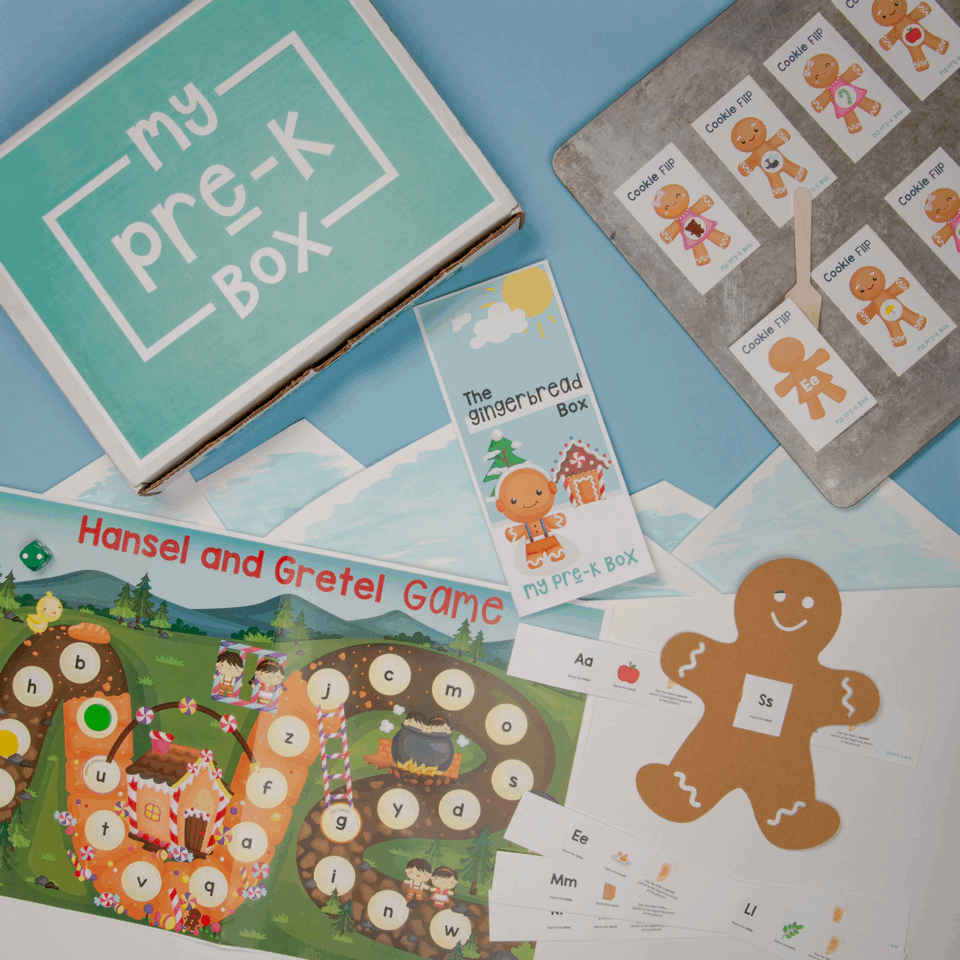 Get Our Free Snow Preschool Fun Pack!
Your preschooler will love this Snow Preschool Fun Pack! It covers kindergarten readiness skills such as counting, comparing, beginning sounds, and more!

Included in the FREE Preschool Snow Worksheets:

Snowglobe Counting

Grouping Objects

Count and Compare

Snowy Letter Match

I Snow Beginning Sounds

Matching Snowmen

Snowgear Sorting

Winter Patterns
What is STEAM?
STEAM is an acronym used to describe combined elements of learning to further creativity and the core subject areas. STEAM stands for science, technology, engineering, arts, and mathematics. These activities activate both sides of the brain, allowing kids to retain information better and better understand more complex concepts. This STEAM activity combines arts and crafts along with the science of magnets.
Let's Get Skating with a Gingerbread Man!
Winter days can be long and boring, but you can surely entertain your little one with a skating gingerbread man! Check out how to make one and how you can introduce simple science and art concepts through this activity.
Materials for
the Gingerbread Man Ice Skating Craft
cardboard box

colored papers

scissors

pencil

paint marker

hot glue gun

craft stick

2 magnets
Directions for making
the Gingerbread Man Ice Skating Craft
Step 1 Cover the cardboard box with white paper. You can also use cereal boxes for this one. Then, cut out an oval shape from a blue colored paper. Glue it in the middle of the box. This will serve as the gingerbread man's skating rink!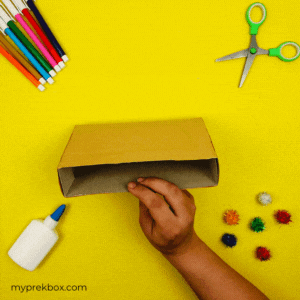 Step 2 Next, let's make a gingerbread man! Using a pencil, draw an outline of a gingerbread man on a piece of cardboard. Then, cut it out and color its arms and legs with a white paint marker. Add three buttons on its chest, and use a black marker to draw a happy face!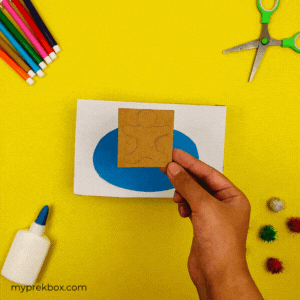 Step 3 Let's make a brace to keep the gingerbread man standing (and later, skating!). To do this, cut a small piece of cardboard in a rectangular shape. It should be just big enough to support the gingerbread man, so it depends on how big or small your gingerbread man is! Then, bend it at a 90-degree angle and glue one side to the back of the gingerbread man.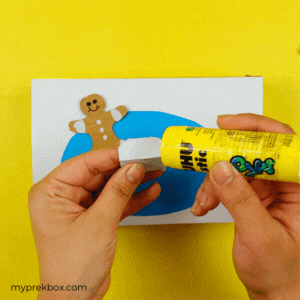 Step 4 Using a hot glue gun, attach one of the magnets on the other side of the brace, facing the bottom part. Then, get a craft stick and attach the second magnet to it. Place the gingerbread man on the skating rink, then place the end of the craft stick with a magnet inside the box. Align it atop the gingerbread man and watch it move along with the stick!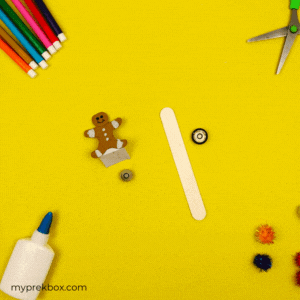 Step 4 It's now time to create a gingerbread house! Use a pencil to draw an outline of the house. Then, cut it out and add a door and windows using colored paper. Decorate the gingerbread house by using stickers or colored paint markers, whichever is available.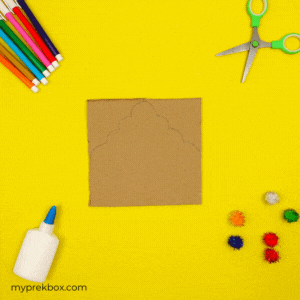 Step 5 Once the gingerbread house is complete, cut 2 small strips of cardboard and bend them at a 90-degree angle. Glue one side of those strips to the back of the gingerbread house and then glue down the gingerbread house to the ice skating rink using the other side of the cardboard braces. The gingerbread house should be placed at the back of the ice skating rink. Now your child can skate the gingerbread man around their newly created ice skating rink as they explore the workings of magnetism!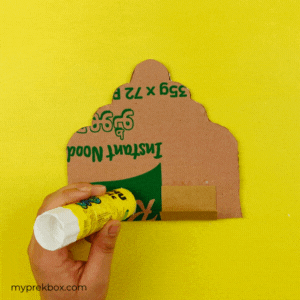 The Science Behind the Gingerbread Man Ice Skating Craft
How is the gingerbread man able to move around and skate? It was possible because of the magnets we used. As you move around the craft stick, the magnet on it attracts the other magnet attached to the gingerbread man! This is the result of the physical phenomenon called magnetism, which is produced by the motion of electric charge, resulting in attractive and repulsive forces between objects. The magnetic force can pass through thin sheets of non-magnetic objects such as paper (which is what we used in this activity), as well as glass or wood. However, if the magnet is too weak and the material is too thick, the magnetic force may not be able to pass through.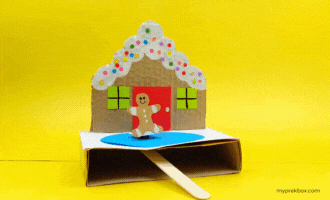 What do you think of the Gingerbread Man Ice Skating Craft? We hope you enjoyed it! It is a perfect and matching activity after The Gingerbread Box, one of our themed boxes specially made for the Christmas season! If your little one got The Gingerbread Box already, try the Gingerbread Man Ice Skating Craft for more winter fun! And if you haven't subscribed to My Pre-K Box yet, you better try the Gingerbread Man Ice Skating Craft, and if your kids enjoyed it, you might want to get a monthly subscription for no-prep, exciting surprises every month! You can read more about The Gingerbread Box here.
You'll surely love it too because each box is filled with play-based, hands-on learning tools that target math and literacy skills. It also includes sensory play, fun thematic crafts, and a grownup guide to help you in guiding your little one! Plus, it is very practical and budget-friendly because the games and activities are mostly reusable! So, if your child has siblings, it can be shared and can be used again and again! We also offer duplicates of non-reusable crafts while those who love our crafts can also subscribe to our Craft Lovers Upgrade.
The fun and exciting activities inside My Pre-K Box will help your child enjoy learning, and you won't have to worry about a thing - it will be all prepped and delivered to your door! No more researching, planning, and cramming to make the activities yourselves! My Pre-K Box will handle it all for you, while you can simply guide and watch them learn in the convenience of our home!

View subscription plans
For more winter-themed STEM learning and arts, check out these blog posts! Try these exciting activities at home with your little ones!
Curious about My Pre-K Box?
My Pre-K Box is the best subscription box

for kids ages 3-5!

Everything you need to explore, learn,

create, and play!