Introducing winter to little kids can be more fun with some exciting activities, crafts, and process art! Kids are excited about winter, so they'll enjoy this activity for sure. Learn how to create a snowy scene and understand what is process art through this blog post. And to make sure your kids will not be bored in the coming long winter days, we prepared free winter activities and printables throughout this article!
My Pre-K Box: The Perfect Preschool Box for You!
My Pre-K Box is an educational subscription box for preschoolers filled with different learning activities for math and literacy skills! With fresh new themes each month, your child will delight in all of the fun, play-based learning activities inside! Prepped and delivered straight to your door, My Pre-K Box is so much fun, your child won't even realize how much they're learning!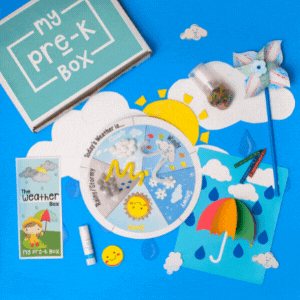 What is Process Art?
Process art for preschoolers is doing art activities that are not focused on the product or output, but instead on the process. It is like a free-form art, and kids are given the freedom how to use the materials they are provided with. Unlike the traditional product-based art that focuses on the output, this allows more room for creativity, thinking, making connections, and experimenting! So for this Snowy Scene Process Art, keep in mind that even though there are step-by-step procedures, you can let them decide what they want to do with the materials and be sure to give feedback or remarks on their choice.
Materials for the Snowy Scene Process Art:
cardstock

colored papers

marker

scissors

glue

bubble wrap

paintbrush

liquid watercolor or acrylic paint (white)

colored translucent paper or vellum
In addition, you can also add alternative tools and materials that they might want to use. It could be stuff just laying around the house, so there's no need to purchase supplies. Make use of the available materials you have at home!
Before we start…

Get your first winter welcome gift!

Make winter days enjoyable and educational with the Snow Preschool Fun Pack! It is a collection of winter-themed worksheets that will help you introduce math and literacy to little learners. It includes activities for counting, comparing, letter matching, sounds, sorting, patterns, and many more! Read more about the Snow Preschool Fun Pack here, and get a free copy now!
Procedure in creating your very own Snowy Scene Process Art:
Step 1 Using a marker, draw three half circles in the white cardstock. Cut them out using scissors.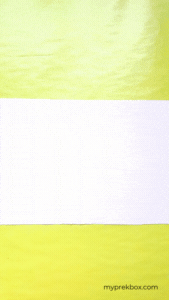 Step 2 Glue these half circles at the bottom part of a light blue colored paper. Now it looks like a blue sky with white mountains! Remember that this is process art, so if your preschooler wants to use a different color or modify the shapes, allow him to do so.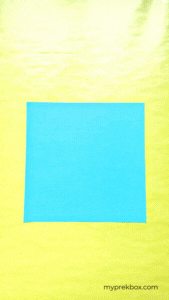 Step 3 Now let us make a snowy scene using bubble wrap! How? Paint the bubbles with white acrylic paint using a paintbrush. You can also use liquid watercolor. Then place it down on the "sky" to fill it with snow!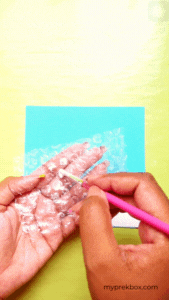 Step 4 Cut out some triangles on green translucent paper or vellum. You can also use Japanese paper or just regular colored paper, whichever is available. Line it up along the "mountains" using glue. Now you have pine trees! It's starting to feel like Christmas already!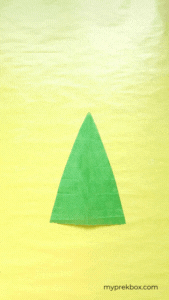 Step 5 Complete the pine trees by adding a trunk. Add more shapes to decorate your Snowy Scene Process Art!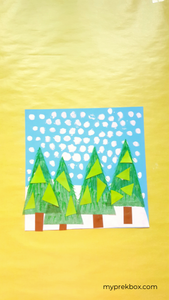 Before you go…

Get your last winter freebie for today!

Are you excited about Christmas? We sure are, especially the kids! So get this Print & Go Christmas Craft Pack for early Christmas preparations! It includes 6 cute Christmas-themed crafts: an elf, a reindeer, a snowman, a Christmas tree, a wreath, and of course Santa!
What will your child learn while making the Snowy Scene Process Art?
The Snowy Scene Process Art can help in fine motor skills and color and shape recognition. As they assemble, cut, glue, and paint, their hand muscles are strengthened and they learn to control their movements more. They are also able to recognize and select different colors and shapes for the materials they use. Since this is process art, they are able to decide how to use the materials given to them. They are able to explore and modify the steps, and directly learn from them! They can experiment, notice small details in their own work, generate new ideas, or make connections! The learning opportunities in process art are unlimited!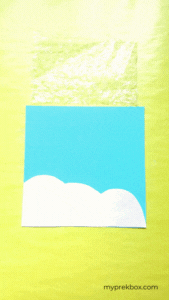 Each month My Pre-K Box creates an exciting, educational box for preschoolers with themed math and literacy activities. Preschoolers enjoy play-based learning and parents will love the easy, open-and-play format! Totally no-prep!
If you're interested, check out our subscription plans and subscribe to My Pre-K Box to receive the best learning activities to do at home with your preschooler! Delivered each month to your front door, My Pre-K Box makes parents' lives super easy, and gets kids excited about learning!

Let's Connect
How was your Snowy Scene Process Art activity? Share your adorable photos with us using the hashtag #myprekbox. Be sure to LIKE and FOLLOW us on Facebook and Instagram for updates and more fun activities you can do at home with your preschooler!
Haven't Tried My Pre-K Box Yet?
My Pre-K Box is the best subscription box for

kids 3-5 years of age!

Everything you need to play, create, explore,

learn, laugh, and enjoy!