🎶 You better watch out, You better not cry
You better not pout I'm telling you why
… Santa Claus is coming to town! 🎶
Who's excited about Christmas? (Aside from me, lol!) I think everyone is, especially kids!
So today, we are going to share an early Christmas craft for preschoolers! Learn how to make your own Rocking Santa Craft and find out how to get a free copy of the printable template in this blog post.
My Pre-K Box: The best subscription box for kids ages 3 to 5!
My Pre-K Box is an educational subscription box for preschoolers filled with different learning activities for math and literacy skills! Each box is based on a different theme and is focused on play-based learning. Your kids will love exploring new activities each month while practicing kindergarten readiness skills!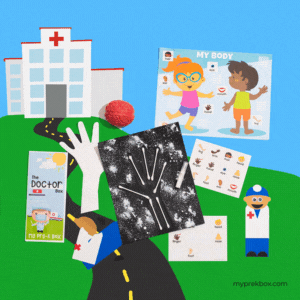 Santa Claus has been a popular Christmas icon since the early 19th century. From St.Nicholas to Sint Nikolaas till it became Sinter Klaas and evolved to what we know today as Santa Claus, the man in red never failed to excite children with his gifts and toys. Kids immediately associate Christmas with this jolly man, so to surprise them with an early Christmas craft you can try making a Rocking Santa Craft with them today! Here's how:
Materials for the Rocking Santa Craft:
cardstock

printer

scissors

glue
Procedure for creating your own Rocking Santa Craft:
Step 1 Download and print our Print & Go Rocking Santa Craft. You can choose from the colored and black-and-white versions included in the printable.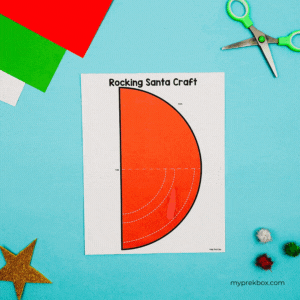 Step 2 Using a scissor, cut the red half-circle and fold it in half. Follow the outline in folding it. Then, use glue to close the left side, leaving the curved bottom part open.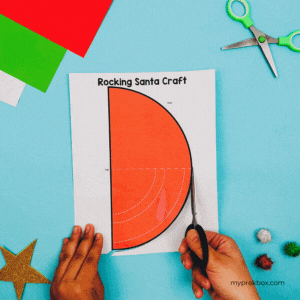 Step 3 Cut out Santa's parts! It includes his head, hat, belt, and arms/sleeves.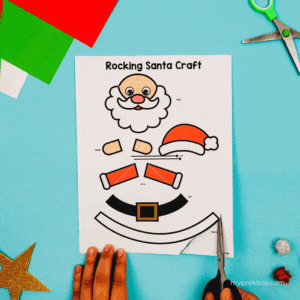 Step 4 Let's assemble the bottom part first. Attach the white lining at the bottom of his clothes. Next, glue his belt at the middle part, following the broken lines as a guide.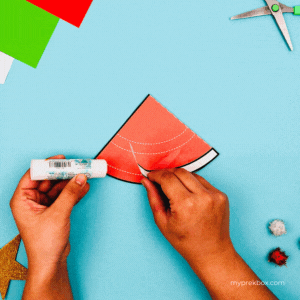 Step 5 Attach Santa's head to the top of the triangle. Next, add his red Christmas hat!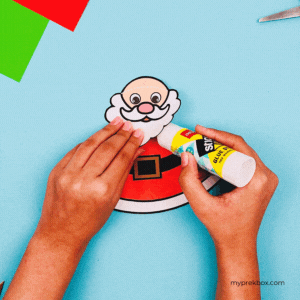 Step 6 Santa is almost complete! All we need to add are his arms and sleeves. Glue the red sleeves on both sides, then attach the hands at the end of each sleeve.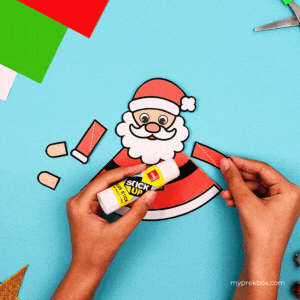 Now your Rocking Santa craft is complete! Slightly open the bottom part to make it stand. Then tap the sides lightly to keep it rocking back and forth!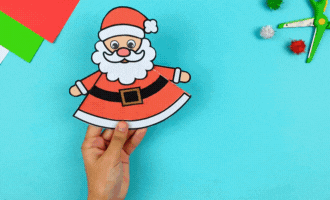 What will your child get in making the Rocking Santa Craft?
As your preschooler cut, fold, pick up small parts of this craft, and put them together, he is already practicing his fine motor skills! How? As they work on this skill, their hand muscles get the "practice" they need to become stronger and increase their dexterity. Without knowing, these simple activities will help them a lot in the future! Though working on a single craft like the Rocking Santa craft will not make them good instantly, consistent practice with more of our interesting printables and templates will certainly help them learn faster!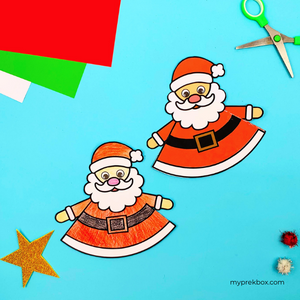 What do you think of the Rocking Santa Craft? We hope you enjoyed it! It is a great follow-up and adds-on activity after The Hibernation Box, one of our themed boxes specially made for the winter season! If your little one got The Hibernation Box before, you can get the Rocking Santa Craft for FREE for more winter fun! And if you haven't subscribed to My Pre-K Box yet, you can still try our Rocking Santa Craft for free today, and if your kids enjoyed it, you might want to get a monthly subscription to get more exciting surprises every month!
You'll surely love it too because each box is filled with play-based, hands-on learning tools that target math and literacy skills. It also includes sensory play, fun thematic crafts, and a grownup guide to help you in guiding your little one! Plus, it is very practical and budget-friendly because the games and activities are mostly reusable! So, if your child has siblings, it can be shared and can be used again and again! We also offer duplicates of non-reusable crafts for only $3.25 a month. And those who love our crafts can also subscribe to our Craft Lovers Upgrade for just $4.25 per child.
The fun and exciting activities inside My Pre-K Box will help your child enjoy learning, and you won't have to worry about a thing - it will be all prepped and delivered to your door! No more researching, planning, and cramming to make the activities yourselves! My Pre-K Box will handle it all for you, while you can simply guide and watch them learn in the convenience of our home!

Let's Connect
How's your Rocking Santa Craft? We hope your preschooler had fun with it! Share with us your craft by using the hashtag #myprekbox! We'd love to see kids learn and enjoy our printables. And be sure to subscribe to our Facebook and Instagram pages to learn more about our products and get important updates and promos. See you there!
Haven't Tried My Pre-K Box Yet?
My Pre-K Box is the best subscription box for

kids 3-5 years of age!

Everything you need to play, create, explore,

learn, laugh, and enjoy!