The snow is still flying, the temps are dropping, and your preschooler could use an activity to keep them engaged. Yup, I've been there. Winter (especially if you live in a colder climate) can be rough! Sure, you get outside as much as you can, but your preschooler is still begging for more to do. That's why I created these free printable polar-themed preschool worksheets to keep your preschooler engaged while also working on those kindergarten readiness skills!
Beyond our Preschool Fun Packs, my real mission is to provide you with fun and engaging hands-on, play-based preschool activities. As an early childhood educator and mom, I develop the best preschool learning activities, gather all of the materials needed, prep everything, and deliver them monthly right to your door!
This way you can focus on having fun and making memories without having to scour the internet for ideas or spend time prepping!
My Pre-K Box: The Best Educational Subscription Box for Preschoolers
My Pre-K Box is an educational subscription box for preschoolers aged 3-5! We deliver the most fun play-based preschool learning available! Each box has its own unique theme and is filled with different learning activities to target math and literacy skills. Your kids will have fun exploring the new activities, and you will delight in the fact you are helping them with essential Kindergarten readiness skills!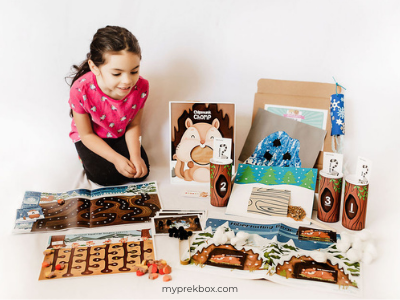 Whether you are currently a subscriber to My Pre-K Box's ultimate subscription box for preschoolers or if you are here for cute learning activities for your 3 to 5-year-old, you are in the right place!
Today I'm excited to give you this easy and educational Preschool Polar Fun Pack! Just download these free preschool winter worksheets and print at home!
Each of the worksheets in the Polar-themed Preschool Fun Pack covers skills that your preschooler should know in order to be prepared for Kindergarten such as counting, letter sounds, sorting, and more!

Included in the FREE Preschool Polar Worksheets:

Arctic Animal Cut and Count

Order Polar Animals by Size

Polar or Not? Animal Sort

Polar Patterns

Frosty Rhyming Words

Below Zero Beginning Sounds

Polar Bear Pre-Writing

Arctic Graphing
How to use these FREE Preschool Polar Themed Worksheets
Print out these EIGHT polar-themed preschool winter worksheets, gather the materials listed below, and watch as your preschooler works on integral skills that they will need for Kindergarten! My suggestion is to sit with your child and offer support as they complete the activities. Talking about the processes they are going through, expanding on ideas from the worksheets, and modeling skills is an amazing way to help your preschooler learn! Plus, I think you will enjoy these adorable polar activities as much as they do!
Materials
printer

paper

crayons or markers

scissors

glue
Grab Your Polar Fun Pack Here!
Check out all the fun activities in our Polar Themed Preschool Worksheets Fun Pack:
1 Arctic Animal Cut & Count
This fun preschool math worksheet will have your preschooler practicing one-to-one correspondence and number identification by getting them to count polar animals like penguins and polar bears. Your preschooler will count the animals in each row, identify the correct number at the bottom of the page, cut out the number and paste it into the box.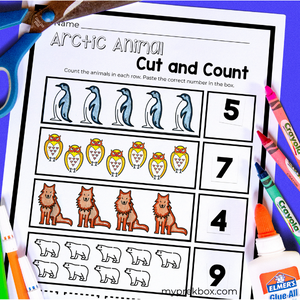 Though this activity seems simple, your preschooler will be doing a lot of hard work! They will work on one-to-one correspondence as they count each animal, number recognition and finding the correct numeral, and even fine motor skills as they cut and glue on the correct answer! Phew! But, I promise they will have a blast doing it!
2

Order Polar Animals by Size
Are you up for some math and science learning with your preschooler? The Order Polar Animals by Size Worksheet would be a perfect activity for your kids! Challenge them to the basic math concept of recognizing the size of an object, and some fun, science learning by classifying the animals according to their habitat. This time, it would be our polar animal friends! They will have to arrange them from smallest to largest and group the polar animals that live on land and those that live underwater.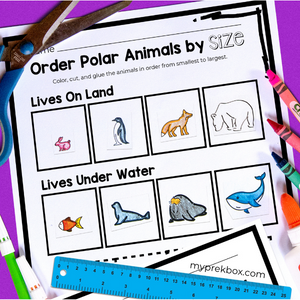 All these fun-filled math and science learning, while at the same time, they are working on their fine motor skills through cutting and pasting the pictures of polar animals on the worksheet!
3

Polar or Not? Animal Sort
Kids love animals, but can they tell which ones are polar animals and which are not? Test their knowledge with this worksheet, and teach them more by asking how these groups of animals are the same or different from one another. This will help in developing their mind to recognize the similarities and differences of objects so they will learn to sort them faster. Be ready for questions though, kids are curious beings and would keep asking questions! On the other hand, cutting and pasting the animals into the correct boxes will also help with their scissor skills and fine motor development.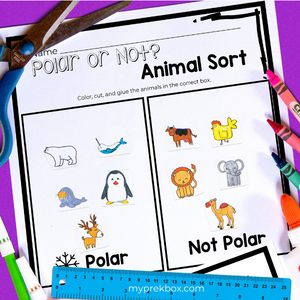 4

Polar Patterns
The Polar Patterns Worksheet helps preschoolers practice pattern recognition and identify what image comes next in the sequence. This cut-and-paste worksheet features cute animals that kids can color too! Just instruct them to cut out the pictures of the animals at the bottom and paste it into the correct boxes to complete the patterns!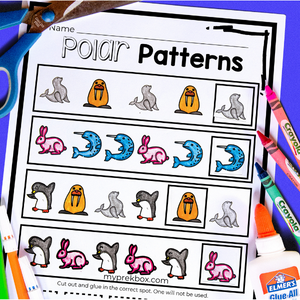 This activity trains their little minds to observe, think, predict, and repeat patterns, which is a very important Kindergarten skill. You can also extend this activity by showing them patterns around the house, or let them find patterns themselves, then give them a prize!
5

Frosty Rhyming Words
Did you know that recognizing rhymes and practicing rhyming words is an important step in learning to read? Rhyming helps preschoolers understand how language works and your preschooler will love practicing with this Frosty Rhyming Words worksheet!
Start by having your preschooler say the name of the object pictured in the left-hand box. Provide support and modeling as needed to help them identify the object (we have included the word below each picture to help make this easy for you!). Then you can either say each of the object names in the right-hand box or help your preschooler say them. Tell them to listen for a word that sounds similar. A great way to do this is by repeating the target word before saying each of the options. Example: sled, snow, sled, bed, sled, fly.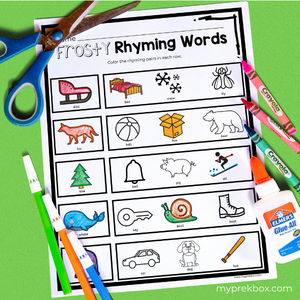 Once you have helped your preschooler identify the rhyming word, have them use their favorite crayon or marker to color in the object that rhymes. Wrap up by saying the rhyming pair one more time and encouraging your preschooler to say it with you.
6

Below Zero Beginning Sounds
Does your child know the sounds of all the letters of the alphabet? This is an important Kindergarten skill that is a prerequisite to reading. Our Below Zero Beginning Sounds Worksheet can help them practice this skill in a fun and engaging way!
You can start by asking your child to name the objects in each group. Then, introduce the sound of the letter in the snowflake on the left side of the pictures. If he/she is learning the sounds, ask them to tell you the sound of the letter. As for the first one, it's the letter P. The /p/ sound is unvoiced, which means you don't use your vocal cords to make the sound. You just close your lips and make a soft, popping sound! Then, ask your child which objects in the group has that sound at the beginning. If they answered correctly, tell them to color the object. Do the same with the other groups until you complete the worksheet!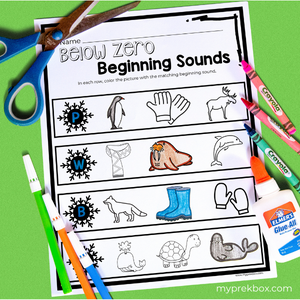 7

Polar Bear Pre-Writing



This quick yet powerful activity is great for all preschoolers to prep them for the writing they will be doing in Kindergarten, but it is especially great for those younger kiddos are they begin to work on their fine motor skills with writing utensils. Simply choose an appropriate writing utensil for your preschooler this could be a larger crayon for a younger preschool to a pencil for an older preschooler.
The name of the game is that the polar bear is hungry and you have to help him get to the fish. Have your preschooler trace the various types of lines to help feed the polar bear!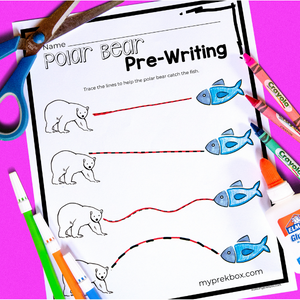 8

Arctic Graphing
Have fun with your preschooler as they learn important math skills with this Arctic Graphic worksheet. Your preschooler will count each type of animal and then color in 1 box per animal to create a bar graph. We suggest starting the activity by picking out 3 different colored crayons or markers. Each animal will get its own color so that your preschooler can easily see the difference in the bar graphs.
Then pick one of the animals to start with and help your preschooler find and count them out. If it helps, you can have your preschooler color each animal its assigned color to make counting easier once they have found them all. Once, they have the number, have them count out that same number of boxes under the animal's picture and color them in.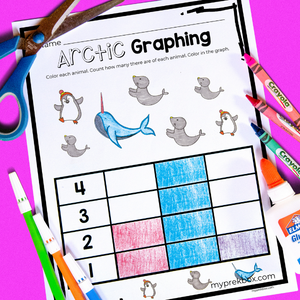 This activity is great because it works on a lot of math skills such as counting, recognizing like items, and graphing. Plus, the activity doesn't have to end once the bar graphs are complete. You can ask your preschooler questions about the bar graphs to help them begin to read the graph.
Examples:
Which bar has the most boxes filled in?

Which bar has the least boxes filled in?

How many animals in total?
Download your FREE Preschool Polar Worksheets
These are just some of the EIGHT preschool worksheets included in our FREE Polar Preschool Fun Pack! Be sure to share with a friend and download yours today!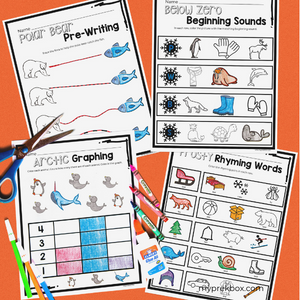 Can't get enough of our winter-themed worksheets? We have more in store for you! Get the Snow Preschool Fun Pack for FREE! You can also have more hands-on fun with your kids by trying winter-themed crafts and science experiments that we featured like DIY Snowy Tree, DIY Sensory Snow, and Snowflake Sun Catcher!
If your child enjoyed our Polar Preschool Fun Pack, he will surely have a blast with more hands-on winter-themed activities with The Hibernation Box! You can get it by subscribing to our monthly themed boxes in My Pre-K Box, where kids get to enjoy play-based learning activities. The Hibernation Box does not contain worksheets, instead, it is filled with hands-on learning tools, sensory play, fun thematic crafts, several math activities, literacy games, and a grownup guide.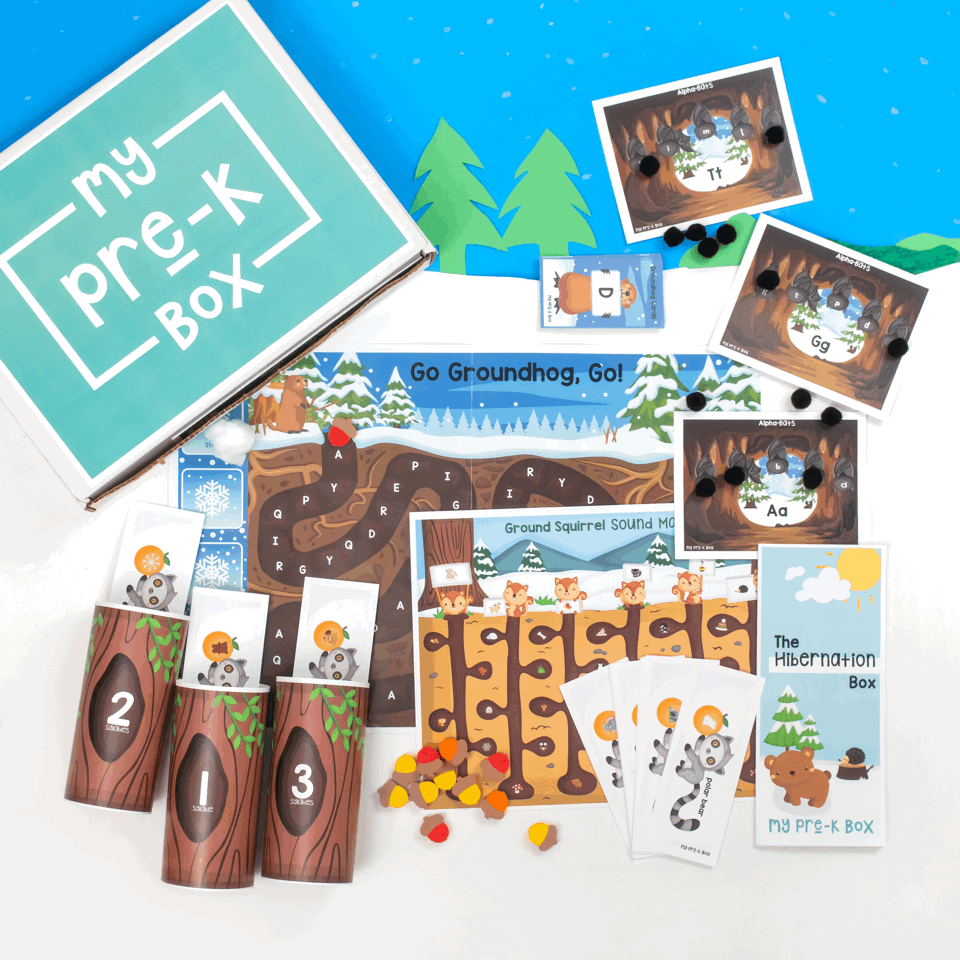 It is so easy to use, play, and share! Yes, it can be shared and can be used several times! You can also get duplicates of the craft for his/her siblings for only $3.25 a month! And if your child loves our thematic crafts, you can subscribe to our Craft Lovers Upgrade, which comes with more fun crafts and two additional arts and crafts activities for just $4.25 per child! With all the fun and exciting winter-themed activities inside the box, your child won't even notice he's learning a lot! And you won't have to worry about keeping him busy on the long winter days!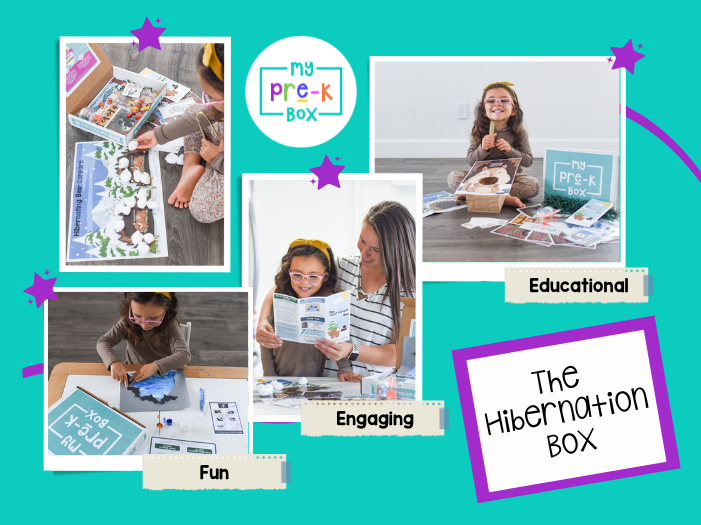 Let's Connect!
We absolutely LOVE seeing your preschoolers learning through play! Please take photos and videos of your child engaging in activities and share your photos with us on Facebook and Instagram!
Also, if you aren't already, be sure to follow us on Facebook and Instagram for more fun activities to do at home with your little ones!
Haven't tried My Pre-K Box yet?
My Pre-K Box is the best monthly subscription box for kids ages 3-5!

Everything you need to create, play, laugh, and learn!