Let it snow! Let it snow! Let it snow! It's that time of year where the snow starts falling and all the kids want to do is go out and play in it! Well, if you live in a place where it doesn't snow or you have kids who last a total of 10 minutes outside (even though it took a good 20 minutes to get ready), you will love this DIY Sensory Snow with just two ingredients! It's the easiest and best sensory snow ever!
In addition to the directions for mixing up this fun sensory snow, there are questions you can ask your preschooler as they explore the texture of this crazy mixture!
My Pre-K Box: The best monthly subscription box for kids ages 3-5
My Pre-K Box is an educational subscription box for preschoolers filled with different learning activities for math and literacy skills! With fresh new themes each month, your child will delight in all of the fun, play-based learning activities inside! Prepped and delivered straight to your door, My Pre-K Box is so much fun, your child might not even realize how much they're learning!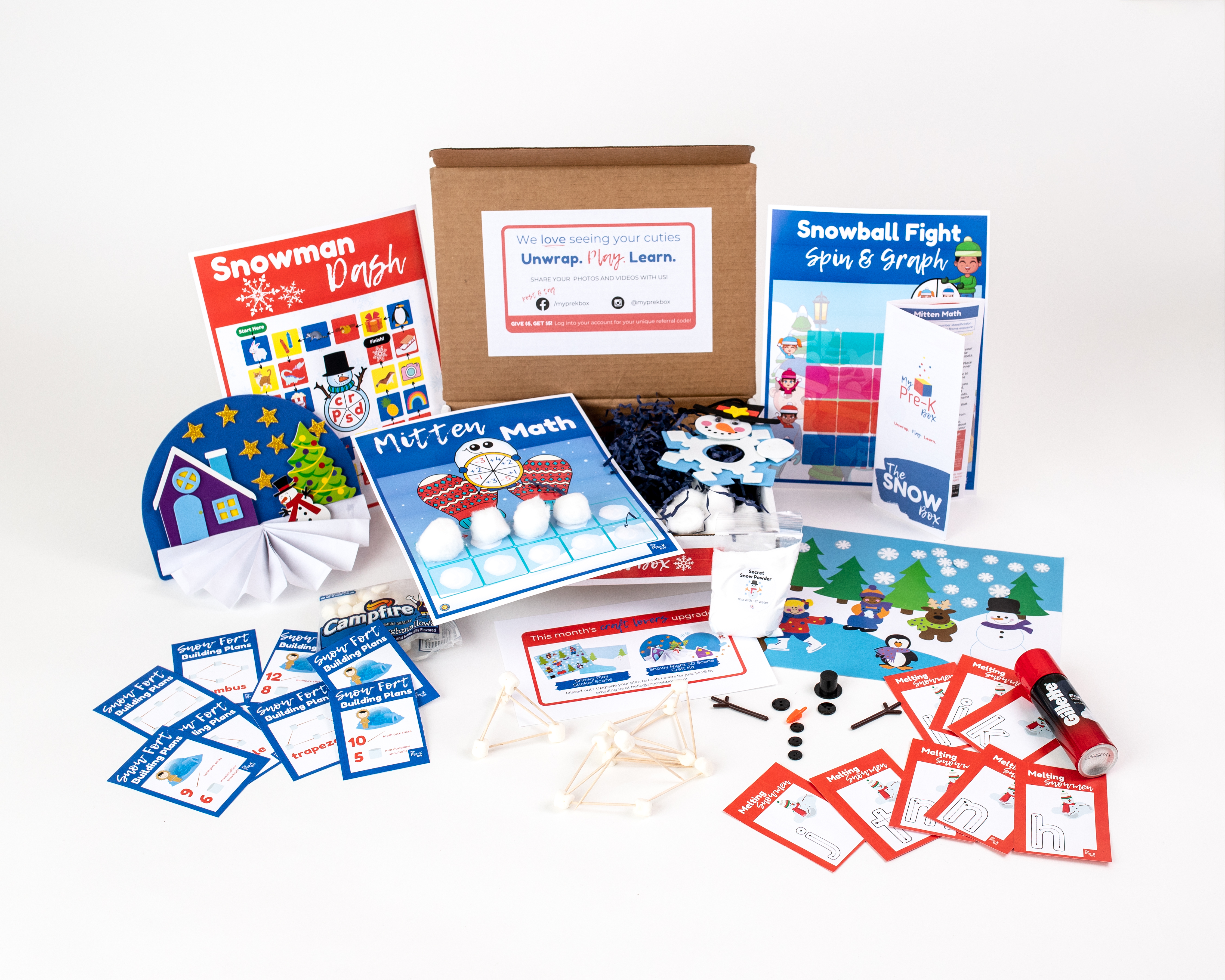 Get Our Free Snow Preschool Fun Pack!
Your preschooler will love this Snow-themed Preschool Fun Pack! It covers kindergarten readiness skills such as counting, comparing, beginning sounds, and more!

Included in the FREE Preschool Snow Worksheets:

Snowglobe Counting

Grouping Objects

Count and Compare

Snowy Letter Match

I Snow Beginning Sounds

Matching Snowmen

Snowgear Sorting

Winter Patterns
Mixing Up Some Sensory Snow!
Materials (Just 2 Ingredients)
bowl

½ cup hair conditioner (either use what you already have or just buy the less expensive stuff)

1 cup baking soda

your hands!
Directions
Step 1 This sensory snow is awesome because it only requires 2 ingredients and comes together quickly! Start by measuring out your baking soda and hair conditioner.
Step 2 Mix hair conditioner and baking soda in the bowl. You can use a spoon or spatula, but quite honestly, it's a lot of fun to just mix with your hands!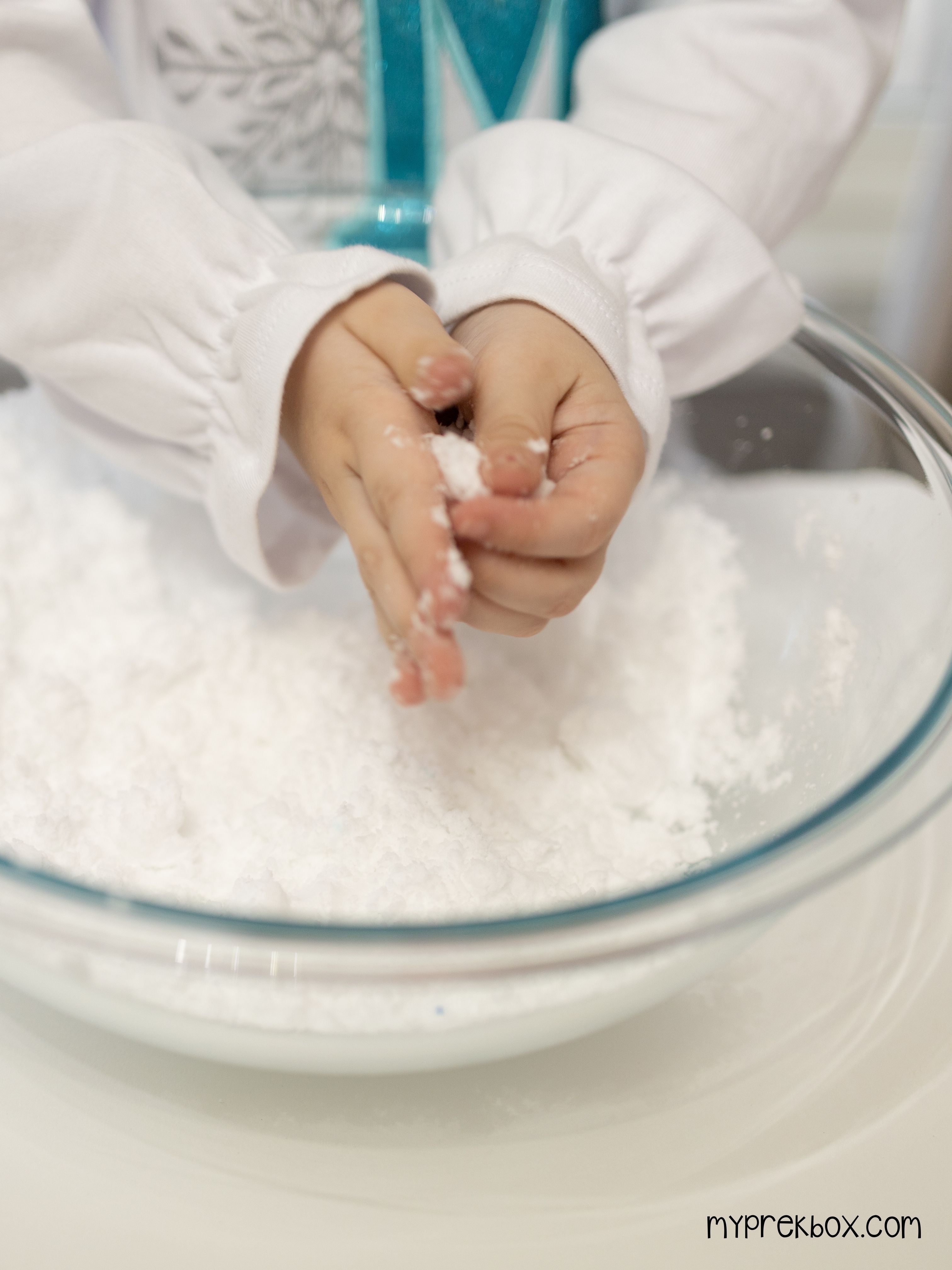 Step 3 This is a chance for your preschooler to do some sensory exploration. They can try to create different things using their sensory snow. It packs together well, so you can create small snowmen!
Sensory Questions for Your Preschooler
Here are a few questions you can ask your preschooler as they are exploring the sensory snow.
What does it smell like?

When you squeeze it together what happens?

Describe what it feels like when you just hold it in your hands.

How is this different from real snow?
We'd love to see what fun creations you make with your snow!
Let's Connect!
We absolutely LOVE seeing your preschoolers learning through play! Please take photos and videos of your child's finished product and share them with us on Facebook and Instagram!
Also, if you aren't already, be sure to follow us on Facebook and Instagram for more fun activities to do at home with your little ones!
Curious about My Pre-K Box?
Everything you need to explore, learn,

create, and play!

My Pre-K Box is the best subscription box

for kids ages 3-5!