We have featured several rocking character crafts in our previous blog posts (kids love them a lot!), and today to add up our rocking characters series, we are going to share with you our all-time favorite character in a fun rocking and moving craft - the Rocking Uncle Sam craft!
My Pre-K Box - No prep learning kits for your little ones!
My Pre-K Box is an educational subscription box for preschoolers aged 3-5! We deliver the most fun play-based preschool learning available! Each box has its own unique theme and is filled with different learning activities to target math and literacy skills. Your kids will have fun exploring the new activities, and you will delight in the fact you are helping them with essential Kindergarten readiness skills!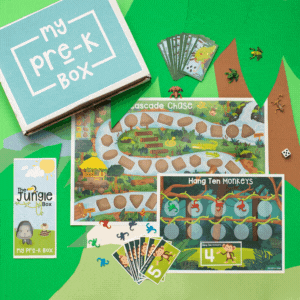 Uncle Sam is the popular symbol of American patriotism. And this Rocking Uncle Sam craft from My Pre-K Box is a fun and creative way to introduce this famous icon to preschool kids! This is also a perfect kid's activity for the 4th of July. So join us in another crafting and rocking activity today, as we help preschoolers develop important skills while having fun!
Materials for the Rocking Uncle Sam craft:
printer

cardstock

scissors

glue

crayons or markers
Want another July 4th activity?

Wish granted!

Get this Patriotic Color by Number worksheet for FREE today! Teach kids about patriotism using the different patriotic objects included in these worksheets. At the same time, they'll be able to practice their number and color recognition skills! Learn more about Print & Go Patriotic Color by Number in this blog post, or download it now!
How to make your very own Rocking Uncle Sam craft:
Step 1 Download our Print & Go Rocking Uncle Sam Craft, then print it on white cardstock. It includes both a black and white and a colored version. You can use crayons or markers to color the black-and-white pages before proceeding to the next step.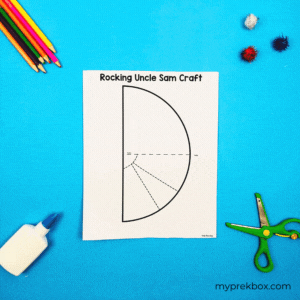 Step 2 Cut out the big half circle and fold it into half. Follow the broken lines as your guide. Glue one side and leave the curved bottom part open.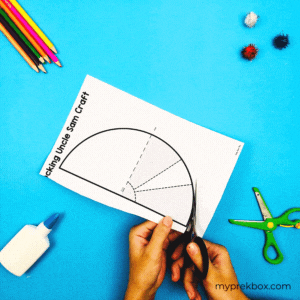 Step 3 Next, cut out Uncle Sam's parts! It includes a head, hair, hat, ribbon, sleeves, hands, and clothes.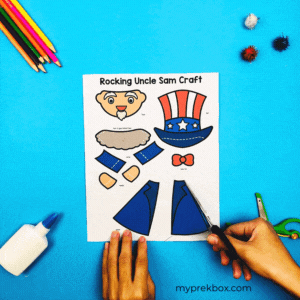 Step 4 Attach his blue suit to the folded half circle you made earlier. Glue it on both sides of the shaded area.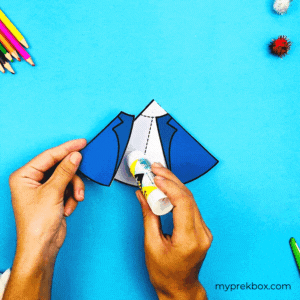 Step 5 Now, let's complete Uncle Sam's head! Start by attaching his gray hair behind his head, then glue his head onto the hat.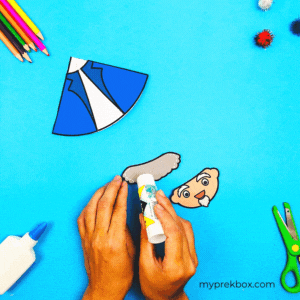 Step 6 Next, glue the ribbon to his neck, in the space between his suit. Then, attach his head with a hat on top of it! You're almost there!
Step 7 To complete our Rocking Uncle Sam craft, glue the hands at the end of each sleeve. Then, attach his completed arm on both sides. Hooray!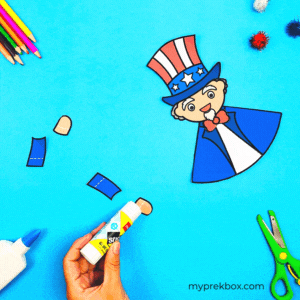 What will your child learn in making the Rocking Uncle Sam Craft?
While preschoolers cannot perfectly create the Rocking Uncle Sam craft on their own, they can practice Kindergarten skills that will be useful in the future! For example, actions involved in completing this craft like cutting out the pieces of Uncle Sam, folding the body, adding glue, and assembling it all together require small and precise movements of their hands. As they work on it, they learn to control their hand muscles, resulting in the development of fine motor skills! With this, they can do more activities with ease soon! Moreover, you can teach them about Uncle Sam and love of country, or they'll surely be curious enough to ask!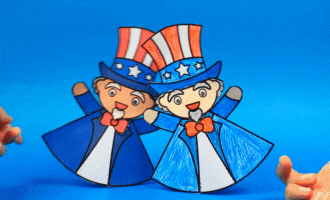 Love this Rocking Uncle Sam Craft? Check out these blog posts for more Fourth of July Craft ideas and activities!
The Rocking Uncle Sam Craft is just one of the many fun activities we share to help busy parents teach their children while having fun! But if you want more hands-on and no prep activities, My Pre-K Box is perfect for your family! We deliver these educational subscription boxes every month right at your doorstep - and it includes everything you need for both bonding and learning!
We want our customers to be happy and satisfied, so we always make sure that My Pre-K Boxes' games and activities are safe and of excellent quality. It is also very kid-friendly, incredibly practical, and reusable! It can be shared with his siblings and friends and can be used repeatedly! We also sell duplicate crafts for only $3.25 per month, so you can get a duplicate for his siblings! If your little one is a fan of our craft, you can also subscribe to our Craft Lovers Upgrade for $4.25 per child, which includes more fun crafts and two more arts and crafts activities.
With all of the exciting and enjoyable activities in My Pre-K Box, your child won't even realize he's learning so much! And as parents, we wouldn't have to bother researching, planning, and creating activities! We can simply assist and watch them while they learn in the comfort of our own home, thanks to My Pre-K Box!

Let's Connect
Did your little one enjoy making the Rocking Uncle Sam Craft? Share with us their adorable photos while crafting! Use the hashtag #myprekbox, or shoot us a message on our social media pages on Facebook and Instagram. While you're at it, don't forget to LIKE and FOLLOW us for updates and more fun activities to do at home with your preschoolers!
Haven't Tried My Pre-K Box Yet?
My Pre-K Box is the best subscription box for

kids 3-5 years of age!

Everything you need to play, create, explore,

learn, laugh, and enjoy!