Hoot! Hoot! 🦉
Look, it's a cute little owl! Want to learn how to make one? If you do, then join us in creating a Flapping Owl Craft today using our Print & Go Flapping Own Craft template. This printable will make it easier for you and your little one to create your own flapping owl, and the result looks quite adorable! Plus, this activity will also help your preschooler practice his fine motor skills to get him ready for Kindergarten!
My Pre-K Box: The number

1

subscription box for preschoolers!
My Pre-K Box is an educational subscription box for preschoolers with different learning activities for math and literacy skills! With fresh new themes each month, your child will delight in all of the fun, play-based learning activities inside! So be sure you're subscribed to My Pre-K Box to receive the best learning activities to do at home with your preschooler! Delivered each month to your front door, My Pre-K Box makes parents' lives super easy, and gets kids excited about learning!
Owls may seem like scary and mysterious creatures due to their nocturnal nature. But with over 150 owl species, some of them can be very cute! And nowadays, people also relate owls as symbols of wisdom (thanks to Harry Potter), which is why many parents love these cute little owls! So we created this Flapping Owl Craft to engage your little ones in crafting to utilize their fine motor skills.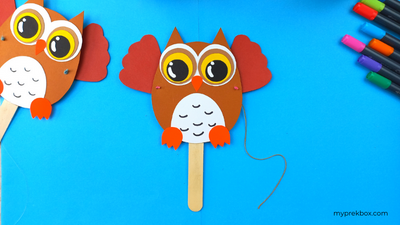 Materials for creating your Flapping Owl Craft:
Steps in making the Flapping Owl Craft:
Step 1 Download and print the Flapping Owl Craft template. Then, cut out the small parts.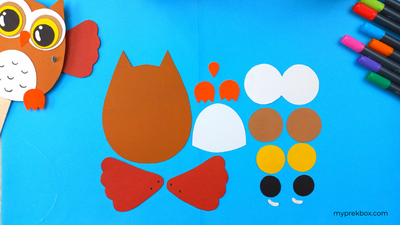 Step 2 Start with the two connected white circles. Glue the two brown circles on top of it, followed by yellow circles, then the black ones. Lastly, add the two small white bean-like shapes on the lower left side of the black circle. Use the correction fluid to add a small dot on top of it. Now the big, wide eyes of the owl are complete!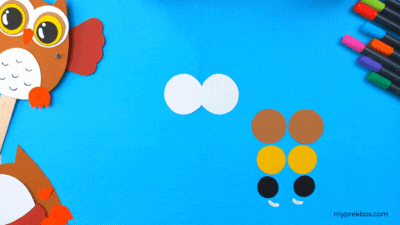 Step 3 Attach the white half-oval shape on top of the brown body of the owl. Then, put the owl eyes you created earlier above it, just right where the eyes should be.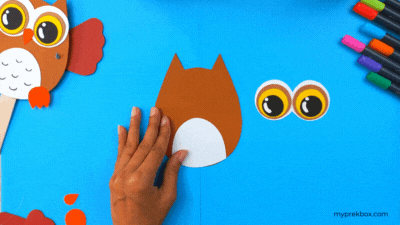 Step 4 Now let's add the beak and feet! Glue the orange triangle in between the eyes, and attach the owl's feet at the bottom.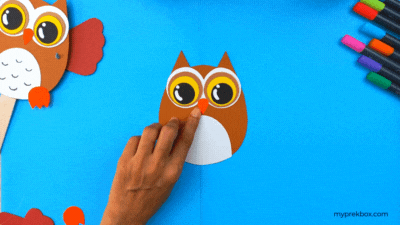 Hoot! Hoot! 🦉

Get your welcome gift here!

Owls live in the forest, and so do hedgehogs! If you need another animal-themed craft, we have the Print & Go Hedgehog Craft for you! Let your little one practice scissor skills while having fun! Learn more about the Hedgehog Craft here, or download it now!
Step 5 Using a marker, draw some curved lines in the white spot on the owl's body. Mark a dot on the left and right side of the owl, just below the eyes.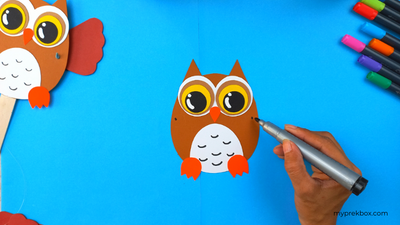 Step 6 Use a paper piercing tool to pierce a hole on the left and right edge where we will attach the wings! Then pierce two holes in the lower corner of the wings too.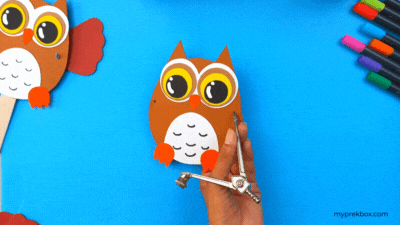 Fun Fact! 🦉

Do you know that owls' eyeballs are actually tube-shaped? It may seem very round, but it cannot move in the socket. But to make up for it, their necks are very flexible that they can turn it 270 degrees!
Step 7 Knot up the yard or string and insert it into the hole on the owl's body. This will keep the yarn in place. Face the owl down to attach the wings to the body. To do this thread the yarn into one of the holes in the wings, then knot it up. Cut the excess thread, then do the same on the other side.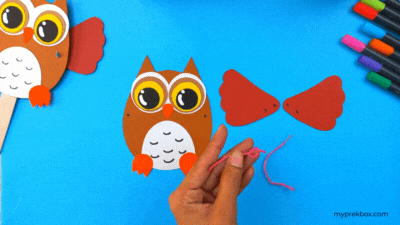 Step 8 Get another piece of yarn about 3 to 5 inches long. Thread it into the other hole in the wings, then knot it up.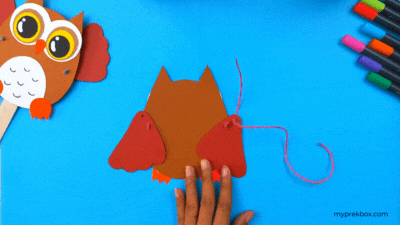 Hoot! Hoot! 🦉

Here's another freebie flying by!

If your little one is enjoying this Flapping Owl Craft, he probably loves animals! Then get him this Pets Preschool Fun Pack while it's FREE! It includes several pet-themed activities for math and literacy development, and kids are engaged in it because of the cute animals in it!
Step 9 Glue the popsicle stick at the back of the owl to serve as the handle.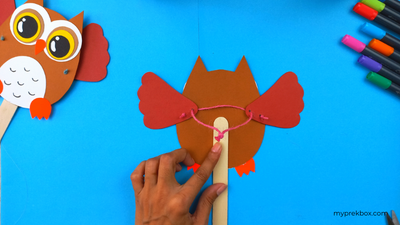 Step 10 Tie a piece of thread at the knotted yarn that connects both wings. So when you pull this thread, the owl will flap its wings!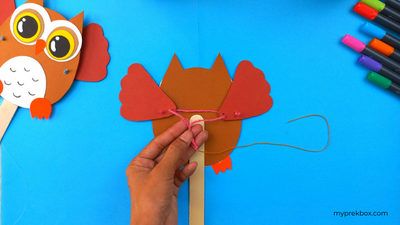 Wow, that was amazing! The owl looks so adorable, and your kids enjoyed the activity for sure. So what are you waiting for? Grab a copy of the Flapping Owl Craft template here!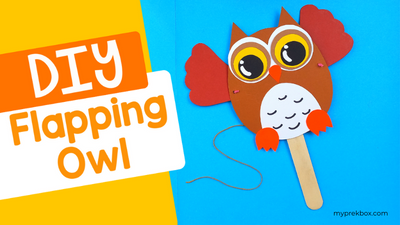 What will your child learn from the Flapping Owl Craft?
The Flapping Owl Craft helps in developing fine motor skills by keeping their hands busy in cutting, threading, gluing, and assembling the craft. Their small hand muscles are strengthened with these activities, helping them have a proper pencil grip in preparation for writing. Also, crafts help in developing their creativity and thinking (just like when they realized how the flapping wings work!). As you work on the Flapping Owl Craft, you can also share some fun facts about owls (like the one we shared above) and talk about it to help them learn something new while assisting their language development.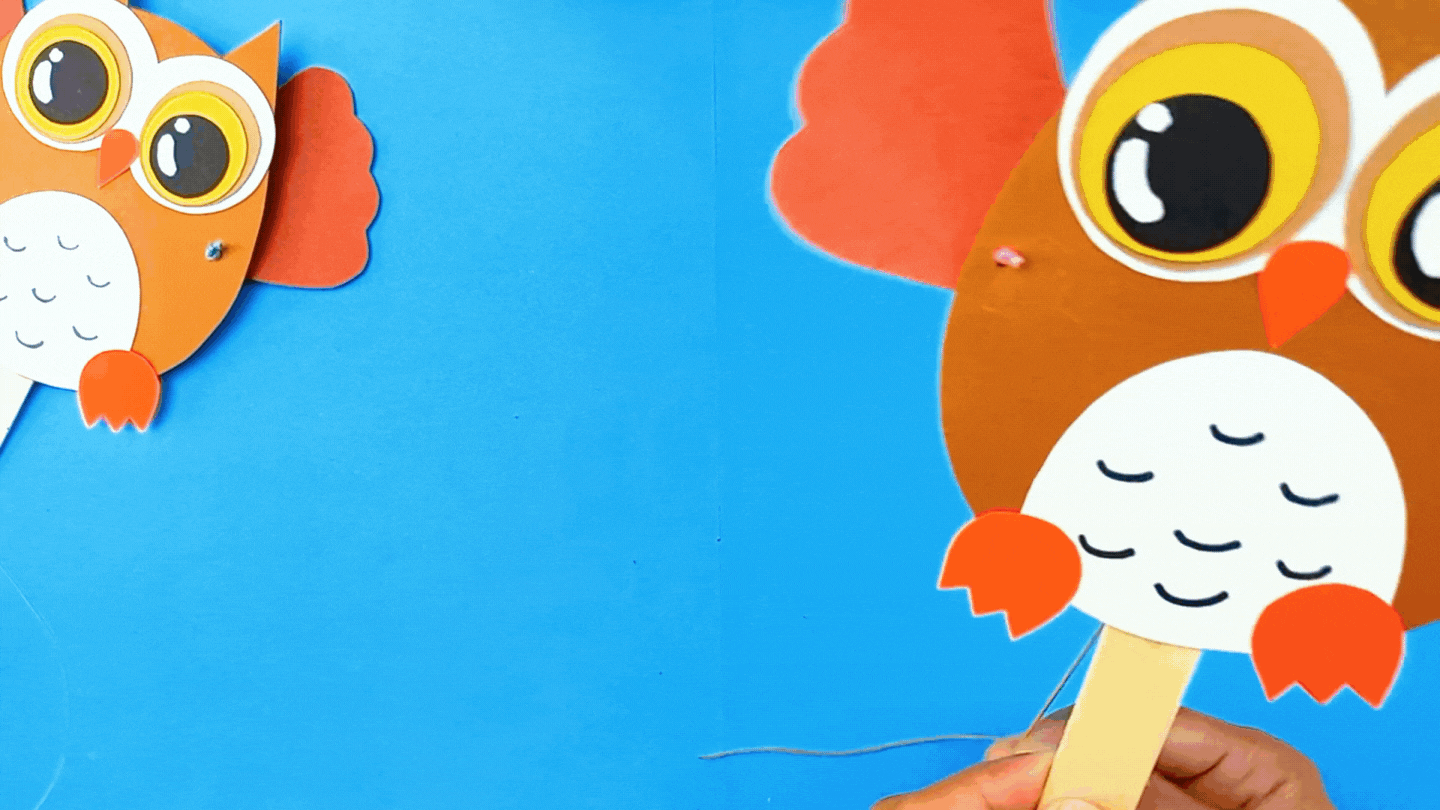 Though the Flapping Owl Craft has a lot to offer and helps in practicing a lot of important Kindergarten skills, this craft alone cannot instantly develop those skills. Your preschoolers need REGULAR PRACTICE to gain them, and the best way is to have MONTHLY play-based activities for them! Don't have time to prepare for so many activities on a regular basis? No worries, that's what we do best and we're here to help you out! Just subscribe to My Pre-K Box - the best subscription box for preschoolers! Our hands-on learning tools are play-based, targeting math and literacy skills. It also includes sensory play, fun thematic crafts, and a grownup guide.
You'll surely love it too because it is very practical and budget-friendly since the games and activities are mostly reusable! So, if your child has siblings, it can be shared and can be used again and again! We also offer duplicates of non-reusable crafts for only $3.25 a month. And those who love our crafts can also subscribe to our Craft Lovers Upgrade for just $4.25 per child.
The fun and exciting activities inside My Pre-K Box will help your child enjoy learning, and you won't have to worry about a thing - it will be all prepped and delivered to your door! No more researching, planning, and cramming to make the activities yourselves! My Pre-K Box will handle it all for you, while you can simply guide and watch them learn in the convenience of our home!

Let's Connect
Love the Flapping Owl Craft? Then be sure to LIKE and FOLLOW our Facebook and Instagram pages to get more exciting activities you can do at home with your preschooler! Learn DIY activities, fun crafts, and art projects, and get free printables! Share with us those adorable photos of your kids doing this Flapping Owl Craft. Use the hashtag #myprekbox or send the pictures on our social media pages!
Want to try My Pre-K Box?
My Pre-K Box is the best subscription box for

kids 3-5 years of age!

Everything you need to play, create, explore,

learn, laugh, and enjoy!