We teach all kinds of love to our kids. Love for family, friends, themselves, and even pets! But how do we teach them the love for our country? This Patriotic Color By Number Worksheets from My Pre-K Box can definitely help you with that! Read on to know what your kids will learn from it, and how to get a free copy!
My Pre-K Box: The ultimate subscription box for preschoolers!
My Pre-K Box takes all the searching, prepping, and stress out of planning preschool activities for your 3-5-year-olds. Each month, we focus on a different set of Kindergarten readiness skills and provide all the materials and instructions you need right in the box. You'll never have to worry about what activity to do next or spend hours looking for ideas online again.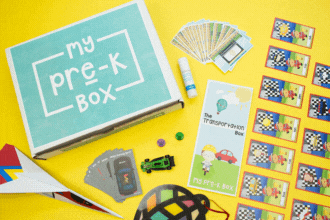 Patriotism is the feeling of love, devotion, and a sense of attachment to our country. In the US, we celebrate this every 4th of July, also known as our Independence Day. And to help kids celebrate and learn about this holiday, I created the Print & Go Patriotic Color By Number! It is filled with color-by-number worksheets that feature patriotic symbols and objects. Now you can teach them how to be patriotic in their little and simple ways!
What's included in the Patriotic Color By Number?

The Patriotic Color By Number pack includes 10 worksheets your little one will surely enjoy coloring! It has the following symbols and images related to being an American patriot:

July 4th Ice Cream

Balloons and Firecrackers

Flower Bouquet

Fourth of July Cupcake

USA Military

Veterans Day memorial

Patriotic Star and Ribbon

Memorial Day Drum

Uncle Sam's Hat

Veteran's Medal
Before we start…

Here's a welcome gift for your little one!

It's summer and there are lots of outdoor activities for your kids. If you want to have some fun indoors for a while, get them this Summer Pom Pom Mats! Your preschooler will enjoy completing the images in the pom pom mats while developing their fine motor skills as they use tweezers or tongs to place the pom poms. Learn more about the Print & Go Summer Pom Pom Mats here, or download it now!
Check out all the 10 worksheets included in the Patriotic Color By Number pack!
1 July 4th Ice Cream
Aside from being America's favorite dessert, did you know that Thomas Jefferson, author of the Declaration of Independence and the third U.S. president, was recognized for one of the first ice cream recipes in the US? No wonder we always have ice cream on the 4th of July!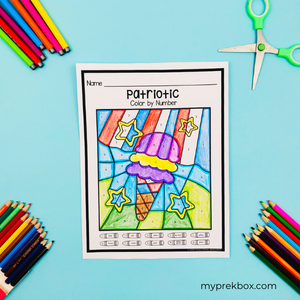 2 Balloons and Firecrackers
Well, it ain't a great Independence Day celebration without balloons and firecrackers! It makes the holiday more festive, and kids love the colorful balloons and fireworks.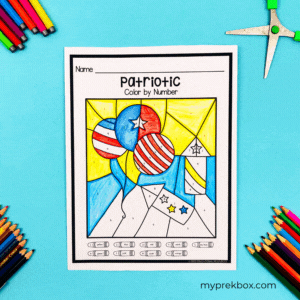 3 Flower Bouquet
Some of us offer flowers to honor and remember our heroes and war veterans on Memorial Day.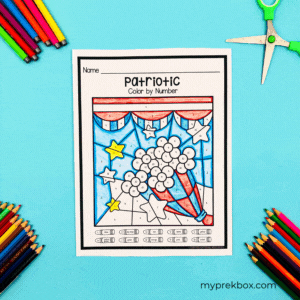 4 Fourth of July Cupcake
Fourth of July cupcakes are also common desserts served at picnics and parties. Some even decorate it with red and blue stripes to resemble our flag!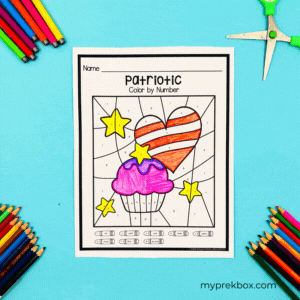 5 USA Military
We are able to keep our independence, peace, and order thanks to our modern heroes - the military.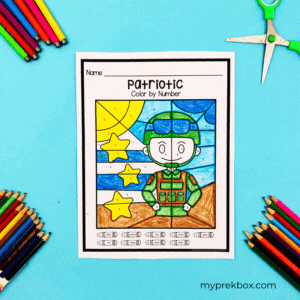 6 Veterans Day memorial
We don't only celebrate our independence, but we also remember and honor the heroic deeds and sacrifices of our veterans.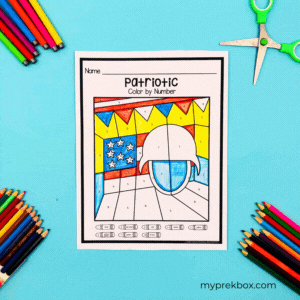 7 Patriotic Star and Ribbon
The stars in our flag represent the different states. This star and ribbon will be colored blue and red, just like our flag!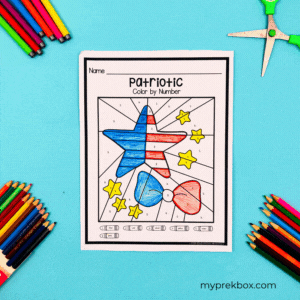 8 Memorial Day Drum
We often see and hear these loud banging drums on 4th of July parades!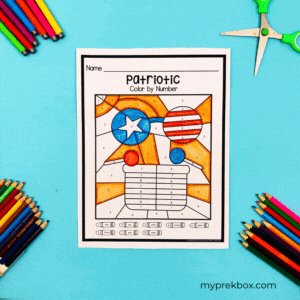 9 Uncle Sam's Hat
Remember who wears this hat? Be sure to introduce your little one to Uncle Sam this Independence Day!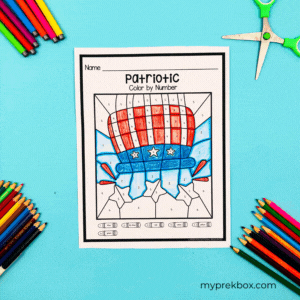 10 Medallion Ribbon
We can also make fun crafts of red and blue colored medallion ribbons just like this one to celebrate Memorial Day!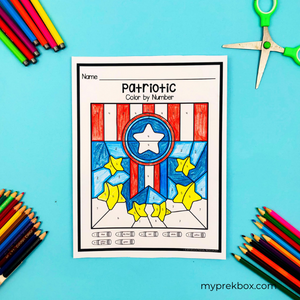 What will your kids learn from using the Patriotic Color By Number pack?
As they go through each image, you can explain how and why these are related to love for our country! This will help them to remember and respect these symbols. Of course, it is still best to see and learn these actions from us as parents and elders. These will all help develop their emotional intelligence and patriotism. Moreover, the Print & Go Patriotic Color By Number help preschoolers practice color and number recognition and improve pencil grip in preparation for writing!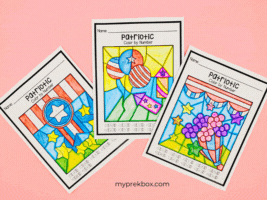 Download Patriotic Color By Number
You might also want to try our DIY 4th of July Confetti Poppers and Fireworks in a Jar to celebrate the holiday! Your kids will surely enjoy some July 4th crafts and experiments.
We hope you and your little one enjoyed the Patriotic Color by Number! This simple worksheet can do wonders for your child's fine motor skills, but My Pre-K Boxes can do more! Not yet familiar with My Pre-K Box? I'll give you a short overview!
My Pre-K Box is an educational subscription box that creates games and activities that target math and literacy skills while developing creativity and fine motor skills through thematic crafts and sensory play.
Many busy families LOVE our subscription boxes because they are kid-friendly, safe, and of excellent quality. It is also incredibly practical because most games in it are reusable! It can be shared with siblings and friends and can be used repeatedly! We also offer duplicate crafts for only $3.25 per month since these are non-reusable. If your little one is a fan of our crafts, you can also subscribe to our Craft Lovers Upgrade to get more fun crafts and two more arts and crafts activities.
The fun and exciting activities inside My Pre-K Box will help your child enjoy learning, and you won't have to worry about a thing - it will be all prepped and delivered to your door! No more researching, planning, and cramming to make the activities yourselves! My Pre-K Box will handle it all for you, while you can simply guide and watch them learn in the convenience of our home!

Share the fun with us!
We would love to see the colorful Patriotic Color by Number outputs of your little one! Tag us on Facebook and Instagram or use the hashtag #myprekbox! While you're at it, LIKE and FOLLOW our social media pages to get more printables and templates, DIY activities, art projects, and fun crafts! See you there!
Curious about My Pre-K Box?
My Pre-K Box is the best subscription box for

kids 3-5 years of age!

Everything you need to play, create, explore,

learn, laugh, and enjoy!