Summer is the warmest, and indeed the liveliest season. You have probably been making plans for a summer getaway with your family, right? Kids have lots of fun at the beach, pools, bike rides, and even on summer camps! And on days you stay home with your kids, you probably want them to learn a few things… while keeping it fun and entertaining! And that's where My Pre-K Box can help you!
My Pre-K Box: The Best Monthly Subscription Box for Kids Aged 3 to 5
My Pre-K Box is an educational subscription box for preschoolers filled with different learning activities for math and literacy skills! Each box is based on a different theme and is focused on play-based learning. Your kids will love exploring new activities each month while practicing kindergarten readiness skills!
Just in time for summer, our Print & Go Summer Pom Pom Mats offers a lot of skills development and learning for your preschooler! Kids will surely enjoy this cool, summer-themed activity, without even knowing that they are developing their fine motor skills! Make sure they enjoy summer while learning useful Kindergarten skills with worksheets and printables from My Pre-K Box!
What does Print & Go Summer Pom Pom Mats include?
This summer-themed collection includes 12 colorful worksheets for your little ones! The worksheets feature

these objects usually seen or used during summer:

Palm tree

Crab

Hat

Clam

Car

Pail

Sun

Sunglasses

Umbrella

Watermelon

Starfish

Beach ball
Materials for Creating Summer Pom Pom Mats:
small tongs

colorful pom poms

glue

pencil

crayons or markers
Check out

ALL

the 12 Worksheets Included in the Print & Go Summer Pom Pom Mats!
1 Palm tree
Palm trees provide cool shade on warm summer days at the beach!
2 Crab
Click! Click! Clack! You will often see this little red crab walking sideways on the beach! Be careful of its pinchers though.
3 Hat
Keep your hat on to protect you from the summer heat!
4 Clam
Has your child seen a clam before? You can share some amazing facts about how clams produce those shiny pearls! It would be a great sight to see for you and your child!
5 Car
Well, how'd you go on a fun, summer ride to the beach without a car! Whether it's just a simple road trip, or a long journey to visit relatives, you'll need a car to get on to your next destination!
6 Pail
Kids love those little toy pails that are commonly included in beach toys used for making sandcastles!
7 Sun
There's only one thing that makes summer hot - that's the blazing sun up there! Do you know that the sun is actually a star? Yes, it is! Tell this to your child and see how amazed he would be!
8 Sunglasses
Protect your eyes and complete your summer outfit with a pair of cool sunglasses!
9 Umbrella
If you can't stand the heat of the sun, you should use an umbrella for some shade!
10 Watermelon
The sweet and thirst-quenching watermelon is one of the best fruits during summer.
11 Starfish
The starfish is one of the cutest sea creatures you can find on the beach. They are not really a kind of fish, and they are also called sea stars.
12 Beach ball
Playing volleyball is one of the best ways to have fun at the beach. Grab on a beach ball and invite friends for a fun game!
Go to the beach this summer with your kids and point out these objects to them! What they learned in these worksheets will be easier to remember when they see the real one on the beach!
What will my child learn with the Summer Pom Pom Mats worksheets?
Aside from the enjoyment, they will benefit a lot from the Summer Pom Pom Mats worksheets!
Fine motor skills
You have probably seen these words many times, but it is indeed one of the most important skills that should be developed in children, as it involves movements and coordination of the small muscles of the body. If these small muscles, particularly in the hands and fingers, are well-developed, kids can do a lot of things with ease! Like writing, feeding themselves, tying their shoelace, brushing their teeth, and a lot more! Now, how do the Summer Pom Pom Mats worksheets help develop fine motor skills? It uses small tongs to pick up and place pom pom balls in the worksheet to complete the pattern. The "pinching" motion when using the tongs, as well as opening and closing it, makes use of the small muscles in the hands. This helps improve their fine motor skills. Read more activities that help develop fine motor skills here.
Color recognition
With repeated practice, kids learn and remember colors! The Summer Pom Pom Mats worksheets are lightly-colored to let preschoolers recognize the color of pom pom balls they should use. As you guide them, you should also say the name of the colors aloud to help them remember it, or ask them the color as they pick a new one.
Pattern recognition
The Print & Go Summer Pom Pom Mats include 12 colorful worksheets with cute, summer-themed patterns! As kids go through each worksheet, they will begin to recognize patterns, repeat them, and complete the picture! They should also be able to recognize the image formed after they complete it.
Tracing, coloring, and counting practice
After completing the pom pom mats, you can ask your child to name the object and if it looks the same as the picture at the bottom. Instruct him to color it. Then, he will have to trace its name and you can spell and read it to him! And lastly, kids can practice counting by counting the colorful pom pom balls and writing the number in the box at the bottom.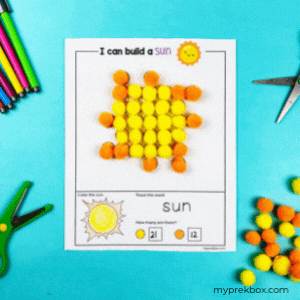 Did your kid have fun with the Summer Pom Pom Mats worksheets? If so, he will surely love the Weather Box - one of our monthly themed educational subscription boxes that we make and deliver to busy families. Each box is filled with hands-on learning tools, several math activities and literacy games, fun thematic crafts, sensory play, and a grownup guide.
It is very easy to use, entertaining, and reusable! If you have more than one child, the games can be shared and can be reused many times! Since the crafts are not reusable, duplicates of the craft are available for his/her siblings for only $3.25 a month! Craft lovers can also get our Craft Lovers Upgrade, which comes with more fun crafts and two additional arts and crafts activities for just $4.25 per child! With all the fun and exciting themed activities inside The Weather Box, your child won't even notice he's learning a lot! And as parents, we wouldn't have to worry about researching, planning, and making the activities! We can just conveniently guide and watch them learn - with the help of My Pre-K Box!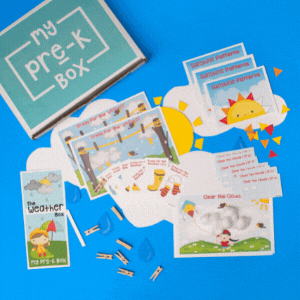 Let's Connect
For more FREE templates, printables, and worksheets for preschoolers, LIKE and FOLLOW us on Facebook and Instagram! Share lovely photos of your little ones enjoying our hands-on activities, and don't forget to use the hashtag #myprekbox!
Haven't Tried My Pre-K Box Yet?
My Pre-K Box is the best subscription box for kids aged 3 to 5!

Everything you need to create, play,

laugh, and learn!