July 4th is just around the corner, and a lot of busy moms are finding easy and fun ways to celebrate this holiday with their kids. If you are looking for a fun craft for the coming Independence Day, check out our DIY 4th of July Confetti Poppers! Whether you will be celebrating with your kids at a parade, at a party, or just a simple barbecue or picnic, these DIY confetti poppers are a nice way to make this holiday more festive! Plus, your kids will enjoy and learn at the same time while crafting!
My Pre-K Box: The ultimate subscription box for kids ages 3 to 5!
My Pre-K Box is a monthly subscription box for preschoolers filled with various educational activities targeting math and literacy skills! Each box is based on a different exciting theme and is focused on play-based learning, which keeps the kids entertained while learning! Your kids will love exploring new learning activities each month while practicing kindergarten readiness skills!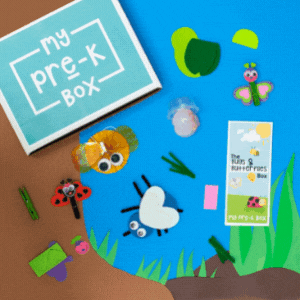 If you're a busy mom and had no time to go shopping for party decors for the celebration, our DIY 4th of July Confetti Poppers are a sure party saver! It is so handy and materials are easy to find around the house. Kids can also have fun while crafting, as this is just as easy as 1-2-3!
Materials for DIY 4th of July Confetti Poppers
toilet paper rolls

balloon (blue)

colored masking tape (blue)

colored paper or glitter sticker paper (blue and red)

bond paper

confetti

glue
Some kids have a hard time remembering lower case letters. If your kid also feels the same, you may want to try our Print & Go Lowercase Letter Craft Pack! It is filled with activities to help them learn lowercase letters, in a fun and enjoyable way!

Get it now for FREE!
Steps in creating your DIY 4th of July Confetti Poppers
Step 1 Get the toilet paper roll and the balloon. Cut a small hole in the top part of the blue balloon, which should at least fit the hole of the toilet paper roll. Next, insert one end of the toilet paper roll into the balloon.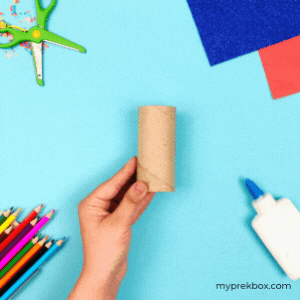 Step 2 Using the blue masking tape, secure the balloon to the toilet paper roll. Wrap it around while holding it together - you can also wrap it around twice to make sure the balloon will not be easily pulled out.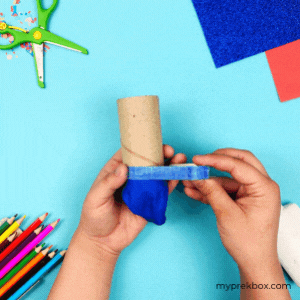 Step 3 Measure and cut a piece of bond paper to fit the toilet paper roll. Glue one end of the white paper to the toilet paper roll, wrap it around, and secure it with glue.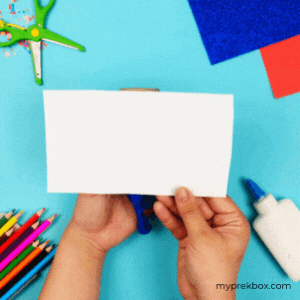 Step 4 Tie the end of the balloon to close it.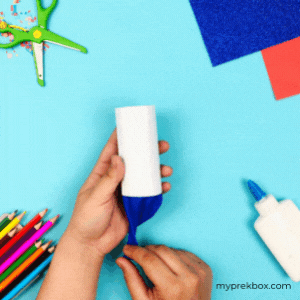 Step 5 Using a red colored paper or a glitter sticker paper, cut a thin strip of paper. Or if you have a red colored masking tape, that will also do! Wrap it around the top part of the toilet paper roll.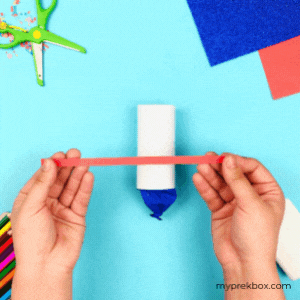 Step 6 Next, cut out small stars on red and blue glitter sticker papers. While you're at it, you can also do some storytelling as to why these stars are on our flag! After cutting out stars, decorate them around the confetti popper!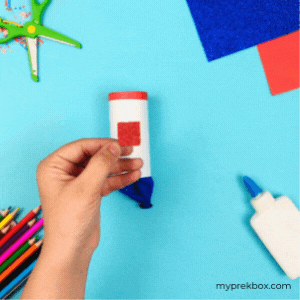 Step 7 Put the confetti inside the DIY confetti popper. There are ready-made confetti sold in stores, or you can just make your own using colored papers and a hole puncher! Carefully pour the confetti inside, filling at least half of the popper. To use it, just pull the tied end of the balloon and let go! The colorful confetti will be flying out in no time, making your celebration as lively and festive as it should be!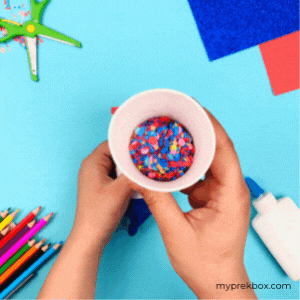 Have fun celebrating our independence with our DIY 4th of July confetti poppers!
You can also use this on other occasions too! Just replace the design to fit the occasion, and you'll have a ready-to-use confetti popper anytime! Hope you had fun crafting with us today!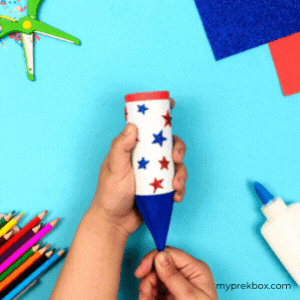 If your little one enjoyed making this DIY 4th of July Confetti Poppers, he surely has a knack for fun and exciting crafts! Why not delight him EVERY MONTH with new surprises from My Pre-K Box?! Our boxes are filled with fun crafts and lots of exciting hands-on activities! Each month features a new theme, which lots of kids look forward to. You can get one by subscribing to My Pre-K Box - the best subscription box for preschoolers! Our hands-on learning tools are play-based, targeting math and literacy skills. It also includes sensory play, fun thematic crafts, and a grownup guide.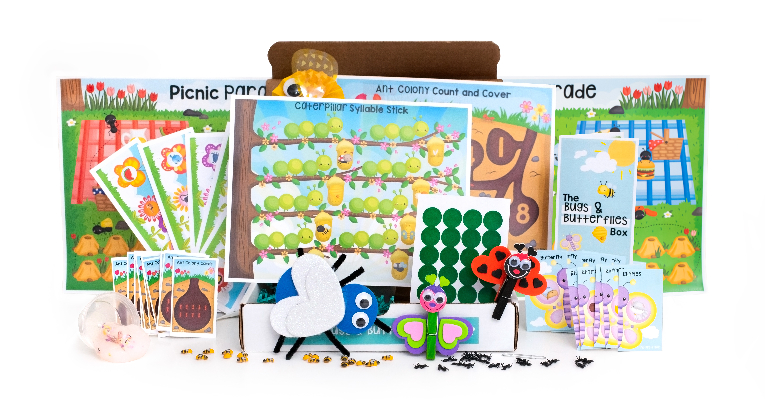 The games and activities in My Pre-K Boxes are made with love and guaranteed to be of top quality. It is also kid-and-adult-friendly, very practical, and reusable! If your child has siblings, it can be shared and can be used again and again! We also offer duplicates of the crafts, since these are mostly not reusable. You can get a duplicate for his/her siblings for only $3.25 a month! Craft lovers can also subscribe to our Craft Lovers Upgrade, which comes with more fun crafts and two additional arts and crafts activities for just $4.25 per child. With all the fun and exciting activities inside My Pre-K Box, your child won't even notice he's learning a lot! And as parents, we wouldn't have to worry about the hassle of researching, planning, and making the activities! We can simply guide and watch them learn in the convenience of our home - with the help of My Pre-K Box!

Let's Connect
What do you think of our DIY 4th of July Confetti Poppers? We hope you enjoyed crafting with us! Share your fun moments on social media using the hashtag #myprekbox! Or shoot us a message on our Facebook and Instagram pages - and don't forget to LIKE and FOLLOW us for updates, more crafts, free worksheets, and lots of fun!
Haven't Tried My Pre-K Box Yet?
My Pre-K Box is the best subscription box for kids

3-5 years of age!

Everything you need to play, create,

explore, learn, laugh, and enjoy!