Summer is HERE!! With summer comes one of our absolute favorite holidays - the Fourth of July! Carnivals, cookouts, and fireworks are often fun ways to celebrate. As we talk about all the time here at My Pre-K Box, what better way to learn than through play? Today we are sharing a great way to incorporate science and play by creating fireworks in a jar. This simple summer science activity uses a few kitchen supplies that you probably already have on hand!
My Pre-K Box: The Best Educational Subscription Box for Preschoolers
Not yet familiar with My Pre-K Box? My Pre-K Box is an educational subscription box for preschoolers aged 3-5! We deliver the most fun play-based preschool learning available! Each new thematic box is brimming with preschool activities to delight your child (and secretly teach them essential math and literacy activities for kindergarten readiness!)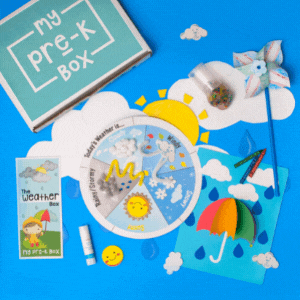 The Importance of STEM-Based Activities
STEM has become such a buzzword recently that we wanted to break down what it actually means and why these types of activities are important for your preschooler (or a child of any age really!) STEM stands for science, technology, engineering, and mathematics. These types of activities build crucial skills and aid in developmental milestones. One of the most important parts of STEM-based activities is they provide "hands-on, minds-on" lessons, meaning instead of just reading about how things work or why things are the way they are, your child is able to explore and learn about these things through real-life experiments and applications. Critical thinking and creativity are two important skills that are built through STEM-based activities.
Looking for More Summer Preschool Activities?

Check out our FREE camping-themed preschool worksheets! The Camping Preschool Fun Pack is the perfect compliment to your Fireworks in a Jar experiment and teaches your preschooler important skills like:

Letter matching

Size comparisons

Counting

Patterns

Sound matching

Map concepts

...and more!!

Fireworks in a Jar
Do your kids LOVE fireworks? What kid doesn't?! This science experiment brings the magic and excitement of fireworks into your own backyard (or kitchen!) without the noise! Science experiments are a great way for children to ask questions and explore. The question this activity is exploring is: What happens when oil and water mix?
Materials:
Warm water

Liquid food coloring (4 colors)

Vegetable oil

Tablespoon

Large mason jar

Small glass jar or bowl
How to Make Fireworks in a Jar
Step 1 Fill a large mason jar 3/4 way full with warm water.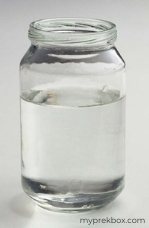 Step 2 In a small glass bowl, add 4 tablespoons of vegetable oil and 4 drops of each color food coloring.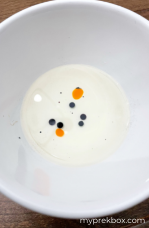 Step 3 Use a spoon or fork to slowly mix around the drops of food coloring to break them up into tinier droplets.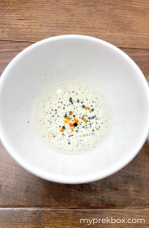 Step 4 Slowly and carefully pour the food coloring and oil mixture on top of the water.
Wait up...

Here's another freebie!

Get this Print & Go Sumer Pom Pom Mats for FREE today! This is a fun summer activity that will help your little ones develop their fine motor skills. It includes 12 summer-themed images that your preschooler can complete to practice their little hand muscles, in preparation for writing! Read more about the Summer Pom Pom Mats here, and grab a copy now!
Step 5 Watch the jar to see what happens.
Step 6 Discuss what is going on in the jar!! (Read on to find out why water and oil don't mix!)
Do Oil and Water Mix?
As you saw in this experiment, oil and water don't mix! Why? Liquid density! Liquids can have different weights, or densities, because of their molecular structure. Water is made up of a different amount of molecules and is heavier than oil, causing it to sink.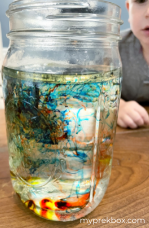 The food coloring dissolves in the water but not the oil. This is how the drops and oil remain separated in the container and when you pour the container of oil and colored droplets into the jar of oil, the colored drops begin to sink because they are also heavier than the oil. Once the colored droplets reach the water in the jar, they start to dissolve in the water. This is what makes the fireworks in a jar!
Delight your child EVERY MONTH with My Pre-K Box!
The Fireworks in a Jar experiment is a very exciting activity for preschoolers, and if your preschooler enjoyed it he will be thrilled to receive one of My Pre-K Boxes because it is filled with more hands-on and play-based activities! You'll surely love it too because these activities target math and literacy skills. Designed by an educator and mom, you'll never go wrong with My Pre-K Box when it comes to preschool learning!
The box also includes sensory play, fun thematic crafts, and a grownup guide to help you in guiding your little one! Plus, it is very practical and budget-friendly because the games and activities are mostly reusable! So, if your child has siblings, it can be shared and can be used again and again! We also offer duplicates of the non-reusable crafts for only $3.25 a month. And those who love our crafts can also subscribe to our Craft Lovers Upgrade for just $4.25 per child.
Be sure you're subscribed to My Pre-K Box to receive the best learning activities to do at home with your preschooler! Delivered each month to your front door, My Pre-K Box makes parents' lives super easy, and gets kids excited about learning!

Let's Connect
We just live to see your preschoolers learning through play! Won't you please take photos and videos of this delightful preschool science experiment and share your photos of Fireworks in a Jar with us on Facebook and Instagram?! Use the hashtag #myprekbox and while you're at it be sure to LIKE and FOLLOW us for more exciting science experiments, fun crafts, DIY art projects, and lots of fun activities to do at home with your little one! See you there!
Haven't yet tried My Pre-K Box?
My Pre-K Box is the best monthly subscription box

for kids ages 3-5.

Everything you need to create, play,

laugh, and learn!