Brrr… it's so cold! It would be so nice to have a cup of hot cocoa, right? Its warmth and aroma save us from freezing on cold winter days! Kids love its sweet taste too, especially with marshmallows on top! And if your little ones can't get enough of this sweet treat, maybe our no-prep learning kit could help! The Hot Cocoa Box is a new addition to our themed subscription boxes, and it will surely satisfy your little ones craving… for sweet, fun-filled learning!
My Pre-K Box: The ultimate subscription box for preschoolers!
My Pre-K Box is an educational subscription box for preschoolers filled with different learning activities for math and literacy skills! Each box is based on a different theme and is focused on play-based learning. Your kids will love exploring new activities each month while practicing kindergarten readiness skills!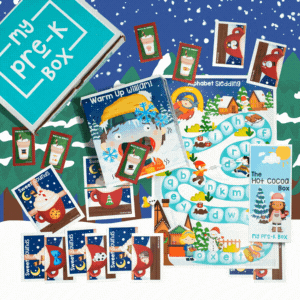 If you have subscribed to My Pre-K Box, you are probably excited to receive The Hot Cocoa Box, a new addition to our themed educational subscription boxes! And if you haven't, we'll show you what's inside, and what's in it for your kiddos! Come and join us, as we dig in The Hot Cocoa Box!
What's Inside The Hot Cocoa Box?
The Hot Cocoa Box includes 2 math games, 3 literacy activities, sensory play toys, and crafts! And you can get more if you subscribe to our Craft Lovers Upgrade! Let's see what's inside!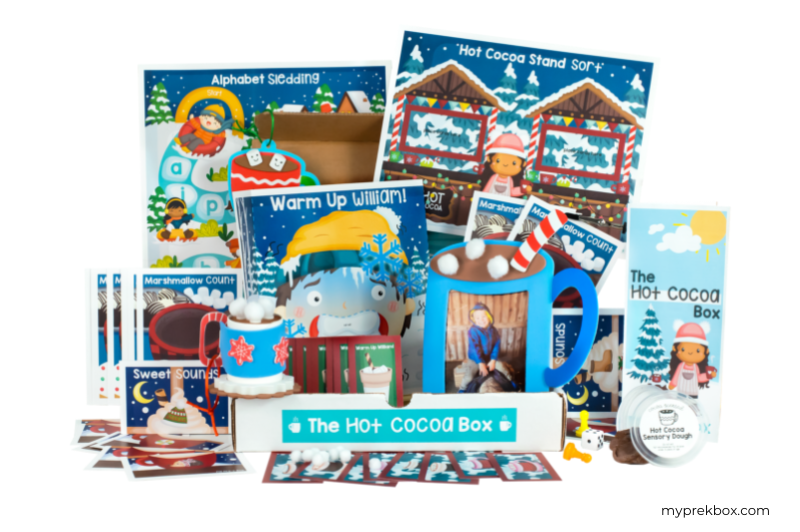 Activities for Learning Math
1 Marshmallow Count
Materials: Materials: Marshmallow Count cards, pom pom "marshmallows"
Game mechanics: Start the game by randomly selecting a card. Ask your preschooler to name the number pictured on the cookie. Then, count that many pom pom "marshmallows" to add to the hot cocoa! Put one marshmallow down as you say each number to help them practice counting. When you are done, count the total number of marshmallows.
About the game: Practice counting as you help fill the hot cocoa orders with the correct number of marshmallows! As your preschooler, put one marshmallow down as you say each number, you are not only helping them practice counting but it helps them visually relate each object to the numbers you say. And you can add a twist to it by using small tongs to place the pom pom "marshmallows" in the hot cocoa to develop your little ones' fine motor movements!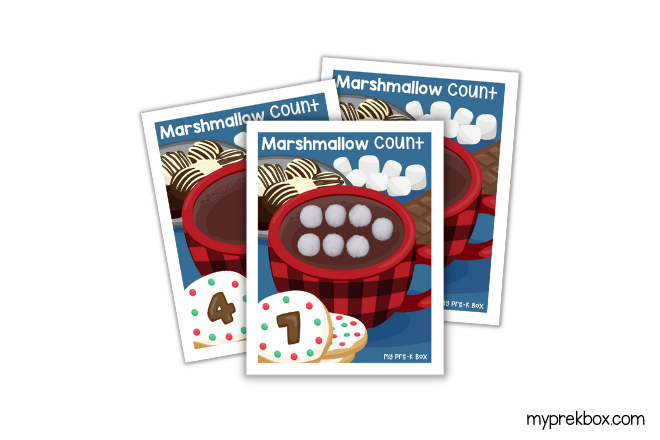 2 Hot Cocoa Stand Sort
Materials: Hot Cocoa Stand Sort game mat, Hot Cocoa Stand Sort cards
Game mechanics: This sorting game can be played in different ways! One way is by allowing your kids to sort them into two groups, then ask why they sorted the cards that way. Another option is by giving the specific characteristic and have them sort it themselves! Lastly, parents or adults can sort the cards themselves, and let the kids determine the sorting methods used!
About the game: The Hot Cocoa Stand Sort is a fun way to develop your child's thinking. Sorting is a mathematical skill that can be developed as early as preschool and Kindergarten. They also become more observant of the different characteristics of objects (like the cards presented to them). This will help them in being observant of their surroundings.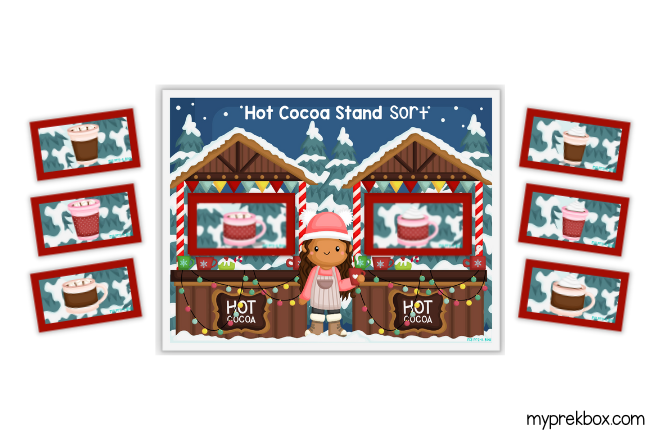 Brrrr…. It's snowy and soooo cold!

To keep kids busy indoors in this freezing weather, why not get them a copy of snow-themed worksheets? They'll surely love it and it will help them learn new skills that will be useful in Kindergarten! The FREE Snow Preschool Fun Pack includes 8 snow-and-winter-themed activities for your preschoolers:

Snowglobe Counting

Grouping Objects

Count and Compare

Snowy Letter Match

I Snow Beginning Sounds

Matching Snowmen

Snow gear Sorting

Winter Patterns
Literacy Activities
1 Warm Up William!
Materials: Warm Up William! game mat, Warm Up William! cards, scissors
Game mechanics: William has been outdoors playing in the snow, but he is now cold! Feed the rhyming hot chocolate card to William to keep him warm! To start, use the scissor to cut out his mouth (so your kids can "feed" him the cards). Keep the game mat in a standing position by folding the flaps on each side. Then, ask them to help William feel warm by giving him some hot cocoa with a word that rhymes with, for instance, log

. They should then find the card that shows a

dog

(it rhymes with the word log). There is a list of words and answers in the Grownup Guide too! If your child cannot answer it yet, you can guide them by putting emphasis on the ending sounds.

About the game: The Warm Up William game is a fun game to help kids learn rhyming sounds and words. Recognizing rhyming words is a fundamental level of phonemic awareness. Rhyming activities, like the Warm Up William game, require children to listen closely for sounds within words. And as they recognize rhyme, they learn that words are made up of separate parts. This will help in developing their reading and writing skills.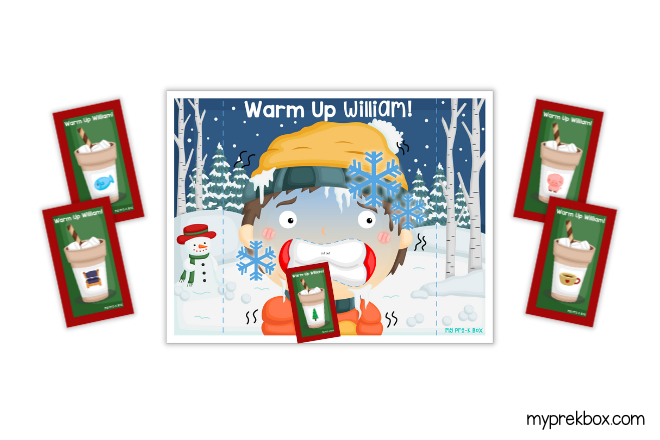 2 Sweet Sounds
Materials: Sweet Sounds cards
Game mechanics: Start by shuffling the cards. Separate the cards with the mug and the cards with the whipped cream. Then, choose a mug card and ask your preschooler to name the word pictured on the mug. Isolate the word's beginning sound, like sssssnowman starts with the /s/ sound. Next, ask him to find the matching whipped cream card with the same beginning sound. After choosing a card, name it again and compare the beginning sound (like sssssled also starts with the /s/ sound). If it is correct, ask him to put the whipped cream card on top of the mug card to complete the sweet treat! Continue with the same process with the rest of the cards.
About the game: The Sweet Sounds game helps preschoolers practice recognition of beginning sounds. It is an important part of sound discrimination that helps children to pay attention to the sounds they hear. It assists in further learning of letter sounds too.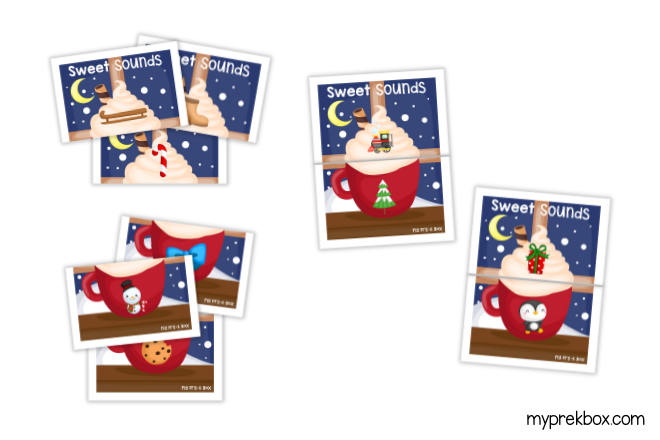 3 Alphabet Sledding
Materials: Alphabet Sledding game mat, 2 playing pieces, 1 die
Game mechanics: Sled down to the house to have some hot cocoa! To begin the game, place your playing piece on the start, which is on the upper part of the game mat. On your turn, roll the die. Move your playing piece according to the number rolled. If it lands on a letter space, ask your preschooler to name the letter or name the sound the letter makes! If it lands on one of the pictured spaces, move ahead or back as indicated on the key. The first player to reach the final spot on the game mat wins!
About the game: The Alphabet Sledding game is an exciting race for learning and mastering the alphabet and its sounds. This is best for our little ones who are just beginning to recognize letters and are in the process of learning sounds. As they repeatedly play it, it will be easier for them to remember and discern each letter as well as the difference between the sounds of each letter.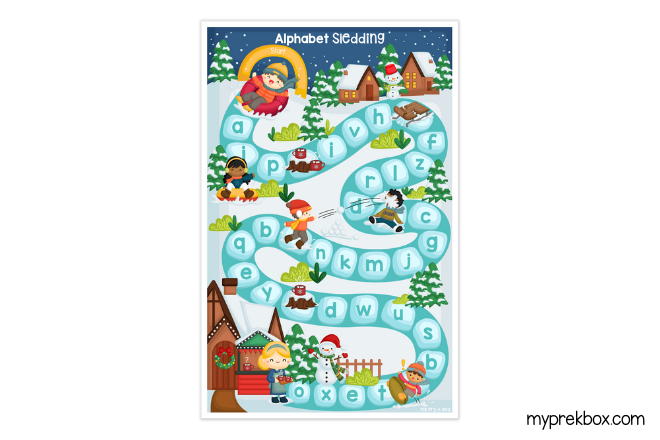 Need some Christmas Crafts? Check out our Christmas Craft Pack!

This FREE Print & Go Christmas Craft Pack will have your preschooler practicing fine motor skills as they cut, color, and paste together adorable Christmas characters! Simply print and you will have a whole afternoon of crafting ready to go!

Included in the FREE Christmas Craft Pack:

Build an Elf

Build a Reindeer

Build a Snowman

Build a Santa

Decorate a Christmas Tree

Decorate a Wreath
Sensory play and crafts
1 Hot Cocoa Sensory Dough
Enjoy a cozy day indoors playing with our shimmering hot cocoa-scented play dough topped with a fake chocolate chip! And though it is not edible, playing with this yummy-looking dough makes use of their different senses, which helps in their brain development and builds creativity.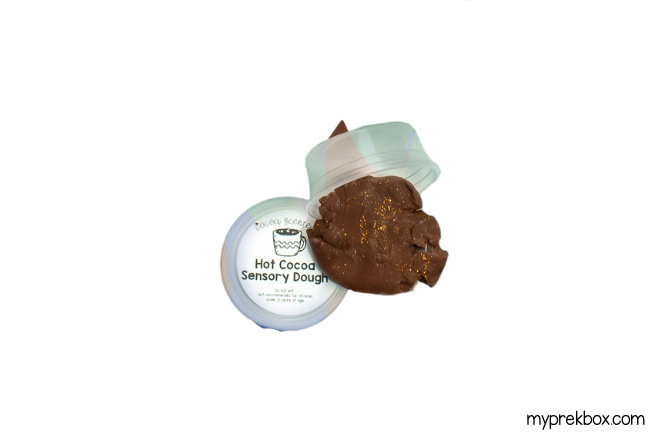 2 Hot Cocoa Picture Frame Magnet Craft Kit
This adorable hot cocoa-themed magnet craft can be a great kid-made gift! After assembling the craft, just add your child's photo to it. It can be a great personalized gift or you can also display it on your fridge. Crafts like this can help in their developing creativity and fine motor skills!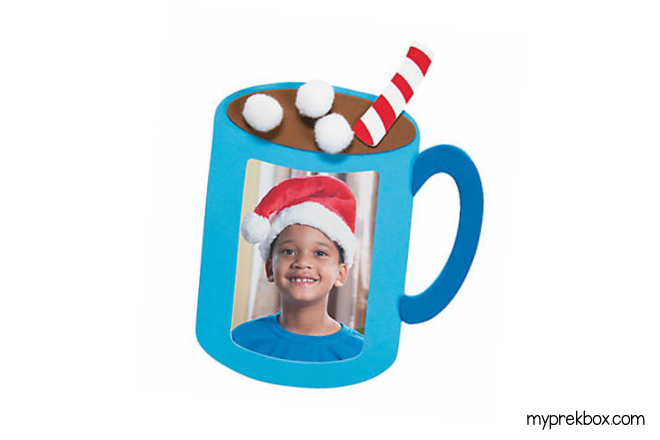 Craft Lovers Upgrade
If you can't get enough of crafts, here's more! You can get this by subscribing to our Craft Lovers Ugrade.
1 Cute Hot Cocoa Ornament Craft Kit
Create more memories as you create this Cute Hot Cocoa Ornament Craft Kit! Hang it on your Christmas Tree to make it more adorable!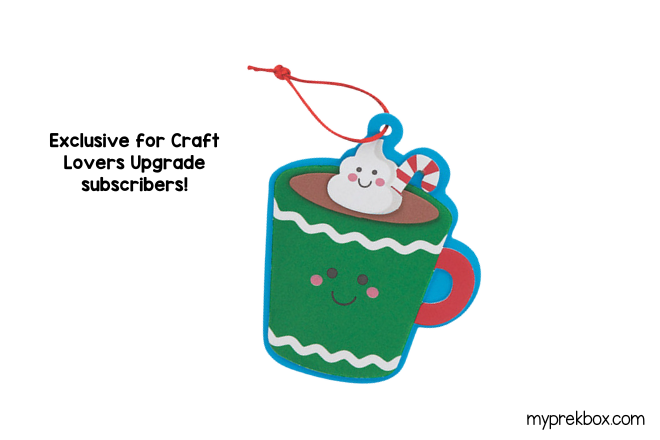 2 Hot Cocoa Cup Ornament Craft Kit
Little ones can practice cutting and assembling with the Hot Cocoa Cup Ornament Craft Kit! They'll surely be proud of their work, and you can add it to your Christmas displays.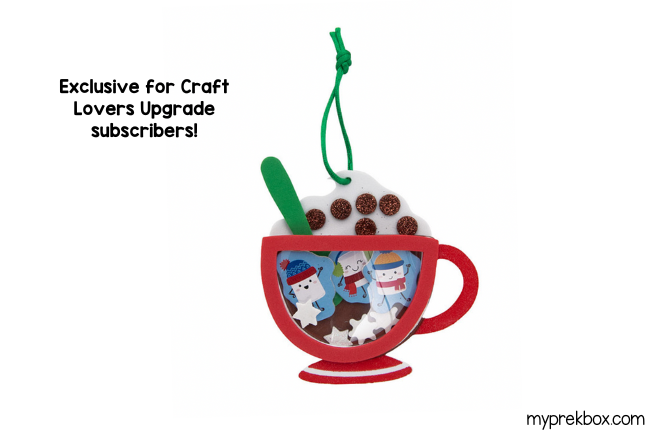 Grownup Guide
Still not sure how to use this learning kit? No worries, each box includes a friendly Grownup Guide! It will help you to effectively teach your preschooler while playing. The Grownup Guide includes pictures and step-by-step guide, and even some examples for explaining the game to kids.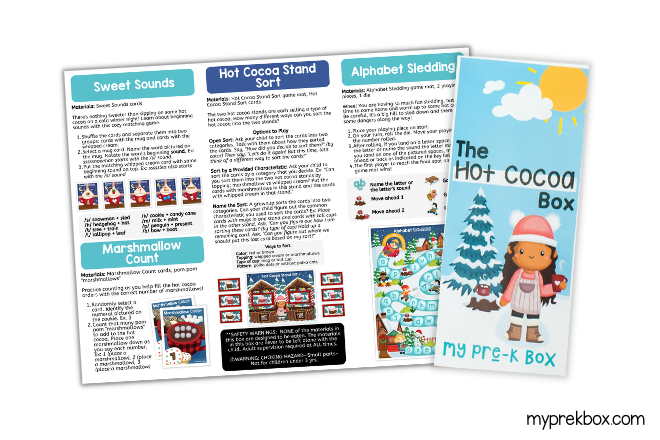 And that's it! We've shown you everything that's inside The Hot Cocoa Box. If you loved it, your kids will surely be thrilled to receive one! So surprise them by subscribing to My Pre-K Box now, and just wait for its delivery!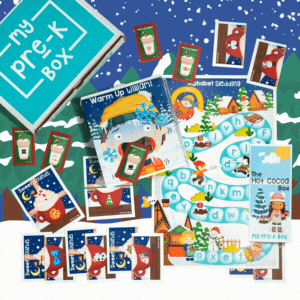 Did you enjoy your tour inside The Hot Cocoa Box? The games and activities are really cute and educational, kids wouldn't be able to resist playing with them! If you aren't subscribed to My Pre-K Box and would like to know more about other themes and activities in My Pre-K Boxes, check out some of our featured blog posts!
Why Choose My Pre-K Box?
1 Activities are play-based and learner-centered
Every single activity is well-thought and child-friendly, and ensures learning while having fun!
2 Easy and effortless
If you would be the one to research and prepare the crafts yourself, it would be too tiring and time-consuming. But if you subscribe to My Pre-K Box, it will be delivered to your door every month, hassle-free and easy right? You can have more time for fun and quality family time!
3 Affordable prices
The monthly subscription plan costs $37.95 each month. Or you can save more by committing to a 6-month term ($32.95/month) or a 12-month term ($30.95/month). We also have regular promos and discounts! Check out our current promos here, or choose your plan now!
4 High-quality materials
All the contents of the box are carefully selected and are of top quality to ensure the safety of your kids! Most are also reusable, so your child can play it over and over again!
5 Great customer service
100% Happiness Guaranteed! We make sure to give you unparalleled customer satisfaction. If you have a problem, we will solve it. Because as you support our family business, we also treat you like family.
So, what are you waiting for? Subscribe now and start making learning fun for your kids!

Let's Connect
Your feedback matters! Got any comments, questions, or suggestions? Shoot us a message at hello@myprekbox.com or on our social media pages on Facebook and Instagram. While you're at it, give us a LIKE and FOLLOW us too! Share lovely photos of your kids while they enjoy The Hot Cocoa Box, and we might feature them on our website and social media pages. See you there!
Haven't Tried My Pre-K Box Yet?
My Pre-K Box is the best subscription box for

kids 3-5 years of age!

Everything you need to play, create, explore,

learn, laugh, and enjoy!