Mother, Father, I am sick! 🚑
Call the doctor very quick! 👨‍⚕️
This popular rhyme is commonly heard when kids pretend to play as doctors. When you ask a bunch of kids what they want to be when they grow up, for sure there would be someone (or most of them!) who would say they want to be a nurse or a doctor. It is indeed a noble and highly-admired profession, and if your child is also an aspiring little doctor, this box is perfect for him! Let's do a quick check-up… on the contents of The Doctor Box!
My Pre-K Box: The ultimate subscription box for preschoolers!
My Pre-K Box is an educational subscription box for preschoolers aged 3-5! We deliver the most fun play-based preschool learning available! Each box has its own unique theme and is filled with different learning activities to target math and literacy skills. Your kids will have fun exploring the new activities, and you will delight in the fact you are helping them with essential Kindergarten readiness skills!
The Doctor Box is the newest addition to our series of themed boxes that we deliver every month. And because kids admire doctors, they will definitely enjoy all the doctor-themed activities inside The Doctor Box! So let's go and explore the games and activities inside, and see what your preschoolers will learn from it.
What's Inside The Doctor Box?
The Doctor Box includes 2 math games, 3 literacy activities, a toy for sensory play, an art kit for crafts, and a Grownup Guide! Perfect for little doctors, this box has everything you need for math, literacy, and fine motor development. Now let's see what's inside The Doctor Box!
Activities for Learning Math
1 Who is Taller?
Materials:

Who is Taller?

game mat, window cards, counting cubes

Game mechanics: Shuffle the window cards and arrange them on a table upside down. Then, select a card and place it on the window above the boy. Read the number shown on the card. This number indicates the height of the boy. Place the corresponding number of counting cubes on the boy's stadiometer pictured on the game mat. Repeat steps 2-4 for the girl. Look at the height of the counting cubes to determine which child is taller!

About the game:

Who is Taller?

game helps preschoolers practice counting and understand non-standard measurements and estimates. This will further help them learn more complex math skills in Kindergarten.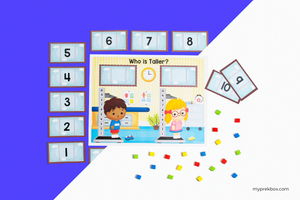 2 Bandage the Boo-Boos
Materials:

Bandage the Boo-Boos

game mat,

Bandage the Boo-Boos

cards, bandages

Game mechanics: Select a card to know which wound needs to be covered. Name the shape pictured on the card, then find the matching shape on your patient. Cover it with a bandage, then continue selecting cards until all of the wounds and scrapes (shapes) have been taken care of!

About the game: Our

Bandage the Boo-Boos

game is for the development of shape recognition skills in little children. This game can also make them feel more like a "doctor" as they "treat wounds" (shapes) using real bandages!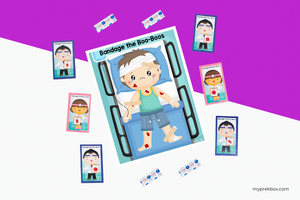 Literacy Activities
1 Race to the Hospital
Materials:

Race to the Hospital

game mat, die, 2 playing pieces

Game mechanics: In this game, the ambulance is taking a patient from their home to the hospital. Race your opponent through town to be the first player to reach the hospital! To start, place your playing piece on the start. Roll the die and move your playing piece according to the number rolled. If you land on a

letter space

, name the letter and/or the letter sound pictured on the space you landed. If you answer correctly, move ahead to one space and stay there. But if you land on a

Go Back 1 space

or a

Go Back 2 space

, move back according to the number of spaces you rolled and stay there. If you land on the

crosswalk shortcut

, follow the arrow pictured on the game mat to move ahead. If you land in the

One Way space

, stay there. Players should continue moving around the endless traffic circle until they land on the

Exit space.

The first player to arrive at the hospital and exactly reach the last space on the game mat wins the game!

About the game: The

Race to the Hospital

game is quite a challenging but very interesting game! This helps preschoolers practice letter and sound recognition through an engaging game. It is also a good game to train kids in following instructions which can improve their thinking too!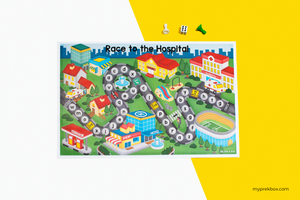 2 Say, "Aahh!"
Materials:

Say, "Aahh!"

game mat,

Say "Aahh!"

cards, rhyming pictures strip, scissors

Game mechanics: In this game, you are a doctor checking your patient's temperature. Put the correct thermometer in her mouth by finding the thermometer that rhymes with the word on her shirt! Say the word pictured on the girl's shirt, then place the thermometer with the corresponding rhyming word in her mouth. Slide the strip on her shirt to display the next rhyming picture and repeat the previous steps.

About the game: This game helps preschoolers develop phonological awareness by identifying rhyming sounds and words. You can extend this game by creating more cards with rhyming words! Or ask your kid to find objects around the house that rhyme.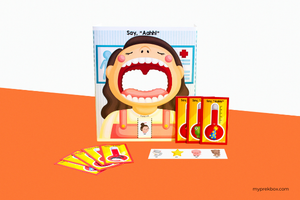 3 Which Doctor's Bag?
Materials:

Which Doctor's Bag?

game mat,

Which Doctor's Bag

cards, doctor bag cutouts, glue stick

Game mechanics: Help the doctors get their bags ready for the day! To start, fold each of the doctor bag cutouts in half and glue them to the game mat. Next, select a card then name the word on the card.

Help your child segment the word into syllables by clapping as you say each syllable. Let your child repeat. You can raise a finger each time your child claps. Ask him to identify how many syllables are in the word based on how many fingers you have raised. Help him place the card inside the corresponding doctor's bag based on the number of syllables in the word.

About the game: Learning how to segment words into syllables is also an important pre-reading skill for kids. This will make reading easier for them soon! You can also add more cards using words they are fond of, to make learning more interesting for them!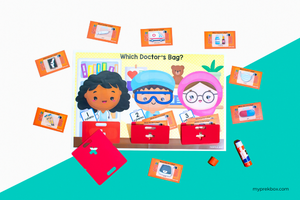 Want more freebies? We heard you, so…

Here's another free printable!

Vets are doctors for our pets. And since you are enjoying The Doctor Box, you might as well grab a copy of our Print & Go Vet Dramatic Play! It includes a printable checklist that your preschooler can use as they play pretend as vets! How cute!
Sensory play and crafts
1 Brain-Shaped Splat Ball
This squishy brain-shaped splat ball will help reduce stress. Just toss it and watch it splat...then watch it regain its shape!
2 X-Ray Process Art Kit
This X-Ray Process Art Kit contains all the materials you need for your kid-made X-ray! Using cotton buds to represent the bones, let your little one explore his creativity!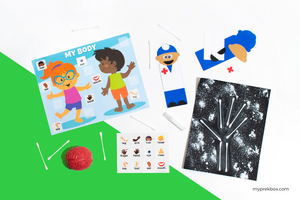 Craft Lovers Upgrade
1 Doctor Bookmark Craft Kit
Create a cute doctor bookmark using this craft kit from the Craft Lovers Upgrade!
2 My Body Sticker Scene
This My Body Sticker Scene will help your little one practice identifying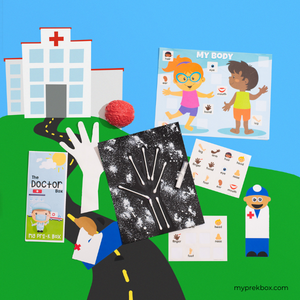 Get these two additional crafts when you subscribe to our Craft Lovers Upgrade, for only $4.25 per child! You can also get duplicates of the craft for your child's siblings so they enjoy crafting together!
Grownup Guide
Aside from this blog post that explains the contents of the box, we also have a Grownup Guide included in every box to make it easier and more convenient for you! It is fairly simple and easy to understand and even explains all the activities! It also shows examples and clear instructions on how to play them to help your child be successful based on their level!
Surprise your preschooler with My Pre-K Box today… and every month forward!
See how jam-packed our subscription box is?! So many activities and learnings from such a small box! Kids enjoy and learn a lot from these activities, which is why many parents love our subscription boxes. You'll never have to worry about what activity to do next nor spend hours online looking for ideas again!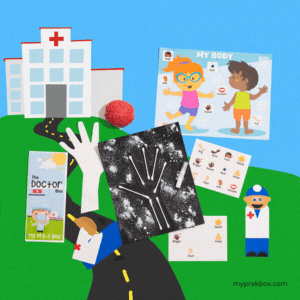 Did you enjoy your tour inside The Doctor Box? The games and activities are really cute and educational, kids wouldn't be able to resist playing with them! If you aren't subscribed to My Pre-K Box and would like to know more about other My Pre-K Boxes, check out some of our featured blog posts!
Why Choose My Pre-K Box?
1 Activities are play-based and learner-centered
Every single activity is well-thought and child-friendly, and ensures learning while having fun!
2 Easy and effortless
If you would be the one to research and prepare the crafts yourself, it would be too tiring and time-consuming. But if you subscribe to My Pre-K Box, it will be delivered to your door every month, hassle-free and easy right? You can have more time for fun and quality family time!
3 Affordable prices
The monthly subscription plan costs $37.95 each month. Or you can save more by committing to a 6-month term ($32.95/month) or a 12-month term ($30.95/month). We also have regular promos and discounts! Check out our current promos here, or choose your plan now!
4 High-quality materials
All the contents of the box are carefully selected and are of top quality to ensure the safety of your kids! Most are also reusable, so your child can play it over and over again!
5 Great customer service
100% Happiness Guaranteed! We make sure to give you unparalleled customer satisfaction. If you have a problem, we will solve it. Because as you support our family business, we also treat you like family.
So, what are you waiting for? Subscribe now and start making learning fun for your kids!

Let's Connect
Want to learn more about My Pre-K Box? Get the latest updates when you LIKE and FOLLOW our Facebook and Instagram pages. Browse through our blog posts at My Pre-K Box Blog for freebies, DIYs, arts and crafts, and a lot of fun and educational activities you can do at home with your preschooler!
Haven't Tried My Pre-K Box Yet?
My Pre-K Box is the best monthly subscription box

for kids ages 3-5!

Everything you need to create, play,

laugh, and learn!