Creating stained glass artwork using black glue isn't really that complicated. In fact, you can try it with your kids at home using our printable template as a guide! Trust me, they will be learning as much as they enjoy this activity! Check out our Hospital Symbol Stained Glass Artwork in this blog post to get a downloadable template too.
My Pre-K Box: The best subscription box for kids ages 3 to 5!
My Pre-K Box is an educational subscription box for preschoolers filled with different learning activities for math and literacy skills! Each box is based on a different theme and is focused on play-based learning. Your kids will love exploring new activities each month while practicing kindergarten readiness skills!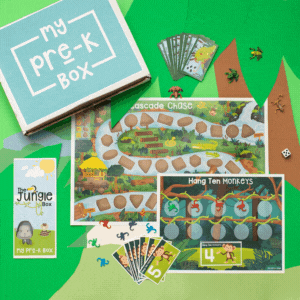 Recognizing different symbols is also something that children must be able to do and learn while they are young. When you are outside, you can teach them by pointing out signs and telling them what these symbols mean. You can also teach them at home using worksheets, crafts, and art projects. Just like this one that we are going to share with you today, we are going to create a Hospital Symbol Stained Glass Artwork using black glue. Come on, let's try it out!
Materials for the Hospital Symbol Stained Glass Artwork:
paper

printer

glue

black acrylic paint

acrylic paint or watercolor

paintbrush

colored paper

plastic or acrylic sheet

(optional)
Before we start…

Here is a welcome gift for your preschooler!

It's the fall and harvest season, and if you're looking for fall-themed worksheets that can help you introduce math and literacy to your kids, check out our Fall Harvest Preschool Fun Pack! It includes:

Autumn Count and Compare

Pre-Writing Harvest

Pumpkin Shapes

Tractor Pull Letter Match

Fruit and Veggie Sort

Fall Harvest Beginning Letters

Fall Decorations Count and Color

Leafy Rhymes Clean Up
Procedure in making the Hospital Symbol Stained Glass Artwork:
Step 1 Download and print our Print & Go Hospital Symbol Stained Glass Artwork Template. This will serve as your guide in creating the hospital symbol art project.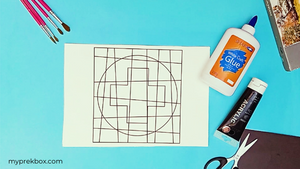 Step 2 Make black glue by combining glue and black acrylic paint! Because the nozzle of this glue bottle helps in tracing the pattern easier, it is best to make the mixture in the bottle. Excess glue can be transferred into another sealed container for future use. There will then be enough room for the black acrylic paint. Squeeze it into the bottle and shake vigorously! Allow the mixture to settle for a few minutes before testing it on a piece of paper.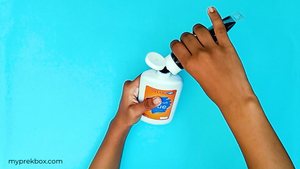 Step 3 Start tracing the lines on the design once the black glue mixture is ready! Adjust the opening of the glue nozzle to achieve the appropriate line thickness. If you have a plastic or acrylic sheet at home, place it over the printed template and trace the black glue on top! This will help you produce a beautiful stained glass look! Simply apply adhesive tape to the edges of the paper and plastic sheet to keep them from slipping. Allow it to dry for a few minutes.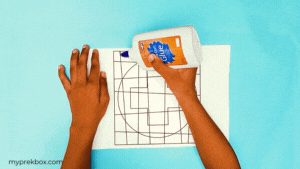 Step 4 Let's make our artwork colorful! Use watercolor on paper or acrylic paint if you used plastic sheets. Use the paintbrush to apply different colors to each area. Start with the background outside the circle. Let your preschooler choose colors!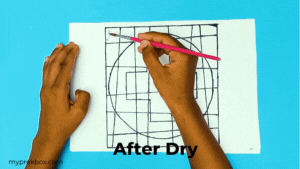 Step 5 For the hospital symbol, I used red for the cross and green for the background. Though you can choose other colors for the background, explain to your child that the cross is usually red for the hospital symbol as it is globally recognized as a symbol for first aid and healthcare.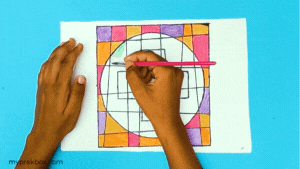 Step 6 When your painting is dry, cut it out and glue it to a thicker colored paper as its base. If you used plastic sheets instead of paper, you can simply cut them, punch a hole in them, and tie them together to make a suncatcher! You can donate it to the school clinic or place them in your first aid cabinet as decor.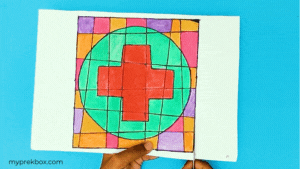 What will your child learn in making the Hospital Symbol Stained Glass Artwork?
This greatly contributes to the development of skills that kids will need in preschool. As kids trace the lines in the template using the black glue, they are also controlling their hand muscles to stay in line. This helps them train and exercise their fine motor skills by strengthening their small hand muscles. Eventually, their creativity is developed as they are exposed to more hands-on activities like this!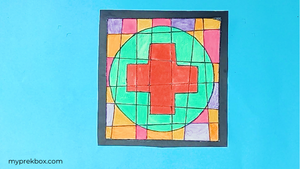 Love the ideas shared here? I bet you do, but you probably find yourself spending more time looking at cute activities rather than actually doing the activities with your preschooler, right? We feel you, that's why we developed no prep learning kits for a busy parent like you! With our educational subscription box, each month we mail your preschooler a learning kit with a fresh new theme! Their box will be full of fun, hands-on, play-based learning that preschoolers LOVE to do! You'll love how fun and easy it is!
And you'll surely love it more because each box is filled with engaging learning tools that target math and literacy skills. It also includes sensory play, fun thematic crafts, and a grownup guide to help you in guiding your little one! Plus, it is very practical and budget-friendly because the games and activities are mostly reusable! So, if your child has siblings, it can be shared and can be used again and again! We also offer duplicates of non-reusable crafts for only $3.25 a month. And those who love our crafts can also subscribe to our Craft Lovers Upgrade for just $4.25 per child.
The fun and exciting activities inside My Pre-K Box will help your child enjoy learning, and you won't have to worry about a thing - it will be all prepped and delivered to your door! No more researching, planning, and cramming to make the activities yourselves! My Pre-K Box will handle it all for you, while you can simply guide and watch them learn in the convenience of our home!

Let's Connect
We are so happy that you joined us in making this Hospital Symbol Stained Glass Artwork! Share photos of your creation on social media, and don't forget to use the hashtag #myprekbox! While you're at it, LIKE and FOLLOW us on Facebook and Instagram to get regular updates about our subscription boxes and for more fun activities you can do at home!
Haven't Tried My Pre-K Box Yet?
My Pre-K Box is the best subscription box for

kids 3-5 years of age!

Everything you need to play, create, explore,

learn, laugh, and enjoy!