Have you tried making stained glass artwork using black glue? If you haven't, you must definitely try it with your kids! It's a very exciting activity for preschoolers that allows them to recognize colors, shapes, and patterns, and practice their fine motor skills. Check out how we created a Fall Leaf Stained Glass Artwork using black glue and a printable template as a guide.
My Pre-K Box: The perfect preschool subscription box for you!
My Pre-K Box takes all the searching, prepping, and stress out of planning preschool activities for your 3-5-year-olds. Each month, we focus on a different set of Kindergarten readiness skills and provide all the materials and instructions you need right in the box. You'll never have to worry about what activity to do next or spend hours looking for ideas online again!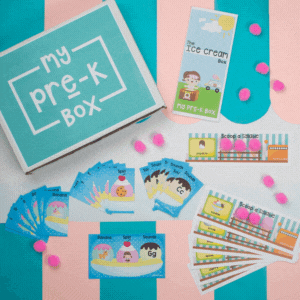 This Fall Leaf Stained Glass Artwork is a perfect activity this fall season, and is a great decor too. If created on a plastic or acrylic sheet, you can also place it in the window as a beautiful suncatcher! Kids will absolutely love to see their artwork displayed in your home. Let's go and try it - it's very easy and fun to do!
Materials for the Fall Leaf Stained Glass Artwork:
paper

printer

glue

black acrylic paint

acrylic paint or watercolor

paintbrush

colored paper

plastic or acrylic sheet

(optional)
Procedure in creating your own Fall Leaf Stained Glass Artwork:
Step 1 Download and print our Print & Go Fall Leaf Stained Glass Artwork template on a piece of paper. This will be your pattern in creating a fall leaf design.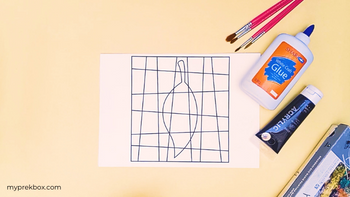 Step 2 Combine the glue and black acrylic paint to create black glue! The nozzle of this glue bottle makes it easier to trace the pattern, so it is better to create the mixture in the bottle. You can pour out the excess glue into another sealed container for future use. After that, there'll be enough space for the black acrylic paint. Squeeze it into the bottle and shake well! Wait for the mixture to settle down for a few minutes, then try it out on a piece of paper first.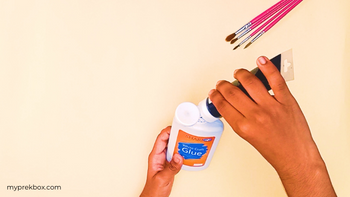 Step 3 Once the black glue mixture is ready, start tracing the lines on the pattern! You may want to adjust the opening of the glue nozzle to your desired line thickness. If you have a plastic or acrylic sheet at home, you can also put it above the printed template and trace the black glue on top of it! This will help you achieve a colorful stained glass effect! Just be sure to place adhesive tapes on the corners of the paper and plastic sheet to prevent them from slipping. Then let it dry for a few minutes.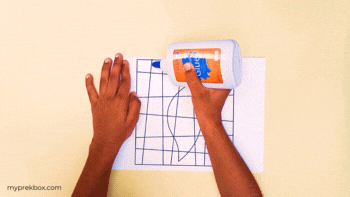 Step 4 Now it's time to add some colors to our artwork! You can use watercolor on paper or acrylic paint if you used plastic sheets. Use the paintbrush to apply different colors to each area. Since this is a Fall Leaf, I chose a red, orange, and pink palette to match the colors of the season. I added some blue-green shades for highlights. You can also let your preschooler choose colors!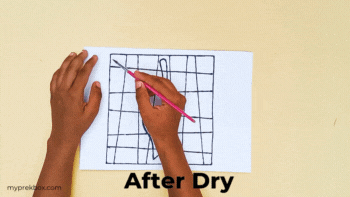 Step 5 Once your painting is dry, you can now cut it out and glue it on thicker colored paper for its base. If you used plastic sheets instead of paper, you can just cut them, punch a hole, and attach a string to it to use as a suncatcher! Whichever way you did it, I bet it looks great! Now you have new home decor, made by you and your little one.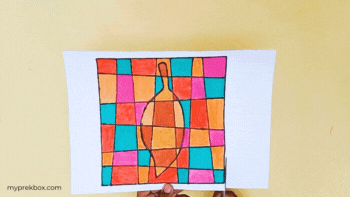 What will your child learn in doing the Fall Leaf Stained Glass Artwork?
As you guide your kids to create the Fall Leaf Stained Glass Artwork, notice that they can practice pattern, shape, and color recognition. Are they able to identify the image of the leaf even before it was colored? Were they able to point out the shapes formed and the colors used? Guiding them with these simple things leads to the development of many skills that they'll need in Kindergarten. As they trace the outlines in the template to put the black glue, they are also being quite careful that they control their hand muscles to stay in the line. This helps strengthen their small hand muscles for fine motor development. Lastly, their creativity gets improved and practiced as they do more activities like this!
Before you go…

Do you want another freebie?

If your answer is yes, you can now have some spooky Halloween fun while learning with our Halloween Preschool Fun Pack! It's almost Halloween anyway, so get this now while it's free! It includes lots of math and literacy activities that your little monsters will surely love.
For more fall-themed activities you can try at home, check out these blog posts too!
This Fall Leaf Stained Glass Artwork is just one of the exciting art projects that we share with our followers and dear customers. But since some of them are busy families, they prefer learning activities with materials all prepped for them. And that's what My Pre-K Box does! We prepare learning kits in form of subscription boxes that contains exciting hands-on activities for preschoolers. Each month, we feature a new theme, which lots of kids look forward to. Our hands-on learning tools are play-based, targeting math and literacy skills. It also includes sensory play, fun thematic crafts, and a grownup guide.
And since we want our customers to be happy and satisfied, we always make sure that My Pre-K Boxes' games and activities are safe and of excellent quality. It is also very kid-friendly, incredibly practical, and reusable! It can be shared with his siblings and friends and can be used repeatedly! We also sell duplicate crafts for only $3.25 per month, so you can get a duplicate for his siblings! If your little one is a fan of our craft, you can also subscribe to our Craft Lovers Upgrade for $4.25 per child, which includes more fun crafts and two more arts and crafts activities.
With all of the interesting and enjoyable activities in My Pre-K Box, your child won't even realize he's learning so much! And as parents, we wouldn't have to bother researching, planning, and creating activities! We can simply assist and watch them while they learn in the comfort of our own home, thanks to My Pre-K Box!
Let's Connect
Share what your child learned doing the Fall Leaf Stained Glass Artwork by using the hashtag #myprekbox! Tag us on Facebook and Instagram - we would love to see your little ones enjoy this activity using our printable template. See you there!
Haven't Tried My Pre-K Box Yet?
My Pre-K Box is the best subscription box for

kids 3-5 years of age!

Everything you need to play, create, explore,

learn, laugh, and enjoy!