Here at My Pre-K Box, we help parents and their little ones celebrate important holidays and occasions, regardless of race, religion, or color. And today, we would like to share a cute card craft for Rosh Hashanah! You can teach your preschooler about this special holiday while making this craft, while he learns and develops his Kindergarten skills! So let us celebrate Rosh Hashanah with our Jewish brothers and sisters with our Rosh Hashanah 3D Honeybee Card Craft!
My Pre-K Box: The ultimate subscription box for preschoolers!
My Pre-K Box is an educational subscription box for preschoolers aged 3-5! We deliver the most fun play-based preschool learning available! Each box has its own unique theme and is filled with different learning activities to target math and literacy skills. Your kids will have fun exploring the new activities, and you will delight in the fact you are helping them with essential Kindergarten readiness skills!
According to history.com and edarabia.com, Rosh Hashanah is one of the Jewish New Years, which is observed as a form of thanksgiving and celebration of the creation of the universe. Since it is based on the Hebrew Calendar, the exact date varies every year but it is almost always in September or October. Honey and apples are common foods and symbols of this occasion, and they served as the inspiration for this 3D honeybee card!
To help little ones join us in celebrating this sacred occasion, parents can guide them in making this Rosh Hashanah 3D Honeybee Card Craft! So if you've been searching for a Rosh Hashanah Card, you can simply make one on your own using our printable template. Just download, print, grab the materials needed, and assemble!
Materials for the Rosh Hashanah 3D Honeybee Card Craft:
printer

cardstock

scissors

glue
Procedure in making the Rosh Hashanah 3D Honeybee Card Craft:
Step 1 Download and print our Print & Go Rosh Hashanah 3D Honeybee Card Craft. Then, fold the card body in half and cut the vertical lines. Unfold the vertical flaps and push them inside the card.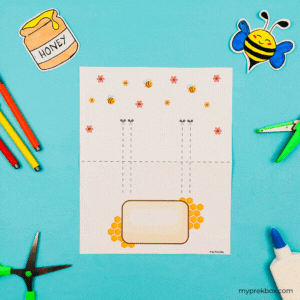 Step 2 Next, cut out the honeybee and the greeting banners. If you prefer the black and white version, you can color it before cutting it out.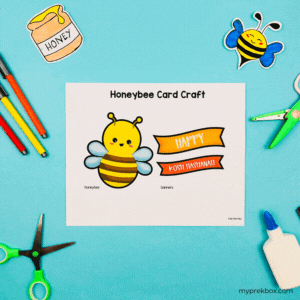 Step 3 Glue the honeybee and banners on the vertical flaps. We suggest gluing it only on one side, with only half of the honeybee attached to the vertical flap so it folds along with it when you close the card.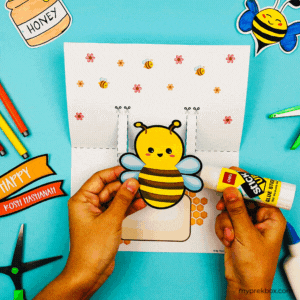 Step 4 Glue the card body on colored cardstock or thicker colored paper.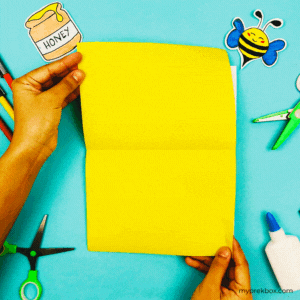 Step 5 Write a New Year's message inside the box! You can add "Shanah Tovah" to it, which is their greeting for Rosh Hashanah.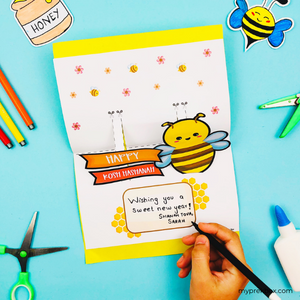 What will your child learn in making the Rosh Hashanah 3D Honeybee Card Craft?

The Rosh Hashanah 3D Honeybee Card Craft is a nice and simple way to introduce the Rosh Hashanah to little children. And while doing the craft can help them improve their fine motor skills through cutting, gluing, and assembling the card, we believe it helps more in the development of emotional intelligence and social skills. Even if you are not Jewish people, you can still teach your child to respect their beliefs, and one way is by giving them this Rosh Hashanah Card!
Before you go…

Here's a freebie for your preschooler!

If you love this Rosh Hashanah 3D Honeybee Card Craft, you might also want the Print & Go Shanah Tovah Card Craft! It is another printable card craft you can use to greet someone on Rosh Hashanah. Practice fine motor skills, while celebrating the holiday!
Each month My Pre-K Box creates an exciting, educational box for preschoolers with themed math and literacy activities! Preschoolers will love play-based learning and parents will love the easy, open-and-play format! Our hands-on learning tools are play-based, targeting math and literacy skills. It also includes sensory play, fun thematic crafts, and a grownup guide.
We want our customers to be happy and satisfied, so we always make sure that My Pre-K Boxes' games and activities are safe and of excellent quality. It is also very kid-friendly, incredibly practical, and reusable! It can be shared with his siblings and friends and can be used repeatedly! We also sell duplicate crafts for only $3.25 per month, so you can get a duplicate for his siblings! If your little one is a fan of our craft, you can also subscribe to our Craft Lovers Upgrade for $4.25 per child, which includes more fun crafts and two more arts and crafts activities.
With all of the interesting and enjoyable activities in My Pre-K Box, your child won't even realize he's learning so much! And as parents, we wouldn't have to bother researching, planning, and creating activities! We can simply assist and watch them while they learn in the comfort of our own home, thanks to My Pre-K Box!

Let's Connect
Love this Rosh Hashanah 3D Honeybee Card Craft? Then, LIKE and FOLLOW our Facebook and Instagram pages to get more fun crafts and activities like this! We have art projects, educational worksheets, and free printables too! See you there!
Want to try My Pre-K Box?
My Pre-K Box is the best subscription box for

kids 3-5 years of age!

Everything you need to play, create, explore,

learn, laugh, and enjoy!