Fall is in the air! With Fall comes the return to school for many kids. Whether your child attends a Pre-Kindergarten program outside of the home or not, it is a great time to start thinking about Kindergarten readiness skills and how we can help prepare our kids at home. Kids are naturally drawn to holiday themes, so why not capitalize on the spirit of Fall and Thanksgiving to enhance their learning? We have a few great Fall/Harvest learning ideas for your learners! Also, be sure to check out the great kits we have at My Pre-K Box!
My Pre-K Box: The Best Educational Subscription Box for Preschoolers
My Pre-K Box is an educational subscription box for preschoolers aged 3-5! We deliver the most fun play-based preschool learning available! Each box has its own unique theme and is filled with different learning activities to target math and literacy skills. Your kids will have fun exploring the new activities, and you will delight in the fact you are helping them with essential Kindergarten readiness skills! These kits are delivered straight to your door and are sure to get your child into the spirit of the holiday AND learning.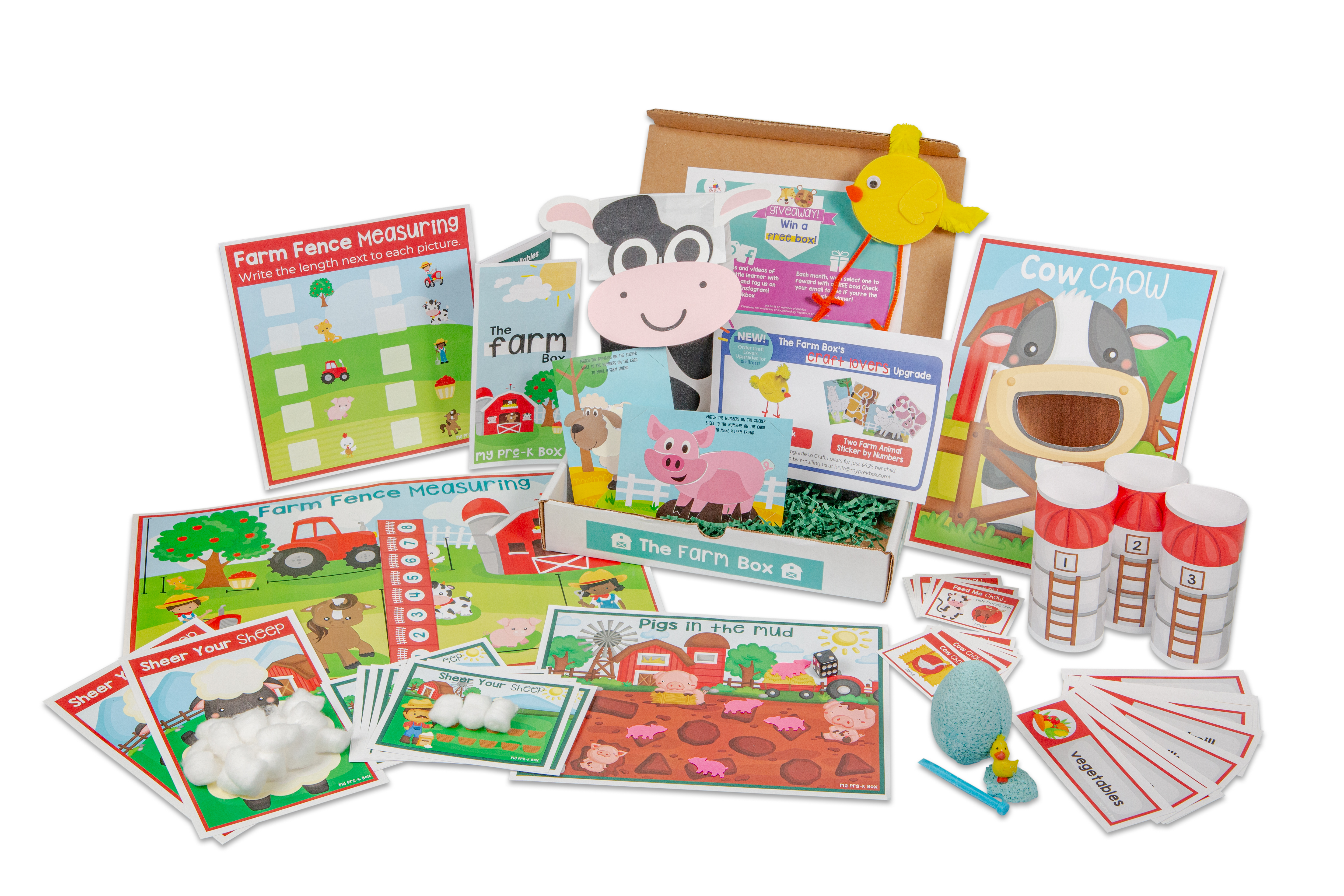 Ready to get started?
Check out our FREE Farm themed preschool worksheets! These farm themed worksheets are perfect for children aged 3-5! They target important preschool skills like counting, capital and lowercase letters, sorting, and more

Included in the FREE Preschool Farm Worksheets:

Color and Count on the Farm

Baby Animal Match

Barn Sound Matching

Farmyard Sort

Measuring Veggies

Tractor Letter Match

Rhyming on the Farm

Help the Farmer
Get your FREE Farm-Themed Preschool Worksheets
Easy Pumpkin ABC Grab and Cover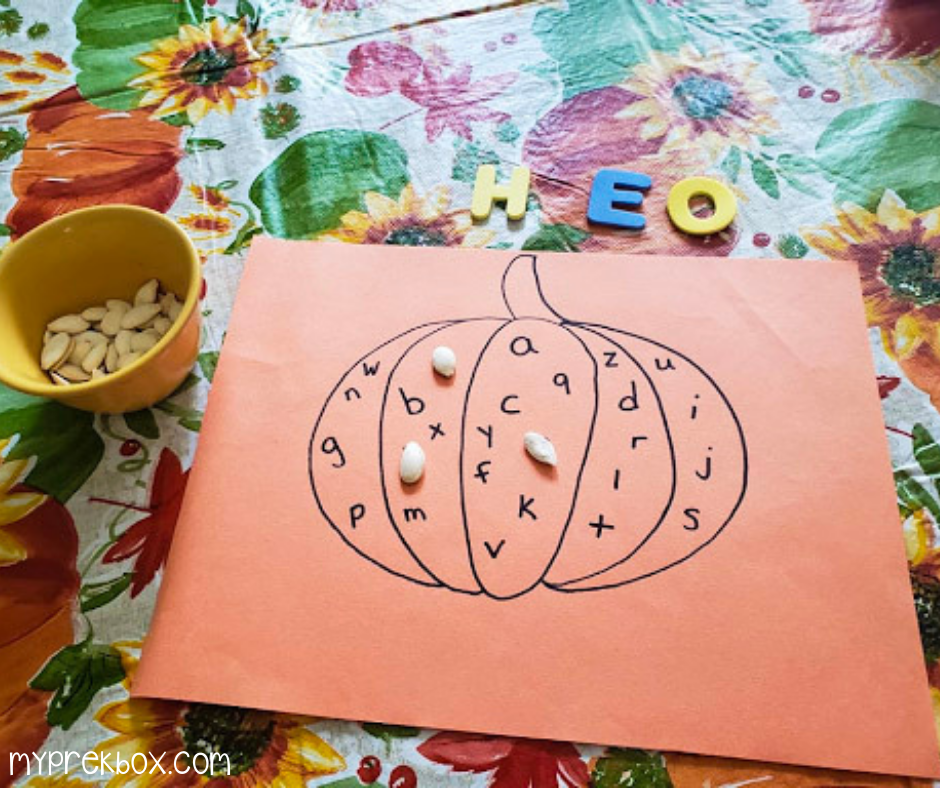 One of the main goals of Kindergarten readiness is the ability to identify and name both upper and lower case letters of the alphabet. Being able to match a lowercase letter to its uppercase pair can be tricky at first, but this super easy activity is sure to help.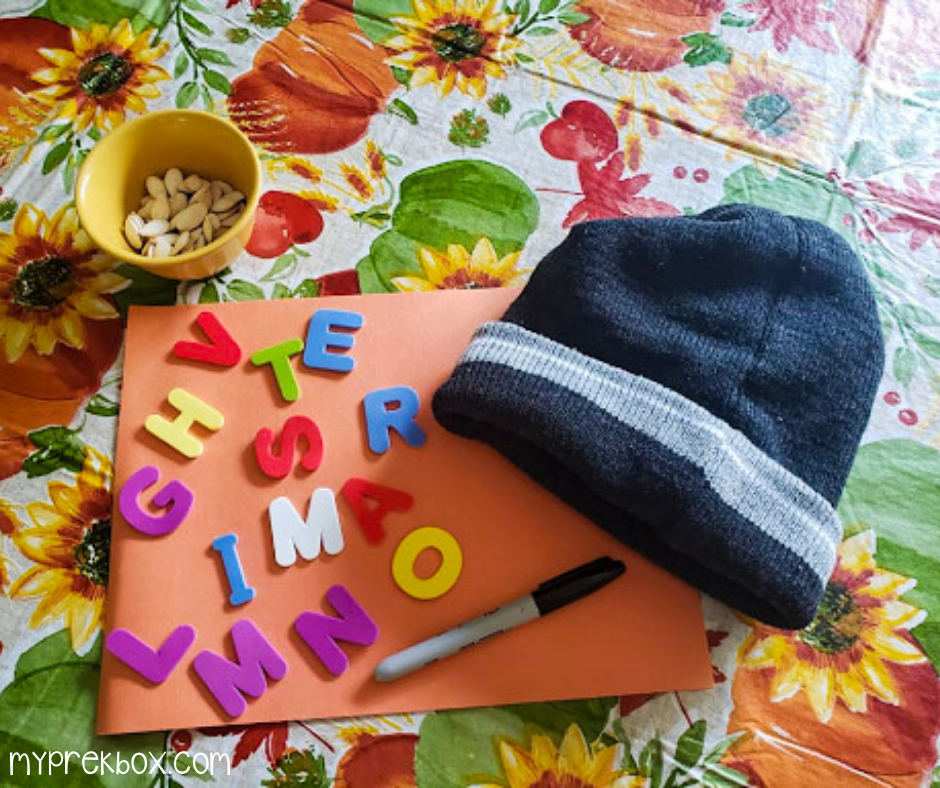 Materials:
Orange Construction Paper

Black Marker

Pumpkin Seeds (or other fun Fall item)

ABC Letters (Magnets, Wooden Blocks, Flash Cards, etc.)

Bowl, Container, or Hat (something to put the letters in to draw)
Instructions: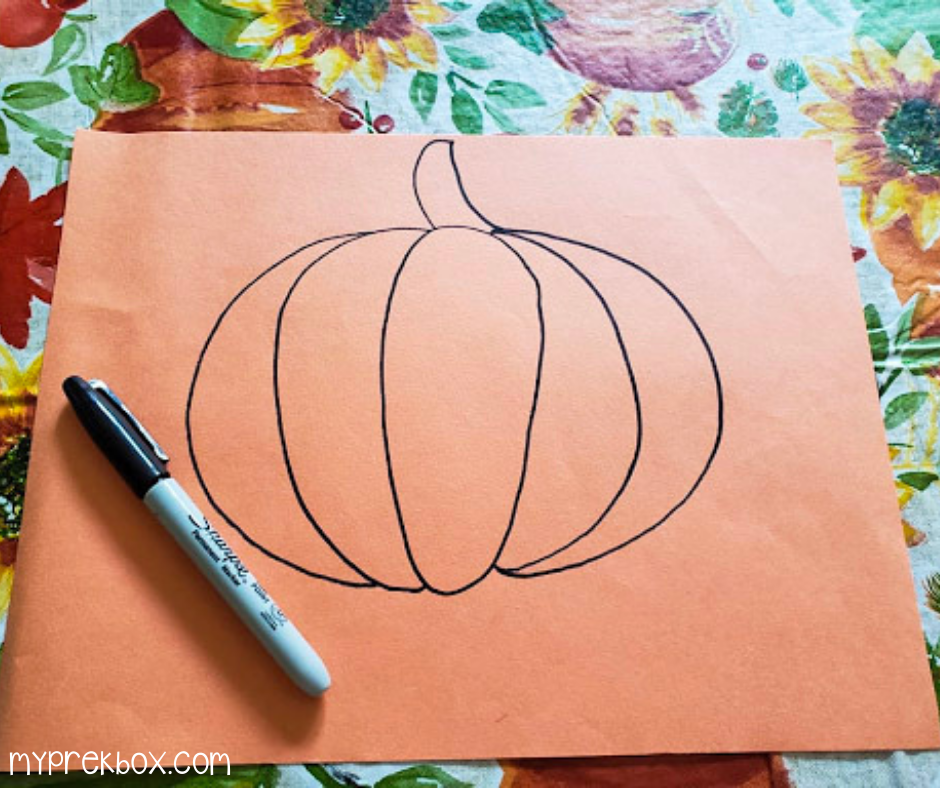 Step 1 Draw or trace a pumpkin on an 8x10 piece of orange construction paper. (Don't worry. You don't have to be an artist! I'm certainly not).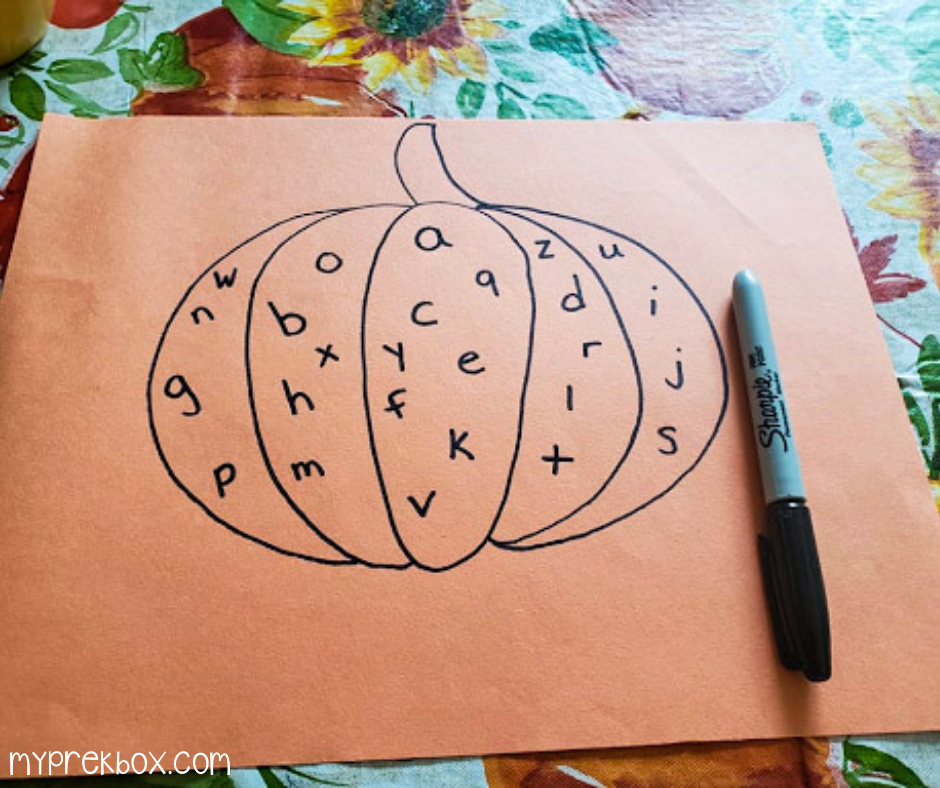 Step 2 Write lowercase letters of the alphabet within the pumpkin.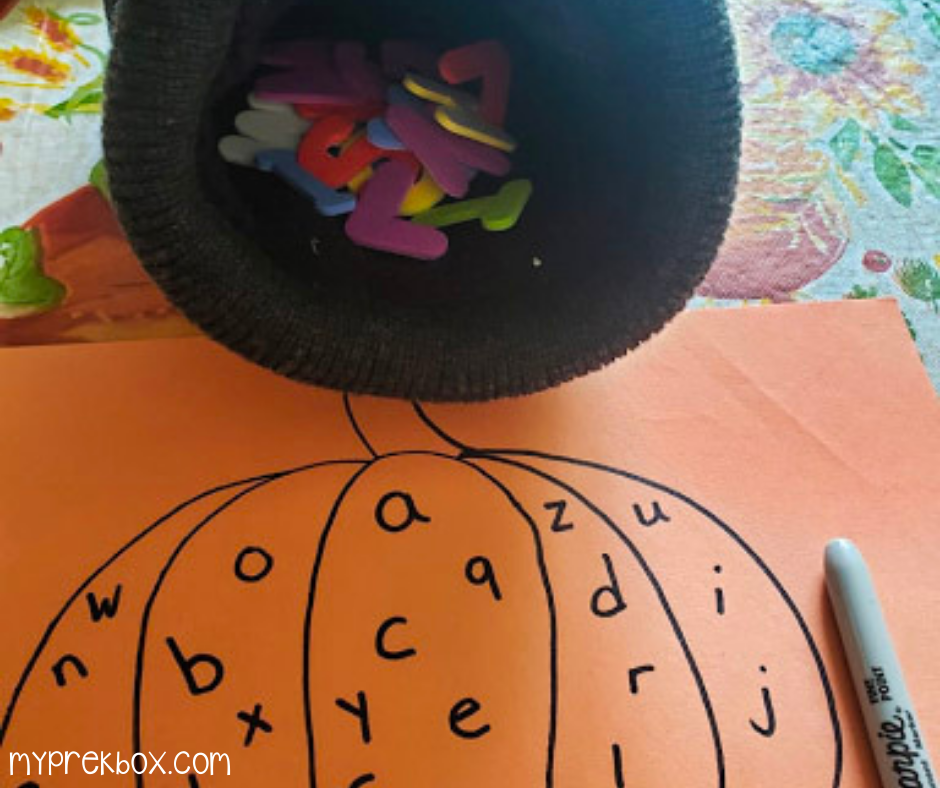 Step 3 Place the ABC letters of your choice into a box, bag, or hat.
Step 4 Have your child reach into the box or bag and pull out an uppercase letter. Their goal is to locate its lowercase partner on the pumpkin and cover it with a pumpkin seed (or other manipulative if you don't have those on hand).
Have your child keep going until they have filled the pumpkin up with pumpkin seeds covering the letters!
For even more fun and sensory play, you could carve a pumpkin with your child prior to playing and have them collect and wash the seeds. Just be sure to let them dry out before playing! You can also write uppercase letters on the pumpkin and have them match with the lowercase. This is a low prep, but high learning activity! And bonus - my son asked if he could eat the pumpkin seeds for a snack when he was finished!
Turkey Feather Name Recognition Practice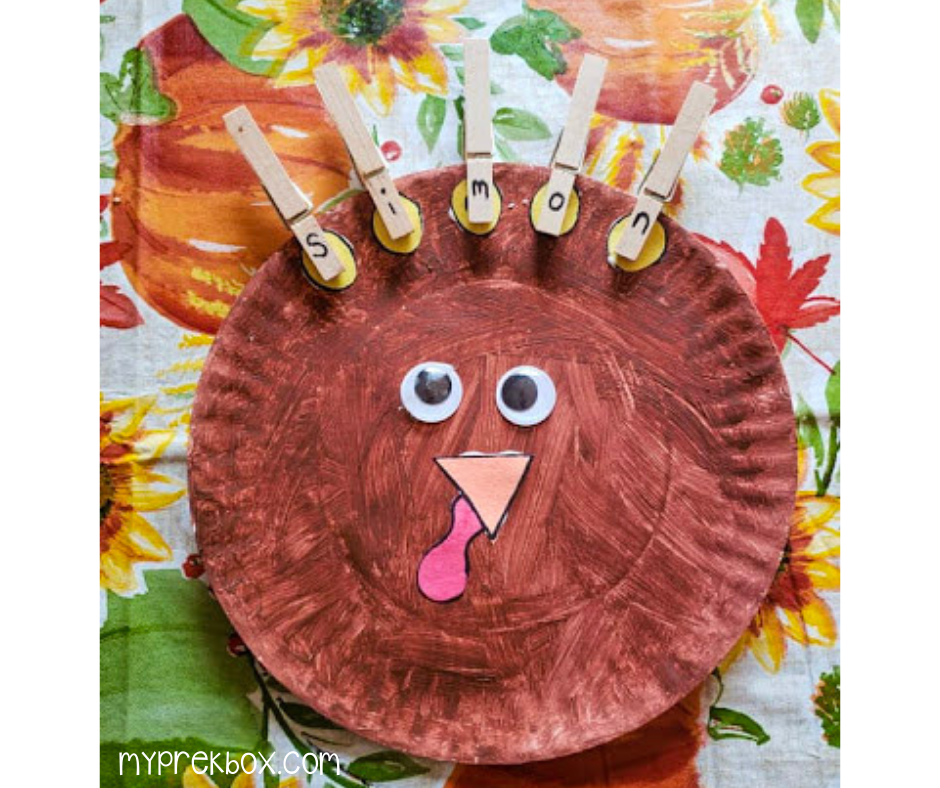 When your child first walks into their Pre-K or Kindergarten classroom, they are likely to look around and notice their name all over the room - on their desk, on small group assignment lists, on birthday calendars, and more. Being able to recognize and spell their name is an important early learning skill. This fun craft will allow them to learn the letter ordering of their name AND work on some fine motor skills at the same time!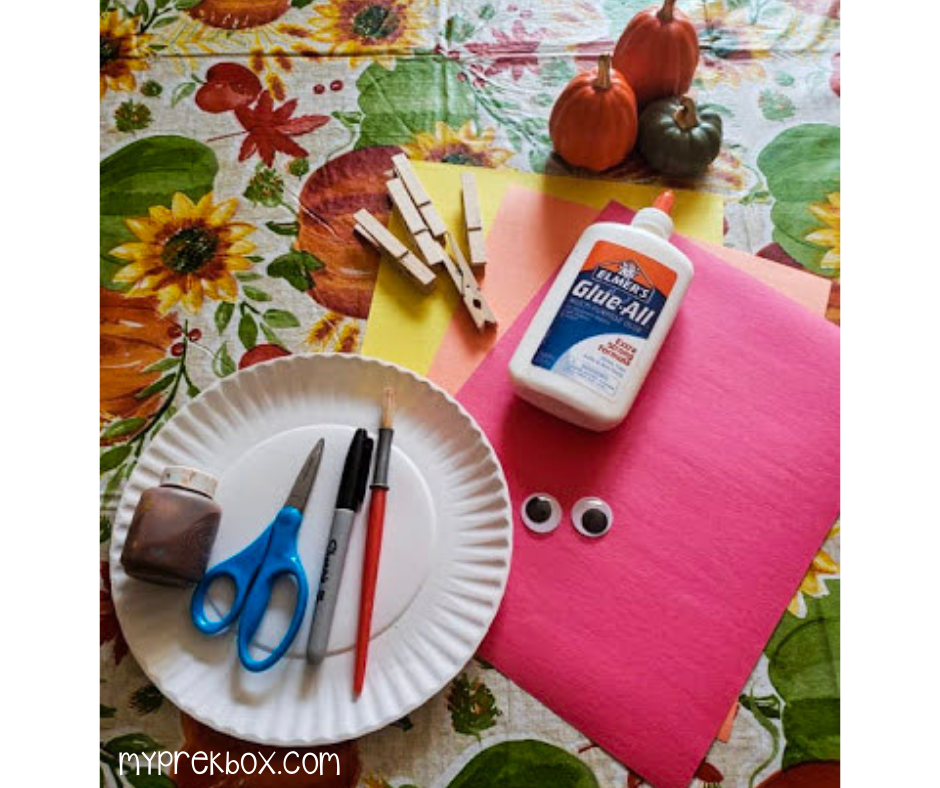 Materials:
Paper Plate

Brown Paint

Paintbrush

Construction Paper (orange, red, and yellow)

Wooden Clothespins

Black Marker

Glue

Googly eyes (optional)
Instructions:
Step 1 After covering up your child's workspace to protect it from paint, have your child paint the white paper plate brown. This is the beginning of the turkey!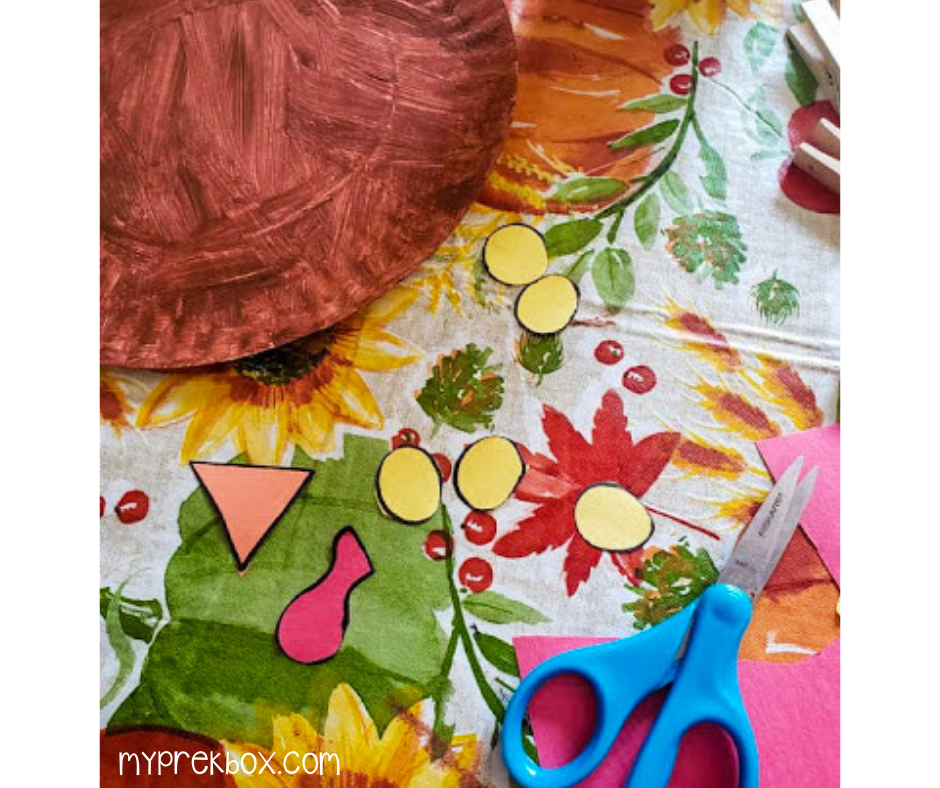 Step 2 While the paint is drying, help your child cut out shapes for the turkey's beak with orange construction paper, the turkey's wattle with red construction paper, and yellow circles for each letter of your child's name.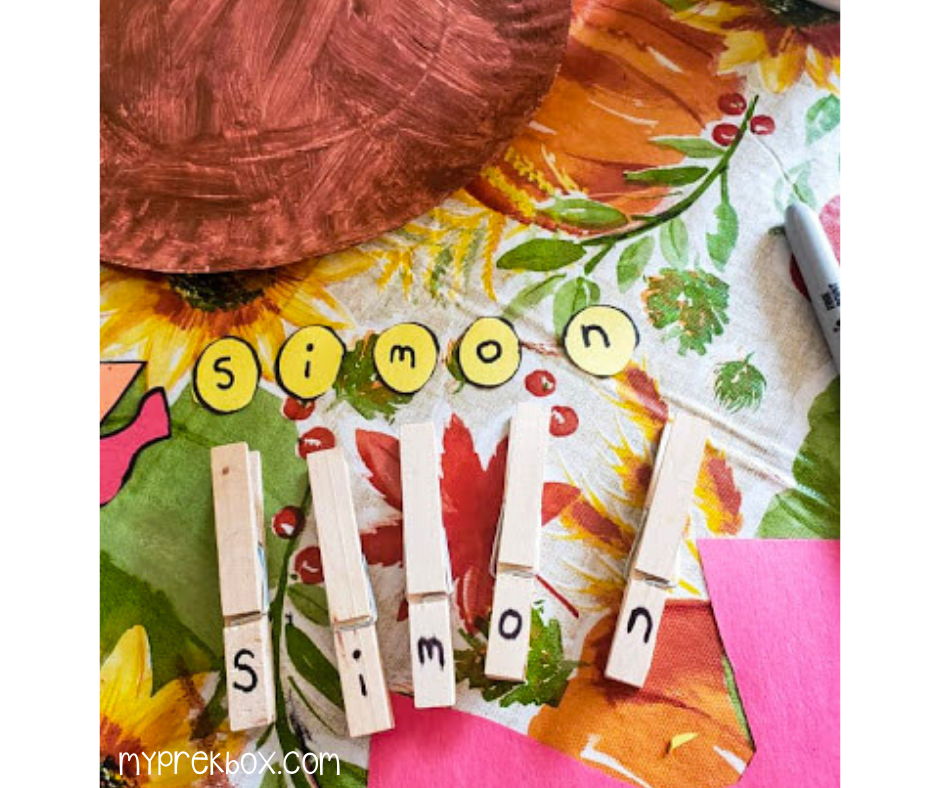 Step 3 Write the letters of your child's name on individual clothespins. Write the letters of your child's name on each of the yellow circles that you cut out in step 2.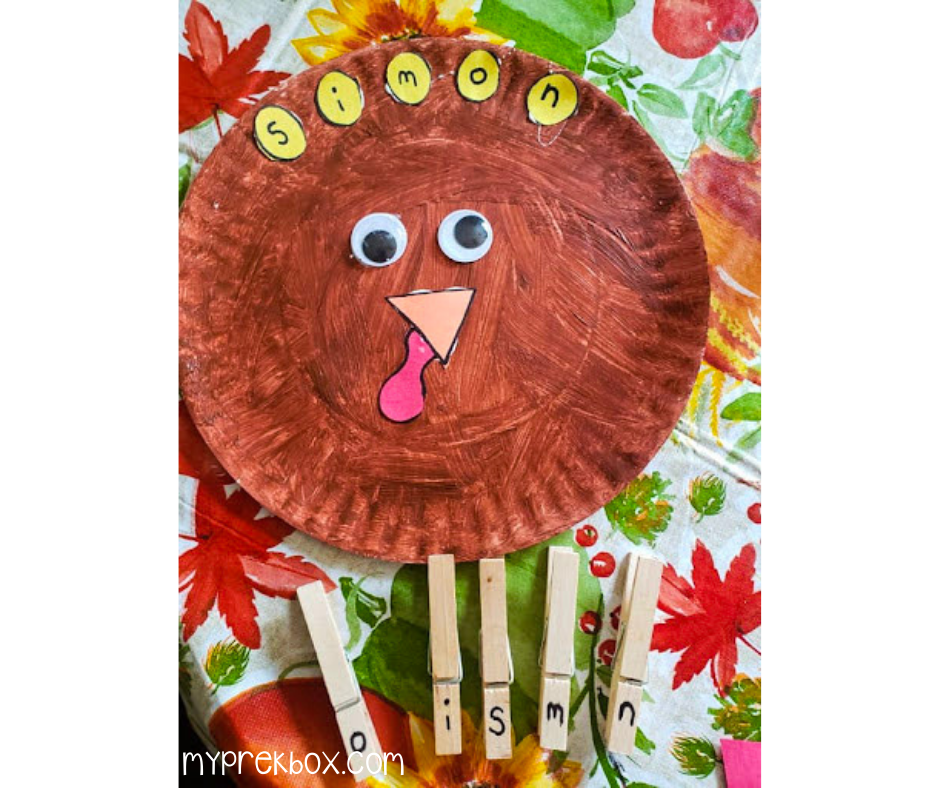 Step 4 Once the brown paint is dry, help your child glue the googly eyes, beak, wattle, and circles onto the turkey as seen in the picture.
Your child is ready to play! Have your child clip the letters of their name on each of the circles. Try to encourage them to go from left to right, as the name is read. To make this a little more advanced, you could glue on blank yellow circles to the turkey and have your child complete their name through memory. This activity is sure to keep your little turkey occupied and learning at the same time!
Cup Turkey Counting Activity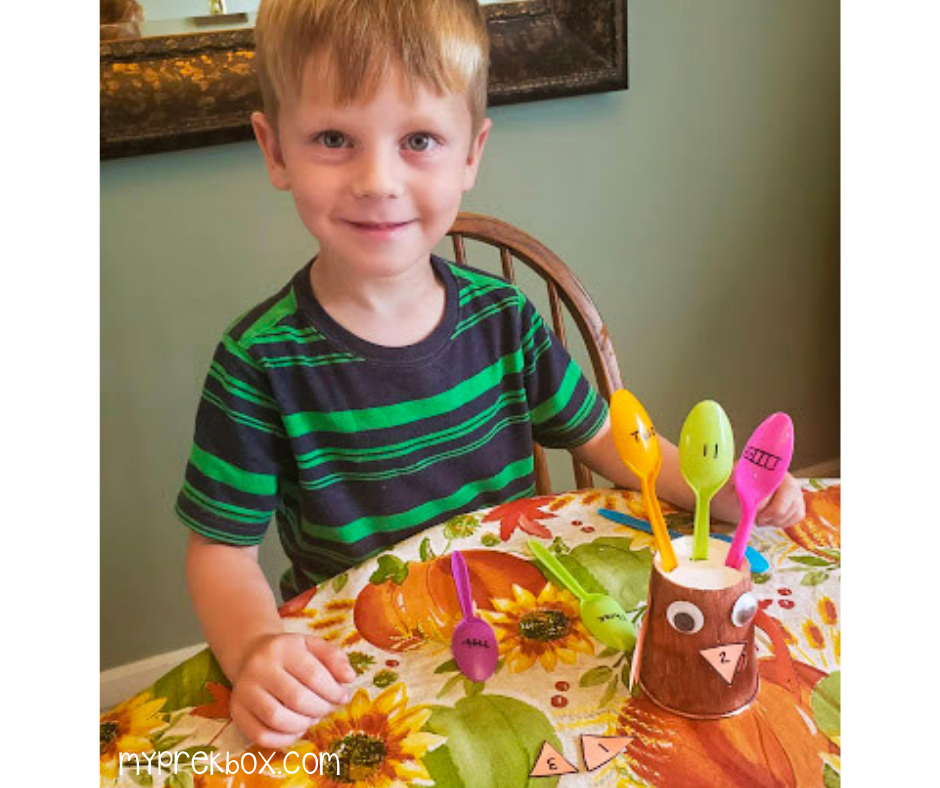 Pre-K and Kindergarten is all about the ABCs and 123s. This Fall season, bring a little fun and holiday spice into learning numbers with this fun activity! This activity will help your child learn how to identify numbers in different formats. Utilizing the five frame or ten frame will greatly prepare them for school and early math fact fluency.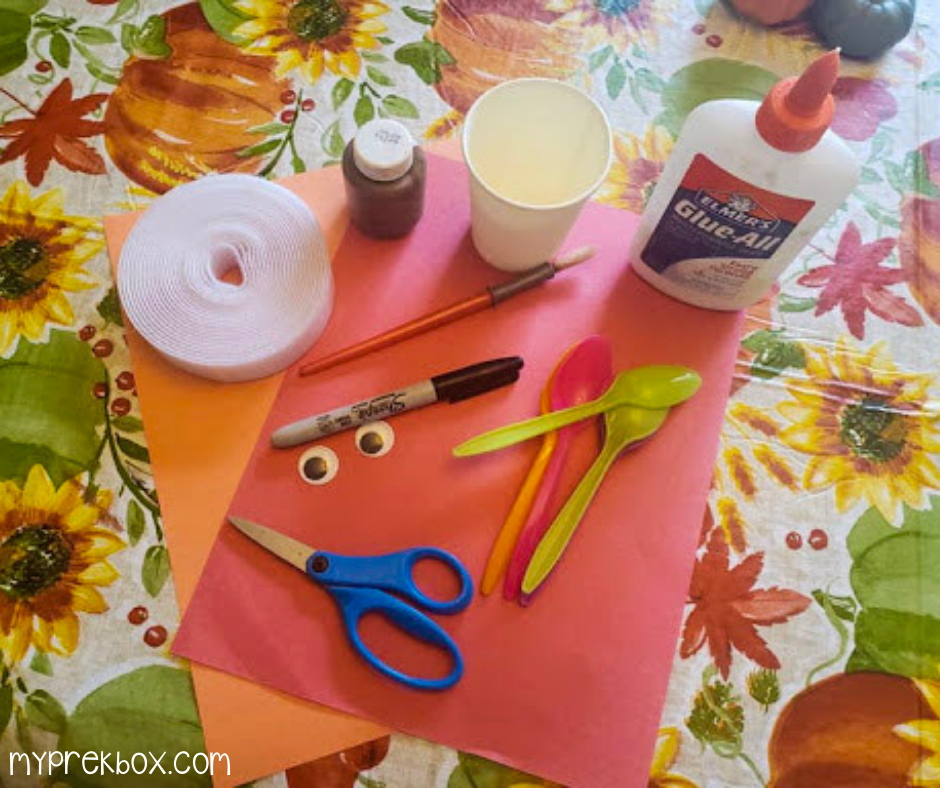 Materials:
Paper Cup

Orange and Red Construction Paper

Googly eyes (optional)

Black Marker

Glue

Scissors

Plastic Spoons (White or Fun Colors)

Sponge or Paintbrush

Brown Paint

Velcro pieces
Instructions: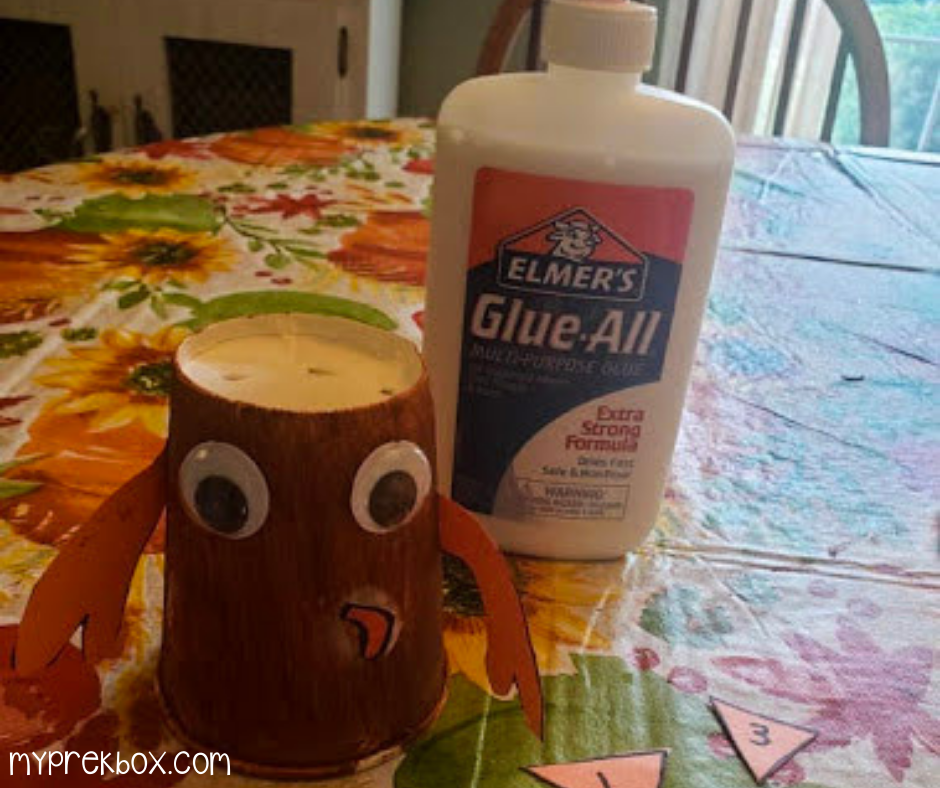 Step 1 After covering up your child's workspace to protect it from paint, have your child paint the paper cup brown using either a sponge or a paintbrush.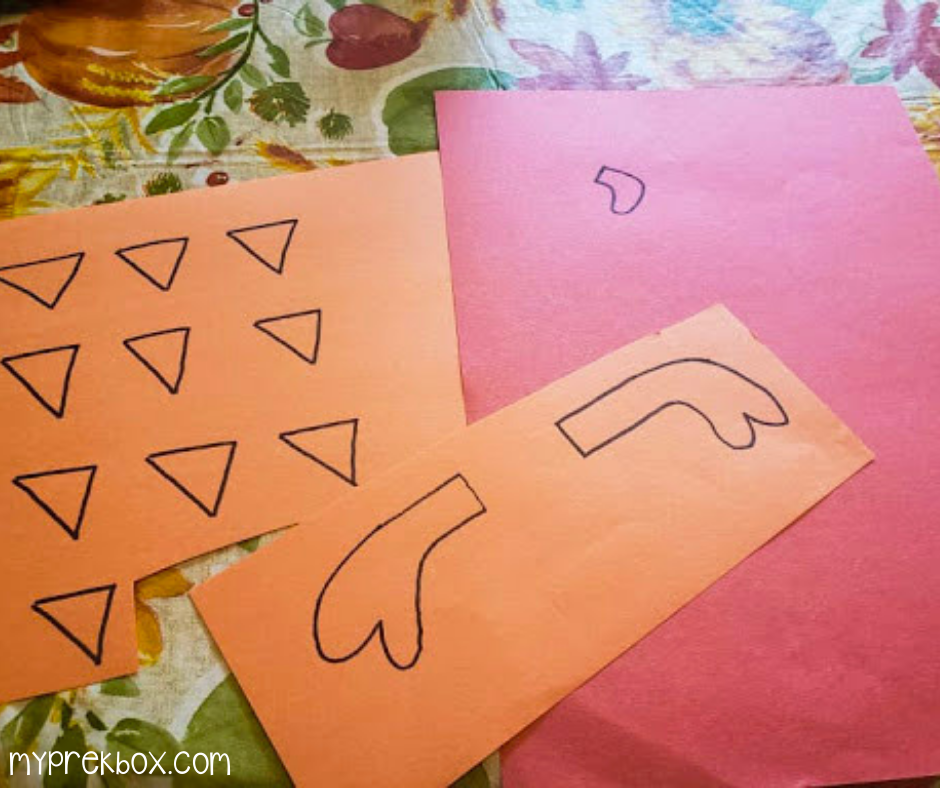 Step 2 While the paint is drying, help your child cut out shapes for the turkey's beaks (need 10 orange triangles cut) with orange construction paper, the turkey's wattle with red construction paper, and orange feathers.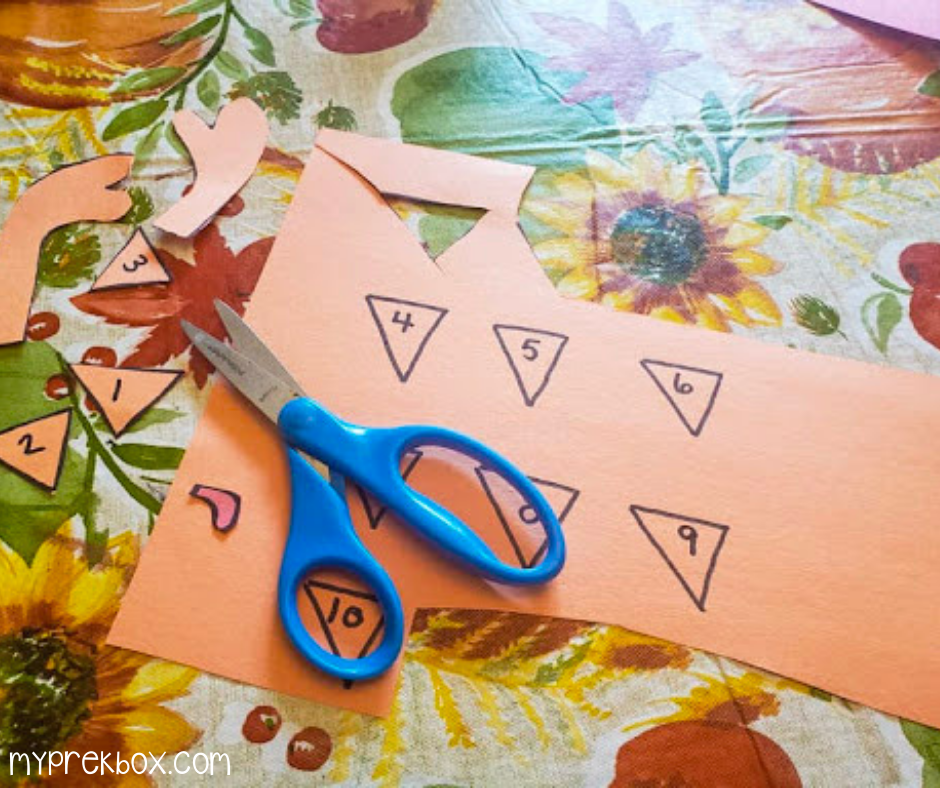 Step 3 On each turkey beak triangles, write the numbers 1-10. Then stick the pieces of velcro on the back of each of the turkeys.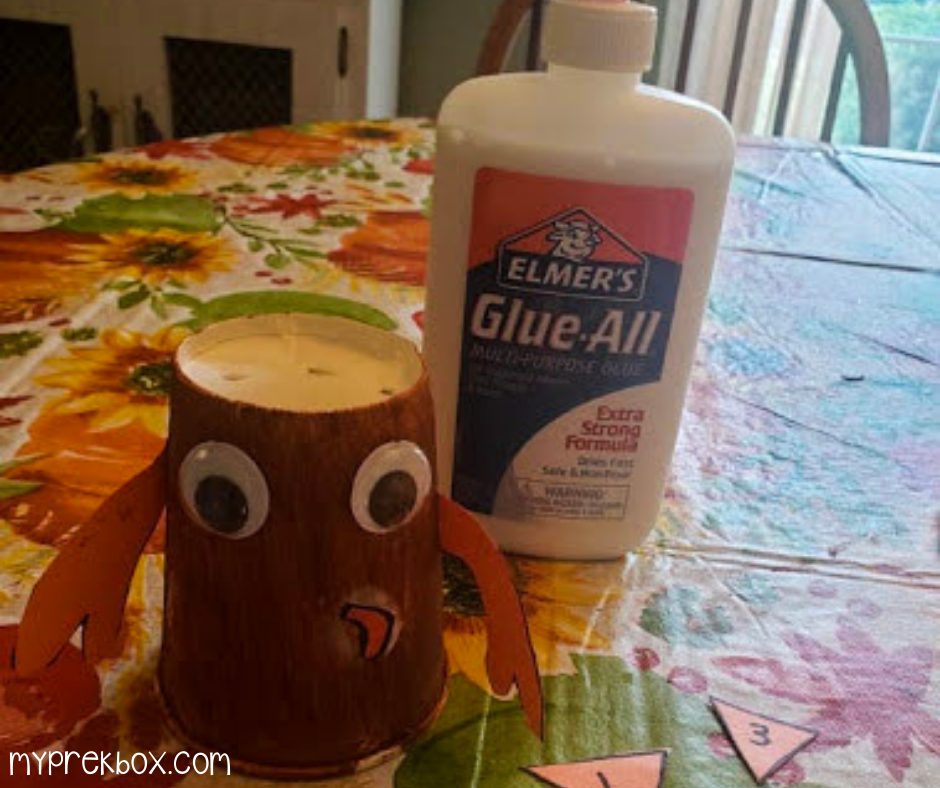 Step 4 Once the paint on the cup is dry, have your child glue on the googly eyes, wattle, and orange feathers. Affix pieces of velcro to the cup where the beak should attach. Make sure that the cup is upside down on the table while decorating the cup with the turkey face!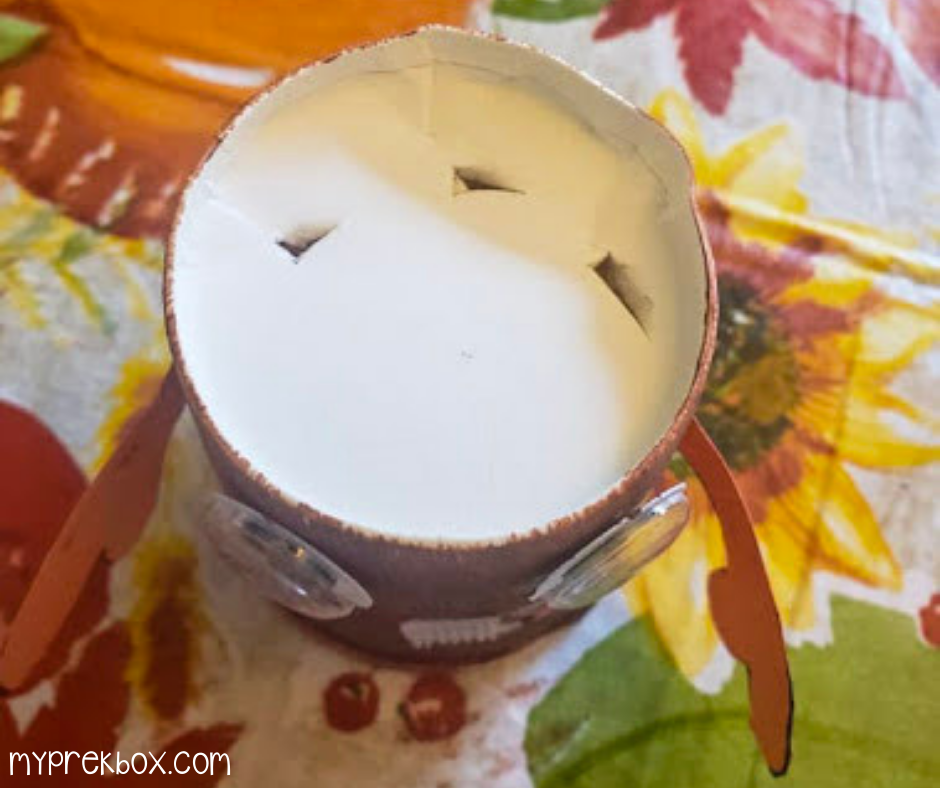 Step 5 Cut 3 slits in the bottom of the cup big enough to slide in the handle of the plastic spoons.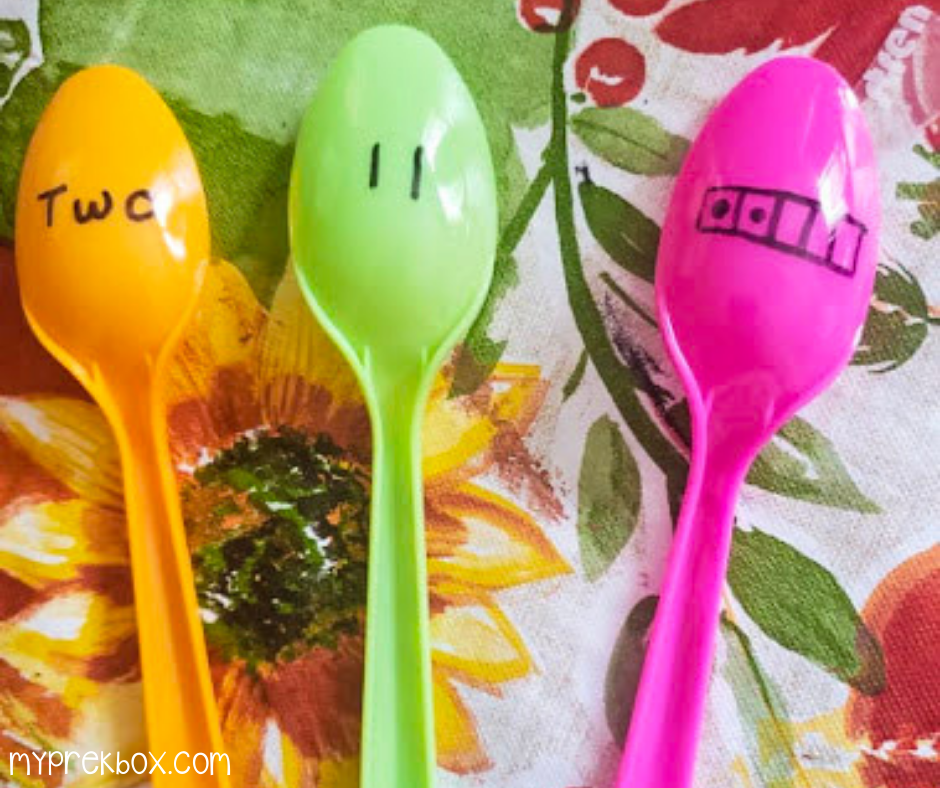 Step 6 For each number 1-10, write each number in written form (i.e. the number 5 is written as "five"), a five or ten frame model matching that number, and the numeric representation as it would be shown on a dice on 3 different colored spoons for each number.
That is it! The goal of the activity is for your child to be able to match each of the three spoons to the appropriate beak when it is placed on the cup. Each of the spoons represents a tail feather for the turkey. This activity aims to increase your child's number sense by allowing them to visualize the numbers in different formats. This builds their ability to subitize numbers - which is basically being able to tell how many objects there are without having to count each individual object. Ten frames specifically are a great tool to build on for learning things like adding, subtracting, and place value later in Kindergarten and Elementary School!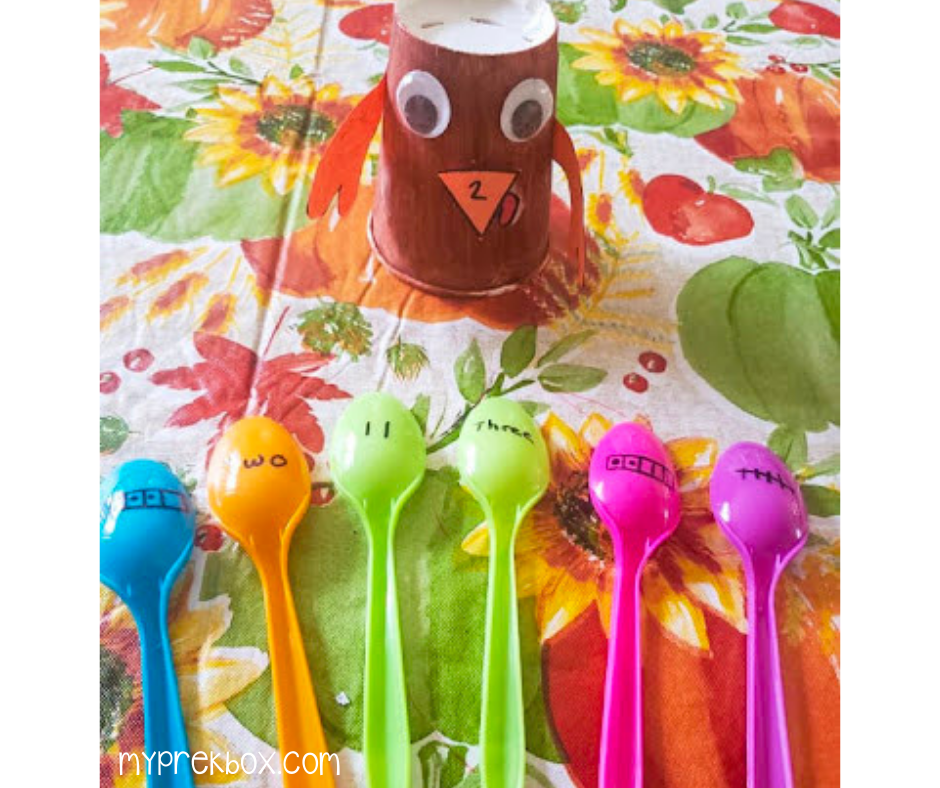 Your child will have so much fun finding all of the right feathers to match each number on the turkey's beak!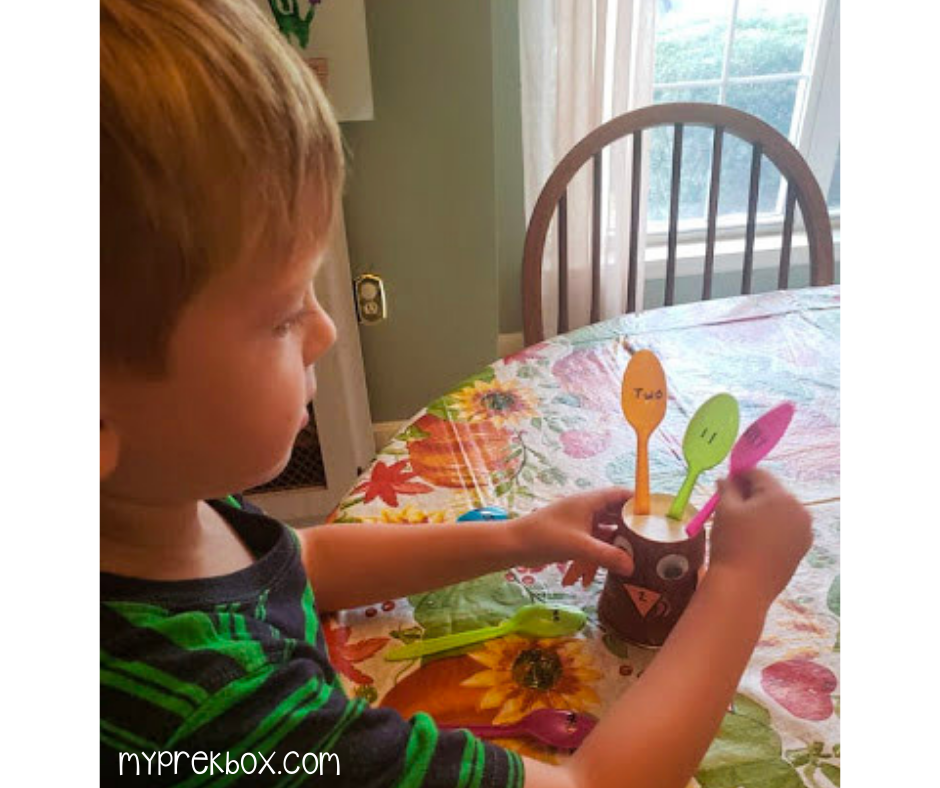 Let's Connect!
We absolutely LOVE seeing your preschoolers learning through play! Please take photos and videos of your child's robot stacking tower creations and share your photos with us on Facebook and Instagram!
Also, if you aren't already, be sure to follow us on Facebook and Instagram for more fun activities to do at home with your little ones!
Haven't yet tried My Pre-K Box?
My Pre-K Box is the best monthly subscription box for kids ages 3-5.

Everything you need to create, play, laugh, and learn!