As the leaves begin to change colors and you feel the cool breeze through the trees, you know that the fall season has arrived. We all love this season, especially kids because they get to jump on piles of dry leaves! But aside from these, you can make the fall season more memorable for your preschooler with our new themed box in time for autumn - The Fall Box!
My Pre-K Box: The best subscription box for kids ages 3 to 5!
My Pre-K Box is an educational subscription box for preschoolers aged 3-5! We deliver the most fun play-based preschool learning available! Each box has its own unique theme and is filled with different learning activities to target math and literacy skills. Your kids will have fun exploring the new activities, and you will delight in the fact you are helping them with essential Kindergarten readiness skills!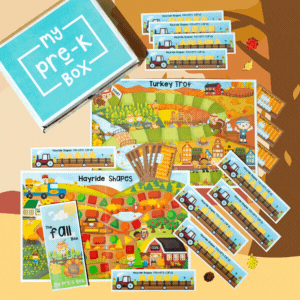 After all the outdoor summer fun, it would be nice to relax indoors for a while (and learn new skills!). Preschoolers can learn and develop valuable skills for kindergarten while playing with hands-on learning kits inside My Pre-K Boxes, and this time our themed box is quite perfect for the fall season! Enjoy and learn in autumn style with The Fall Box!
What's Inside The Fall Box?
The games and hands-on activities inside The Fall Box will surely make you and your kids "fall" in love, not just with our product, but with learning! Kids learn fast when they enjoy, and this is what we do with My Pre-K Boxes. So let's check out what's inside The Fall Box, and if you "fall" in love with it, subscribe to My Pre-K Box to get it delivered to your home!
Activities for Learning Math
1 Hayride Shapes
Materials: Hayride Shapes game mat, Hayride Shapes Pattern Cards, two fall gem playing pieces
Game mechanics: Help the kids reach the barn to pay for their pumpkins! Lay out the game mat and place the fall gem playing pieces on the start. Shuffle the Hayride Shapes Pattern Cards, then put them face down. Choose a card and identify the shapes one by one, pointing out the pattern. Ask your preschooler what comes next, or help them with it until they can identify it on their own. Then, move your fall gem playing piece to the next open spot on the game board with that shape. Repeat and take turns. The first player to reach the barn wins!
About the game: The Hayride Shapes game is a great activity to practice pattern and shape recognition. Kids will have fun identifying shapes and you can help them figure out what comes next, that way they'll learn about patterns and will develop pattern recognition skills!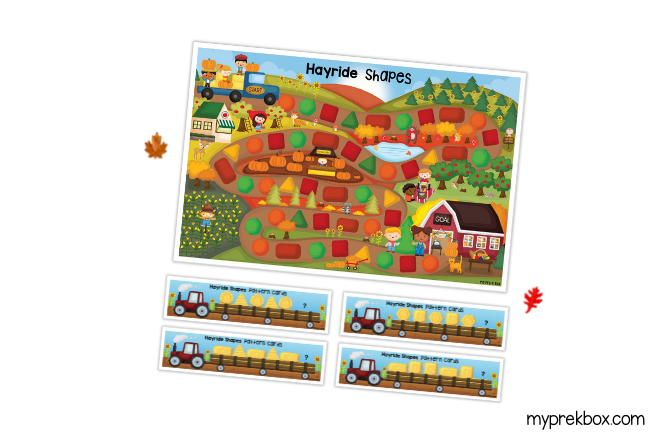 2 Turkey Trot
Materials: Turkey Trot game mat, Turkey Trot Cards, 2 fall gem playing pieces
Game mechanics: Help the thirsty turkey win the annual Turkey Trot race by helping count water bottles! To start the game, lay out the Turkey Trot game mat and place the fall gem playing pieces in the starting line. Shuffle the Turkey Trot cards and place them face down. On your turn, randomly select a card. Count the number of water bottles pictured on the card you picked. Then, count as you move your playing piece on the same number of spaces. The first player to cross the finish line wins the game!
About the game: Your little one will enjoy the race while practicing counting at the same time with the Turkey Trot game! They wouldn't even notice that they're learning counting with fives and tens (the water bottle in the Turkey Trot cards are in tens frame), and as they play it several times, they'll be able to notice the numbers in relation to five and ten.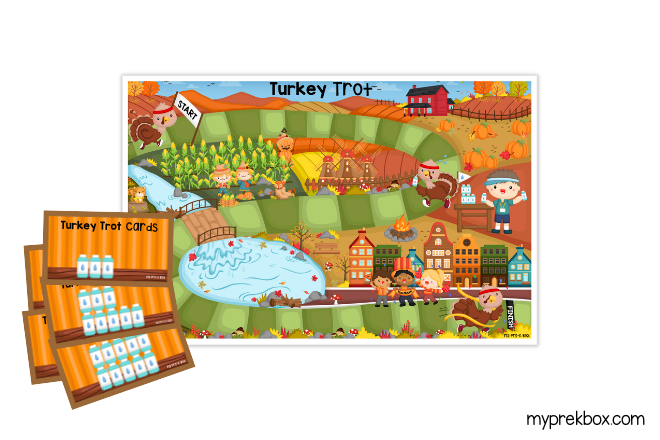 Fall is here, and so is the harvest season! So…

Get your harvest-themed freebie today!

Since most crops are planted in the spring season and allowed to grow during the summer months, fall is the time when crops are finally ready to be harvested. And speaking of harvest, you just got a FREE copy of our Fall Harvest Preschool Fun Pack for reading this blog post! Use this to engage your little ones in a simple yet fun learning activity. It includes 8 harvest-themed worksheets that will help them develop math and literacy skills.
Literacy Activities
1 Leaf Jump Letters
Materials: Leaf Jump Letters game mat, Leaf Jump Letters cards, foam leaf stickers
Game mechanics: Complete the poster by identifying letters and adding stickers to it! Just lay out the poster, then randomly select a card. Ask your child to identify the letter on the card, or you can also help them identify it. Next, ask them to look for the same letter hidden on the poster. Once they found the hidden letter on the game mat, they should cover it with foam leaf stickers. The game ends when all the letters are found and covered, and the poster is completed!
About the game: The Leaf Jump Letters is a great way to gain mastery of letters. If your kids are already familiar with letters, you can move up the challenge by asking them to identify the sounds too! Their letter recognition skills will develop faster with this game, and they'll enjoy it a lot too! The use of foam leaf stickers can also help with their fine motor development.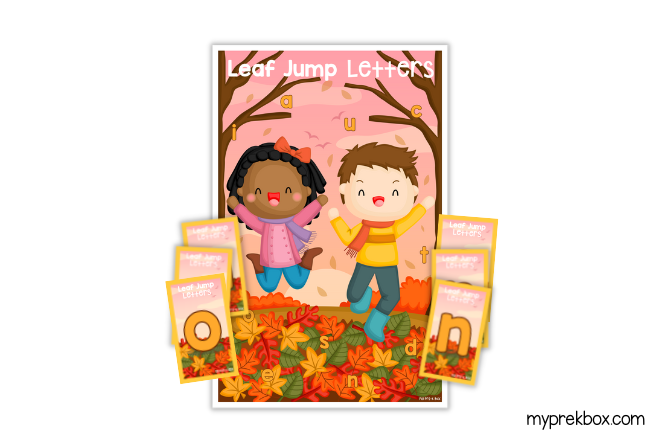 2 Beginning Sound Bounty
Materials: Beginning Sound Bounty cards, fall gems
Game mechanics: Ask your child to select a card (you can have it face down for some surprise) then name the word pictured on the card.

Identify the beginning sound

and ask your preschooler

what letter spells the sound. If he still needs help with sounds, you can point to each cornucopia and say the sound that the letter makes. Then, go back to the picture and say its name again, emphasizing the beginning sound. Ask him to put a fall gem on the cornucopia with the correct letter.

About the game: The Beginning Sound Bounty is a great literacy activity for developing phonological awareness. When played repeatedly, this game will help kids master sounds that will lead to blending and gradually help them to read.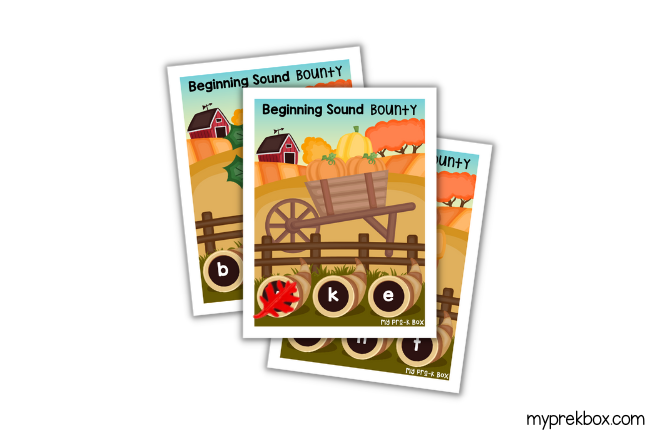 3 Fall Scene Blend & Find
Materials: Fall Scene Blend & Find game mat, Fall Scene Blend & Find cards, fall gems
Game mechanics: Start by pretending to be playing a mystery word game with your child. Ask him to put together or glue together the two words that you are going to say (for example, say rain… bow…). If he understands and is able to figure out "rainbow" as the mystery word, you can proceed with the game. Shuffle the cards and ask him to pick one. Read and point out the two words on the card, and ask him to blend them. He has to shout the answer and then find the mystery word pictured on the Fall Scene Blend & Find game mat! If he finds it, he must cover it with a fall gem. The game ends when all of the words have been found!
About the game: The Fall Scene Blend and Find is an effective practice for blending sounds and words. Knowing how to blend (put sounds together) is a skill essential for reading. As it is presented as a hidden picture game, kids will find this exciting and fun without being aware that they are learning to blend sounds already!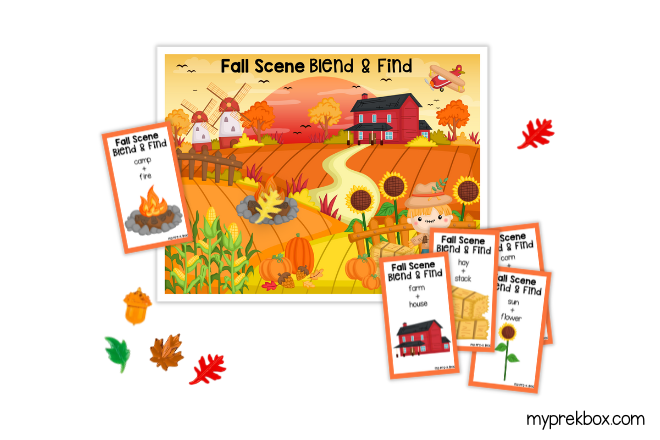 Sensory play and crafts
1 Shape Turkey Craft Kit
Learn shapes while enjoying making a turkey craft with the Shape Turkey Craft Kit. Crafts are a great help in fine motor skills, and this turkey craft is perfect for Thanksgiving!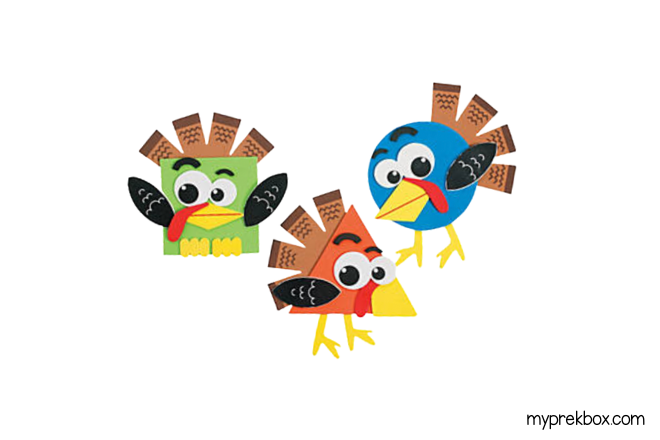 2 Fall Leaf-Shaped Squeeze Toy
Squeezing fall leaves will crush them, but not this cute Fall Leaf-Shaped Squeeze Toy. Let your kids squeeze it as much as they want to strengthen their hand muscles!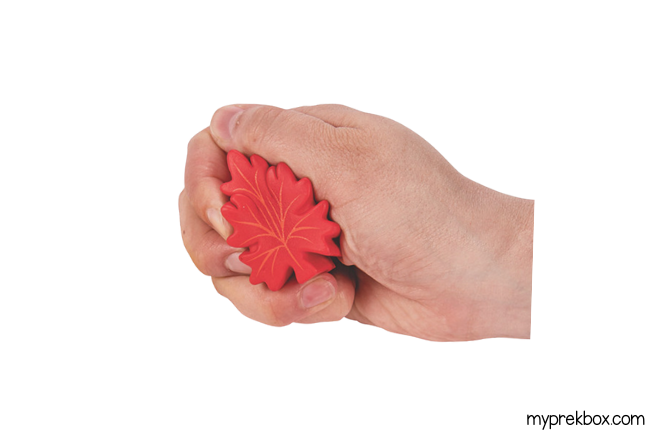 Craft Lovers Upgrade
1 Thanksgiving Woodland Animal Sticker Scene
This giant sticker scene filled with cute animals celebrating Thanksgiving day is so adorable! Kids love stickers and it is a great practice for small hand muscle movement and control.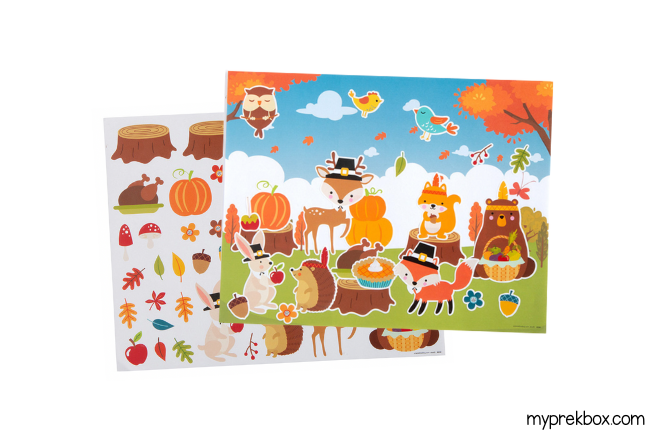 2 3D Fall Harvest Craft Kit
Want more fall-themed crafting but no time to find supplies and search for ideas? Then this 3D Fall Harvest Craft Kit is definitely what you need! Get a fall-themed craft with all the materials needed when you subscribe to our Craft Lovers Upgrade.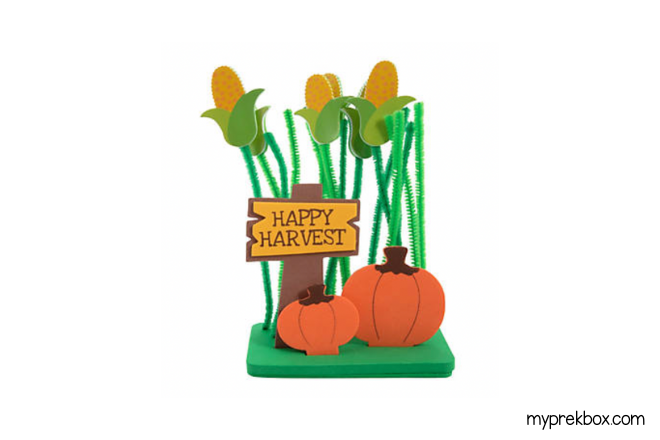 Grownup Guide
Worried that you wouldn't know how to use this learning kit? No worries, each box includes a friendly Grownup Guide! It will help you to effectively teach your preschooler while playing. The Grownup Guide includes pictures and step-by-step guide, and even some examples for explaining the game to kids.
And that's it! We've shown you everything that's inside The Fall Box. And if you "fall" in love with the cute activities and games, your child will definitely love them too! Surprise them this fall season with exciting activities!
How was your tour inside The Fall Box? The games and activities are really cute and educational, kids wouldn't be able to resist playing with them! If you aren't subscribed to My Pre-K Box and would like to know more about other My Pre-K Boxes, check out some of our featured blog posts!
Why Choose My Pre-K Box?
1 Activities are play-based and learner-centered.
Every single activity is well-thought and child-friendly, and ensures learning while having fun!
2 Easy and effortless
If you would be the one to research and prepare the crafts yourself, it would be too tiring and time-consuming. But if you subscribe to My Pre-K Box, it will be delivered to your door every month, hassle-free and easy right? You can have more time for fun and quality family time!
3 Affordable prices
The monthly subscription plan costs $37.95 each month. Or you can save more by committing to a 6-month term ($32.95/month) or a 12-month term ($30.95/month). We also have regular promos and discounts! Check out our current promos here, or choose your plan now!
4 High-quality materials
All the contents of the box are carefully selected and are of top quality to ensure the safety of your kids! Most are also reusable, so your child can play with them over and over again!
5 Great customer service
100% Happiness Guaranteed! We make sure to give you unparalleled customer satisfaction. If you have a problem, we will solve it. Because as you support our family business, we also treat you like family.
So, what are you waiting for? Subscribe now and start making learning fun for your kids!

Let's Connect
Your feedback matters! Got any comments, questions, or suggestions? Shoot us a message at hello@myprekbox.com or on our social media pages on Facebook and Instagram. While you're at it, give us a LIKE and FOLLOW us too! Share lovely photos of your kids while they enjoy The Fall Box, and we might feature them on our website and social media pages. See you there!
Haven't Tried My Pre-K Box Yet?
My Pre-K Box is the best subscription box for

kids 3-5 years of age!

Everything you need to play, create, explore,

learn, laugh, and enjoy!