When asked about the best sweet treat, the list is long but one is never out of the list - ICE CREAM! Yes, everybody looooves ice cream. I mean, who doesn't?! It is both sweet, and cold, and it melts in your mouth… with more and more new flavors introduced to us, it just becomes more delicious and popular. And speaking of new flavors, we have a new one too - a new themed box! And we're sure you're going to love it as much as we do because it is… The Ice Cream Box!
My Pre-K Box: The best subscription box for kids ages 3 to 5!
My Pre-K Box is an educational subscription box for preschoolers aged 3-5! We deliver the most fun play-based preschool learning available! Each box has its own unique theme and is filled with different learning activities to target math and literacy skills. Your kids will have fun exploring the new activities, and you will delight in the fact you are helping them with essential Kindergarten readiness skills!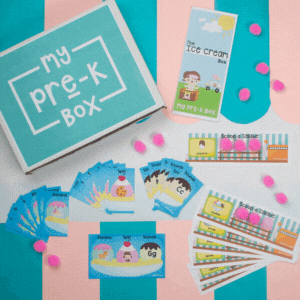 The Ice Cream Box is the newest addition to our series of themed boxes that we deliver every month. And because kids love ice cream, they will definitely be hooked on all the ice cream-themed activities inside The Ice Cream Box! So let's go and explore the games and activities inside, and learn what your preschoolers will gain from it.
What's Inside The Ice Cream Box?
Like all other My Pre-K Boxes, it includes math and literacy games, sensory play, as well as thematic crafts. It also has an activity for dramatic play! Let's grab an ice cream and check out all the details of the games and activities inside The Ice Cream Box!
Dramatic Play
1 Order's Ready!
Materials: Order cards, Order's Ready! cards, ice cream cardstock cutouts, glue stick

Game mechanics: Your child will be pretending to be working at an ice cream shop! To start, select an Order card. Identify which ice cream flavors and toppings the customer has ordered. Then, glue the corresponding cardstock cutouts to an Order's Ready! card to create your customer's order.

About the game: This game is not just enjoyable but also packed with opportunities to practice their skills! Kids will be using their counting, fine motor, and pre-reading skills to "read" the customer's order and create their order. Moreover, the game promotes socialization and communication among kids as they exchange and confirm orders.
Activities for Learning Math
1 Ice Cream Wonderland Game
Materials: Ice Cream Wonderland game mat, 2 ice cream playing pieces, paperclip, pencil

Game mechanics: With both playing pieces on the starting point, the first player will make a spinner by placing the pencil tip inside the paperclip and flicking the paperclip to spin. Then, the player should name the shape that it points to, and move the playing piece to the next space with a sweet treat in the same shape. The first player to reach the Ice Cream Castle wins!

About the game: The goal of the game is to be the first player to reach the Ice Cream Castle by racing through the sweet treats of different shapes! This will help a lot in developing shape recognition in little kids. They will also learn to take turns and share as they play this game with an opponent.
2 Ice Cream Patterns
Materials: Ice Cream Patterns cards, round sticker "ice cream scoops"

Game mechanics: Follow the pattern to fill the missing ice cream scoops! To start, select an Ice Cream Patterns card. Point to each ice cream scoop and name the color. As you point to the empty spot, pause to give your child time to think about what color comes next. Have your child find the round sticker ice cream scoop with the color named and stick it to the empty spot!

About the game: Pattern recognition is an important skill that helps in developing logical thinking. Ice Cream Patterns is a perfect game for practicing pattern and color recognition, in a cool and sweet ice cream-filled way!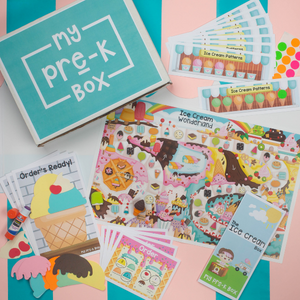 Ohh, yummy! 🍨

Hey, it's time for a freebie!

Ice cream is best during summer. And speaking of summer, we have a fine motor skills activity filled with summer-themed objects. Get the Print & Go Summer Pom Pom Mats and enjoy quiet summer afternoons with your little ones. Read more about it here or download it now.
Literacy Activities
1 Banana Split Sounds
Materials: Banana Split Sounds cards

Game mechanics: Sort the cards into three groups: the Banana, Split, and Sounds cards. Ask your child to randomly select one Banana card and name the word pictured on the card. Emphasize the first sound in the word and ask him to repeat it. Then, show your child a few of the Split cards. Help him/her identify which has the same beginning sound. Once done, tell your child the name of the letter that makes the sound and show the corresponding Sound card to complete the banana split. Put these cards together to make the banana split!

About the game: This game will help your preschooler master beginning sounds! Knowing the sounds of the letters is a very important Kindergarten skill that will prepare them for reading.
2 Scoop a Syllable
Materials: Scoop a Syllable card, pom pom "ice cream scoops," mini spoon (optional)

Game mechanics: Select a card, then name the word on it. Help your child segment the word into syllables by clapping as you say each syllable. Have your child repeat, this time laying down one pom pom ice cream scoop on an ice cream cone (moving left to right) as s/he says each syllable. You can also use a mini spoon to pick up the ice cream scoops for fine motor practice. Point to each ice cream scoop as you say each syllable, then slide your finger across as you blend the word back together again.

About the game: This independent activity will teach your child how words are made up of syllables as he "scoops" the correct number of ice cream cones. It helps in developing phonological awareness, which is also important in addressing reading skills. It also helps in practicing fine motor skills as they pick up the pom pom ice cream scoops, especially when they use the mini spoon.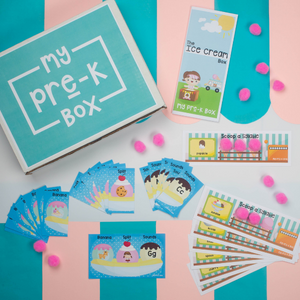 Sensory play and crafts
1 Magnetic Popsicle Craft Kit
Crafting has never been this sweet and cool! The Magnetic Popsicle Craft Kit will help your little ones with hand muscle and fine motor development as they assemble this very cute craft.
2 Ice Cream Sensory Dough
Delight in sensory play with strawberry-scented play dough complete with artificial sprinkles and artificial whipped cream!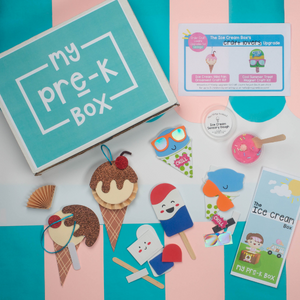 Craft Lovers Upgrade
1 Ice Cream Mini Fan Ornament Craft Kit
2 Cool Summer Treat Magnet Craft Kit
Get these two additional crafts when you subscribe to our Craft Lovers Upgrade, for only $4.25 per child! You can also get duplicates of the craft for your child's siblings so they enjoy crafting together!
Grownup Guide
If you're worried about how you are going to guide and teach your little one using all these fun games and activities, do not be overwhelmed! We include a Grownup Guide to make it easier and more convenient for you! It is simple and easy to understand and even explains all the activities, show examples, instructions on how to play them, and how to help your child be successful based on their level! It's our personal goal to make life easier on you...and more fun for your kids!
Delight your preschooler with My Pre-K Box today… and every month forward!
That's quite a lot of activities and learning coming from such a small box! That's why many parents love our subscription boxes - because it is a great value for money and their kids enjoy and learn a lot. You'll never have to worry about what activity to do next or spend hours looking for ideas online again! So be sure to subscribe today!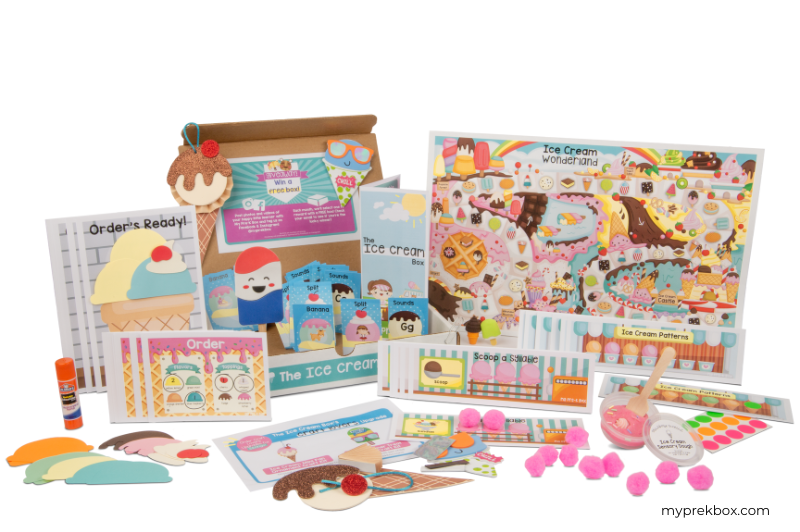 Why Choose My Pre-K Box?
1 Activities are play-based and learner-centered
Every single activity is well-thought and child-friendly, and ensures learning while having fun!
2 Easy and effortless
If you would be the one to research and prepare the crafts yourself, it would be too tiring and time-consuming. But if you subscribe to My Pre-K Box, it will be delivered to your door every month, hassle-free and easy right? You can have more time for fun and quality family time!
3 Affordable prices
The monthly subscription plan costs $37.95 each month. Or you can save more by committing to a 6-month term ($32.95/month) or a 12-month term ($30.95/month). We also have regular promos and discounts! Check out our current promos here, or choose your plan now!
4 High-quality materials
All the contents of the box are carefully selected and are of top quality to ensure the safety of your kids! Most are also reusable, so your child can play it over and over again!
5 Great customer service
100% Happiness Guaranteed! We make sure to give you unparalleled customer satisfaction. If you have a problem, we will solve it. Because as you support our family business, we also treat you like family.
So, what are you waiting for? Subscribe now and start making learning fun for your kids!
Let's Connect
Want to learn more about My Pre-K Box? Get the latest updates when you LIKE and FOLLOW our Facebook and Instagram pages. Browse through our blog posts at My Pre-K Box Blog for freebies, DIYs, arts and crafts, and a lot of fun and educational activities! See you there!
Haven't Tried My Pre-K Box Yet?
My Pre-K Box is the best monthly subscription box

for kids ages 3-5!

Everything you need to create, play,

laugh, and learn!